From trainees to globally certified technicians
Mercedes-Benz Malaysia (MBM) celebrated the graduation of 30 trainees as they transformed into globally certified technicians through the Advanced Modern Apprenticeship Programme.
The class of 2019 reaffirms MBM's long-term commitment in providing training and career opportunities to Malaysian youths through its Training Academy. Over 850 apprentices have graduated since the programme's inception locally.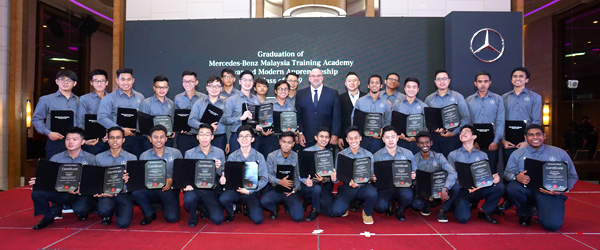 "Our state-of-the-art, purpose built Training Academy aims to continuously nurture talent and provide Malaysian youths with a pathway to advance their career through job placement opportunities. Today, we contribute towards the nation's demand for highly skilled talent in the automotive industry with the graduation of another 30 apprentices. This marks a significant milestone in our quest to build a solid foundation of the network and deliver the Best Customer Experience throughout the Mercedes-Benz extensive dealers in Malaysia," said MBM's President and CEO, Dr Claus Weidner.
All graduates received three certifications; Mercedes-Benz Automotive Mechatronic Training Certificate, Mercedes-Benz Qualified Maintenance Technician Certificate and National Dual Training System Certificate. The National Dual Training System Certificate is equivalent to the Malaysian Skills Certificate Level 3 (SKM 3), a certification recognized by the Department of Skills Development under the Ministry of Human Resources, Malaysia.
Vice-President for Customer Services, MBM, Jeffrey Simon added, "The response the programme since has been great year on year and we have received close to 600 applications this year; the most to date. It is in our best interest to recognize, mould and empower local youths as they embark on their journey in the automotive industry. Upon completion of their three-year training programme, they will be offered a four-year guaranteed employment, starting off as a Passenger Car Technician."
The apprenticeship programme exposes trainees to a wide-range of skills including presentation, analyzing, decision making, strategic thinking, mentoring, self-discipline and most importantly, teamwork skills. Trainers are also rigorously assessed and certified by international standards set by Daimler AG in Germany. Based on the guidelines set by them, the training academy maintains a trainee ratio of one trainer to 15 trainees to ensure optimum quality in the delivery of its modules.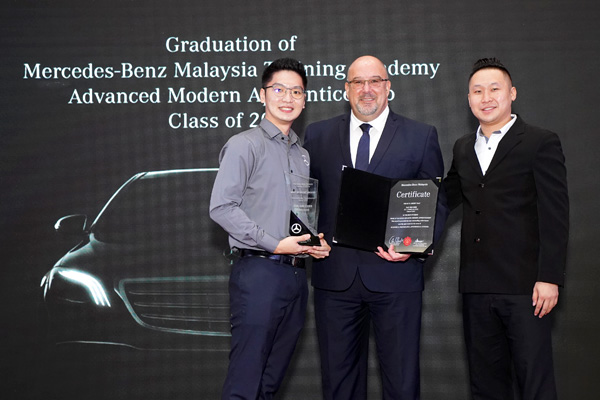 About the Mercedes-Benz Malaysia Apprentice Training Centre
Initiated in September 1984, the ATC was established with the objective of instilling 'self-reliant learning' and 'life-long learning' philosophies among Malaysian youth.  To date, over 770 highly-skilled apprentices have graduated from the initiative.
As a prerequisite to acceptance into the training programme, interested candidates have to undergo a strict selection process which involves a pre-enrolment assessment examination by Daimler AG, Mercedes-Benz Malaysia's parent company. Candidates then have to attend a face-to-face interview by the Recruitment Panel which gives the final approval to candidates who qualify to enrol in the training programme.
The training programme consists of 48 courses over a three-year training period, and is based on a curriculum comprising 70 per cent practical training; which also includes 30 per cent on-the-job training; and 30 per cent theory.
In addition to undergoing technical training, apprentices are also equipped with presentation skills, analyzing skills, decision making skills, system thinker, mentoring skills, self-discipline, and team work skills, which are essential for life-long career advancement. Employment is guaranteed via bond upon completion of the training programme.
In addition to the Automotive Mechatronic training programme, the ATC also provides a structured certification ladder for existing technicians who are keen to upgrade their skills and knowledge.
The Apprentice Training Centre is a 55,000 sq ft facility and staffed by 13 dedicated trainers. The training facility is equipped with state-of-the-art training equipments, purpose-built classrooms and workshops that emulate real-life after-sales centres.
For more information, visit www.mercedes-benz.com.my.
benzcertifiededucationgraduationindustrymercedestechniciantraineetraining