coocaa enters Malaysian Market through eCommerce, exclusively on Lazada
coocaa, a brand-new smart TV has officially been launched in Malaysia on Thursday, 27 June.  coocaa is a pure e-commerce TV brand and is available exclusively on Lazada.  The coocaa-Lazada partnership which began in August 2018 has taken coocaa into several South East Asian markets.  coocaa was launched in Indonesia in August 2018, taking the market by storm and quickly became the number 1 TV brand on Lazada.  Following its success in the Indonesia market, coocaa launched its official store on Lazada Thailand in November 2018 followed closely by Vietnam in the same period and the Philippines earlier this year.
"We are very excited to bring coocaa into the Malaysian shore.  We are a young, innovative brand that targets the digitally savvy young demographic of customers who appreciate the high definition for viewing and gaming and appreciate the connectivity our TV provides.  With our partnership with Lazada, one of the top e-commerce platforms in Malaysia, coupled with the rise of electronics sale through e-commerce platform, we are optimistic that we will be able to make an impact on the Smart TV industry. And today, we are pleased to bring coocaa smart TV, the new affordable Smart Android TV via Lazada Malaysia," said Mr Daniel Huang, coocaa Project Manager.
"We look forward to seeing positive and enthusiastic response from Malaysians. With high access of internet penetration – at 87.4 percent in 2018 from 76.9 in 2016 – an upsurge largely due to improved network, superior connectivity and innovative and competitive data plans, we see an opportunity for growth in Malaysia.  We intend to fulfill the demands of millennials who make up of more than 50 per cent of internet users.  We also aim to repeat the success of Indonesia and be the top rank of the TV category in Malaysia's e-commerce market," he added.
Known for its colorful orange logo, coocaa has quickly gained a great number of followers in other ASEAN countries.  coocaa understands that the tv viewing experience is different for each of their users, hence the introduction of three product series, the Explore, Innovate and Change series. Their slogan, "Play in Your Style", is for the young and the young at heart and encourages them to explore the unknown, to enjoy chasing their dreams and to not be afraid to be themselves. With their superb line of smart TVs, every Malaysian can enjoy top notch entertainment easily within reach.
Lazada Malaysia Chief Operations Officer Kevin Lee said, "We are optimistic that coocaa will gain a steady following amongst Malaysians after observing positive response in our other markets, and we are excited to extend this partnership here. As Malaysians look for more digital solutions for their everyday needs, Lazada continues its evolution into a one-stop lifestyle destination which is possible through our ecosystem of local and international brands. Our collaboration with coocaa allows us to offer our shoppers greater assortment with accessible price points without compromising on quality and style."
There are five SKUs available for the Malaysian market. Each one with quality panel, superior resolution and supports screen sharing.  The models run on Android 8.0 and coocaa lite and for easy browsing and support various file formats such as JPG, MP3, AAC, and Movie (MP4, MKV,etc.), allowing anyone to play in their style. Moreover, it all comes with a 2-year warranty with nationwide after-sales service, which will guarantee a great customer experience.
All the models aimed at providing a superior Smart TV experience at a price accessible to all Malaysians.  And in conjunction with the Malaysian launch, coocaa and Lazada are offering a special Mid-year presale discount up to 46% for consumers from 29 June until 11 July and Flash Sale on 12 July.
coocaa's exciting lineup of smart TVs are all designed to maximize one's entertainment pleasure. With more than 23 years of manufacturing experience and Japanese quality, coocaa offers a fun and relaxing lifestyle with an out of the box experience for everyone.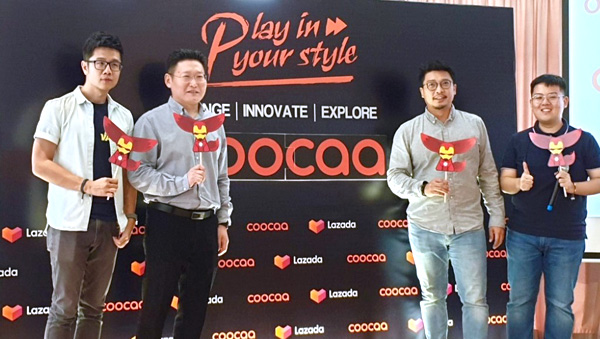 coocaa TV in Malaysia
The five coocaa TV models available in Malaysia are: 32-inch 32S3C, 40-inch 40S3C, 40-inch 40S5G, 50-inch 50Q5 and 55-inch 55Q5 and they come under three series, Explore, Innovate and Change – each providing unique experience to cater to Malaysia's ever evolving and sophisticated viewing needs.
The Explore series (50/55Q5) is powered by Google Assistant with AIoT Technology that is able to connect and command smart devices in the home. Users are able to turn on the fan, switch on lamps and activate humidifiers by speaking to coocaa Android TV remote. It can also be used as a personal assistant as it remembers passwords, stores calendars, tells the weather, gives restaurant suggestions, and so much more.
coocaa Innovate series (32/40S3C) has Amazon prime video built-in which allow users to enjoy 700+ original movies and TV shows. This smart TV can also capture Youtube content and support the Mirror share features from other mobile devices, which enable you to enjoy the content on a big screen. Its smart system and aesthetically pleasing design with an infinity screen make it a must-have for those who want an all-around and fun entertainment system.
The Change series (40S5G) is the only coocaa Android TV with a bezeless screen, with FHD display and Android 8.0 operating system, you can enjoy the benefits of Google services on a screen that fits your bedrooms perfectly.