Giant Hypermarket Batu Caves unveiled New Fresh Look; Offering Customers Seamless Shopping Experience
Giant Malaysia rolled out its new make-over at Giant Hypermarket Batu Caves providing a new in-store experience, designed to provide customers with a seamless shopping experience featuring an attractive, systematic and organized layout to make it easy for shoppers to navigate through the hypermarket.
As the owner of the largest network of hypermarkets in Malaysia for over the span of 70 years, Giant Malaysia has long been a trusted household name. The name of Giant is synonymous with everyday low prices, big variety, and great value while offering the most exciting shopping environment. The fresh new look of this Batu Cave store is a testament to Giant's commitment to constantly reinvent to provide communities with greater variety of fresh and quality products at the best value while focusing on how to better serve customers.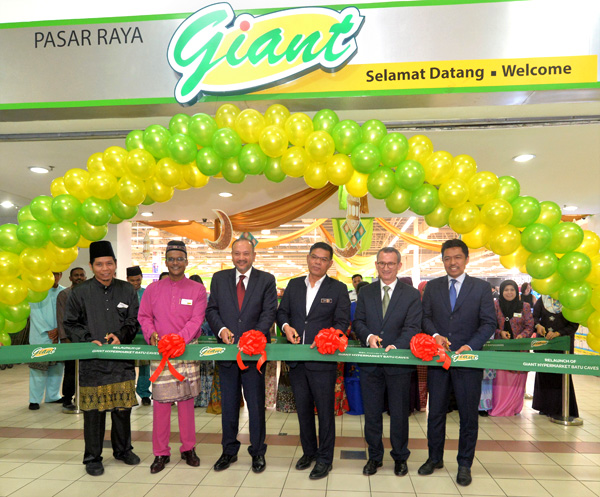 Managing Director of GCH Retail Malaysia, Mr. Pierre-Olivier Deplanck said "Our decision to revamp the store had considerable thought and effort put into it as we carefully considered our customers needs as well as how we could better improve the Giant experience for each customer who walks into the store. As such, we have diligently planned every detail of the store to offer customers the best shopping experience for our valued customers by ensuring that we cater to the various generations of shoppers while staying true to the values that matter most to us."
Giant Hypermarket Batu Caves was chosen to pioneer the new layout because of its prominence as one of the top performing stores and reputation as the preferred choice among surrounding communities to do their grocery shopping. The new look showcases upgraded signages with color codes to differentiate areas and the introduction of Flat Price Zone featuring products with a fixed price range of RM1, RM3, RM5, RM10 and RM15, Value Deals Block offering products at competitive price and Kids Zone selling toys and stationery. Additionally, on the digital front, Giant now offers cashless transactions through a partnership with Touch 'N Go and Boost.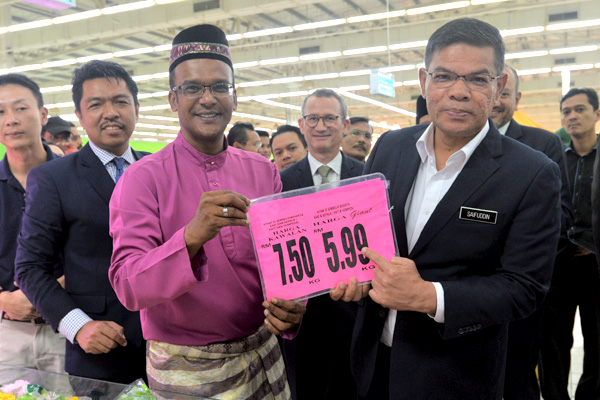 The newly re-launched Giant Hypermarket Batu Caves welcomes its customers with a pleasant atmosphere and vibrant color themes to create a fun and engaging shopping experience while offering higher specification of quality assurance, especially on fresh produce and meats. The hypermarket also seen an addition to its electrical product range, providing customers with more reputable brands and the latest innovative products. Giant Malaysia's own house brand, Simply Living cookware and gadgets were added to the home furnishing and household range, offering better quality products at a cheaper price.
YB Datuk Seri Saifuddin Nasution Bin Ismail, Minister, Ministry of Domestic Trade and Consumer Affairs said at the launch of the Batu Caves store "The Government strongly supports all the initiatives undertaken by Giant Malaysia to promote local products and local businesses. Through a joint effort between MDTCA and Giant Malaysia will be able to provide Malaysian with better quality product selections and cultivating a better more sustainable society."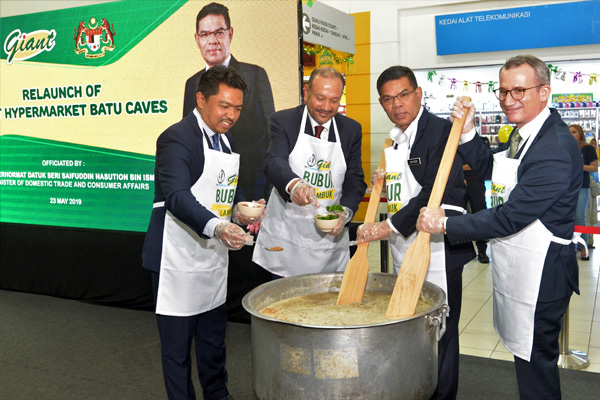 To mark the launch of the store's reopening, Giant Hypermarket Batu Caves unveiled various deals and activities throughout the launch period. The first 1000 customers are eligible to receive a goodies bag with any purchased item in Giant Hypermarket Batu Caves. Even more exciting, with every total purchase of RM80 and above in a single receipt, customer will be able to receive RM5 voucher giveaway. Throughout the launch period, there will be a demo, free gift and special appearances from the supplier's mascot. Special for the launch, customers who shop from Giant Hypermarket Batu Cave on HappyFresh can get RM18 off with a minimum purchase of RM120. To enjoy this special offer, customers need to enter the promo code GIANTBC at check-out on HappyFresh, limited to the first 300 customers only. Customers can enjoy home grocery delivery through HappyFresh.
In the spirit of the holy month of Ramadan that is filled with blessings and the sharing of joy, Giant Malaysia contributed RM15,000 to three charity homes, Teratak Nur Barakah, Rumah Amal Cahaya Tengku Ampuan Rahimah and Pertubuhan Kebajikan Ehsan Ash-Shakur. Giant Malaysia returns with its Annual Bubur Lambuk Corporate Social Responsibility Initiative with the theme 'Berkat Dikongsi di Bulan Mulia'. The bubur lambuk distribution is set to take place at more than ten locations throughout Malaysia including few locations in East Malaysia with 2,000 tubs to be distributed on each location.
batu cavesfreshgchgiantgroceryhypermarketnew lookretailshopping