EZdiscount officially launched in Malaysia
Nowadays, online shopping has become one of the most important lifestyles while purchase necessary or leisure items because online shopping has greatly enriched and facilitated people's lives while also smashing our pockets.
There have been a lot of shopping sales with giving rebate and discount, but usually we noticed that cheap things have no quality guarantee, might be not safe and reliable. Where should we find our favourable items but with no full price? EZdiscount is your best choice!
EZdiscount is the first Tmall & Taobao discount and rebate shopping platform exclusively for Malaysia. This type of online shopping system has been very popularized in China, and this is a kind of brand-new online shopping ecosystem in Malaysia. NEXTSIGHT EC SDN. BHD. has launched the first mobile app EZdiscount to fulfil and enrich online shopping market in Malaysia at 17th May 2019 in Bangsar, Kuala Lumpur.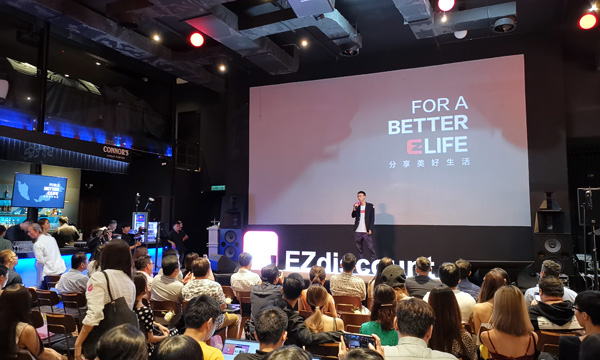 Tmall & Taobao as a long-term Strategic Partner
As a long-term strategic partner of Tmall & Taobao, EZdiscount is absolutely a platform with large quantity of discount vouchers, the rebate and cash back are openly rewarding to the users. EZdiscount as a new shopping platform also boldly create innovate business models and with zero thereshold. EZdiscount has The founder and dedicated team in EZdiscount originally from Alibaba's background, experienced and expert in handling overseas business.
EZdiscount team having the best technical team in China, they formed this exclusive mobile shopping app platform for Malaysian to fulfil Malaysians needs. Shoppers can share the greatest lifestyle via this platform, get rewards from shopping, the more you shop, the more cash rebates and discounts.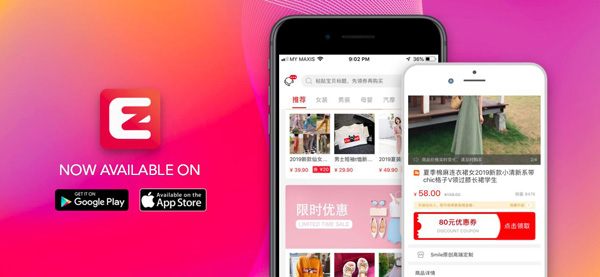 High Cashback, save and earn money, with commission up to 90%
By using EZdiscount, surely you can get the cheaper prices if compared to Taobao and Tmall's promotion prices. You can earn commission and rewards by sharing the discount vouchers by EZdiscount in your social medias with more people, the more you share, the more people made purchase, the more accumulated commission you will get, the commission you may get is from 20%-50%, the highest you can get is 90%.
EZdiscount has selected the best quality products which can be suit for Malaysian's preference. This exclusively brand-new platform allows shoppers to gain discount vouchers, save money, even can start own business with zero-cost easily.
EZdiscount considered as a long-term strategic partner of Taobao and Tmall, it is full of discount vouchers which can be shared transparently. This new online mobile shopping platform has invented the innovative business model with zero threshold.
The Alibaba's top technology development team ensure the most professional service in this platform, with the cooperation of localization operation team in Malaysia which having the abundance of online and offline resources, surely can working efficiently and provides the best services to Malaysian shoppers.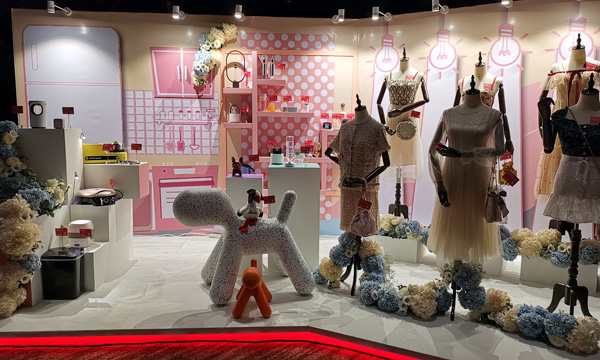 Two years of market research and preparation, starting from China to Malaysia
After two years of preparation, as the first product invested by Guangzhou Fastgrower Technology Co., it is an important part of Alibaba's strategic layout in Southeast Asia's market. Nowadays, the the company has set-up an office in Kuala Lumpur, with a profession localized operation team, and cooperates with Southeast Asian famous KOLs to promote our platform and products from EZdiscount which fits the needs and wants from Malaysia's market. To create a better life for Malaysia, EZlife.
This brand-new innovative and business model, combining transparency and precision, it would be the first platform in Malaysia with a discount, rebate and cash back and to all users. With the advantages of data and technology, the dividends will be returned to the users by cash. During our internal testing promotion period, there are some users can earn more than 10K with this system. Buy more, save more and earn more.
EZdiscount has cooperation with the familiar Malaysia's telco services company, branding promotion, KOLs and localize operation team to provide the most efficient, quality and friendly services from online to offline. EZdiscount has the precise of products selection which suits local market and make everyone has no worry to online and Taobao shopping experiences, only in EZdiscount gives you the privilege to say goodbye to full price.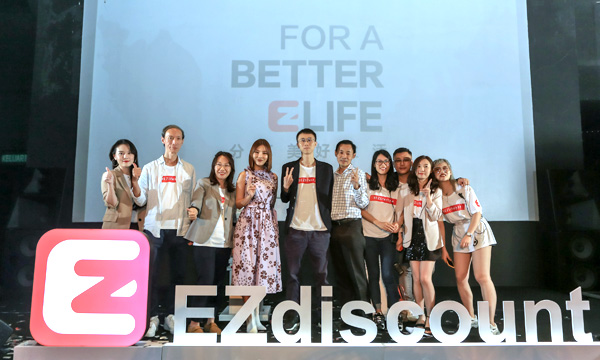 NextSight Pioneer Members all from Alibaba's International Business Management Team
Nextsight — Start-up members are from the Alibaba International Business Management team. Ted Ye, founder and CEO has been the head of Alibaba's e-commerce overseas user growth, he builded and lead the team to break through the proud achievements of the user growth for more than a billion, the record of his performance so far has not been achieved in the Alibaba's overseas team. His ability in business and professionalism have won the support of Alibaba Group's multi-business department for growth customers.
Zhang Jun (David), co-founder & CTO of the company, he was a senior technical expert & R&D director of Alibaba Group. In the field of artificial intelligence, big data, cloud computing and large-scale distributed systems, he has great practical experiences and accumulated a unique cognitive and applied theory system, to provide the strong technical support for the company's products. Now, David has established competitive artificial intelligence data architecture to guarantee the company in long-term perspective.
Liao Wenhui (Kevin), as a product partner, he has served as a senior product director of Alibaba Group. He has great practical experiences in building complex commercial products and large platform products. He has outstanding ability to manage tens of millions of large projects. He has great entrepreneurial experience and accumulated tens of millions RMB in financing. He in charge of provide the strongest support for the team, in terms of industry resources and team building.
The formation of the NextSight's origin intention is based on the founder team who has the great e-commerce experiences and insight understanding of the needs of the Malaysian market. When NextSight's start-up, the company has set the direction of "Exclusively for Malaysia" products, NextSight has invited the local marketer and operation experts to join the team and signing the Southeast Asia's KOLs to introduce and promote the products for NextSight.
The fully support of Alibaba Group, with the professional skills of the founders and team, in hand with localize fine operation with high efficiency guarantee, surely this will increase the growth of customers.
NextSight purposely hope to create good lifestyle for the world. This grand mission is NextSight's responsibility and motivation. NextSight believe in the power of accumulation and the sharing creates greatest energy and better life. The wealth of a family is not only by saving, but also from earning. Save more, earn more, with simple heart create better life. Photo Journalist
Gadgets, Photography, Automobile, Lifestyle
appcashbackchinadiscountezdiscountmarketplaceonlineshoppingtaobao