HUAWEI calls for Malaysians to 'Rewrite the Rules of Photography'
To explore the possibilities of next-generation visual expressions and culture, HUAWEI is calling for all smartphone photography aficionados to capture photos of their best moments in life using a HUAWEI smartphone, and be in the running to win various prizes, including a HUAWEI P30 Pro! Themed 'HUAWEI Rewrites the Rules of Photography', the month-long contest is sponsored by HUAWEI in collaboration with selected media platforms.
With smartphone photography being one of the core threads that runs across its products, especially with the HUAWEI P Series, HUAWEI's accomplishments in this segment continue to change consumers' expectations towards smartphone innovation.
"HUAWEI has always been driven to push boundaries – we believe that there is endless potential in smartphone photography for users to capture the true beauty of the world around them. Take for example, the recently launched HUAWEI P30 Series that has been carefully designed to produce great photos in situations where you'd never thought possible for a smartphone camera. Our annual photography competition, themed 'HUAWEI Rewrites the Rules of Photography', seeks to change this notion and create an empowered community of smartphone photographers," said Matthew Ng, Deputy Country Director, Consumer Business Group, HUAWEI Malaysia.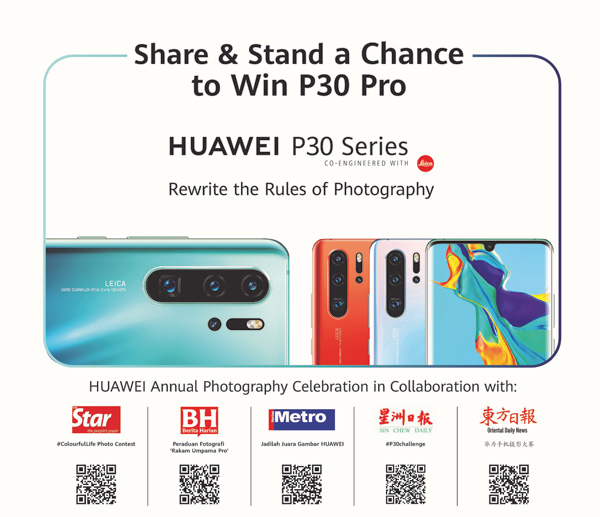 Submit your best photos taken on a HUAWEI smartphone
Participation is simple and straightforward. Just head on to the following media platforms, and follow the steps to be in the running to win units of the HUAWEI P30 Pro, HUAWEI nova 4, and HUAWEI WATCH GT (46mm Edition), and more.
Capture a picture that best showcases your creativity with any HUAWEI smartphones. Ensure that the watermark option is enabled.
Come up with a caption that describes your picture.
Upload the picture onto your social media platforms with selected hashtags.
For more information, and to find out the exact criteria for the captions and hashtags, visit the following media platforms: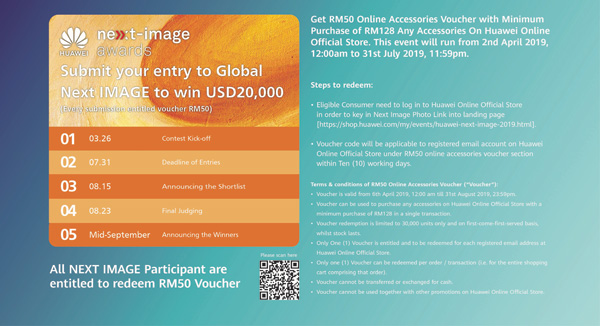 With these photos, participants can also submit all entries into the NEXT Image Awards to win a cash prize of USD20,000 and other fantastic prizes. Consisting of 6 conceptual categories, these awards aim to explore alongside HUAWEI smartphone users the possibilities of next-generation visual expressions and culture.
Do ensure that submissions are entered into the right categories below:
| | |
| --- | --- |
| Faces | Experimenting with identity and the power of portraiture |
| Going the Distance | Discovering new places and new experiences by using new features of the smartphone camera, for instance tele-lens, super wide angle or macro-shooting |
| Hello, Life! | Sharing the emotion or the inspiration in everyday experiences |
| Storyboard | Telling a story in 9 frames – a grid of photos that develop a meaningful or intriguing narrative |
| #Emotion Tag | Expressing instant emotions by means of photography |
| Life Now | Filming stories in less than 30 seconds. |
Additionally, all submissions will also receive an additional RM50 voucher from here. So what are you waiting for? Submit your entries now!
For more information, please visit consumer.huawei.com/my or HUAWEI's official Facebook  at www.facebook.com/HuaweiMobileMY. Photo Journalist
Gadgets, Photography, Automobile, Lifestyle
androidcontestHuaweiimagenextp30p30 prophotographypicturesmartphonesubmissionsuper zoom