Honda Civic Type R Mugen Concept premiering at Malaysia Autoshow 2019
Honda Malaysia (or the Company) will be showcasing the World's Fastest Front-Wheel Drive (FWD) production car, the Civic Type R with Mugen concept bodykit for the first time, alongside Honda's other Next Generation Advanced Technology models at the Malaysia Autoshow 2019. In line with the event theme this year, 'Mobility for All', Honda's booth located at Hall A at Malaysia Agro Exposition Park Serdang (MAEPS) will feature the theme "Frontier of Innovation".  From 11th to 14th April 2019, Honda Malaysia will be welcoming visitors at its booth to learn and experience the technology revolutions and innovations that Honda has pioneered for future mobility.
Besides the Civic Type R Mugen Concept, other models that will be displayed include CR-V Mugen Concept, Jazz Mugen and BR-V Special Edition (SE). Visitors can also get up close with newly launched models such as New HR-V RS and New HR-V Sport Hybrid i-DCD at Honda's booth.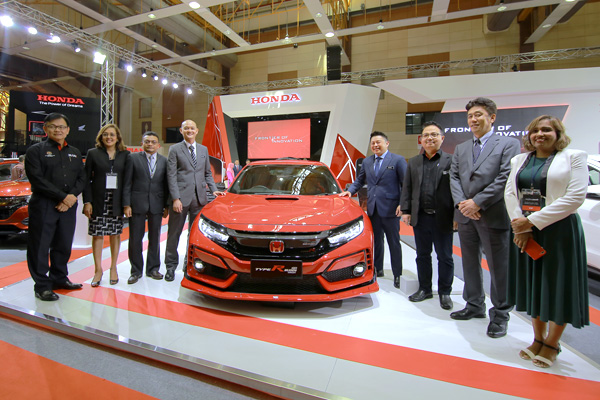 Mr. Toichi Ishiyama, Managing Director and Chief Executive Officer of Honda Malaysia said, "The Malaysia Autoshow 2019 is a good platform to showcase our breakthrough and innovative advanced technologies. At Honda, we are committed to offer products that are of high value equipped with advanced technologies to provide joy to our customers. The Civic Type R stands out above the rest in Honda's product line up, delivering the best package in its class that is race track-worthy yet highly adaptable to daily driving demands on Malaysian roads. We strive to ensure all our models provide the Joy of Driving to our customers with unique advanced features and stylish design. I would like to thank our customers for their continuous supports towards the latest technologies that Honda introduces."
List of Honda's Advanced Technologies and models that will be showcased in Malaysia Autoshow 2019:
1) Mugen Concept Bodykit
(a) Civic Type R Mugen Concept
The Civic Type R Mugen Concept is the highlight of Honda's booth at the Malaysia Autoshow this year. In Japan, Mugen means 'Unlimited'. With the word 'power' commonly placed after, it denotes 'Unlimited Power' in pushing the limits. The Civic Type R is a global model that not only carries the most advanced of automobile technology, but also expresses Honda's Racing Spirit while retaining the elements of 'Fun to Drive' DNA. There are close to 620 units of Civic Type R on Malaysian roads today with the current 2017 model known as (FK8) is the most powerful Honda model sold making up to 200 units sales. Powered by a highly advanced 2.0-liter VTEC Turbocharged engine, producing 310PS and maximum torque of 400NM, the Civic Type R was engineered to deliver the most rewarding drive in the hot hatch segment, both on the road and on the race track.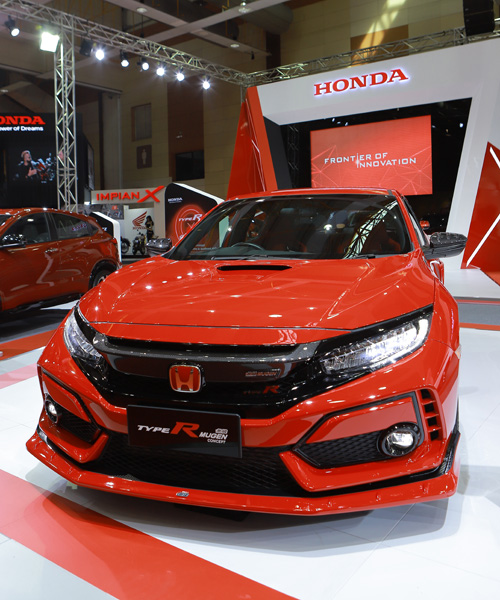 Decked in the striking Carnival Red colour, the Civic Type R Mugen Concept is expected to create excitement amongst car enthusiasts. The Civic Type R comes with Mugen concept bodykit and element consisting 12 items:
| | |
| --- | --- |
| Exterior | Interior |
| Carbon Grille Garnish | Sports Steering Wheel |
| Front Lip Spoiler | Leather Shift Knob |
| Rear Under Spoiler | Sports Mat |
| Side Garnish | Scuff Plate |
| LED Tail Lamp | |
| 20-inch Wheel | |
| MUGEN Body Sticker | |
| Wheel Nut Set | |
(b) CR-V Mugen Concept
Meanwhile, the Sport Utility Vehicle (SUV) segment leader CR-V will also be featured with Mugen concept bodykit in the new Passion Red Pearl colour. The CR-V offers a comprehensive suite of class-leading features from its exterior and interior to its advanced 1.5L VTEC Turbocharged powertrain. Developed under the Honda's Earth Dreams Technology, the powertrain is mated with Continuous Variable Transmission (CVT), providing a balance of driving performance and fuel efficiency. The popularity of the CR-V made it the best performing SUV in its segment. With a contribution of 15% towards Honda Malaysia's total sales, the CR-V is one of the top 3 contributing models for the Company.
2) Display Models
(a) Jazz Mugen & BR-V Special Edition (SE)
Two of Honda's popular models, the Jazz and the BR-V, recently introduced limited special editions – the Jazz Mugen and BR-V SE. Both models will be on display complete in the new Passion Red Pearl* colour. The versatile hatchback segment leader, Jazz, is known for being the only hatchback offering ULTRA Seats with 4 modes of configurations. The Jazz is fitted with an enhanced all-round Mugen bodykit that heightens its sporty outlook such as Front Aero Bumper, LED Front Fog Lights, Sport Front Grille and Tailgate Garnish.
Meanwhile, the full 7-Seater Crossover BR-V that is popular for its practicality and multi-configuration seats now comes complete with new additions to its exterior such as the Tailgate Spoiler, Running Board and Side Step Garnish for a sportier and sleek outlook in the SE version.
Both the Jazz Mugen and BR-V SE models are powered by the
1.5L SOHC i-VTEC engine coupled with Continuous Variable Transmission (CVT) gearbox which was developed under Honda's Earth Dreams Technology.
(b) New HR-V RS & New HR-V Sport Hybrid i-DCD
Segment leading HR-V's two new variants – the New HR-V RS and New HR-V Sport Hybrid i-DCD will also be showcased at the Malaysia Autoshow 2019. The New HR-V RS variant is powered by a 1.8L SOHC i-VTEC engine combined with Honda's Earth Dreams Technology Continuous Variable Transmission (CVT) gearbox that delivers a fun-to-drive experience. Available only in Malaysia and Japan, the New HR-V Sport Hybrid with intelligent Dual-Clutch Drive (i-DCD) system is the first Hybrid in its segment, appealing to customers who are looking for performance and fuel efficiency in a Compact SUV package. To-date, the HR-V RS and HR-V Sport Hybrid i-DCD has contributed 27% towards Honda Malaysia's total sales.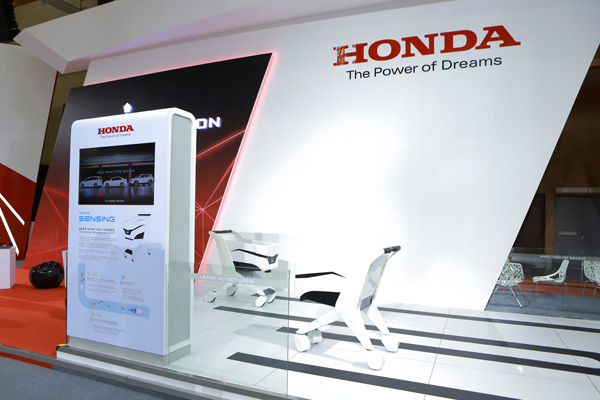 3) Honda Advanced Technologies
(a) Honda SENSING Cart
Honda SENSING Cart features real-time simulation experience of the Honda SENSING Safety System. Visitors will be able to experience for themselves the safety features of Honda SENSING such as the Convenience category;
Low Speed Follow (LSF); Side Collision Deterrence such as Road Departure Mitigation (RDM) and Lane Departure Warning (LDW); and Frontal Collision Deterrence such as Forward Collision Warning (FCW) and Collision Mitigation Braking System (CMBS). This little experiential demonstration will be fun and interesting for all visitors.
(b) Virtual Reality Sensory Experience
Emphasizing the Customer Journey Experience by using virtual reality, visitors will be given the opportunity to visualize the advancement of key advanced Honda technologies namely the Sport Hybrid, VTEC Turbocharged and Honda SENSING and how it will enhance daily lives through providing the Joy of Driving to all Honda customers.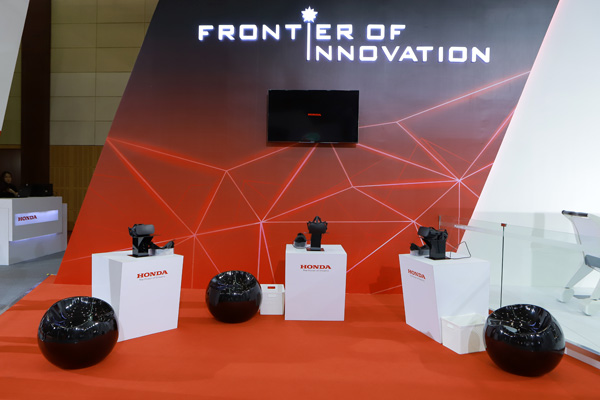 Visitors can also discover more about Honda's advanced technologies such as the Hybrid system and Turbo technology via interactive games. Many other interesting activities have been planned for the entire family at the booth such as test drive sessions, lucky draw sessions** and a special Facebook contest**. Come join Honda at the upcoming Malaysia Autoshow 2019 from 10am to 9pm! For more information, please call Honda's Toll Free number at 1-800-88-2020 or log on to www.honda.com.my.
autoshowcarcivicconceptcr-vecoexhibitionhondahonda sensinghybridjazzmugenshowcasetype r