Black Shark 2 reaches Malaysian Shores
Good news for gamers in Malaysia! Black Shark, as a cutting-edge gaming technology company, has announced the official arrival of its new gaming device to Malaysia, the Black Shark 2. Black Shark is committed to building a strong gaming eco-system based on hardware, software and services. Boasting unrivaled innovations, the latest addition to the Black Shark family aims to provide an unrivalled gaming experience for gamers.
The arrival of Black Shark 2 to Malaysia comes two weeks after its global launch in Beijing, China. Taking the lead in bringing the Black Shark 2 with revolutionary features to the mobile gaming community is Shopee, the leading e-commerce platform in Southeast Asia and Taiwan. As it is made exclusively available on the platform, Shopee users will be one step closer to getting their hands on this device and enjoy playing their favourite games anywhere and anytime.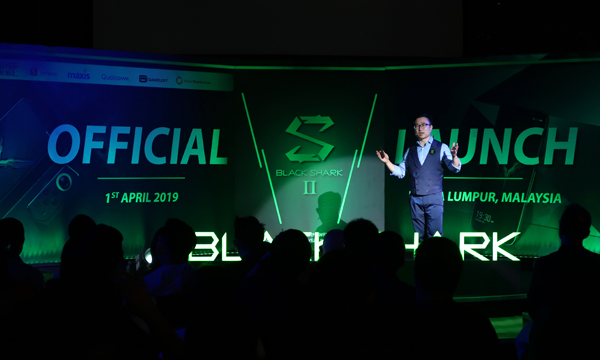 "Shopee is a young, fun, and dynamic brand, and having the Black Shark 2 exclusively onboard the platform is perfect for our users. The device is all about entertainment and excitement, and this ties in well with our efforts in building local talent and supporting eSports that is rapidly on the rise in Malaysia. As such, we are thrilled to have Black Shark choose us to debut their second smartphone here in Malaysia. This launch is also perfect timing as from today until 24 April, we have our Shopee Brands Festival where customers can enjoy bonus vouchers, earn double the amount of Shopee Coins, and receive free shipping with RM20 minimum spend on weekends from across brands, including Black Shark, on Shopee Mall," said Marianne Chuo, Marketing Lead, Shopee Malaysia.
Black Shark 2 as the best mobile gaming device based on 5 leading aspects. – Gaming Performance, Gaming Control, Vision, Hearing and Vibration.
Unrivaled Gaming Performance powered by the Best DPS
Black Shark 2 equipped with the newest Qualcomm Snapdragon 855, up to 12GB+256GB.
Direct touch liquid cooling system 3.0: Black Shark 2 features the first and only direct touch multilayer liquid cooling system in the world. This direct touch liquid cooling system allows effective heat board dissipation covering all areas. The CPU is controlled at a lower temperature of 14 degree Celsius which is currently the best in the industry.
Ludicrous Mode: This mode is like turning your car into "Sport mode". When Ludicrous mode is on, Black Shark 2 will release all the CPU power for supporting gaming performance without dropping frames and Black Shark 2 with Ludicrous mode is the only device in the world which can achieve this (test for 2 hours with Ludicrous Mode on, Green line is Black Shark 2's frames).
Fast charge even when gaming: 27w fast charge, 5 minutes charging for 30 minutes playing time and 10 minutes charging for one hour playing time. Black Shark 2 allows gamers to play and charge at the same time, for example, playing PUBG while charging, the phone will be charged up to 15% in just 30 minutes.
Battery Endurance: With 4000mAh, the battery can withstand intense gaming sessions of up to 5 hours, and the battery life is 60% longer.
X+2 Antenna: always online: Fitted with an X-type Smart Antenna and two side Antennas, the Black Shark 2 benefits from a 360-degree strong signal connection, regardless of phone orientation.
Shark Space-Immersive Gaming mode: World's first one-key access to the immersive gaming experience. When this mode is on, it clears up memory in the background, so gamers can focus on the game. Gamers just need to customise their settings via Game Dock without leaving the game. Gamers can monitor their gaming frame rate and system temperatures in real time via the Performance Dashboard. Through the Game Studio, gamers can tweak the CPU parameters, display, touch and basically every gaming settings for every game on the phone.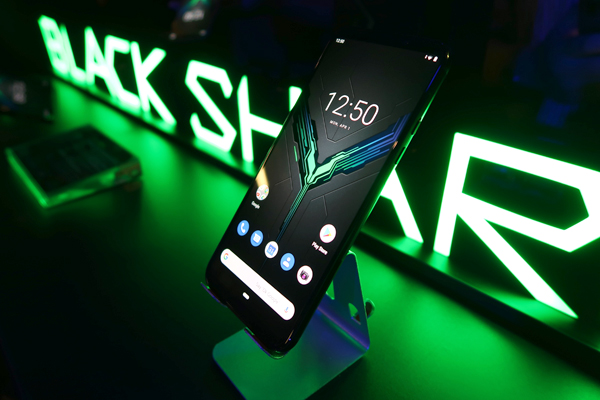 Preemptive Control makes the Best DPS
World Lowest latency screen touch: This new device features the world's lowest latency screen touch. Gaming has never been more fluid, with the fastest response speed of only 43.5ms helping gamers to improve their gaming competitive edge (reference: iPhone – 45ms, S10 – 60ms).
The world most advanced Master Touch: With the "Master Touch" innovation, gamers will be able to press firmly on both left and right customized touch zones to trigger multiple on-screen actions with just two thumbs. This Master touch could also allow you to save at least 80ms for shooting during a FPS game.
Clearest Vision, Hawk-Eye, to be the Best Hunter
6.39" AMOLED Screen with DC Light-dimmer, no more damage to the eyes.
True Clarity MEMC Technology (motion estimation, motion compensation) processing to eliminate unintended judder and blur.
World 1st DSP used on smartphone is one of Black Shark core technologies, it offers the best possible graphics performance even on phone performance demanding games.
TrueView: TrueView Multi-adaptive Display for optimal viewing across lighting conditions and ambient color tone, including DayLight View (DLV), Night View and Reading Mode for eye comfort.
HDR Gaming View: Industry-leading HDR Tone Mapping and Always HDR with real-time SDR-to-HDR conversion of games and videos.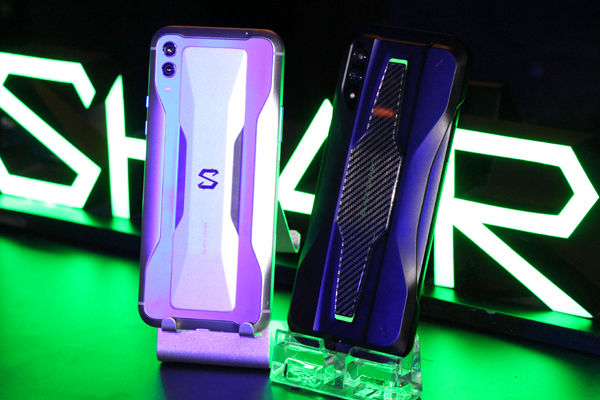 Audio Creation only for Gaming
Black Shark 2's sound system allow gamers to feel deeply immersed in the game, with a dual front-facing speaker which is 25% larger than standard smartphone and the powerful stereo sound. It comes with 3 customized gaming microphones: Two of them are noise cancelling microphones at the front that can help to ensure crystal clear in-game voice chat.
First smartphone to avoid "squeaking", a noise that occurs when you speak through the phone face to face.
Vibration, your weapon is in your hands: Black Shark 2 can recognize different environments/weapons/movements/hits, and fit different vibrations to each of these, to attain a 4D gaming experience.
Black Shark 2, more than a Moving Gaming Machine #bestDPSever
Host mode: Black Shark 2 can transform into a gaming Host by simply connecting an HDMI Cable to any big screen, with the world's lowest delay from any smartphone gameplay to any big screen. With GamePad 3.0 which can transform into a console pad with the Black Shark stand.
World most powerful Cooling case – Can cool 10 degrees in as little as 10 seconds.
Shark Time: Share your "best gaming moment" via social media with your friends. Black Shark 2 could recognize and record your best in-game moment automatically, and gamers could check on it after every game.
Light you up: Black Shark's Logo and 2 sides lights could offer a unique experience when you play games, listen to music and during daily life usage. RGB colors for different gaming effects, music Intelligent recognition to fit different music, and customization on light effect according to different friends.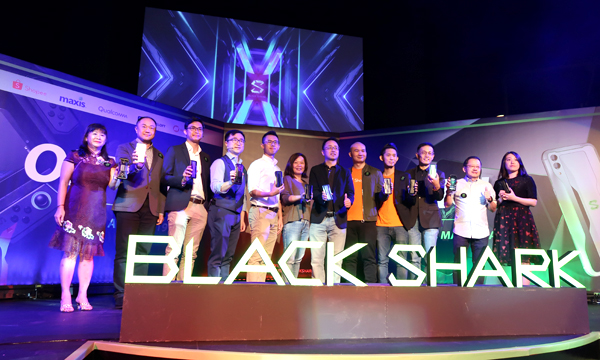 Price and Availability
For the first 200 consumers who purchased Black Shark 2 will enjoy the RM100 OFF voucher and consumer will get one free Fujitsu headphone E210BT (worth RM399). Make your order now via official store in SHOPEE: www.shopee.com.my/blackshark.os.
The retail price for the Black Shark: RM2499 (8Gb+128Gb) & RM2999 (12Gb+256Gb).
Intelligent Earnings Sdn. Bhd. is the exclusive marketing and sales partner for Black Shark in Malaysia, working hand in hand with Black Shark Global to bring this one and only, cutting edge and futuristic gaming phone to Malaysia.
For more information, visit global.blackshark.com.
androidbest dpsblackshark 2esportsgamesgaminggaming machineperformancesmartphone