Acer Malaysia expands Portfolio by unveiling More Options for Businesses, Education Sector and Prosumers
Acer Malaysia today added three new laptops to the TravelMate portfolio to offer more options for businesses and professionals – the ultra-thin and light yet durable TravelMate P614 laptop designed for professionals on the go; TravelMate X314 laptop featuring advanced security system with privacy protection, and the essential TravelMate P214 laptop.
At the same event, Acer also unveiled the Chromebook 311, PD1320i and PD1520i projectors and EI491CR monitor.
The availability of the Acer TravelMate P614 in Malaysia is one of the fastest for local users as this model has just had its global debut during the Acer Global Press Conference 2019 in New York less than three weeks ago!
Acer Sales & Services Sdn Bhd General Manager of Products, Sales and Marketing, Chan Weng Hong said, "Acer is constantly pushing the boundary of thin and light technologies for consumer products and today we are extending the technology and features into commercial products for businesses and professionals alike. Acer TravelMate P614 offers uncompromised performance with extended battery life in a slim chassis and is incredibly light! It is the perfect laptop for busy professionals on the go who demand performance and style from their laptop to match their pace while also being light on their shoulders."
Durability and security of data are always the top priorities for businesses and professionals. In this regard, the Acer TravelMate P614, TravelMate X314 and TravelMate P214 laptops have not only proven their build quality by passing US Military Grade standard test (MIL-STD 810G) with drops from 122cm height and withstanding 60kg of pressure, but are also secure thanks to Acer ProShield Security Manager and Trusted Platform Module 2.0 that safeguard company data in the hardware-level.
With 2×2 MU-MIMO technology, the Acer TravelMate series is able to connect to high-speed internet. Understanding the business environment, the Acer TravelMate series offers an abundance of connectivity ports, such as the RJ-45, several USBs, card reader and display output port. The Acer TravelMate P614, TravelMate X314 and TravelMate P214 are equipped with fully functional USB3.1 Type-C port that is able to power the laptop and also connect peripherals to the Acer USB Type-C Dock.
Maintenance, repairs and upgrades are easier in the Acer TravelMate P214 and TravelMate X314 as IT technicians can just remove the screws on the bottom of the laptop to access SSD, HDD and RAM. All Acer TravelMate P614, TravelMate X314 and TravelMate P214 come with three years onsite, parts & labor warranty, with one year international traveler warranty (ITW).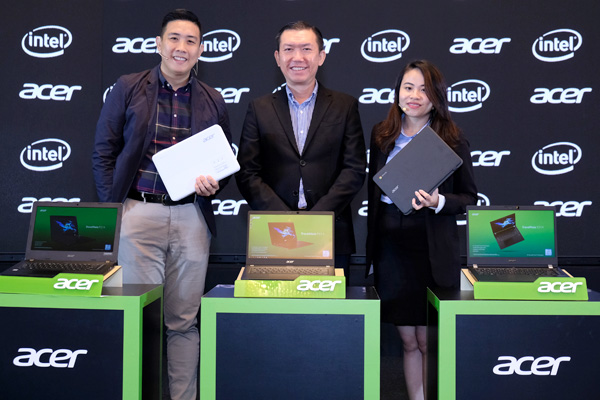 Acer TravelMate P614 – Ultra-Light yet Powerful and Secure
The sleek, clean, modern Acer TravelMate P614 comes with a refined design accentuated by its rounded corners and smooth curved hinge. Designed with corporate users who often travel in mind, the feather-light Acer TravelMate P614 laptop packs all the performance for work on-the-go with up to 20 hours battery life without compromising performance and durability into a 16.6mm thick form factor. Its magnesium alloy chassis makes the Acer TravelMate P614 sturdy yet weighs only 1.1kg.
Powered by Intel® Core™ i7 processor, the Acer TravelMate P614 comes with 8GB RAM and 512GB super-responsive Gen3 x4 PCIe SSD using NVMe technology. Acer TravelMate P614 laptop has a narrow-bezel 14-inch FHD touchscreen with 72% NTSC color gamut to deliver accurate colors. In combination with the 180° hinges and 170° viewing angle, information sharing on the Acer TravelMate P614 is a breeze.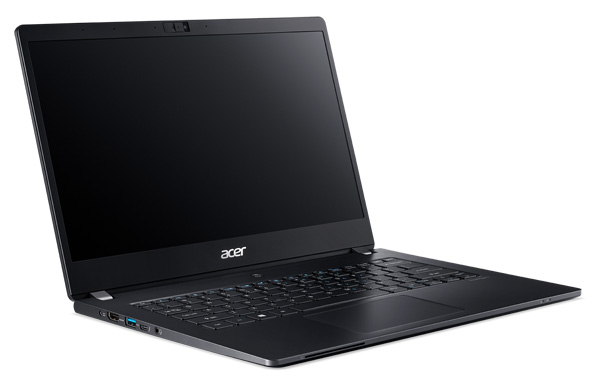 Built for first-class user experience, the Acer TravelMate P614 produces greater clarity and high-quality audio with a four-mic array that picks up vocals from up to two meters away, working in tandem with dual speakers. Ensuring maximum productivity, its USB 3.1 Gen 2 Type-C™ with Thunderbolt™ 3 offers lightning-fast data transfers up to 40Gbps and support for up to 8K display.
Usesr can log in to the TravelMate P614 through convenient and secure methods. The power button has an integrated fingerprint reader and the IR supported camera allows users log in to Windows 10 via Windows Hello. For additional privacy protection, users can close the camera shutter when the webcam is not in use.
Acer TravelMate P614 comes with up to 20 hours battery life, enabling professionals to maintain a high level of productivity without having to bring a charger along. With Fast Charging, Acer TravelMate P614 takes just 2 hours to charge up to 100% capacity or boosts the battery by 50% in less than 45 minutes to keep you powered throughout the day.
Retailing for RM5,699, Acer TravelMate P614 laptop will be available for purchase in Q3 2019 at Acer official online stores and selected Acer authorized resellers nationwide.
Acer TravelMate X314 – Advanced Security System with Privacy Protection
For small and medium businesses who value advanced security and privacy protection, Acer TravelMate X314 features fingerprint readers incorporated in the power button allowing users to power on and log in to Windows 10 via Windows Hello or through the IR webcam leveraging biometric facial recognition. Both methods eliminate having to remember and use a password. When the webcam is not in use, the camera shutter can be closed for additional security.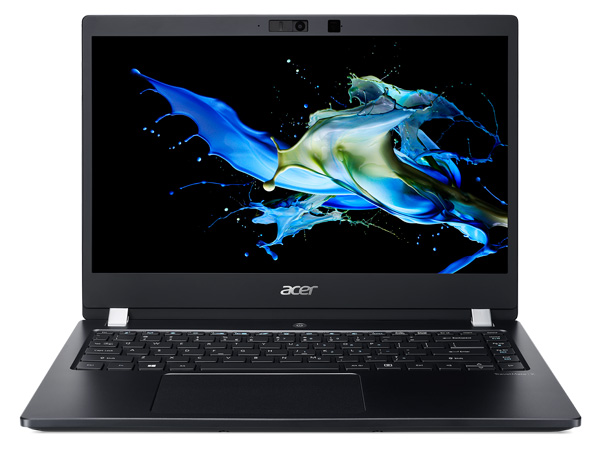 The Acer TravelMate X314 is a powerful device on-the-go, it packs a 15-hour battery in an aluminium chassis design that is less than 20mm thin, weighing only 1.6kg. Powered by up to 8th Gen Intel® Core™ i5 processor coupled with 8GB high speed DDR4 RAM and up to 256GB SSD using NVMe technology, Acer TravelMate X314 loads apps faster and runs graphics smoother.
With a narrow bezel design, the Acer TravelMate X314 is equipped with a 14-inch FHD IPS display that supports up to 178° viewing angle, allowing users a clear view of the display at wider angles while maintaining the same level of high-quality color. Users can enjoy better navigation with the gesture-responsive Precision Touchpad and 27% more surface space than the standard touchpads of the previous TravelMate X3.
The Acer TravelMate X314 will be available for purchase in Q3 2019 at Acer official online stores and selected Acer authorized resellers nationwide, at RM3,899.
Acer TravelMate P214 – Essential Business Class Laptop
Developed for small and medium businesses who need a portable device with processing power and durability possessing business features, the Acer TravelMate P214 is powered by 8th Gen Intel® i3 or i5 processor with 4GB DDR4 RAM. It has a 14-inch IPS display or a customizable 15.6-inch display option. With the option of a built-in DVD writer, the Acer TravelMate P214 provides businesses greater choice to obtain the best device to suit their needs.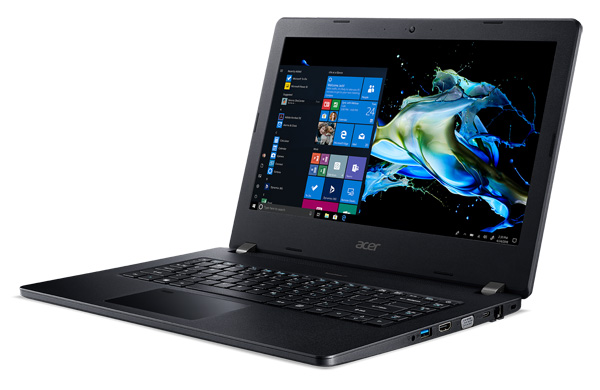 Weighing just 1.6kg and measuring in at less than 20mm thin, Acer TravelMate P214 offers up to 14 hours battery life. With the specially designed texture on the top cover, Acer TravelMate P214 offers extra resistance against scratches.
The Acer TravelMate P214 will be available immediately at Acer official online stores and selected Acer authorized resellers nationwide in four options with prices ranging from RM2,599 to RM3,099.
Acer Chromebook 311 for Education Environment
Acer Chromebook has shipped 13 million units worldwide, making Acer the no.1 Chromebook provider in the world. With its durability and ease of maintenance, Acer Chromebooks have done very well in the education sector. And today, in Malaysia Acer provides another option for the education sector with the unveiling of the Acer Chromebook 311.
Designed with education environment in mind, the Acer Chromebook 311 features a low power consumption processor, military standard specs and a long battery life to withstand the daily rigors and intense usage of students inside or outside the classroom.
Its Intel® Celeron N4100 processor is efficient on energy consumption, enabling up to 12 hours of battery life on a full single charge – students do not have to carry their chargers around. Acer Chromebook 311 is equipped with 4GB RAM, 32GB eMMC storage and supports additional micro SD card reader to offer extra performance to make projects run smoother and with quick response. Its 88° Wide Field HD webcam offers wider angle for video eliminating crowding around the laptop.
Acer Chromebook 311 offers faster wireless speeds with Intel® Gigabit Wi-Fi and strategically placed 802.11ac wireless antenna with 2×2 MU-MIMO technology.
Acer Chromebook 311 offers protection against accidental spills of up to 330 ml of water, thanks to the uniquely designed keyboard drainage that routes water away from internal components and drains out the bottom of the chassis. The Acer Chromebook 311 can handle drops from heights up to 122cm and 60kg weight pressing down on it thanks to its reinforced design that protects components and absorbs shocks. In addition to its U.S. military-grade standard test (MIL-STD 810G), the Acer Chromebook 311 also complies with ASTM F963-16 and UL/IED 60950-1, two leading toy safety standards as this special laptop is designed to be used by younger children as well.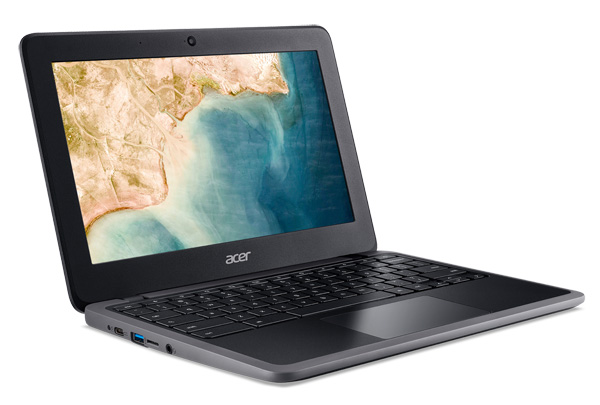 Simple, Easy and Safe with Chrome OS
The Chrome OS which the Acer Chromebook 311 is operating is a simplified interface that enables fast boot time to get tasks working quicker. In addition, Acer Chromebook 311 supports Google Play™, allowing students access to Android and Chrome web apps for learning, research and fun.
With the Acer Chromebook 311, users can control and monitor usage with the easy set-up of digital ground rules of the list of websites and apps that can be used. Automatic updates keep the system up-to-date with the latest and newest patches, including for the built-in malware protection.
With support for multiple user sign-in, students can simply log into their account to ensure their projects, Gmail and other information are stored in the cloud. The accessibility settings sync across any Chrome OS device, instantaneously updating their accessibility settings too.
Priced at RM1,299, the Acer Chromebook 311 will be available in May 2019 at all Acer official online stores and authorized resellers nationwide.
Acer Malaysia Introduces Portable Projectors And 49-inch Monitor to Complete Your Computing Experience
Acer Malaysia also introduces the Acer PD1320Wi and PD1520i projectors and the 49-inch Acer EI491CR monitor to offer users the next level of viewing experience, extending its range of products for business, educational and home use today.
The travel-friendly designed Acer PD1320Wi and PD1520i LED projectors have an A4-sized footprint with a side profile of less than 6cm, making them among the easiest projectors to carry around. Slip them into a briefcase or backpack to have that professional and steady performance in any presentation, even out of an office environment. Presentations now can be easy and seamless with these projectors that are packed with multimedia playback and wireless projection.
Meanwhile, featuring a 49-inch 1800R Curve VA panel display with ZeroFrame design, Acer EI491CR monitor puts every corner of the screen at the same distance from the user's eyes to deliver more immersive viewing experience and reduces eye strain during long periods of viewing. With the 32:9 aspect ratio Ultra-wide screen and DFHD (3840 x 1080) resolution, Acer EI491CR monitor makes games, work and movies look as epic as possible.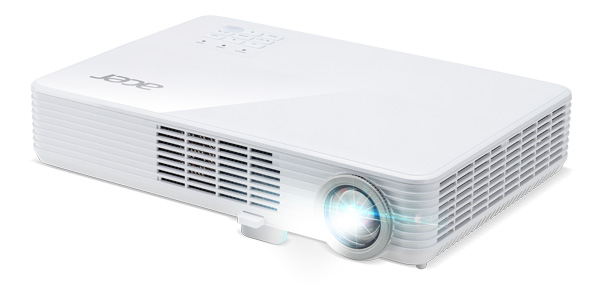 Portable Acer PD1320Wi and PD1520i Projectors
Acer PD1320Wi comes with WXGA (1280 x 800) or maximum WUXGA (1920 x 1200) resolution, while the Acer PD1520i comes with 1080p (1920 x 1080) or maximum 4K2K (3840 x 2160) resolution to offer projection akin to high-definition video. Movies will gain more depth when paired with 3D glasses to deliver stereoscopic visuals with DLP 3D ready in Acer PD1320Wi projector and the HDMI 3D ready in Acer PD1520i projector.
Equipped with an LED light source, these projectors offer up to 30,000 hours lifespan, which means users can use them for 8 hours every day for more than 10 years! The efficiency of LED offers long-lasting brightness consistency, providing 5 times less brightness decay than traditional projectors.
Unlike lamp-based projectors, both Acer PD1320Wi and PD1520i projectors provide immediate on/off functionality in 1 second, eliminating the need to wait for the projector to warm up or cool down. Both projectors use three separate Red, Green and Blue LED emitter panels for better color saturation and achieve an extended 85% NSTC wide color gamut and reproduces accurate color balance. Both projectors also come with higher contrast ratio to offer outstanding color performance.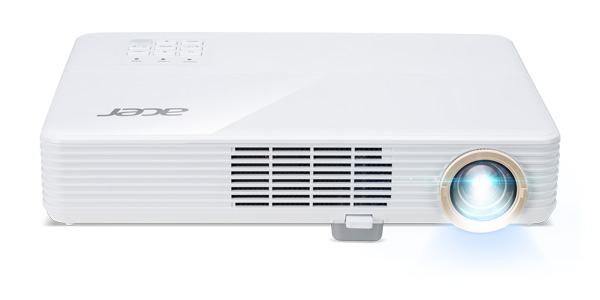 Free from cable chaos with the Acer wireless dongle, both projectors allow users to project from smartphone, laptop or PC real-time via wireless signal. Miracast support allows quick and seamless screen mirroring without an extra app. Playing videos or movies is now fast and easy with both Acer PD1320Wi and PD1520i projectors as they come with multimedia playback function, supporting the projection of content directly from a plugged-in USB drive without additional device required.
With the high flexibility design, both Acer PD1320Wi and PD1520i projectors can be rotated 360° in any direction to support projection up to the ceiling or down to the floor. With auto keystone correction, it corrects vertical distortion up to 40°, finding the right angle for the presentation is now quicker and simpler.
Both projectors are equipped mercury-free light source enabling both ideas and the planet to blossom. The projectors are available immediately at Acer official online stores and all Acer authorized resellers nationwide. The Acer PD1320Wi projector retails for RM2,999 while the Acer PD1520i projector retails at RM3,699.
Beyond Your Limitation – Acer EI491CR Monitor
Thanks to Quantum Dot display, limitations of color gamut on conventional monitors are no longer a hindrance as the Acer EI491CR monitor is able to deliver broad color gamut covering 90% DCI-P3 color standard by improving efficiency through elimination of light waste at color filters. With the VESA certificated DisplayHDR 400 showing colors as they truly are, Acer EI491CR monitor not only highlights glimmer with details in brighter scenes, but also preserves rich black in darker scenes and details typically hidden in the shadows are enhanced for greater overall luminance.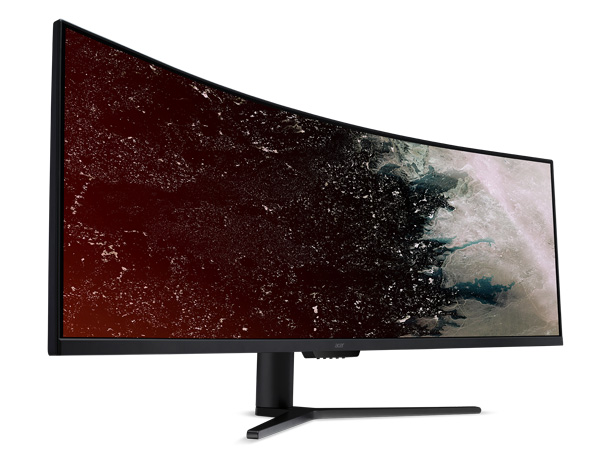 Acer EI491CR monitor comes with the Radeon FreeSync™2 technology offering low latency HDR gaming experience. With the overclockable 144Hz rapid refresh rate, Acer EI491CR monitor is able to provide gamers an excellent in-game experience with quicker frame rendering and lower input lag. The Real-time ambient backlighting with 7 colors and flashing light effect allows users to make it seem like the image on your monitor extends outside the frame of the screen.
To maximize user experience while minimizing the effort, Acer EI491CR monitor comes with the Acer Display Widget software that allows users to customize the monitor. The Acer EI491CR monitor allows users to optimize performance according to intended usage by just switching between 3 preset gaming modes, standard, ECO, graphic and movie. To fully utilize the 49-inch ultra-wide display, Acer Display Widget's split screen feature comes with 11 types of split regions allowing users to divide the screen into several regions and assign apps to specific regions. Users can split the windows by hotkey, split screen setting menu or remote control, making work space as neat as possible to increase productivity and efficiency.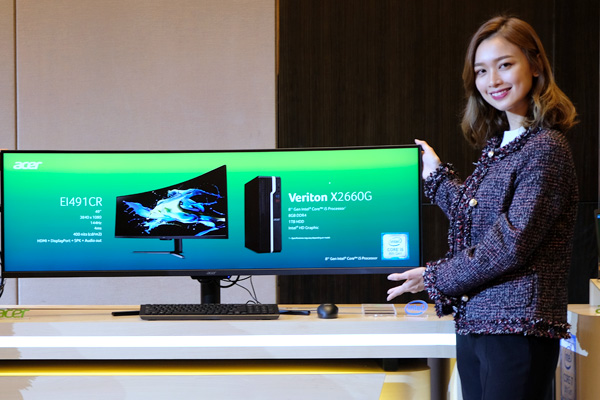 Priced at RM3,399, the Acer EI491CR monitor will be available in May 2019 at 6 select Acer resellers including ALL IT Hypermarket, Harvey Norman, Ideal Tech PC, Just IT Technology, P.C Image Sdn Bhd and Viewnet Computer System.
For more information, please visit Acer Malaysia Facebook or call Acer's Product Infoline at 1800-88-1288 (9am – 6pm, Mondays to Fridays).
AcerBusinesschromebookcomputerdisplaygaminghomelaptopmonitornotebookpinnacleprojectortravelmateworkstation