OPPO launches OPPO F11 Pro: Versatile Portrait Mastery, Breakthrough in Photography and User Experience
OPPO Malaysia officially launched the OPPO F11 Pro today. This time, the OPPO F11 Pro is bringing the 'F' series to a whole new level – from Selfie Expert to Brilliant Portrait – featuring a 48-megapixel (MP) image sensor rear camera, providing users an unprecedented night photography experience. The software and hardware of the device are also upgraded to improve its battery life, gaming performance, and user experience. In addition, the OPPO F11 Pro boasts an uninterrupted full screen display made possible by a rising front camera module.
"The OPPO 'F' series has been one of the most highly acclaimed product portfolios in Malaysia, and we are hopeful that the OPPO F11 Pro will take forward its legacy of innovation into the future and continue to offer consumers an incredible experience. The OPPO 'F' series are best known for its camera innovation and capabilities. The OPPO F11 Pro builds on that incredible legacy by delivering a breakthrough design, professional photography experience and performance innovations that will truly capture the essence of technology meets arts," said William Fang, CEO of OPPO Malaysia.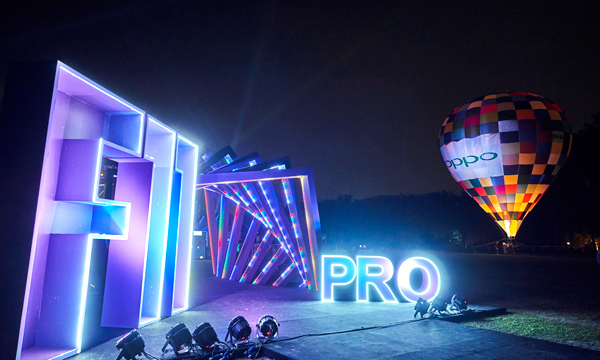 A New Design Experience: From Trend to Art
OPPO has also achieved breakthroughs in design by incorporating vibrant natural beauty into the OPPO F11 Pro with gradient colour design.
OPPO advocates an aesthetic of "natural creation" and has captured the beauty of nature in the OPPO F11 Pro via breakthroughs in both materials and craftmanship. OPPO is also the first smartphone manufacturer to create a triple-color gradient design, known as Thunder Black. This unique gradient design blends red and blue into a classic black, almost like a meteor streaking across the night sky. OPPO also created a unique double-color gradient design, Aurora Green, which draws inspiration from vibrant blue oceans interweaving with lush green continents.
Furthermore, the OPPO F11 Pro is equipped with a 6.5-inch FHD+ Panoramic screen, featuring an aspect ratio of 19.5:9 and a screen-to-body ratio of 90.9%. It also features a hidden front camera module to free up space for its full screen display. The motor on the front rising camera has been thoroughly tested to ensure it can operate 100 times usage per day for 6 years without fail, thus ensuring a positive user experience.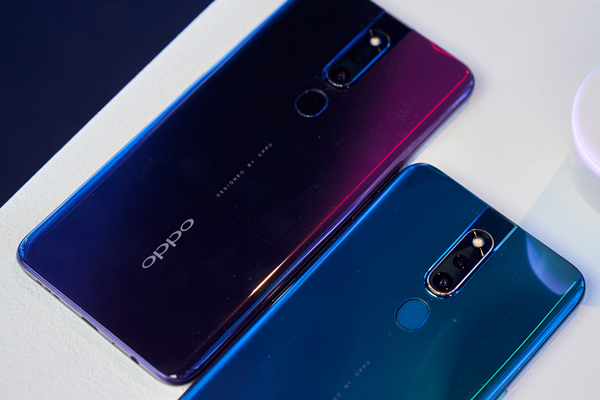 The OPPO F11 Pro also has a much elaborate design, retaining the experience-optimized crescent design from the previous generation, but also adding a transparent, amber-colored hidden camera module. When the camera rises up, users will be treated to a stunning visual experience.
From Selfie Expert to Brilliant Portrait
OPPO has continuously innovated in the field of selfie photography and with the OPPO F11 Pro, it has taken the next step to propel users to become portrait masters by improving the rear camera functions. In an effort to help users capture great photos anytime and anywhere, OPPO has made considerable efforts to make it easier to shoot sharp and marvellous portraits at night. The OPPO F11 Pro is equipped with a 48 MP image sensor and F1.79 large aperture rear camera setup. Together with a 6P lens, the camera can sense and absorb extra light when shooting in low light conditions, ensuring that more details are captured. When capturing a night portrait, the included Tetracell technology analyzes and combines data from four adjacent pixels to achieve the equivalent of a single 1.6μm pixel. With twice the number of photosensitive pixels, it improves light sensitivity and allows users to capture clearer night portraits.
Moreover, the OPPO F11 Pro also employs Ultra Night Mode and Dazzle Colour Mode technologies. These technologies leverage AI and a multi-frame noise reduction technology to achieve noise reduction, handheld stabilization, highlight suppression, and enhanced dynamic range. Together, these technologies enable users to capture more levels of brightness and detail that normally exceed limits of the human eye. When capturing a night portrait, the OPPO F11 Pro can automatically distinguish a human face from the background, ensuring that the human is the focus of the scene.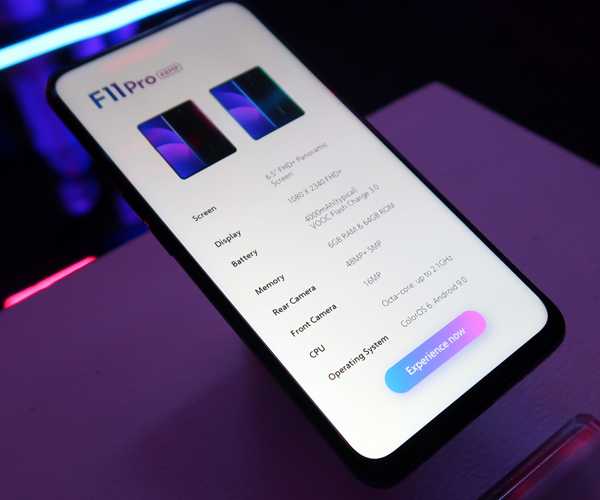 Equipped with 48 MP lens, Ultra Night Mode, and Dazzle Color Mode, the OPPO F11 Pro features a combination of hardware and software applications that allow users to easily capture sharp and stunning night portraits.
The OPPO F11 Pro not only captures excellent portraits with its rear camera, but also retains the "Selfie Expert" tradition of the F-series. Selfies taken with the OPPO F11 Pro are as natural and beautiful as ever.
From Photography to All Purpose
The OPPO F11 Pro also succeeds in upgrading the overall user experience. The OPPO F11 Pro comes equipped with a 4,000mAh battery, 500 mAh higher than the previous generation. The brand new VOOC 3.0 flash charging technology leverages a new FFC algorithm, shortening charging time by 20 minutes compared to the previous generation. This means the OPPO F11 Pro can be fully charged within 80 minutes. In terms of safety, OPPO has customized special adapters, batteries, cables, circuits and interfaces, to develop its intelligent five layers of protection technology to keep its users safe. Now, VOOC has over 90,000,000 users around the world. The OPPO F11 Pro also reduces power consumption through optimized hardware and software technology. It contains a low-power MTK P70 CPU and ram-equipped display, while accurately monitoring app power consumption to optimize app performance. Thus, the OPPO F11 Pro achieves a longer battery life via faster charging technology, a larger-capacity battery, and lower power consumption.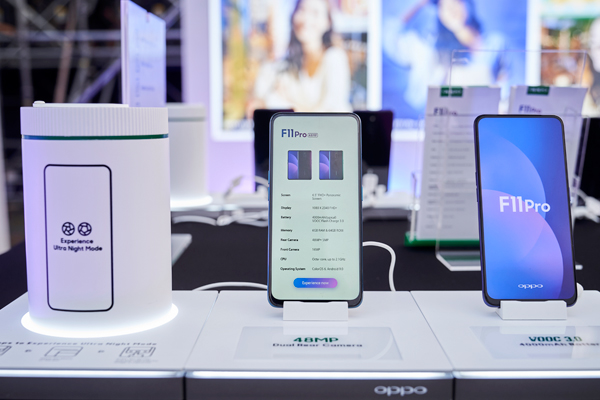 With regards to gaming, OPPO has independently developed its own performance acceleration engine called Hyper Boost, optimized for 11 popular mobile games, including PUBG and AOV. By optimizing the system resource mobilization plan, hardware resources can be utilized more effectively resulting in a faster game response, no disconnections and no dropped frames. Additionally, OPPO also introduced two useful tools which is Game Space and Game Assistant, providing gamers with a more immersive gaming experience.
The OPPO F11 Pro is also equipped with the new ColorOS 6 system, especially designed for full screen smartphones. The innovative borderless design further increases ease of use. In addition, ColorOS 6 has multiple functions, including OPPO Cloud Service, Smart Assistant, and Gesture Navigation, allowing users to experience a smarter lifestyle.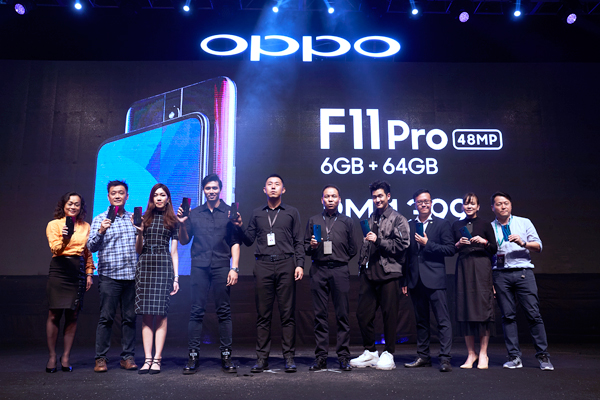 Market Availability Information
Priced at RM1,399, the OPPO F11 Pro, 6GB+128GB version will be available for pre-order from 19th March 2019 onwards until 29th March 2019. Users can pre-order the device either offline at OPPO Official Concept Stores and authorised dealer stores or online at the OPPO Official Website and OPPO's e-commerce partners' sites such as Lazada, Shopee and Astro GoShop. Consumers may also head to Celcom Blue Cube, Senheng, senQ, Courts and Aeon as alternatives. Pre-order customers will be able to collect their OPPO F11 Pro during its first sales day on 30th March 2019.
For more information, visit OPPO Official Facebook Page.