eGG Network & FOX Sports Asia present the TAG Heuer Virtual Bundesliga VBL International Series – South-East Asia Qualifier
The TAG Heuer Virtual Bundesliga (VBL) expands its global eFootball initiative with a refreshed tournament format for its upcoming SEA Championship. Organised in collaboration with eGG Network and FOX Sports Asia, the tournament will feature FIFA19 players from 11 Southeast Asian countries competing to become the pride of SEA to play at the VBL International Finals in Germany.
Key Highlights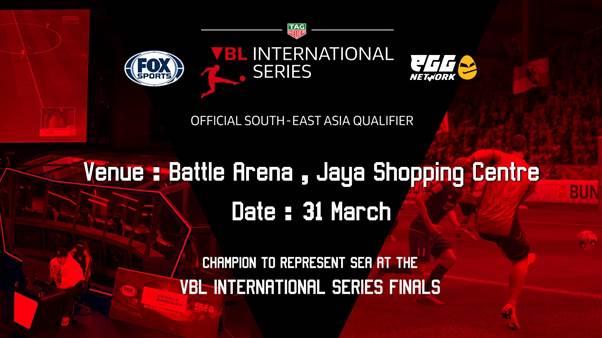 On-Ground Event Highlights – 31 March, Battle Arena Malaysia, 10am onwards
Watch all the action unfold as the final 8 will play at Battle Arena Malaysia on 31 March, 10am onwards, with the South-East Asia Grand Final match set for 5:30pm.
Activities lined up include meet and greet with FOX Sports' John Dykes, Astro SuperSport and eGG Network hosts, chance to get exclusive Bundesliga merchandise, and participate in lucky draws.
Tournament Details
MYR10,000 worth of cash prizes and exclusive merchandise up for grabs.
One Grand Champion will be the pride of SEA and visit the Grand Final of the TAG Heuer Virtual Bundesliga in Germany to compete at the VBL International Final. The champion will take home MYR5,000 and an all-expense paid trip to Germany, including a live Bundesliga match experience and city tour.
Players will only be allowed to use Bundesliga teams and players during the tournament.
Qualifying stages will be split into 4 regions:-

Region 1 (Online & Offline): Malaysia
Region 2 (Online): Indonesia, East Timor, Brunei
Region 3 (Online): Singapore, Cambodia, Vietnam, Philippines
Region 4 (Online): Myanmar, Laos, Thailand

The Region 1 online qualifier will be held on 23 – 24 March, where the top 64 will move on to play on-ground on 30 March at Battle Arena Malaysia. Players from Regions 2, 3 and 4 will have to register and compete online.
The champion for each region above (total 4 players) will be sponsored to play at the main event, joining four wildcard invited players from the region to make up the final 8 that will compete at the SEA Grand Finals on 31 March in Battle Arena Malaysia
The Grand Finals on 31 March will be broadcasted LIVE on eGG Network and FOX Sports channels around the region.
Register now
Registration is FREE and open from now till 22 March 2019 at this link. More details at here.
eggegg networkesportsfootballfox sportsgamingqualifiersoccertag heuervbl