ShopBack plans to Give Away more than RM350K Rewards during Birthday
ShopBack Malaysia, the leading Cashback portal is bringing back the signature Birthday Shopping Spree Giveaway for its 4th Birthday from 20th – 22nd of February this year. The value of sponsored shopping spree will be increased to RM30K (was RM18K last year), and couple with the cashback to be given during the campaign period, the total value of rewards is amounting to over RM350K.
Every ShopBack user who goes through ShopBack website or app to shop with any of the partner stores participating in ShopBack Turns 4! Campaign will automatically enter the RM30K Shopping Spree Giveaway. Three (3) ShopBack users will be randomly selected as winners, with each getting RM10K sponsored shopping spree.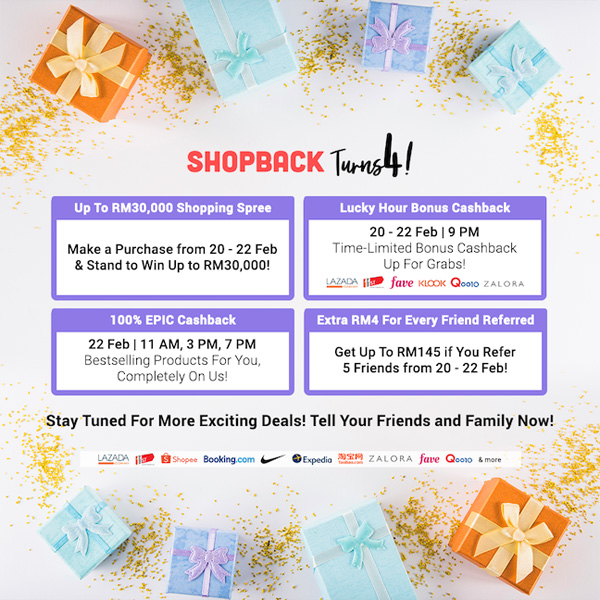 Online shoppers can also anticipate epic rewards i.e. lucky hour cashback and 100% cashback on selected items, as well as special upsized cashback and exclusive promo codes offered by partner stores which include Lazada, Shopee, 11street, Booking.com, Expedia, KLOOK, Hermo, ZALORA, Taobao, Trip.com, Nike, etc.
"100% cashback simply means if users pay RM10 for an item, they will get back RM10 cashback from us. Four years ago, we only had 300 users and today, more than 1 million Malaysians are making ShopBack the first stop of their online shopping journey. Thanks to their support, we're able to scale and help more users to save from their everyday spending. There's no other better way to show our gratitude than giving the best rewards to our users during this meaningful occasion," says Alvin Gill, Country General Manager of ShopBack Malaysia.
He points out that online shopping has gained strong popularity over the past year and discounts (including price cut, coupon discount, cashback and free shipping) remain as the main reason for customers to make purchases online, followed by convenience. He believes Q1'19 will continue to grow especially with ShopBack Malaysia's upcoming 4th birthday celebration.
According to ShopBack Malaysia's data, comparing with Jan'18, the number of online orders made through ShopBack Malaysia in Jan'19 increased by more than 100%. He attributes the growth in January to the success of ShopBack Malaysia's Chinese New Year campaign where more than RM2 million cashback were given to users, doubled from last year's CNY campaign. 11street, Agoda, Booking.com, Lazada and Shopee were the top five online stores last month.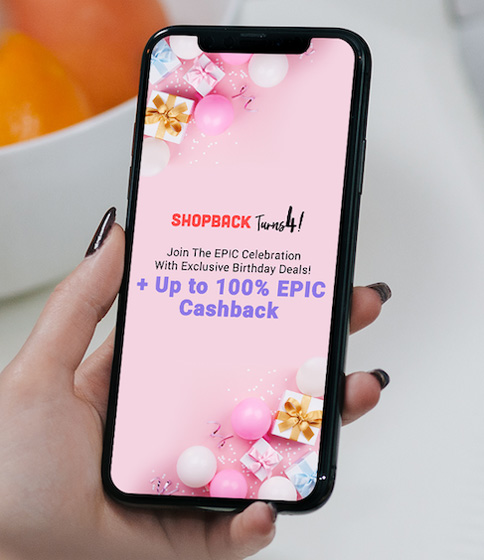 "We also unlocked another milestone last month. A new vertical, movies, is now available on ShopBack Malaysia. Users can get cashback when they purchase a movie ticket with mmCineplexes via our website and app," he adds.
In addition, ShopBack Malaysia observes a 40% increase in terms of the percentage of orders made via its app in Jan'19, when comparing YoY with Jan'18. "This is driven by our app integration with Grab, Lazada (app), and subsequently 11street, Shopee, AliExpress and Booking.com apps. The integration enables us to work directly with partners to give cashback for app purchases at the same time, motivates ShopBack users to try out partners' apps. ShopBack is a pioneer in app to app integration in the region and we target to onboard more popular apps this year."
Signing up to ShopBack is free. More than 1 million Malaysians are using ShopBack at the moment, and over RM30 million of cashback has been given to local users since 2015. For more information about ShopBack's 4th Birthday campaign, please visit www.shopback.my/anniversary or follow www.facebook.com/ShopBackMalaysia. Photo Journalist
Gadgets, Photography, Automobile, Lifestyle
appBusinessinternetmarketplaceonlinerewardserviceshopbackshoppingtrading