HUAWEI updates MateBook X Pro and Matebook series
At Mobile World Congress (MWC) 2018, Huawei introduced the HUAWEI MateBook X Pro, the first-ever FullView notebook. Combining extreme portability, a premium FullView display, cutting-edge performance and smart connectivity, the first HUAWEI MateBook X Pro heralded the era of minimal-bezel notebooks, and was a milestone marking the beginning of Huawei's rise to prominence in the PC business. This year at MWC 2019, Huawei launches the newly updated the HUAWEI MateBook X Pro. It exhibits all the characteristics that define the flagship notebook: artistic design, innovation and intelligence, bringing the performance and all-scenario interconnectivity of the flagship notebook to new heights.
"As an ultra-slim flagship notebook, the all-new HUAWEI MateBook X Pro epitomizes Huawei's signature design and craftsmanship. Meanwhile, the breakthroughs in the touch-enabled Ultra FullView display, power consumption, performance and all-scenario connectivity empower consumers to stay productive anytime, anywhere. The premium aesthetics, innovative technology and intelligence are engrained in the DNA of the MateBook X Pro Series, and the latest iteration exemplifies that heritage. It is our most powerful, portable and intelligent all-purpose device yet, and we're excited to bring that to the hands of consumers," said Wang Yinfeng, President of PC and Tablet Product Line, Huawei Consumer BG.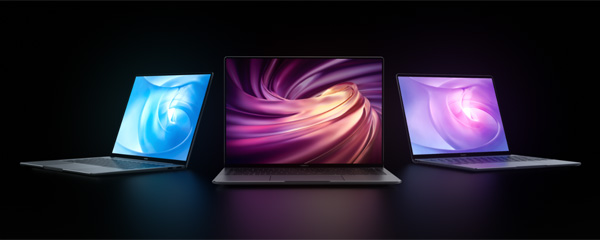 The Breathtaking Ultra FullView Experience
The HUAWEI MateBook X Pro is made for jet-setting business users and professional content creators, power users that pursue—or demand—a high quality of life. On the outside, the new HUAWEI MateBook X Pro features a CNC machined metallic unibody with a premium sandblasted finish that gives the exterior a smooth hand-feel. Available in Mystic Silver and Space Gray, Huawei's latest flagship notebook is superbly portable; it is only 14.6mm thick and weighs 1.33kg, making it the perfect device for any professional who values mobility and productivity.
Leveraging leading industrial design capabilities, Huawei created the Ultra FullView display. With slim bezels on all sides, the Ultra FullView display achieves an impressive 91 percent screen-to-body ratio on the HUAWEI MateBook X Pro. Better yet, Huawei boldly adopts an unconventional 3:2 aspect ratio for the display, which is much more suited for productivity and content creation compared to mainstream widescreens.
The Ultra FullView display is a 13.9-inch LTPS panel supporting up to a 3K resolution (3000×2000) and 100 percent of the sRGB color gamut. The rich colors and 3K resolution help bring content to life, providing a more immersive entertainment experience than ever before. Additionally, it supports 10-point multi-touch and Fingers Gesture Screenshot to give users a new and more intuitive way to interface with their devices.

Ultimate Performance Drives Maximum Productivity
HUAWEI MateBook X Pro embodies the best of notebook innovation. Inside the lightweight and portable new HUAWEI MateBook X Pro is uncompromised performance with the 8th Generation Intel® Core™ i7-8565U and i5-8265U. Equipped with NVIDIA® GeForce® MX250 running on 2GB GDDR5 VRAM, the new HUAWEI MateBook X Pro delivers a smooth experience in every scenario from graphic and video editing, to gaming and multimedia content consumption. For cooling, the latest flagship notebook houses an intelligent cooling system that dynamically switches between active and passive modes for efficient and silent cooling performance, while the two HUAWEI Shark Fin Fans 2.0 feature larger fins to produce a higher air output. The new HUAWEI MateBook X Pro also features an intelligent filtering technology that provides real-time system temperature monitoring, giving the notebook a smoother fan curve which ultimately leads to quieter operations.
Besides being a powerful productivity enabler, the HUAWEI MateBook X Pro features the Dolby Atmos® Sound System. Huawei and Dolby codesigned the quad speakers, bringing exceptional sound experience with breathtaking, moving audio that flows above and around you. You'll feel like you're just inside the action while enjoying mobile entertainment on the HUAWEI MateBook X Pro in your leisure time.
Plus, the HUAWEI MateBook X Pro packs a massive 57.4Wh battery. Coupled with Huawei's proprietary power-saving modes, users can enjoy all-day battery life, untethered by any power cable.
The HUAWEI MateBook X Pro is equipped with a new Thunderbolt™ 3 port which supports two-way data transmission at a speed of up to 40Gbps. Travelers will be delighted to know that the new HUAWEI MateBook X Pro supports world's fastest Wi-Fi on a notebook, which allows it to get better signal reception and provide more stable connectivity than ever before. Bluetooth 5.0 on the latest flagship MateBook has doubled data transmission speeds with a four times wider signal coverage and eight times stronger broadcasting capabilities over its previous iteration. This means the new notebook can be connected from a longer distance, with more stable signals.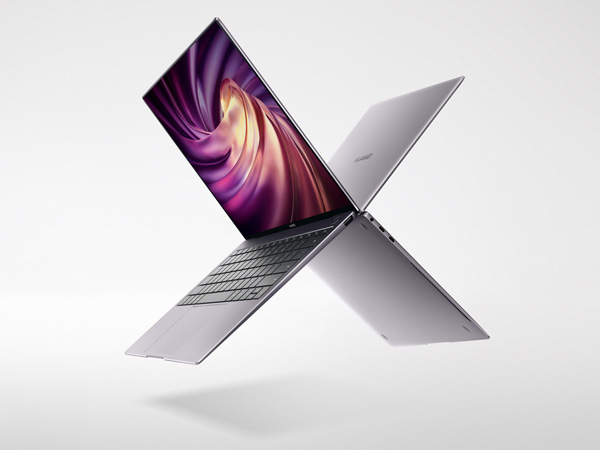 All-Scenario Intelligent Interconnectivity
No tools are more important for work and entertainment than smartphones and notebooks, and transferring files between them is an everyday occurrence. For that, the HUAWEI MateBook X Pro features the upgraded HUAWEI Share 3.0 OneHop. This feature solves data transmission difficulties between Windows notebooks and Android smartphones. The HUAWEI Share 3.0 supports not only image and video transfers between PCs and smartphones, but two-way documents transfers as well. Screen recording, too, is easier than ever. By shaking the phone and tapping "PC HUAWEI Share" on the computer, a screen recording of the notebook will be sent to the smartphone. Besides HUAWEI Share 3.0 OneHop, Huawei has developed a proprietary Clipboard Sharing feature, which lets users share a clipboard across two devices. With it, users can copy content from one device and paste it on another nearby device, sharing one synchronized clipboard.
As a pioneer in smart device innovation, Huawei applies its technological expertise on its HUAWEI MateBook X Pro to deliver the best user experience. First-in-industry technologies like the Fingerprint Power Button 2.0 and recessed camera provide a convenient, one-of-a-kind experience. The former lets users quickly authenticate their identity on power up, and the latter protects user privacy while maximizing the display area. The portable, multi-purpose HUAWEI USB Type-C Power Adapter supports multiple quick charging standards—which is especially useful for frequent travelers as it removes their need to carry multiple power adaptors for the road.
Huawei remains committed to the high-end notebook market and delivering the all-scenario experience. Moving forward, Huawei will continue to integrate its leading smartphone innovations into its PC products, with an aim to further enhance the user experience and let more consumers enjoy the craftsmanship, innovation and smart technologies that characterize its flagship products.
The new MateBook X Pro will be available from April 2019 in mainland China, as well as countries and locations in Europe, North America, Asia Pacific, Middle East and more.
HUAWEI MateBook 13 and HUAWEI MateBook 14
Today at Mobile World Congress 2019, Huawei Consumer Business Group (CBG) announced the launch of two new notebooks: the HUAWEI MateBook 13 and HUAWEI MateBook 14, Huawei's latest ultra-portable lightweight 13-inch and 14-inch notebooks designed for mainstream consumers. Artistic, innovative and intelligent, the new HUAWEI MateBooks combine the FullView display, high performance, extreme portability, great build quality and a stylish look to enable next-generation productivity. The new mainstream notebooks also support revolutionary intelligent interconnectivity between smart devices and PCs, redefining how devices can interact and connect with each other.
Wang Yinfeng, President of PC and Tablet Product Line, Huawei Consumer BG, said, "Interconnection and interoperability between PCs and smartphones allow consumers to enjoy a seamless one-stop user experiences. Together, they are a key pillar supporting the all-scenario ecosystem, and by extension, Huawei's all-scenario strategy. On the other hand, we are also witnessing a change in consumer behaviors—whereas in the past they may look for PCs that are of good value, they are now gravitating toward more premium products. Combining premium design, FullView display, high performance and better connectivity features, the HUAWEI MateBook 13 and HUAWEI MateBook 14 are the perfect companions for consumers looking for notebooks that sport extreme portability, high performance and superb all-scenario connectedness—and do so in style."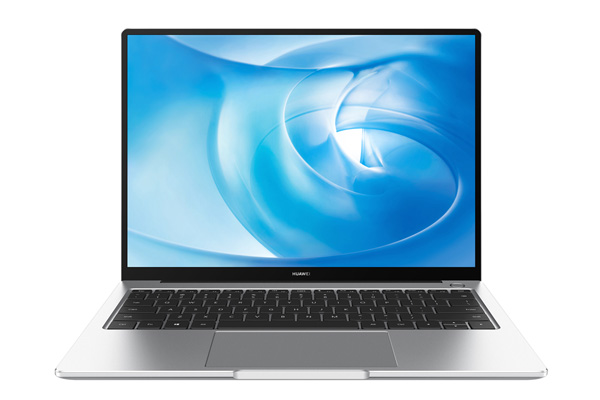 The FullView Display Goes Mainstream
The ultra-slim notebook market is experiencing rapid growth. In 2018, Huawei launched the HUAWEI MateBook X Pro, the first-ever FullView notebook. By offering a more expansive perspective and high performance, the stunning notebook set a new benchmark for flagship notebooks and redefined the industry standard for displays.
The 14-inch HUAWEI MateBook 14 is equipped with Huawei's signature FullView display, with the top and side bezels measuring at only 4.9mm. The narrow bezels allow the small body of the device to accommodate a larger display, resulting in a class-leading screen-to-body ratio of 90 percent. Unlike other manufacturers, Huawei equipped the HUAWEI MateBook 14 with a 3:2 display, effectively increasing the viewable area by 8.4 percent from that of the more common 16:9 displays. This ratio makes the HUAWEI MateBook 14 more ergonomic and better suited for productivity tasks, as it allows content to be displayed in the most complete manner.
In an age when manufacturers were embedding Full HD displays in their smart devices, Huawei took another step forward with the first HUAWEI MateBook ever and equipped it with a 2K+ display. The FullView display on HUAWEI MateBook 14 supports a resolution of up to 2160×1440, at 185ppi—which is visibly superior to 1080p displays with 157ppi. It also supports 100 percent of the sRGB color gamut, a 1000:1 contrast ratio and a peak brightness of up to 300nits, which on one hand let the notebook breathe life to any types of content ranging from static images to Blu-ray movies, while on the other facilitate the work of graphics and video editors by reproducing any color with true-to-life vibrancy.
A 10-point touchscreen is also available as an option on the HUAWEI MateBook 14. Supporting Huawei's One Glass solution, the display not only tracks multiple touch inputs with high precision, but supports the Finger Gestures Screenshot as well. By performing a three-finger downward swipe, users can quickly capture and save a screenshot. The innovative recessed camera also makes a return, protecting user privacy by hiding the camera underneath a key.
Designed with the concept of "Pure & Invisible", the HUAWEI MateBook 14 has an elegant, minimalist metallic chassis, which is sandblasted to create a soft matte finish. In addition, despite the heavyweight hardware powering the device, the HUAWEI MateBook 14 remains extremely portable, measuring at 307.5 x 223.8 x 15.9mm and weighing at only 1.49kg.
Powerful Processor Offers Solid Performance
The HUAWEI MateBook Series is a natural extension of Huawei's all-scenario strategy. With its excellent performance and stylish portability, HUAWEI MateBook 14 is made for productivity on the go.
Displaying unprecedented performance, HUAWEI MateBook 14 is powered by up to the 8th Generation Intel Core i7-8565U (Whiskey Lake) processor. Inside the HUAWEI MateBook 14 is a PCIe x4 SSD, ensuring a smooth and stable experience across any productivity and content creation operations. Additionally, the HUAWEI MateBook 14 features the latest high-performance NVIDIA® GeForce® MX 250 GPU (TDP 25W) with 2GB GDDR5 VRAM. The discrete GPU empowers creative individuals to excel at any graphics or video editing task.
With high performance comes a need for effective cooling. Inspired by its namesake, the HUAWEI Shark Fin Fan 2.0 has a higher air output and cooling performance thanks to its large fins. The intelligent filtering technology monitors the system temperature and manages the fans in real-time, smoothing the fan curve and ensuring quiet operation.
The HUAWEI MateBook 14 is also equipped with a 57.4Wh battery, along with intelligent power saving measures to provide long-lasting endurance. The HUAWEI MateBook 14 is able to play 1080p videos for 15 hours, run regular operations for 14 hours or browse the internet for 10.5 hours. Meanwhile, with the 65W power adapter, the HUAWEI MateBook 14 can be used for three hours of regular productivity work after a mere 15-minute charge.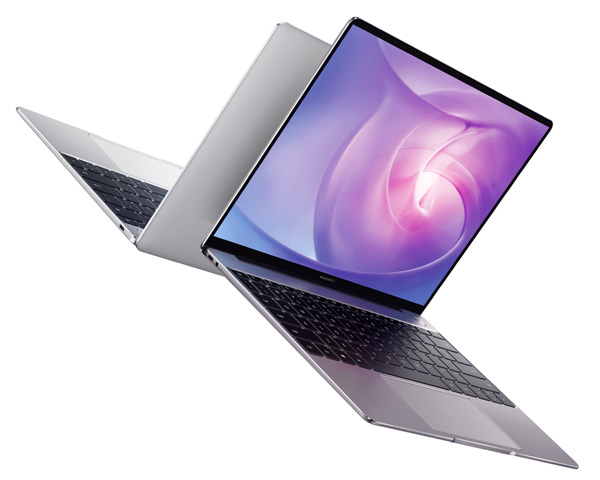 Innovative Technology Elevates All-Scenario Experiences
The HUAWEI MateBook 14 features an upgraded HUAWEI Share 3.0 OneHop, enabling smartphones to share pictures, videos and documents in a snap. Also new to the latest HUAWEI Share 3.0 is the ability to share PC screen recording with a smartphone—it requires the user to simply lightly shake the smartphone, then tap the HUAWEI Share icon on the notebook to start the recording and initiate the transfer.
Additionally, the HUAWEI MateBook 14 has a Clipboard Sharing feature which lets users share a clipboard across Huawei phones and notebooks, achieving real-time seamless cross-device sharing.
In terms of device unlocking speed, today's notebooks still leave much to be desired, especially when compared to smartphones. HUAWEI MateBook 14 features Fingerprint Power Button 2.0. The two-in-one button integrates the fingerprint sensor into power button for One Touch Log-in. Combined with BIOS optimizations, this innovative solution streamlines the device boot-up experience and lets users jump right back into action.
To provide the best possible audio quality, HUAWEI MateBook 14 supports Dolby Atmos®, delivering an immersive cinematic audio experience wherever you go. Dolby Atmos® creates an amazing headphone experience with breathtaking, moving audio that flows above and around you. You'll feel like you're inside the action as sound comes alive with richness and depth and seems to move in a three-dimensional space. It also supports Amazon Alexa and Microsoft Cortana, two smart voice assistants, adding another avenue for users to interact with their PCs and enrich the all-scenario experience.
The new HUAWEI MateBook 13 is the latest mainstream notebook targeting graduates and young professionals. It redefines the standard for display, performance, cross-platform interconnection in the 13-inch mainstream notebook segment. It is powered by up to the 8th Generation Intel Core i7-8565U processor and the NVIDIA GeForce MX150 GPU, and is equipped with the HUAWEI Shark Fin Fans 2.0 supporting higher fan speeds and greater air output. The improved cooling performance of the fans let the notebook stay cool and silent even when running intensive processes. On the outside, HUAWEI MateBook 13 features a 3:2 FullView display with 10-point multi-touch option and a screen-to-body ratio of 88 percent. It also supports the intuitive three-finger gesture for screenshots. Solving the typical user pain point that is data transfer between PCs and Android smartphones, HUAWEI MateBook 13 features the upgraded HUAWEI Share 3.0, completing the all-scenario experience in which devices from PCs to smartphones are connected.
While Huawei has established its brand with smartphone technologies, it has also heavily invested in R&D, and through the years it has created a wide breadth of high quality, innovative products. At present, it has a complete portfolio of PC products, ranging from the premium flagship HUAWEI MateBook X Series, the mainstream HUAWEI MateBook Series, the all-round MateBook D Series, to the innovative convertible MateBook E Series. Prompted by shifting consumer preferences, devices will evolve to become increasingly mobile, and with them their users as well. Huawei is committed to delivering reliable, high-quality and advanced products to its consumers. The HUAWEI MateBook 13 and the HUAWEI MateBook 14 enrich and improve the all-scenario experience across devices, providing more users with the ultimate experience.
The HUAWEI MateBook 13 will be available in China as well as select countries and locations in Europe, North America, Asia Pacific, Middle Eastern and more from February 2019. The HUAWEI MateBook 14 will be sold in in China, as well as select countries and locations in Europe, North America, Asia Pacific, Middle Eastern and more from April 2019 onwards. Photo Journalist
Gadgets, Photography, Automobile, Lifestyle
computercore i7Huaweiintellaptopmatebooknotebooknvidiaslimwindowsx pro