HONOR View20 sets a new gaming milestone by supporting Fortnite 60Hz version
The HONOR View20 has been listed by Fortnite as one of the first 3 devices supporting the 60Hz version of their Android game. While the device already supports 60 FPS gameplay, it is expected to receive a software upgrade in the coming weeks that will boost the refresh rate capabilities of the phone.
The HONOR development team has collaborated with Epic Games to optimize the Unreal 4 Engine for the View20's software. Players can already download the latest Fortnite app, activate 60 FPS gameplay on "Settings" and enjoy the smoothest Battle Royale experience on the View20.
As a celebration of the partnership, owners of the HONOR View20 will also be able to retrieve in the upcoming weeks a highly anticipated and exclusive skin called HONOR Guard.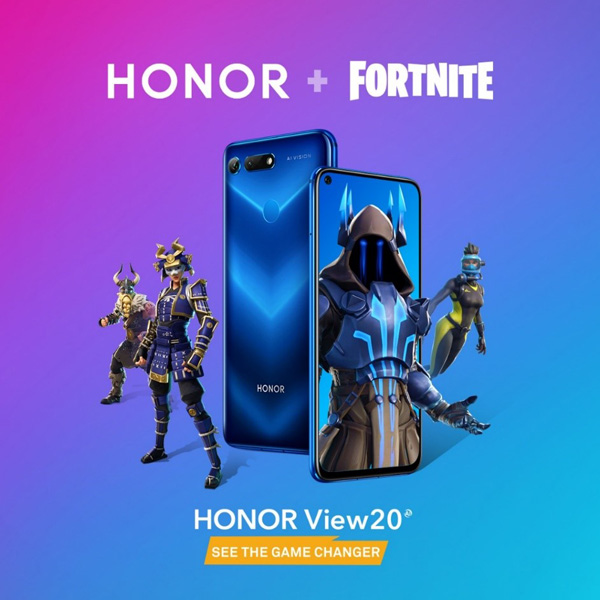 Cutting-edge 60fps gaming performance in an all-round flagship smartphone
HONOR smartphones are tailored to meet the needs of the younger generation, people who are always on the move. These users need elite technical capabilities that can match their action-packed lives and provide the best entertainment experiences. With the launch of HONOR View20, HONOR has redefined the meaning of top of the line gaming in an all-round smartphone. HONOR View20 offers the latest flagship features, and for gamers this includes:
The world's leading 7nm Kirin 980 AI chipset with powerful Mali-G76 GPU;
4-inch large display with in-screen camera design, eliminating the notch for immersive viewing experience;
Triple Antenna Wi-Fi technology to ensure connectivity even when holding the phone horizontally;
Liquid Cooling Technology, a highly efficient liquid cooling system that can effectively dissipate heat for better performance;
4,000 mAh battery for long-lasting and uninterrupted gaming; and large internal memory.
Apart from the world's first 48MP camera powered by SONY IMX 586 sensor, the device also incorporates a TOF (Time-of-flight) 3D camera that supports motion-controlled gaming when connected to a TV.
HONOR View20 is equipped with the advanced Kirin 980, the world's leading 7nm process smartphone SoC chipset, powered by the latest cortex-A76 architecture and dual NPU design, greatly improving footprint, performance and energy efficiency. The Kirin 980 is built with two super cores, two large cores and four small efficiency cores, and uses the Flex-Scheduling intelligence mechanism. This allows the CPU to adapt to heavy, medium and light-load scenarios by reducing power consumption to provide users a longer battery life while still achieving overall higher performance.
The chipset represents a 75% improvement of speed in single core performance compared to the previous generation. The Kirin 980 also includes Mali-G76 GPU to improve performance by 46%. HONOR View20's performance has significantly increased, while reducing its energy consumption by 58%.
The development team at HONOR strives to deliver the most innovative solutions to solve problems common in gaming scenarios. HONOR View20 incorporates an AI Triple Antenna Wi-Fi technology, helping to reduce lag in gaming significantly. This solution was designed by HONOR engineers when studying different holding positions and their impact on connectivity. HONOR View20 has 3 Wi-Fi antennas: one in each side at the top of the device and one central antenna at the back of the phone. The AI system constantly monitors the reception at each antenna. When holding HONOR View20 horizontally, even if the gamer's hands cover one or two of the top antennas and affect connectivity, the system analyzes network condition and uses the antenna with the best reception. This ensures that gamers can have best connectivity at all times and greatly improves their gaming experience.
Additionally, the smartphone brings gaming to a new level by incorporating a TOF 3D camera which can recognize body gestures and be used to play 3D motion-controlled games. For the best experience, users can purchase an official dock or use a USB Type-C to HDMI convertor and cables to connect the smartphone to a TV for motion-controlled gaming. They can also use wireless connection to connect the phone to a TV.
HONOR engineers also developed an innovative The Liquid Cooling Technology which is a highly efficient liquid cooling system that can more effectively dissipate heat for performance. With the new cooling technology, the temperature of HONOR View20 dropped 5°C when playing gaming or watching videos according to laboratory testing results.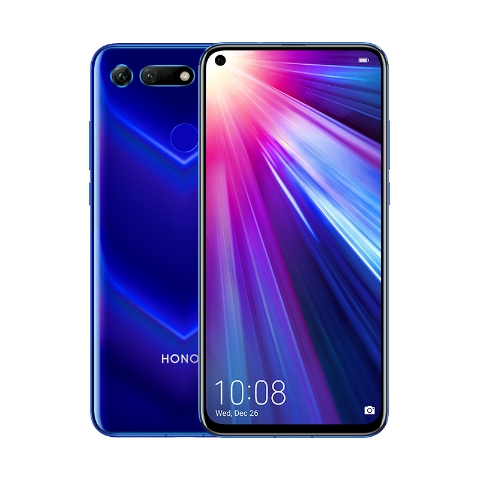 The best smartphone, teamed up with the best in gaming
HONOR View20 achieves the highest frame rate available on Fortnite. Combined with the very low jitter rate, HONOR View20 provides an unbelievably smooth gaming performance. The low temperature during use, which is achieved by the groundbreaking liquid cooling system, ensures a faster performance and longer battery life. There's no debate – HONOR View20 is bringing the smartphone gaming to a new level.
In addition, HONOR and Epic Games have begun working together to optimize select Honor devices for the Unreal 4 Engine as part of HONOR and Epic Games commitment to push the limits of mobile gaming and bring a console-like experience to gamers everywhere.
Letting the data speak for itself
HONOR View20's chipset is enhanced by the revolutionary GPU Turbo 2.0 — a groundbreaking hardware-software integration and graphics processing acceleration technology that optimize the mobile gaming experience.
With the latest technologies, HONOR View20 supports popular games like Fortnite, PUBG (PlayerUnknown's Battlegrounds), AOV (Arena of Valor), ROS (Rules of Survival), Mobile Legends: Bang Bang, Vainglory and Asphalt 9: Legend. The smartphone optimizes its performance for intensive gaming scenarios like multiplayer battles, and improves its touch and control experience.
Available for purchase on Hihonor.com/my and retail outlets nationwide, the HONOR View20 proved to be one of the most sought-after devices of early 2019. More than 1,000 units were swept up rapidly by Malaysians during its sales launch roadshow in 1 Utama recently. The device is currently selling at RM1,999 (6GB+128GB) in stunning Sapphire Blue and classic Midnight Black colors, and RM2,499 (8GB+256GB) for the elegant Phantom Blue color which was co-designed with Moschino.