The wars for the best TV tech between the Japanese and the Korean has been escalating for the past couple of years, Giants like Samsung and LG have been constantly updating their viewing pleasure from models to models, and from the Japanese brands such as Sony, they are not showing the sign of slowing down. Sony, being a top player in the home entertainment arena, has been making OLED TVs that are so good that their competitors are tailing them closely.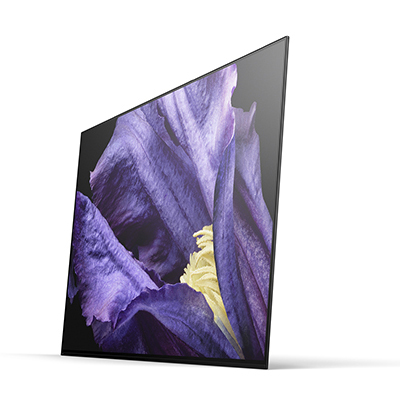 Sony's 2nd generation OLED flagship, the A9F, is here at a good time – just as Samsung and LG have stepped up their games with the Samsung Q9FN QLED and LG E8 OLED, Sony has fired back with a phenomenal OLED of its own.
Design
The A9F adopts the same lean back design as its predecessor, setting the TV up takes a matter of seconds, you simply release the latch on the back of the TV and attach the heavy weight-balance, adjust the posed, fire up and it's ready to view. You will find four HDMI inputs, an AV minijack input, digital optical audio output, Ethernet port, and two USB, one is a high-speed v.3 for hard disk recording. Bluetooth and Wi-Fi are a standard feature.
More unusually, there's a dedicated center speaker terminal which allows the TV to function as a center speaker in a multi-channel sound system. The biggest improvement comes in the implementation of Sony's vibrating sound tech, Acoustic Surface Audio+, that adds a third on-screen actuator to create a center channel between the previous stereo configuration. Also included is a second bass driver, effectively creating a 3.2 sound system. All three actuators are incorporated into the lean back stand, along with the twin bass drivers.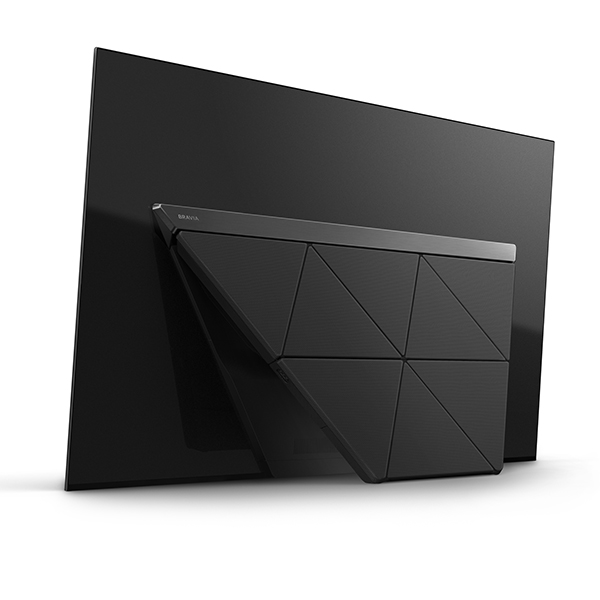 Android Smart TV
With the introduction of the Android Oreo update, the UX is now logical and easier to maneuver. Streaming services include Netflix, Vimeo, and YouTube, all of which support 4K playback. Netflix offers HDR where available. It's a massive upgrade all around.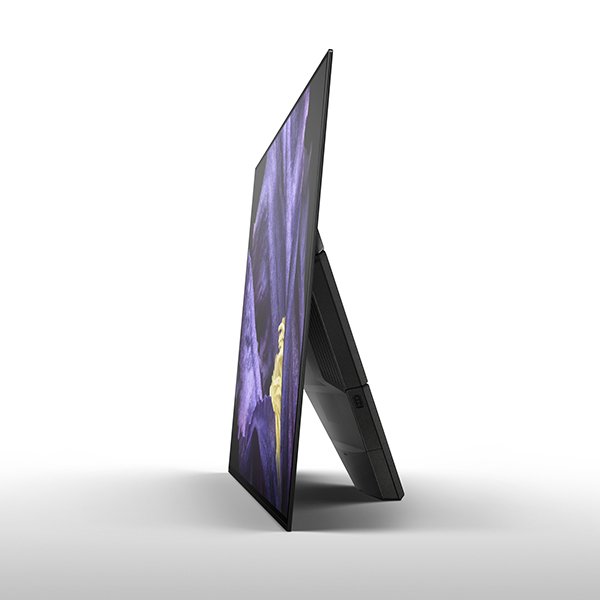 HDR & OLED Panel
High Dynamic Range (HDR) enhances the dynamic range of a picture, increasing the contrast between the brightest whites and darkest blacks. Every pixel is made more accurate, regardless of resolution, bringing scenes to life with greater detail. Movies and TV shows in HDR are closer to the original recording. For a wider colour gamut, Sony's TRILUMINOS Display excels at reproducing reds, greens, and blues – colours that are notoriously difficult for TVs to display accurately. It reproduces the finest colour variations for the best pictures.
We appreciate the way Sony boost peak whites on SDR (Standard Dynamic Range) material, to better take advantage of the panel's native characteristics and give an almost HDR-like appearance to images. It does this without overcooking the average picture level.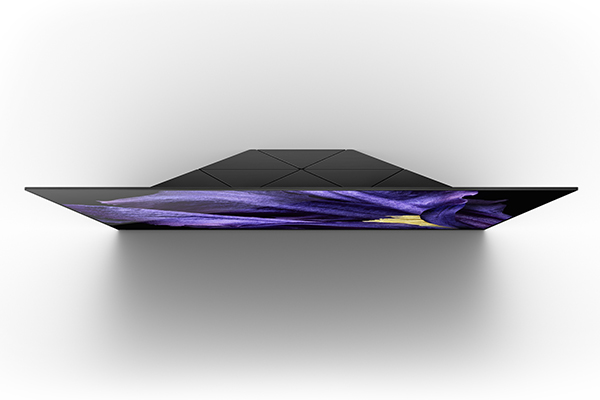 The Backlight Master Drive can display an unprecedented dynamic range with incredibly deep black and dazzling lights. This backlight system has an ultra-dense LED structure, a unique local dimming algorithm, and optical design. With Object-based HDR remaster, the colour in individual objects on the screen is analyzed and the contrast adjusted, unlike most TVs where contrast is only adjusted along one black-to-white contrast curve. Because objects are remastered individually, this TV can reproduce greater depth, textures and more realistic pictures.
The screen has millions of self-illuminating OLED pixels that can be individually activated to reproduce truly lifelike pictures. Because each pixel lights up independently, you'll see more accurate detail, colour and shades in every scene with OLED technology.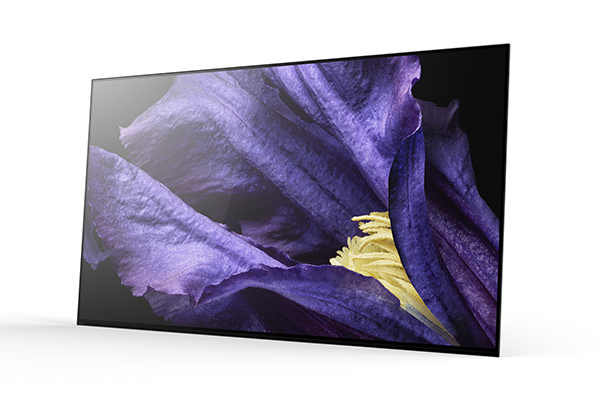 Sound
With Acoustic Surface Audio+ and TV center speaker mode, sound comes directly from the centre of the screen with actuators behind the TV vibrating to create acoustics that move with the picture. In addition, two subwoofers provide powerful bass and a spatial effect that allows sound to travel from one side of the room to the other.
Price starts from RM8,999 upward. Visit www.sony.com.my for details.
Sony Bravia OLED TV – Why choose them over the others?