MARii Karakuri Programme produces 30 Graduates, emphasizing on continuous improvement to ensure Global Competitiveness
A total of 30 participants from 15 companies successfully completed the MARii Karakuri Programme and were awarded their certificate of completion in a closing ceremony that was organized by the Malaysia Automotive Robotics and IoT Institute (MARii) together with Perodua. Dato' Madani Sahari, CEO of MARii, officiated the MARii Karakuri closing ceremony.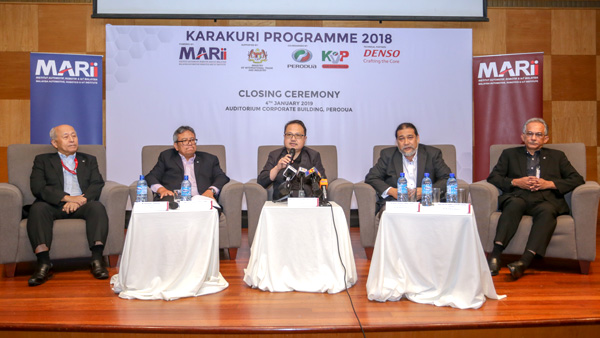 Participants Assessed Individually – Bronze, Silver, Gold Certification
All 30 participants from 15 companies were individually assessed to ensure detailed evaluation for participating companies to refer to for further improvements.
Companies that participated in the MARii Karakuri programme recorded an average increase in productivity by 30 percent, where the projects were implemented. Companies also reported incurring negligible investment in implementing their Karakuri projects.
Participants who achieved a score of 60 percent and above were awarded the Bronze ranking, 70 percent and above, Silver ranking and participants who achieved 85 percent onwards were certified the Gold ranking.
"The automotive industry can only expand when there is collaborative effort in the entire automotive ecosystem. The MARii Karakuri programme is an example of a collaborative platform that enables ecosystem enhancement", said Dato' Madani Sahari, CEO MARii, speaking at the 2019 New Year Message From Perodua.
Dato' Madani explained that Karakuri enables companies to enhance their processes through simple automation techniques, that does not depend on electricity. Not only is it cost-effective and increases efficiency in the production lines, it also is one of the processes that places a high premium in stretching creativity in process design and development.
He added, "In order to embrace the future, Karakuri can be a great solution for businesses to stretch their creative discipline, a key ingredient to continuous growth and business expansion".
All participating companies are part of MARii's Lean Production System (LPS) and Automotive Supplier Excellence Programme (ASEP). To date, the MARII LPS and ASEP programmes have developed 451 Supply Chain Level 3 suppliers and 233 graduating suppliers, respectively.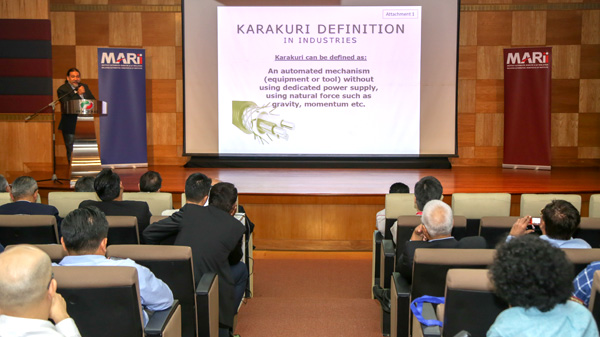 Karakuri – A Brief Introduction
The MARii Karakuri Programme, is organized by the Malaysia Automotive Robotics and IoT Institute (MARii) with collaboration from Perodua aimed to enhance the capabilities and competitiveness of local vendors through the implementation of Karakuri.
The principle of Karakuri focuses on simple, easily-implemented automation that relies on natural forces instead of electrical power supply.
It is a component of the Lean Production System (LPS) and heavily emphasizes on the importance of Kaizen – continuous improvement.
Why Karakuri?
In manufacturing, Karakuri is usually implemented to reduce non-value-added work in a process without the need to invest in more expensive systems.
Typically, this applies to tasks that have to do with work transfer, loading and unloading as well as assembly.
The Karakuri approach optimizes energy and working speed, reduces workload, eliminates redundant work processes to increase productivity, all without depending on a power supply.
Moreover, when a task is taken over by the Karakuri system, the worker can now focus more on value-added work. This will result in higher quality products.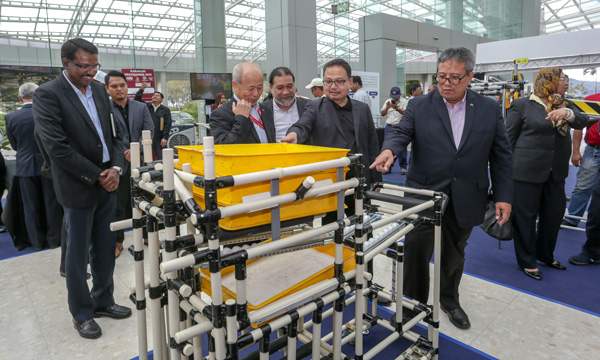 The "Kaizen" Approach
Karakuri systems are often looked at together with Kaizen. Over time, workers may realise that more improvements can be made to certain production lines, and the Karakuri approach takes that into account.
Using simple materials and simple mechanical systems allow the Karakuri mechanisms to be easily improved in the future. Karakuri mechanism are readily expandable and can be configured to work together with other Karakuri mechanisms.
The participants were assessed based on the following criteria:
Understanding of the Karakuri concept

Availability of Karakuri Kaizen mechanisms
Availability of energy sources that do not use electricity, wind and batteries
Application of the Slim, Simple, Compact concept

Workplace environment

Outcome of the Kaizen in terms of safety
Neatness of the Kaizen
Level of innovation and creativity
Ease of maintenance

Impact in workplace

Satisfaction of employees
Ability of the Kaizen to eliminate imbalanced production
Ability of the Kaizen to reduce workload
Ability of the Kaizen to reduce waste
Ability of the Kaizen to satisfy SQDCM (Safety, Quality, Delivery, Cost, Morale)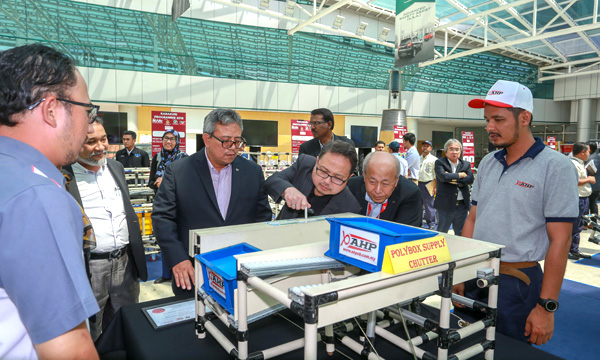 New Year, New Scopes
In conjunction with New Year, MARii and Perodua delivered their visions and goals for 2019 that also served as a New Year message to the automotive vendor community.
"While global trends continue to develop, the effort on continuous improvement of our industry fundamentals should not cease. Hence, the automotive industry can only expand when there is collaborative effort among the entire automotive community", said Dato' Madani.
He further stated that new capacity building and development programmes will be introduced to vendors and automotive players alike to enhance the adoption of Robotics and Internet of Things (IoT) within the automotive ecosystem.
"The emergence of new technologies spurred the development of new sectors such as robotics and IoT. These sectors will clearly expand to become the future landscape of the automotive ecosystem. The adoption of robotics and IoT is vital for the sustainability of the future industry, hence the implementation of such programmes", explained Dato' Madani.
"Perodua enters 2019 with hope and enthusiasm as we believe that the local automotive industry is just beginning to show its potential. With the collaboration of government agencies such as MARii, especially in the vendor development programme, we will be able to realise the Malaysian automotive industry's growth potential on a global scale," said Dato' Zainal Abidin, President and CEO of Perodua.
Dato' Zainal further explained that Perodua is in the midst of its second transformation phase to further improve the quality, cost efficiency and delivery of its products and services. For 2019, Perodua will continue its efforts in these areas, with the aim of taking itself and the local automotive industry to the regional level and beyond. Photo Journalist
Gadgets, Photography, Automobile, Lifestyle
automotiveBusinessindustryiotkarakurimariiperoduaprogrammerobotics