WESG Southeast Asia 2018 Grand Finals Ends with a Bang
The World Electronic Sports Games (WESG) Southeast Asian Finals has concluded and crowned its victors after a gruelling battle for the USD 75,000 prize pool at stake last Sunday. The championship saw winners from 7 game categories which were DOTA 2, Counter Strike: Global Offensive, Counter Strike: Global Offensive Women's, Hearthstone, Hearthstone Women's, Starcraft II and Vainglory.
The final two days of the event kicked off with a breath-taking opening ceremony, which was followed by a rousing performance by Malaysia's top singing sensation Dato Sri Siti Nurhaliza. Attendees were welcomed to the Finals in the opening speech by AliSports' Director of Esports Development, Jeffrey Jiang, where he touched on an in-depth partnership with Agri Mind to set a world-leading standard for esports and associated industries, as well as Chairman of Agri Mind, Calvin Lau, who spoke of the importance of building a sustainable esports ecosystem in the region to cultivate grassroots growth.
Muhammad 'Flava' Farouq co-emceed the event with Fiera Fendi, along with several esteemed casters such as Rikki 'Riku' Quiapon for Hearthstone, Treephob 'Xyclopz' Tiangtrong, and the Bahasa Malaysia casters. A panel of game analysts was put together to give the commentary more depth by providing some background of the players and scenarios of how their matches would play out.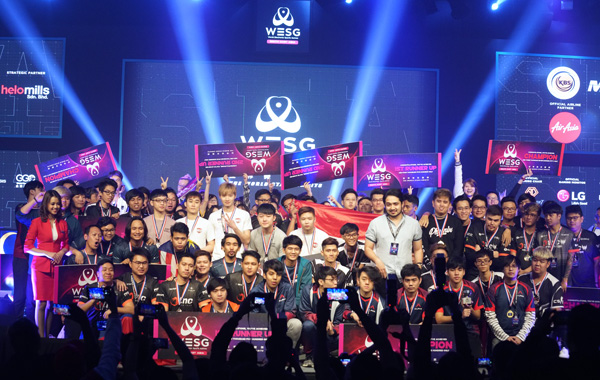 The matches were played out in a Swiss tournament format followed by a knockout stage where the top four battled through semi-finals to determine the champion, and the athletes representing 10 countries across gave their all to be crowned as the top in Southeast Asia for the respective categories, as well as a slice of the prize pool and a chance to represent SEA at the WESG International Grand Final which has a total prize pool of USD 2.5 million. The champions of WESG Southeast Asia 2018 are TNC Predator for Dota 2, Alpha Red for Counter Strike: Global Offensive, ArkAngel for Counter Strike: Global Offensive Women's, Lalasong for Hearthstone, Yukiusagi for Hearthstone Women's, Enderr for Starcraft II, and Impunity for Vainglory.
Agri Mind, the official organiser of WESG SEA partnered with GAX Evolution, a hobbyist convention to bring more entertainment value to the event focusing on anime, comics, and games. Key partners, supporters, and game developers also hosted their own events and booths with engaging activities to attract the thousands of people who attended the event over the weekend, particularly Logitech who pulled a huge crowd at their showcase. Quill Convention Centre also played host to a slew of other gaming competitions such as Mission Against Terror International Championship (MATIC) and FG Series. Photo Journalist
Gadgets, Photography, Automobile, Lifestyle