U Mobile's All-New Postpaid Unlimited Hero P139 packs in Unlimited High-Speed Data and Free Data to roam across the Globe!
U Mobile ends the year on a high by introducing the best value postpaid plan in the market that will redefine customer's mobile data experience with unlimited high-speed data, unlimited high definition video streaming, 50GB hotspot and 3GB of free data for roaming across five continents for just RM139.
U Mobile, the #barulahbest telco, is marking its rapid 4G LTE network expansion across Malaysia by launching the best postpaid plan in the market yet. Unlimited HERO P139 postpaid plan will increase customers' data usage and roaming experience as they will enjoy unlimited high-speed data, 50GB for mobile hotspot, unlimited calls to all networks and unlimited HD video streaming, upping the enjoyment of their everyday digital lifestyle needs.
The Unlimited HERO P139 plan comes bundled with Roam-Onz which offers 3GB of free roaming data in 12 destinations that include traveller favourites such as Australia, Hong Kong, South Korea, Thailand and Singapore. To celebrate the launch of Unlimited HERO P139, U Mobile is also bundling the new postpaid plan with Roam-Onz Global, a new offering that extends the 3GB roaming data to an additional 24 destinations that span 5 continents, rounding the total free roaming data destinations to 36, including the United States of America, France, Saudi Arabia, United Kingdom and Canada.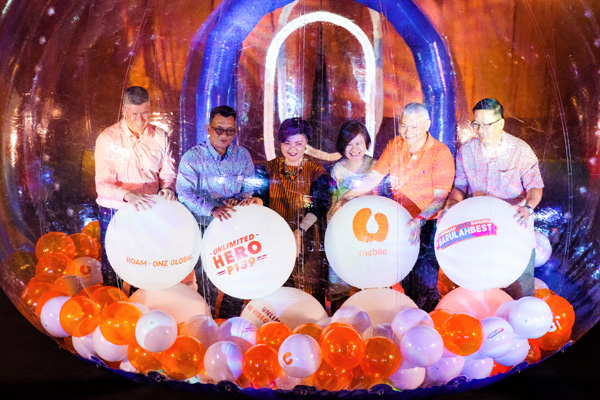 The increased roaming destinations will offer holiday-goers and business travellers seamless connectivity, enabling them to stay connected and share content easily, enhancing their travel experience at no additional cost.
Jasmine Lee, Chief Marketing Officer of U Mobile said, "U Mobile believes that we are #barulahbest, because we are always upping the ante from rapidly expanding our own 4G LTE network across Malaysia with the latest technology to continually enhance customer experience with plans that are relevant and offer the best value because we know what our customers desire."
According to Jasmine, the latest Unlimited HERO P139 plan is an excellent example of how the telco is continually pushing its limits to deliver more potential to their customers.
"Our customers will now be completely worry-free when they stream their favourite show in HD and they are also able to happily hotspot with their 50GB. They will also enjoy unlimited discoveries with the free roaming data across 5 continents, whether they are shuttling across the globe for work, capturing the sights at Eiffel Tower or while crossing the longest bridge in China. We believe the Unlimited HERO P139 is the ultimate unlimited postpaid plan in the market!"
Over the last few years, U Mobile has embarked on an extensive 4G network expansion plan across Malaysia. The company is investing more than RM5 billion to ensure their customers enjoy U Mobile's #barulahbest experience with more 4G LTE sites around the country widening reach, with speeds that are getting faster each day and an increasing range of unlimited mobile digital experiences.
In addition to ensuring the network features the latest technology, U Mobile is also focused on building their own network to support their customers' needs and provide the best possible customer experience always.
The Unlimited HERO P139 is available from today at all U Mobile stores nationwide. The new Roam-Onz Global will be bundled free for 24 months with the Unlimited HERO P139 for customers who sign up for the plan between 5 December 2018 and 28 February 2019. For more information on the Unlimited HERO P139, please visit www.u.com.my.
4gherointernetnetworkp139servicetelcotelecommunicationU Mobileunlimited