Rewind 2018 with TikTok! Discover the Biggest Trends of the Year in Malaysia
To cap off an exciting 2018, TikTok, the world's leading short video platform, today reveals the celebrities, creators, challenges and soundtracks and more that made this year another one to remember.
Celebrities from all over the world made TikTok their playground this year, with its easy-to-use features allowing them to give fans a sneak peek into their moments. A diverse list of stars who gained a massive following on the platform, including K-pop chart-toppers WINNER and BLACKPINK, as well as American social media personality Baby Ariel, who tops the list with almost 30 million followers on TikTok. In Malaysia, the most popular celebrities on TikTok are actress Janna Nick (@jannanick95), singer Baby Shima (@babyshima), and singer cum TV host Danny Ah Boy (@dannyahboy).
As a platform to engage a growing fan base and a global audience, TikTok also served as the launchpad for an array of local creators. Social media maven Holly H, content producer Gil Croes, choreographer Awez Darbar along with K-Pop dancer Sona are among the creators who made waves globally. Other popular creators in Malaysia include Findy Yong (@findyyong_), Syasha Rushdiena (@syasyarushdina) and Alieff Irfan (@irfxn_).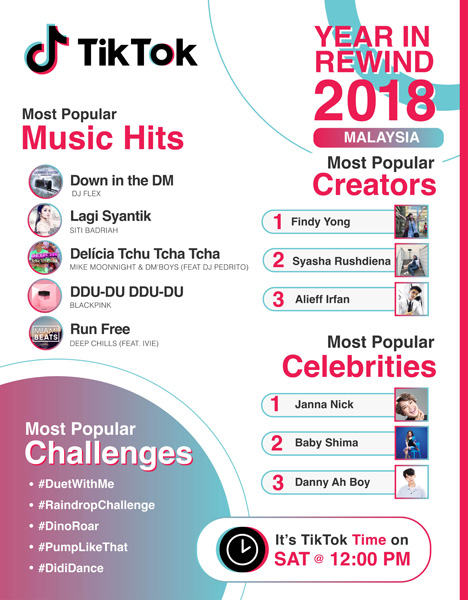 Got a song you can't seem to get out of your head?
Chances are you have heard some songs that just seem to stick to your mind from TikTok videos, as the app has increasingly become a launchpad for diverse videos set to catchy music.
Among the most trending soundtracks of 2018 used on TikTok videos by Malaysians include Down in the DM by DJ Flex/ Yo Gotti, Delícia Tchu Tcha Tcha by Mike Moonnight & DM'Boys featuring DJ Pedrito, and DDU-DU DDU-DU by South Korean girl group BLACKPINK.
The best time to TikTok, according to South East Asian creators
Globally, weekends are all about making your own short videos on the platform. Malaysians and Singaporeans are most active on TikTok on Saturday afternoons, while users in Vietnam get their TikTok fix just before weekend dinners between 6:00pm and 8:00pm. Philippines and Thailand get busy with TikTok from 8:00pm onwards on Saturdays, while Indian users create videos the most from 11:00pm all the way until 1:00am.
Many of the biggest trending videos of 2018 came from TikTok challenges, which allowed fans from all over the world to participate in local conversations in their communities. Among the most popular challenges include the #RainDropChallenge which made waves all over the world, especially in the Philippines, Malaysia and Vietnam. In Malaysia, other challenges that filled everyone's feed include #DuetWithMe, which allowed users to sing, dance or act along their favourite personality or clips, and #dinoroar, where users made a velociraptor appear on screen via the dinosaur filter and reacted creatively to it in their TikTok video.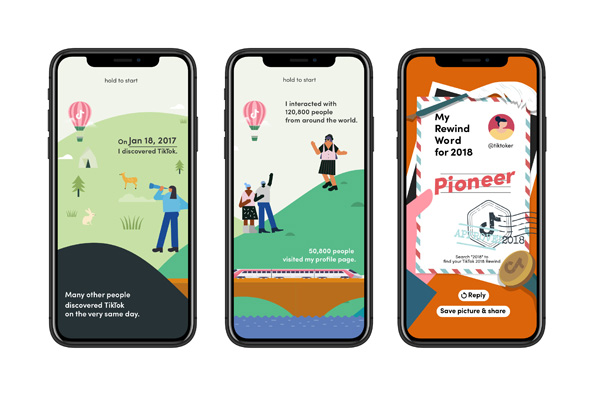 2018 was indeed an unforgettable year for TikTok in Malaysia with massively successful campaigns such as the inaugural 1 Million Audition that generated over 52 million views – averaging a million views a week – from 62,000 video submitted, giving everyone a chance not only to capture moments that matter in their lives, but celebrating diversity and creativity through content.
Want to see how your own year went? Revisit your own journey with TikTok this year as the short video platform unveils "My Year in Rewind", an in-app experience offering a personalized lookback, launching in Malaysia on 24 December 2018. Download the TikTok app via iOS or Google Play to get started.
appartistebestcelebritieskpopmobilemusicrewindsongtiktokvideo