Review: Canon EOS R Full Frame Mirrorless Camera
Canon has finally answered back with its own full-frame mirrorless system: the EOS R, five years after Sony Alpha's presence in this field.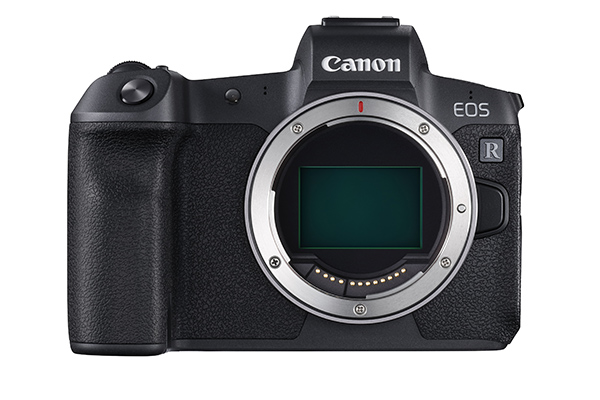 Build and handling
If the innards fall somewhat short of expectations, the EOS R's exterior unquestionably exceeds them. The magnesium alloy body screams "quality", feeling as robust as it does fantastically to hold. As you'd expect, it's dramatically more svelte than its DSLR cousins; where the 5D Mark IV is a thick-cut oven chip, the EOS R is a french fry.
This does, of course, lead to the inevitable situation where larger lenses – the RF 50mm f/1.2L USM and particularly the RF 28-70mm f/2L USM – threaten to feel unbalanced on the smaller body. This can be offset, though, by adding the BG-E22 Battery Grip. Which isn't to say that larger lenses don't handle well on the EOS R. We had no problem using the 50mm f/1.2 for a whole afternoon, and even the 28-70mm f/2 feels fine for anyone who has lugged around a 1D X with a zoom lens. However, the RF 24-105mm f/4L IS USM is the clearly perfect pairing for this camera. Its f/4 aperture may not be quite as exciting, but it fits the EOS R like a glove and balances like a good sword. 
Whichever RF lens you opt for, in front of the manual focus ring you will notice an additional input: the Control ring. This can be programmed (or left inactive, if you prefer) to adjust aperture, shutter, white balance or ISO, offering an extra dimension of control and customisation; videographers, for instance, will jump for joy at the ability to have a cinema-style aperture ring (although the ring on the launch lenses is not de-clickable). This input can also be added to any EF or EF-S lens with the Control Ring Mount Adapter.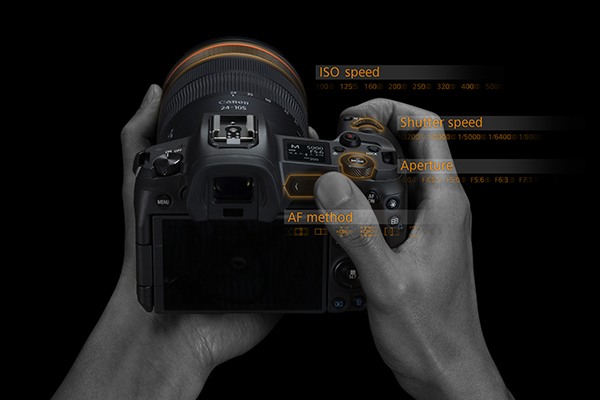 The customisation doesn't end there. The big new addition to the EOS' on-body controls is the touch-sensitive M-Fn Bar. Initially feared to be as superfluous as the MacBook Pro's Touch Bar, it's a genuinely useful input that we found ourselves increasingly infatuated with as we used the camera more and more. We set it up so that a touch, tap or swipe would manipulate the ISO, enabling us to control the entire exposure triangle without taking our eye away from the EVF. It can be turned off entirely if you prefer, or locked so that it doesn't activate until you hold your thumb on the left side for one second.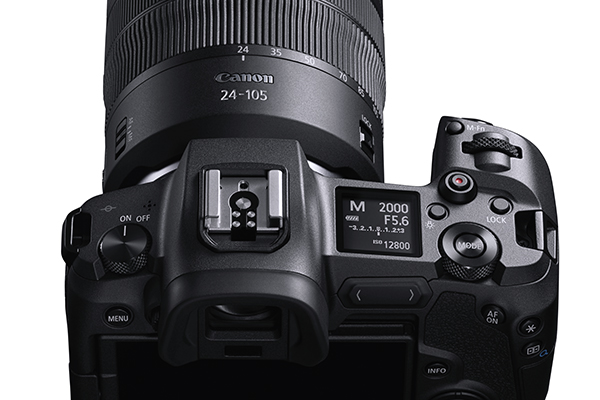 However, the M-Fn Bar isn't without a couple of caveats. Firstly, your love or loathing will depend on the size of your hands and how you hold your camera. We've noticed that photographers with bigger mitts tend to support the body with their thumb right where the Bar sits, leading to some unfortunate pressing that drove the ISO unintentionally high. Secondly, while the M-Fn Bar doesn't directly replace the traditional EOS joystick, it certainly occupies an area that a joystick could have gone. If you're migrating from a 6D or another mirrorless system you won't miss it, but 5D and 1D X users might be miffed at its absence. 
In its stead, the EOS R features Touch and drag. This enables you to use half of the LCD as one big trackpad when you look through the EVF, dragging your thumb across the screen as you would a joystick to select your focus point. Again, the size and stretch of your paws will dictate how elegant a solution this is for you, but we had no problems gliding across the 5,655 focus points. 
Speaking of the EVF, the EOS R's might just be the best we've ever used; it's large, fast, responsive and clear as crystal. We know that some photographers prefer an optical viewfinder, but if you've yet to see the light then this might be the one that converts you. And for those who prefer using the LCD touchscreen, the EOS R's is fully articulated – if you want a "flippy screen", this is the only full-frame mirrorless camera on the market that currently has one.
Performance
The EOS R's 30.3MP sensor, Digic 8 processor and RF lenses deliver formidable image quality. In our lab tests, it blew away the Canon 5D Mark IV, Sony A7R III and Nikon Z7 in terms of ISO noise performance, though it didn't fare as well in the resolution stakes – that's no surprise against the Z7's 45.7MP and the A7R III's 42.4MP sensors. The EOS R demonstrated better dynamic range than the Sony up to ISO400, but across the board, it couldn't quite keep up with its rivals on paper. 
The tests revealed some interesting differences with the 5D Mark IV. The sensors in both bodies seemed so similar that we expected their performance to be identical. The DSLR, however, scores slightly higher in colour accuracy and dynamic range, and in resolution up to ISO800. It's obvious from our use that the EOS R outperforms the 6D Mark II, but even though it's just a matter of inches we truly predicted that it would be absolutely par with the 5D Mark IV.
When it comes down to brass tacks, the practical results produced by the EOS R are hard to fault. Stress tested in the harsh midday sun and the black of the midnight hour, image quality is uniformly impressive and the files handle almost identically to those of the 5D Mark IV in post-production. That magical "Canon colour science" that everyone talks about to is as powerful as ever; when it comes to skin tones the A7R III isn't in the same league and, while the Nikon is closing the gap, the Z7 still has catching up to do. 
While the EOS is clearly outpunched by the competition in terms of resolution, the results from the pair of debut RF mount lenses left us highly impressed. The RF 24-105mm f/4L IS USM delivers sharp results wide open and all the way up to f/11. And the RF 50mm f/1.2L, the prime lens powerhouse for Canon's new system, takes the baton from its EF predecessor and produces results that live up to its L series lineage. If a camera is only as good as its lenses, this makes for an interesting story.
For everything else it gets right – great image fidelity, fantastic colour rendition, superb lens quality, best-in-class customisation, incredible autofocus and tracking – there's no skirting the fact that the EOS R is missing image stabilisation and the 4K video is severely cropped.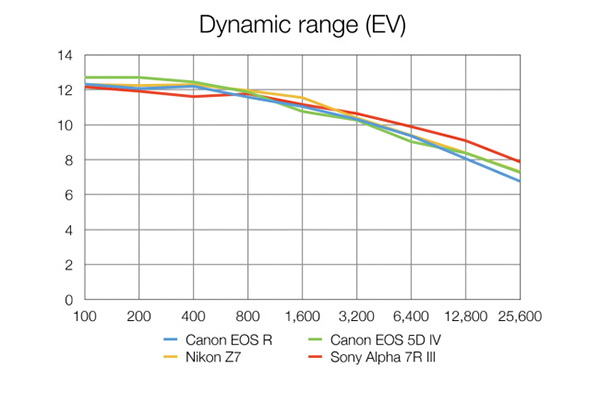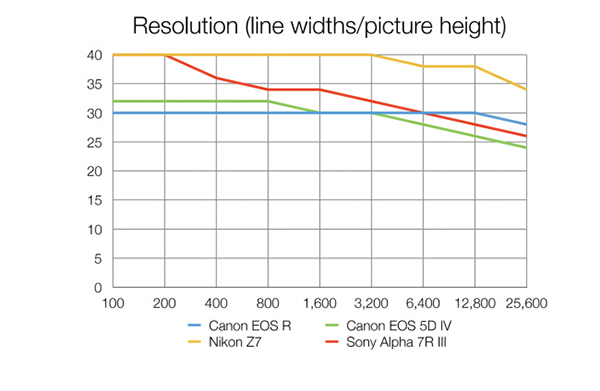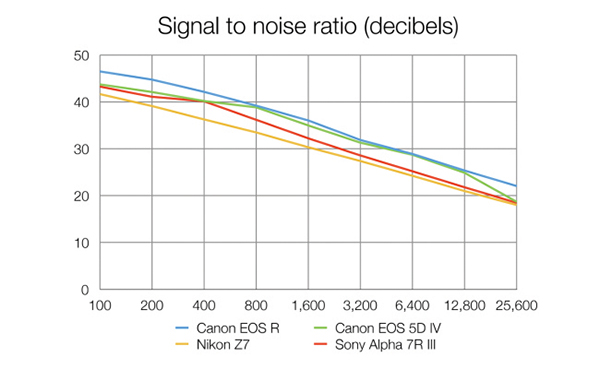 Video Capabilities
Rounding out the major grievances is the issue of video. The good: the EOS R comes with C-Log as standard and can record internally at 4:2:0 8-bit with Rec. 709 colour space, and externally at 4:2:2 10-bit with Rec. 2020. The bad: it can only shoot 4K (UHD) up to 30fps and 1080p (FullHD) up to 60fps; if you want to shoot at 120fps, you have to go all the way down to 720p (HD). The real kicker, though, is that 4K comes with the same 1.7x crop that afflicts the 5D Mark IV.
Canon insists that this makes the sensor almost the same size as the Cinema EOS line, and provides a similar perspective to Super 35, so your footage will cut seamlessly with something like a C200. And while the 1.7x crop means that your RF and EF lenses won't be nearly as wide (a 24mm lens becomes 40.8mm), you can always use EF-S lenses such as the 10mm-18mm f/4.5-5.6 IS STM (which becomes 17-30.6mm).
Verdict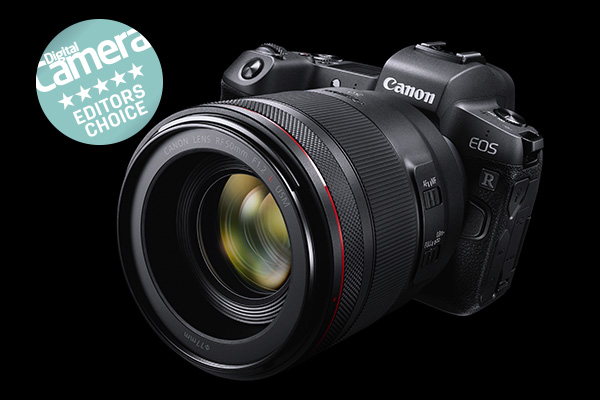 Capable, customisable, but compromised. The Canon EOS R is a great proof of concept, with fantastic features such as the new control ring and M-Fn Bar, and offers tangible upgrades to existing EF and EF-S lenses. It is a very capable camera and should satisfy many EOS DSLR owners looking for a solid mirrorless alternative. However, it would be hard to pick the EOS R over its rivals, especially when you consider the price premium over the likes of the excellent Sony Alpha A7 III. Things could well change with the next model though when Canon could smooth out a few rough edges.
www.my.canon
RM9,888 (body only)
Digital Camera Magazine
Specifications
Sensor: 30.3MP full-frame CMOS, 36 x 24mm
Image processor: Digic 8
AF points: 5,655 Dual Pixel AF positions
ISO range: 100 to 40,000 (exp. 50 to 102,400)
Max image size: 6,720 x 4,480
Metering zones: Evaluative, partial, spot, centre-weighted
Video: 4K UHD at 29.97p, 25p, 24p, 23.98p
Viewfinder: EVF, 3.69m dots, 100% coverage
Memory card: SD / SDHC / SDXC
LCD: 3.15-inch fully articulating touchscreen, 2.1m dots
Max burst: 8fps
Connectivity: Wi-Fi, Bluetooth, NFC
Size: 135.8 x 98.3 x 84.4mm (body only)
Weight: 580g (body only; 660g with battery and card)
Meet the rivals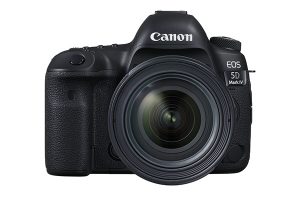 Canon EOS 5DM4 RM14,399 (body)
The EOS R's closest Canon stablemate is the 5D Mark IV, its DSLR counterpart where its features are broadly similar, making the EOS R a great complement or replacement.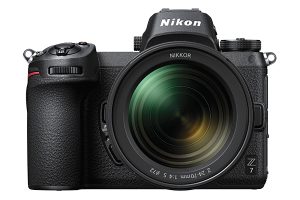 Nikon Z 7 RM15,688 (body)
Nikon's Z 7 specifications outperform the EOS R in every category – although, for an extra RM5k more, you would certainly expect it to.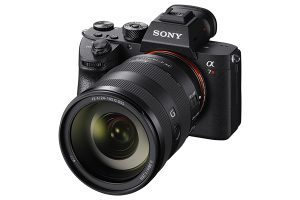 Sony A7R III RM13,529 (body)
Sony's reigning mirrorless monarch delivers five-axis IBIS and uncropped 4K in addition to a more pixel-packed sensor offers a serious lens selection.
Review: Canon EOS R Full Frame Mirrorless Camera