Huawei brings "Snow' to celebrate Christmas in Malaysia
Another year has come and gone. It is the best time of the year once more. Christmas is a magical time, a time for family and friends, making precious memories together. At Huawei, Christmas is a time to look forward to. Huawei, the global tech giant, launched its annual Christmas campaign themed "Snowy Christmas" in collaboration with Pavilion Kuala Lumpur on 1 December 2018 with a breathtaking 'snow phenomenon'.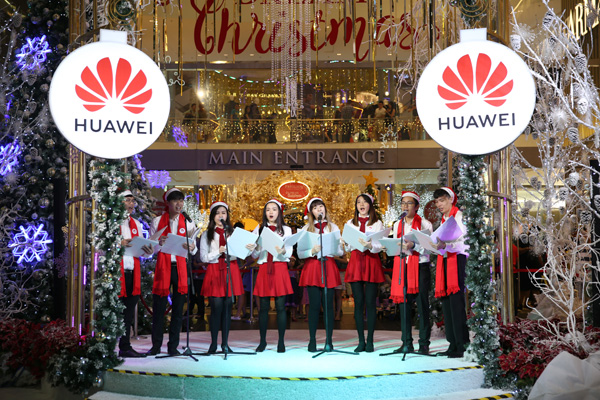 Throngs of curious mall-goers and visitors gathered to witness the mesmerizing sight. Excited children eagerly awaited the 'snowfall' and when the lively Christmas music started and the festive lights turned on, delighted children started dancing and running about, arms outstretched to catch the 'snow'. Parents whipped out their mobile phones to take wefies of their families. It was a wonderful sight to behold. The public can experience snowfall at Pavilion Kuala Lumpur everyday at 8.00PM from 1 – 25 December 2018. Look out for Huawei's Santarina for Christmas goodies or take a snowfie at the photobooth. Instant print is complimentary at the Huawei Experience Store at Pavilion Elite, Level 5.
Not only the people in Kuala Lumpur get to experience the phenomenal experience, Huawei also brings 'snow' to Penang at Sunway Carnival at 2.00PM and 8.00PM starting 1 December and every weekend thereafter till Christmas Day. The snowfall experience at AEON MALL Tebrau City, Johor Bahru, and AEON MALL Kuching Central, Sarawak will start from 21 – 26 December at 6.00PM and 8.00PM daily.
Huawei Christmas Retail Promotion
In celebration of the upcoming festive season, Huawei is running an exclusive Christmas promotion starting 1 December 2018 till 1 January 2019. For purchase of any Huawei Mate 20 series, consumers will get a Professional tripod stand. To top that, Mate 20 buyers will receive an additional Huawei Soundstone, a wireless charger for Mate 20 Pro buyers and Mate 20 X purchase will come along with a complimentary flip cover and M-Pen. Any other selected models purchased will receive a limited edition Huawei Xmas canvas bag.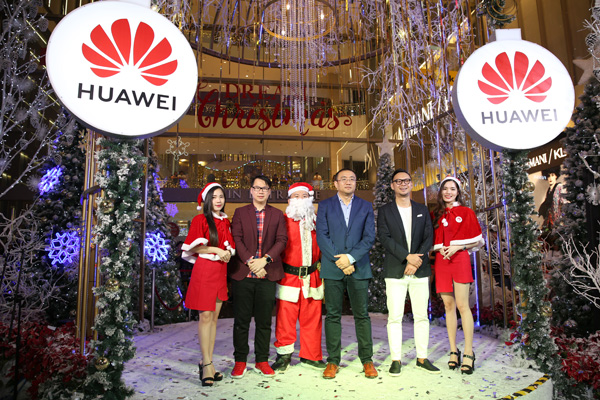 This is the season to celebrate. Huawei will be offering luxury hotel dining vouchers worth a total of RM50,000 for lucky draw when consumers register their details after making a purchase at any of the Huawei Experience Stores or Huawei Online Store. A season of giving and sharing is not complete without a Christmas meal with loved ones. Any Huawei Mate 20 Series user will be eligible to participate. All that is needed is to capture the best moment with loved ones using any of the Huawei Mate 20 Series devices and submit the entry describing why should they win a Christmas dinner for two at Poseidon's Reserve Caviar & Oyster Bar worth RM1,000*.
Huawei Christmas Night
Tis' the season to celebrate and enjoy all that Christmas. What's a festive without eat, drink and be merry? Huawei is honouring its fans with a special Huawei Christmas Night gathering on 20 December in Kuala Lumpur with exclusive goody bags and lucky draw prizes courtesy of Huawei brand partners – Aerocentric, Palm Garden Golf Club, Poseidon's Reserve Caviar & Oyster Bar, Sheraton Imperial Kuala Lumpur and Viu. A number of invitations will be given out to lucky fans through the participation of any of these activities.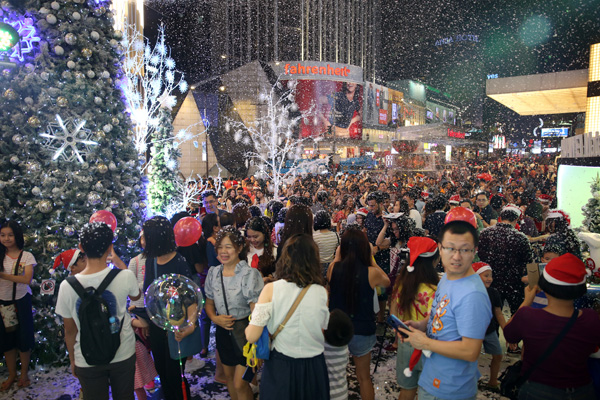 Huawei Snowy Christmas Photo Challenge
Participate in the "Huawei Snowy Christmas Photo Challenge" at any of Huawei's snowfall locations. Upload the photo on Facebook with hashtag #huaweisnowychristmas and Huawei watermark. The top 10 most-liked photo will win an invitation to the Huawei Christmas Night.
Snowy Christmas 12.12
Following the overwhelming response from 11.11 Mega Online Sale Day, Huawei continues to roll out treats for consumers. On 12.12, consumers can expect a whole list of free gifts with selected purchases! The top 10 spenders on that day will be receiving an invitation to Huawei Christmas Night.
Huawei VIP
Users who have not downloaded the Huawei VIP app, are encouraged to register and sign up an account. The most frequent users of Mate 20 Series, P20 Series, Nova3 & 3i on Huawei VIP app will be the lucky winners to receive invitation to Huawei Christmas Night.
Huawei AppGallery
Huawei AppGallery users can be the lucky few to win an invitation to join other fans and Huawei on 20 December for an exclusive Huawei Christmas Night. All is required is to purchase and download any apps before 14 December and be in the running to be the lucky 10.
For more information on HUAWEI Malaysia and other innovative products from the tech giant, please visit consumer.huawei.com/my or follow HUAWEI's official Facebook page at www.facebook.com/HuaweiMobileMY.
celebrationchristmasfestivalhauweipavilionpromotionretailsnow