Hands-on Experience to boost Youth Engagement with Industry 4.0 Technologies
While technologies drive the Industry 4.0 revolution, it is people who engineer and power innovation. Over 5,000 youth and members of the local communities had a chance to get inspired and connect with advanced technologies through the two-day 'Global Education Day' event organised by SEGi College Penang.
Back for the second time, "The Global Education Day" was organised entirely by over 30 Engineering and IT students from SEGi College Penang to help tech-enthusiasts across all generations from business, engineering and education sectors gain a better idea about emerging technologies which are gaining momentum in the drive towards Industry 4.0.
The event, which was officiated by Deputy Chief Minister of Penang, YB Professor Dr Ramasamy Palanisamy, was held on 15 and 16 December at the 1st Avenue Mall, Georgetown, Penang.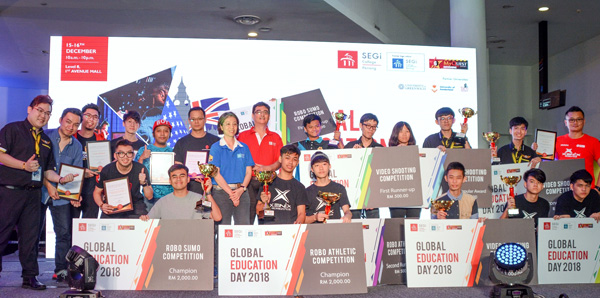 In his opening speech, YB Professor Dr Ramasamy said, "Technology pervades every aspect of modern day living; people can shop, share news, learn, play, connect, and so on, mainly through mobile devices. As technology is changing so rapidly, it is important that we do not embrace technology blindly. We must explore new technologies meaningfully and effectively to achieve greater outcome for the development of our nation."
"In today's digital-driven economy, higher education institutions play a pivotal role in nurturing talents and equipping them with the right expertise to ride the digitisation wave. In this regard, the State Government of Penang laud SEGi's efforts in assisting young people to further their interest and develop their knowledge in Science, Technology, Engineering and Mathematics (STEM) to unlock the potential of Industry 4.0," said YB Professor Dr Ramasamy.
Principal of SEGi College Penang, Mr Cheah Teong Keat, said, "Students' interest in technology has grown over the past few years. This is evidenced in the higher uptake of STEM-related programmes and the number of young people pursuing careers in STEM. Through programmes like "The Global Education Day", SEGi is poised to help our communities gain better insights on what new technologies are out there, and to inspire them to think how to embrace these technologies to drive innovation."
The two-day event featured various immersive activities to encourage young people to be more involved in STEM. Young tech enthusiasts enjoyed the opportunity to demonstrate their creativity through the Robolympics, which is often touted to be the Olympic Games of robot design. The Robolypmics was divided into three competition categories, namely robotic athletic, robotic sumo, and a video competition; all aimed to give young tech enthusiasts a platform to learn to problem solve and enhance their robotics knowledge.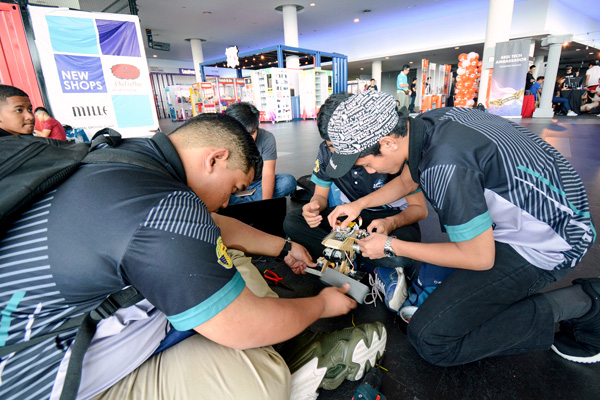 This year, 15 year old Cheah Wen Jie from Xenix Robotics in Kuala Lumpur emerged as the champion for the robotic athletic category. Walking away with a RM 2,000 cash prize, Cheah said, "Winning the competition requires practice and I am happy all of that hard work paid off. Overall, this is a good platform for me to practice what I have learned and also gain new knowledge. I certainly look forward to returning next year."
The first prize in the robotic sumo category went to Mara Parit Junior Science College team, consisting of Faris Farhan bin Azlan and Muhamad Amirul Aiman, who took home a RM 2,000 cash prize. Commenting on the team's success, Faris said, "We were excited to win this competition. The intensive research prior to the competition helped us greatly. It allows us to learn various new techniques that pushes our creativity further."
In the video shooting category, the first prize was awarded to 19 year old Chia Che Keng who received a RM 1,000 cash prize. Lee Chi Thong, who dressed as Queen Elsa from 'Frozen', clinched the grand prize for the Cosplay competition and she received a RM 1,000 cash prize.
In addition, young people also experienced the wonder of digital innovation through a dedicated e-Sports Experience Zone. The e-Sports Experience Zone was created in line with SEGi's aspiration to support the local e-Sports community. SEGi also collaborated with partner universities, namely Troy University, University of Greenwich, and University of Sunderland, to share STEM education insights. Photo Journalist
Gadgets, Photography, Automobile, Lifestyle
collegeeducationglobal education dayindustrypenangsegistudenttechnologyuniversityyouth