PCX Hybrid, Forza and New CBR1000RR Fireblade headline Boon Siew Honda's Showcase at KLIMS 2018
Boon Siew Honda sent ripples through the motorcycle market with the official launch of the PCX Hybrid, Forza and the New CBR1000RR Fireblade at the Kuala Lumpur International Motor Show 2018 (KLIMS 2018). Combined, the three headlinemaking bikes present a feast for the eyes for the visitors at the motor show.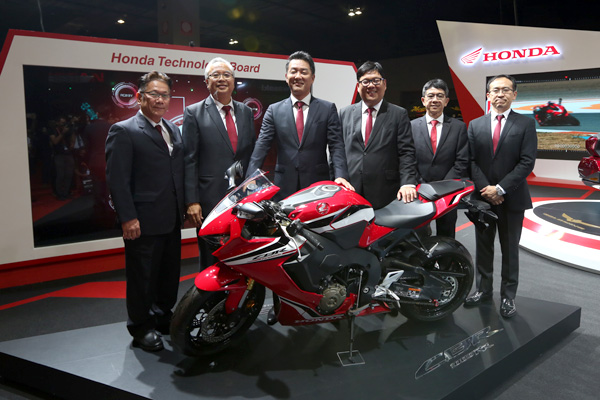 Boon Siew Honda Managing Director and Chief Executive Officer Mr Keiichi Yasuda said, "Honda joins KLIMS 2018 under a mega theme – "Frontier of Innovation", which takes inspiration from Honda's Power of Dreams to continuously transform the definition of mobility to benefit people's lives. Drawing on our Challenging Spirit, we want to extend the joy of mobility while growing further by envisioning the future and setting the direction on how we can transcend ourselves from yesterday."
PCX Hybrid
The first model to rev up the launch was the highly anticipated two-wheeled hybrid – the PCX Hybrid. The premium Automatic Transmission (AT) Model is designed to deliver the joy of mobility with its comprehensive package that consists of enhanced technology, ride comfort and luxurious appearance.
Equipped with Honda's proprietary hybrid system, the PCX Hybrid is powered by a 150cc liquidcooled 4-stroke single-cylinder petrol engine mated to an electric motor supported by a high-output Lithium-ion battery. Adding motor assist system to the ACG starter, it enables the engine to realise sharper throttle response and provide enhanced acceleration when the vehicle starts or accelerates rapidly. The 150cc engine delivers a maximum power and torque of 10.8kW at 8,500rpm and 13.6Nm at 6,500rpm respectively, while the electric motor delivers a maximum power of 1.4 kW at 3,000rpm and maximum torque of 4.3Nm at 3,000rpm.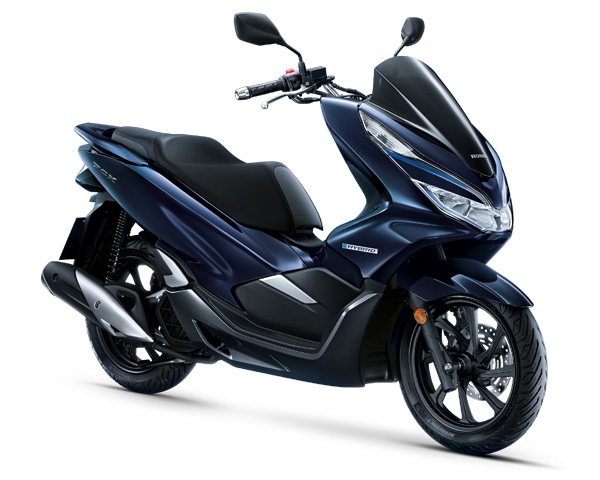 The riders will be able to enjoy an exhilarating and superior ride with the 3 modes offered in this premium AT Model according to their preferences and ride conditions:
1. Drive mode (D) that provides comfortable ride and better fuel economy.
2. Sport mode (S) for riders who seek a sporty ride.
3. Idling OFF mode that helps the riders deactivate the Idling Stop System (ISS) function but maintain the same power performance as in D mode.
Being an environmentally friendly model, the PCX Hybrid is integrated with Enhanced Smart Power (eSP) that optimises fuel efficiency while offering high performance. It is also engineered with numerous technologies such as ISS, Combined Braking System (CBS) and Honda SMART Key System. In addition, the luxury AT Model is equipped with other practical features such as all LED lighting system, full digital panel meter, DC socket in a console box for power charging, large under seat compartment with seat stopper and the largest fuel tank in its class with 8-litre capacity.
The PCX Hybrid is elegant and stunning in its style which features an exclusive Pearl Dark Night Blue colour. Together with its host of useful innovations and value-added features, the PCX Hybrid is leading the way in its segment.
Forza
The Forza extends Honda's AT model line-up and gives more options to Malaysian riders who seek an AT model with refined outward appearance and performance. A lightweight, compact and sporty in design model, the Forza is deemed to be an owner's close travel companion on the road with its great performance in every aspect.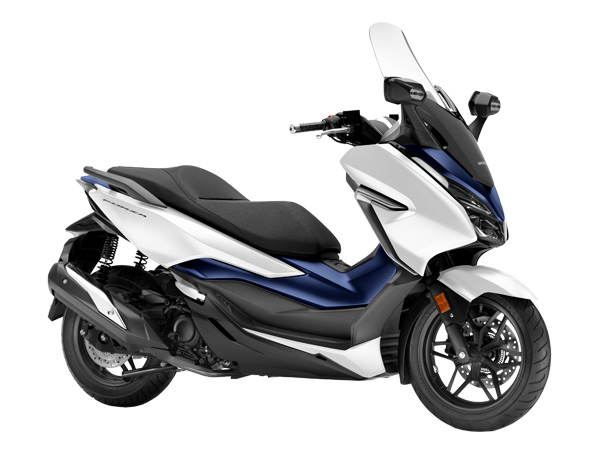 Under its modern look is a 279cc liquid-cooled fuel-injected OHC four-stroke engine that offers maximum power output at 18.5kW at 7,000rpm with maximum torque of 27.2Nm at 5,750rpm. With a weight of 184kg, the Forza is radically designed to boost acceleration and top speed which is enabled by the V-Matic transmission that efficiently transmits engine output to the rear wheel. Its strong performance is matched by an equally outstanding fuel efficiency recorded at
31km/L (WMTC mode) on a full tank of 11.5 litres.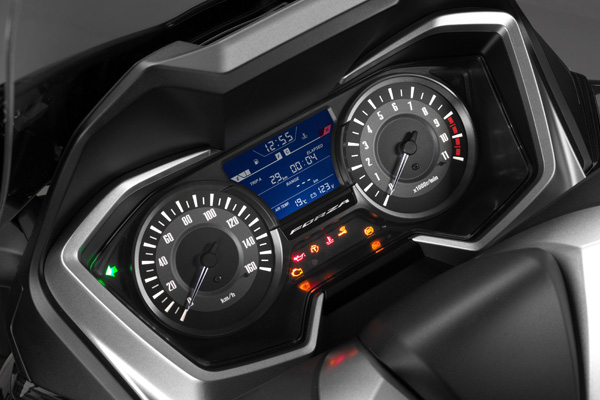 The Forza is designed with 1510mm wheelbase with sharp steering geometry to give easy manoeuvrability and high-level agility to the riders when they are shuttling through traffic-heavy roads. This is the first Honda AT model to be equipped with Honda Selectable Torque Control (HSTC), in addition to a host of purposeful technologies and features such as Anti-Lock Braking System (ABS), Honda SMART Key System, full LED lighting system, and under seat compartment that can store two full-face helmets, 12V charging socket, as well as an adjustable electric screen.
The attractive AT Model is available in 3 colour options of Pearl Horizon White, Sword Silver Metallic and Asteroid Black Metallic.
New CBR1000RR Fireblade
In the superbike segment, the 2019 Fireblade made waves with its concept while providing a new Honda big bike option in Malaysia. The beautiful yet aggressive; lighter yet powerful New CBR1000RR Fireblade is set to excite the big bike market with its remarkable technologies and features.
The New CBR1000RR Fireblade was inspired by the concept of "Next Stage Total Control", the design of this powerful model has retained the very first principle "power to weight". Honda has looked at every angle on the body and frame of this model and redesigned it into a more aerodynamic superbike. With a weight of 196kg, the New CBR1000RR Fireblade gives riders total control of this superbike which delivers a stable and fast performance.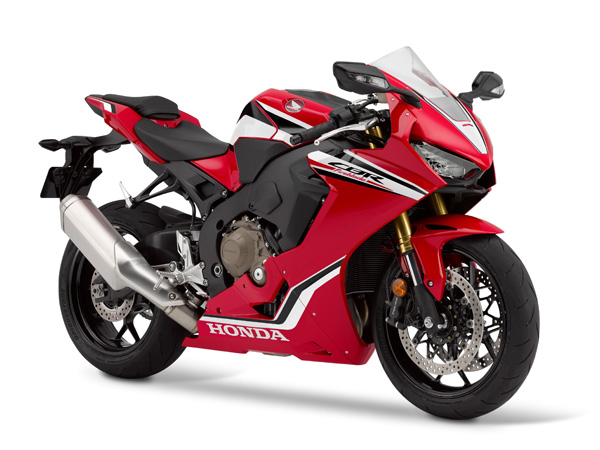 At the heart of the beast is a 998cc liquid-cooled 4-stroke 16-valve DOHC engine that releases a maximum power output of 141kW at 13,000rpm and 114Nm at 11,000rpm torque. The New CBR1000RR Fireblade is equipped with Honda advanced technologies such as HSTC, Selectable Engine Brake (SEB), ABS, an optional Quickshifter with Downshift Assist, Power Selector, fully adjustable Showa Suspension and Honda Electronic Steering Damper (HESD) to provide an exceptional ride and agile handling to the rider.
To get the aficionados' adrenaline pumping even further, the New CBR1000RR Fireblade is also incorporated with the ultra-rider friendly Riding Mode Select System (RMSS) that offers 3 modes with different combinations of HSTC, engine power and engine braking level; the modes are "Mode 1" for the track, "Mode 2" for winding roads and "Mode 3" for street. This striking model also comes with two USER modes to add in personal preferences, where all parameters can be combined and adjusted freely. All riders have to do to switch modes is push the Mode button with their thumb for RMSS and up or down switch for two USER modes on the left handlebar.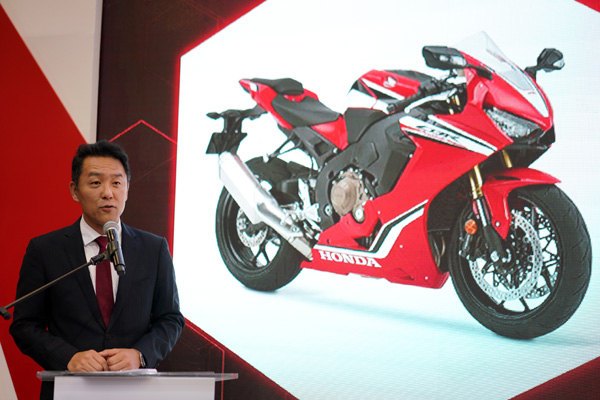 The combination of the outstanding performance and sporty design in the superbike has strengthened the position of Honda's big bike line-up in the market. Available in Grand Prix Red and Matt Ballistic Black Metallic, the New CBR1000RR Fireblade is beautifully designed with an aggressive and aerodynamic look.
With these three exciting models launched, Boon Siew Honda has introduced 12 new models to-date this year, which have collectively elevated the company's position in the Malaysian bike market. Boon Siew Honda is committed to ensuring that their products and services exceed customers' expectations and create new values and sustain the Joy of Buying.
For more information, please visit www.boonsiewhonda.com.my or call Boon Siew Honda's Toll-Free number at 1800-88-3993 (Monday to Friday, 9am – 5pm, except for public holidays).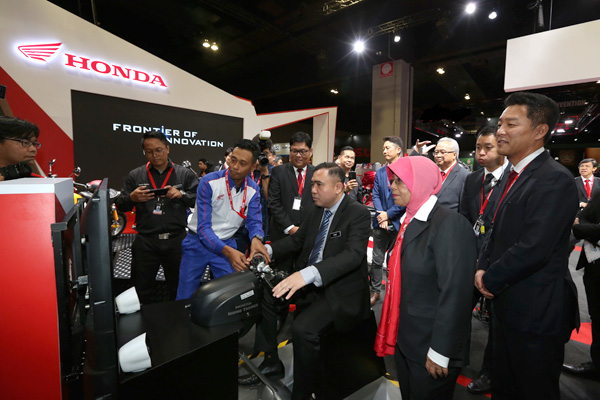 Photo Journalist
Gadgets, Photography, Automobile, Lifestyle