Nikon D850 – Review
This remarkable SLR delivers high resolution, high-speed shooting and big value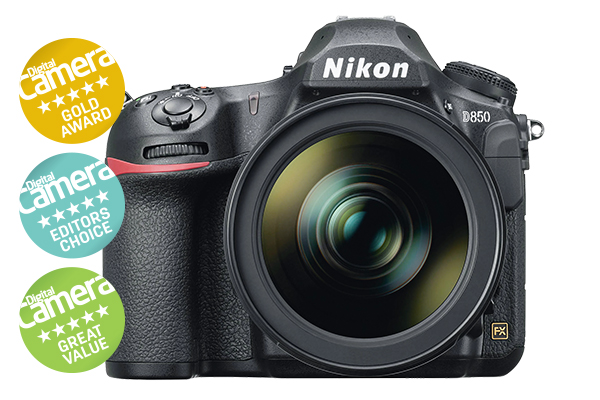 For a long time, professional photographers have faced a blunt choice. You can get a camera with great resolution, like Nikon's D810, Canon's EOS 5DS or Sony's Alpha 7R II, but no real speed; or you can get a high-speed specialist like the D5, the EOS-1D X II or the Alpha 9, but you then have to compromise on resolution. We haven't forgotten the Sony A99 II, but Sony's Alpha SLT system has yet to establish itself as a viable, forward-looking proposition for professional photographers.
This is why the Nikon D850 is such a big deal. It doesn't just raise the bar for resolution, it delivers a continuous shooting speed to rival a dedicated sports camera. At last, this is a pro DSLR that really can do anything. So let's look at these specifications properly. First, there's the new sensor, which has an effective resolution of 45.7 megapixels – 25% more than the ground-breaking Nikon D810. And then there's the maximum continuous shooting speed of 7fps at full resolution, and with a buffer capacity of 51 uncompressed 14-bit raw files. This goes up to an extraordinary 9fps with the optional MB-D18 Multi-Power Battery Pack and EN-EL18B battery, but this does have an impact on the buffer capacity. In both cases you are going to need some of the fastest memory cards currently available.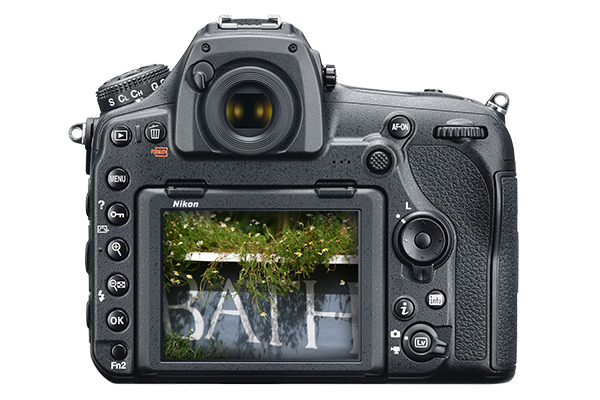 The D850 has Nikon's latest state-of-the-art 153-point autofocus system, though its Live View mode still uses relatively slow contrast autofocus. However, the new tilting touchscreen display can be set up for touch focus and even touch shutter operation, and a new Pinpoint AF mode helps you identify tiny targets, which is important given this camera's level of resolution.
The Live View mode has another trick – a silent shutter mode where the D850 can shoot at up to 6fps at full resolution in complete silence – or at an amazing 30fps at a reduced resolution of 8 megapixels.
The D850 shoots 4K UHD video, as we all expected it would, but it uses the full sensor area. This means that your lens focal lengths stay the same and you no longer have to juggle with irritating crop factors.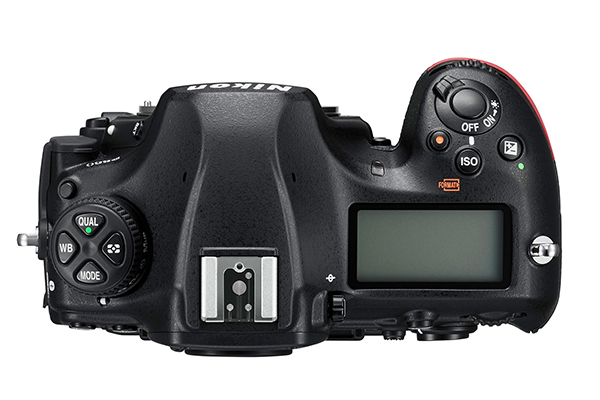 Build and handling
The D850 is not as big and heavy as a professional sports camera like the Nikon D5 or the Canon EOS-1D X II, but it's still a pretty hefty camera – especially when fitted with one of Nikon's constant aperture professional zooms like the 24-70mm f/2.8. But the controls are classic Nikon, so if you've already used one of Nikon's pro DSLRs, you could pick this one up and start shooting straight away. If you're swapping from Canon or another brand, it might take a little longer to get to grips with Nikon's sometimes idiosyncratic control layout.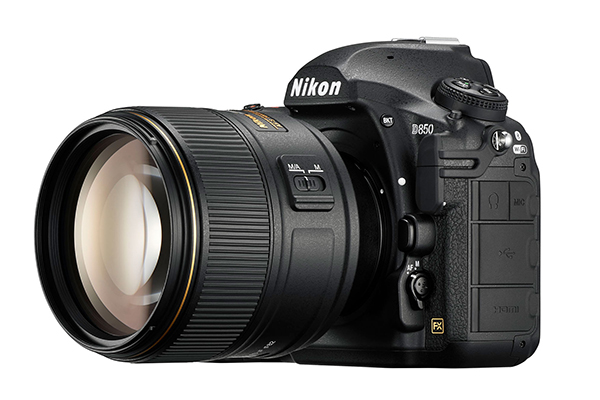 It's not immediately obvious when looking through the viewfinder that this is Nikon's largest viewfinder yet (it is), but it is big, bright and clear and a reminder that even in an market where mirrorless cameras are gaining ground, there's still a lot to be said for a classic optical viewfinder. There is obviously some blackout during high-speed continuous shooting, but it doesn't stop you keeping fast-moving subjects in the frame, and it doesn't have the stuttery lag you experience with many electronic viewfinders at high frame rates.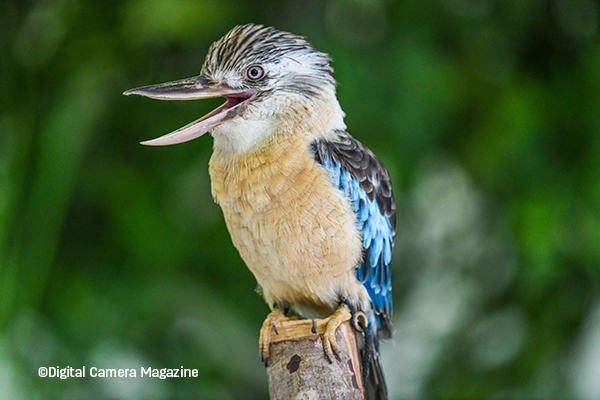 Autofocus is fast and positive, though the speed of acquisition will also depend on the lens you're using and its autofocus actuators. Live View mode is activated by a button on the back, with a lever for switching between stills mode and video.
The rear screen's high resolution creates a super-sharp image for Live View photography and the touch focus option is simple and intuitive to use. The tilting mechanism is another bonus, and while you wouldn't use the D850's Live View mode for fast-moving subjects, it's a really pleasant tool for more considered and precise tripod-mounted photography. If you're planning on doing a lot of action photography or extended portrait format sessions, the optional MB-D18 grip would be a very smart investment. It takes the D850 up to the size and bulk of a Nikon D5 or EOS-1D X II, but offers fast continuous shooting and greatly extended battery life (with Nikon's EN-EL18b battery) as well as a handy set of duplicate controls for vertical shooting. It fits on very neatly, but doesn't quite offer the 'seamless' design of a full-on pro sports camera like the D5.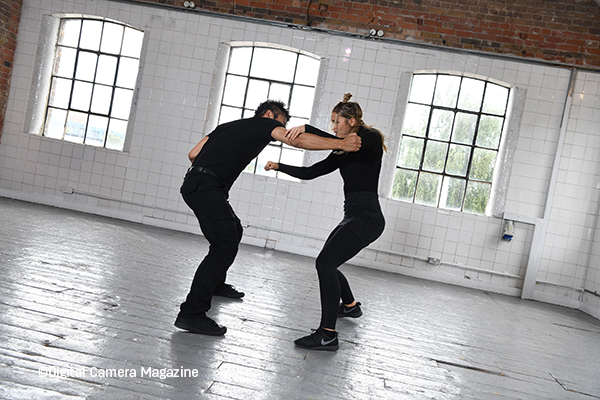 Performance
The good news is that this camera is capable of capturing spectacular levels of detail. The bad news is that you're going to have to work pretty hard to achieve it, because this camera's resolving power is so high that any lens softness, focus error or camera movement in the shot is going to be obvious.
As part of our lab tests, we test resolution, and the D850 is 'off the scale' – it out-resolves our test chart in a way that we've only ever seen before from 50-megapixel medium-format cameras (and the 50.6MP Canon EOS 5DS).
The colour rendition is exactly what we've come to expect from Nikon DSLRs – rich but natural-looking. The D850's JPEGs start to smooth over and show a little more noise at higher ISO settings, but it's very easy to fall into the trap of judging these images at 100% magnification on-screen and overlook the fact that these are huge files that will probably never be examined this closely under normal viewing conditions.
The autofocus system is Nikon's best yet, and also found in the D5 and D500. We haven't yet had a chance to try it out in anger on a high-speed action subject, but if it works as well as it does on the other two models, it's unlikely to disappoint.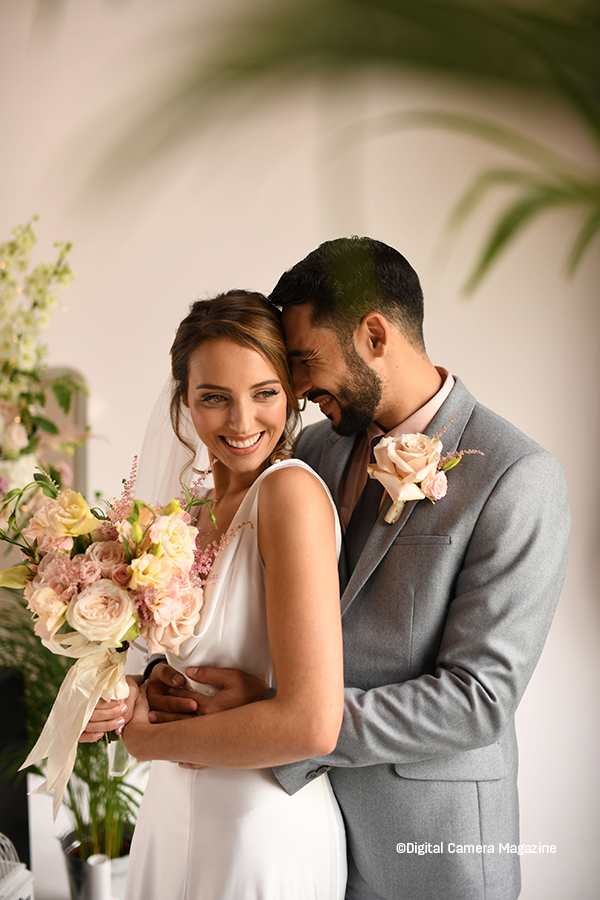 If you want to exploit the D850's speed as well as its resolution, you will almost certainly need to upgrade your stock of cards. Achieving the 7/9fps frame rate is not the problem: it's how long you can sustain it that's the issue. We could not get the recommended 64GB Sony QXD card (maximum write speed 440MB/s) but we did get a Lexar Professional 440MB/s XQD card and achieved raw buffer capacities within a whisker of Nikon's claims. Our fastest UHS-II SD card (write speed 299MB/s), however, couldn't quite match this.
But this is shooting at 7fps. At 9fps, with the MB-D18 grip fitted, things change considerably. The rate of data capture is much faster, and in our tests, we achieved around half the raw buffer capacity at 9fps than we achieved at 7fps. It's a reminder that the D850's spectacular combination of resolution and speed has only be achieved by driving image processing and memory card tech to its very limits. That aside, the D850's performance, from its autofocus system to its continuous shooting speed, resolution and overall image quality, is just stunning.
Verdict
The verdict was hardly in doubt. It's not completely perfect because the Live View autofocus is slow by today's standards and the raw buffer capacity takes a hit at 9fps, but these are small points compared to this camera's astonishing blend of resolution, speed and full-frame 4K video – and all at a price no higher than its predecessor's.
RM15,278 (body) www.nikon.com.my
Specifications
Sensor: 45.7MP FX-format CMOS (35.9 x 23.9mm)
Focal length conversion: 1x
Memory: XQD, SD/SDHC/SDXC (UHS-II)
Viewfinder: Optical pentaprism, 100% coverage
Max video resolution: 4K UHD 3,840 x 2,160 at 30/25/24p
ISO range: 64-25,600, expandable to 32-102,400
Autofocus points: 153-point phase-detection AF, 99 cross-type
Max Burst rate: 7fps (9fps with grip)
Screen: Tilting 3.2-inch touchscreen, 2,359k dots
Shutter speeds: 1/8,000 to 30 sec, Bulb, Time
Weight: 1,005g (body only, with battery and memory card)
Dimensions: 146 x 124 x 79mm
Power supply: EN-EL15a lithium-ion battery (supplied)
Meet the Rivals
Canon EOS 5D Mark IV (RM14,399 body)
The EOS 5D Mark IV is a great all-rounder, but the D850 really pulls the rug out from under it on nearly every front.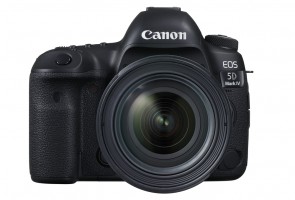 Nikon D810 (RM12,408)
The D810 can't match the D850's specs – but it's a super-sharp, tough, powerful camera that could now prove a bargain.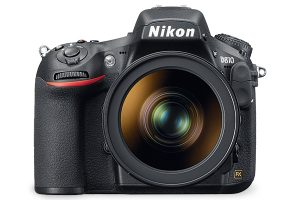 Sony Alpha 7R Mark II (RM11,179)
It can't match the D850's frame rate, but it's nearly there for resolution, has a better Live View AF and costs less.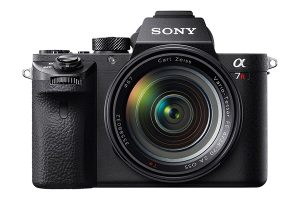 Nikon D850 – Review