BTS Lights A Fire with K-Pop Fans in GSC!
Golden Screen Cinemas yesterday saw an amazing celebration of K-Pop music with Korean heartthrob boy band, Bangtan Boys (fondly known as BTS) on its silver screens nationwide! The first screening of Burn The Stage: The Movie saw fully-booked cinemas in all 36 GSC locations with delirium running high, as fans whooped and cheered for their favourite idols.
Hardcore BTS fans, also known as "BTS Army" stormed the cinemas fully-decked in BTS-branded apparel, with banners, standees, glow-in-the-dark concert props and other BTS paraphernalia. The atmosphere was electric, as the emotional high continued from the entrance of the cinema right down to the cinema halls, and all the way until the credits rolled. On social media, an endless stream of selfies and check-ins flooded GSC's locations, as fans shared their experience with BTS hashtags.
"We are incredibly thrilled by the response of Burn The Stage: The Movie in our cinemas, and are very thankful for the strong support it has received from the BTS Army across Malaysia. As a leader in the entertainment industry, we strive to deliver enriching cinematic experiences to audiences at our cinema. Burn The Stage is one example of the high-quality alternative content we offer, which complements the cinematic innovation we have implemented at our theatres around the country," said Ms. Koh Mei Lee, Chief Executive Officer of Golden Screen Cinemas.
Burn The Stage: The Movie brings audiences behind-the-scenes of the BTS WINGS Tour, which saw the meteoric rise of the band to stardom. Fans are treated with an unprecedented opportunity to glimpse into the lives of the band members, and go up-close with unseen interviews and tour footages.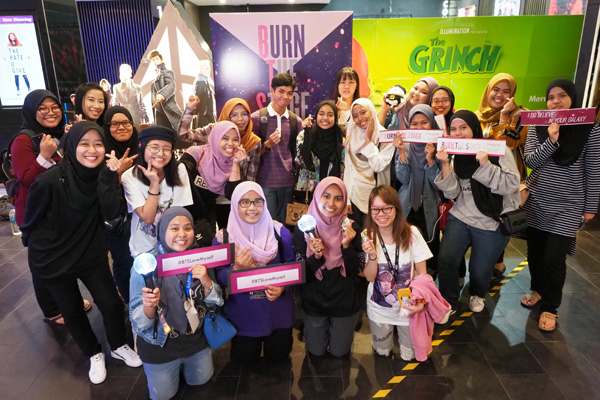 BTS fans keen on catching the musical documentary this coming weekend can still do so on the 17th and 18th of November nationwide, while seats are still available. After Burn The Stage: The Movie, GSC will continue to extend its enriching cinema experiences with even more alternative content, bringing in the 4th "Lovelive! Sunshine!! Aqours" in December 2018.
bangtan boysbtscinemadocumentaryfansgolden screen cinemagscidolkpopmovie