Lens Feature: Tamron SP 17-35mm F/2.8-4 Di OSD
A sophisticated balance of outstanding optics and matchless mobility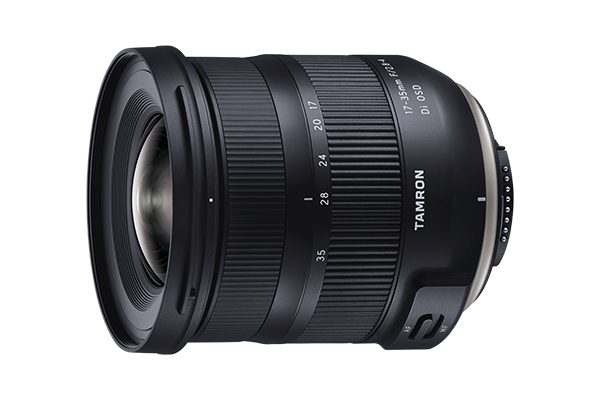 At just 90mm in length and 460g in weight, it is the smallest and lightest in its class. The focal length ranges from an ultra-wide 17mm that is suitable for professional landscape photography to a standard 35mm good for snapshot photography. The Moisture-Resistant Construction and Fluorine Coating, help to enhance the user's photographic experience. For those looking to try out an ultra-wide-angle zoom lens for the first time, as well as having a lens that is easily portable, the code-name A037 is the definitive choice.
The optical construction (15 elements in 10 groups) uses four Low Dispersion lens elements to minimize axial chromatic aberrations that can occur with ultra-wide-angle zoom lenses. With two properly positioned Glass Moulded Aspherical lenses, distortion and other aberration can be satisfactorily corrected as well. Being the smallest and lightest in its class and dedicated to high-quality imaging, the engineers have paid particular attention to size. The lens has also been carefully designed to allow peripheral point image reproducibility and thereby facilitate a high degree of sharpness and contrast. The Minimum Object Distance for the entire zoom range is a short 0.28m, so background blurring is still possible when opening the aperture and approaching the subject close-up with this ultra-wide-angle zoom
The AF drive system employs an Optimised Silent Drive to ensure quiet operation. Through the innovative optimization of the system that includes AF system speed reduction gear, Tamron was able to greatly reduce the drive noise in comparison to conventional AF types with built-in DC motors. Autofocus performance and speed have also been vastly improved. Seals are located at the lens mount area and other critical locations to prevent infiltration of moisture and/or raindrops to provide Moisture-Resistant Construction.
Get this lens at RM2,980 from your nearest photo dealer or www.dscworld.com.my
Lens Feature: Tamron SP 17-35mm F/2.8-4 Di OSD