Taiwan's Startups and E-commerce Leaders share expertise with Malaysia's Digital Community
Malaysians who are interested to venture the e-commerce and startups market will benefit from the Taiwan Digital Commerce & Startups Pavilion happening at this year's TAIWAN EXPO. Organised by the Bureau of Foreign Trade and TAITRA (Taiwan External Trade Development Council), top personalities and companies from Taiwan's successful digital and startup community will be present at the pavilion to share their knowledge and experience with like-minded digital entrepreneurs from Malaysia in hope of promoting the exchange and cooperation between both countries in the fields of startups and e-commerce.
Aside from meeting these top leaders, visitors to the pavilion will also get to see and feel for themselves advanced digital systems such as facial recognition and learn more about tools for e-commerce businesses. The pavilion is also a platform for Taiwanese entrepreneurs to capitalise on Malaysia's high Internet penetration and demographic dividend. Malaysia is home to over 27 million Internet users in 2018 and its e-commerce market is estimated to be worth USD$7.2 billion by 2025.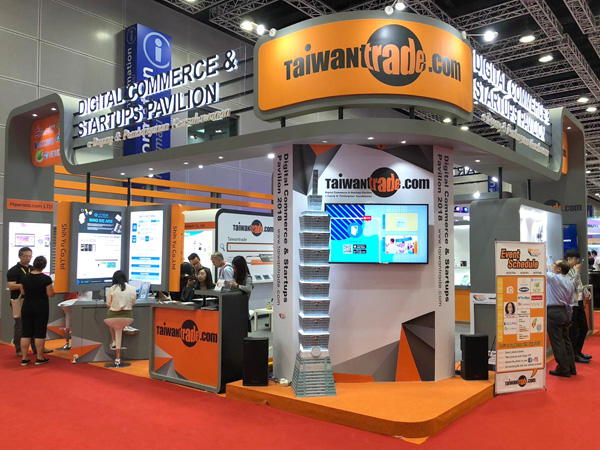 The Taiwanese companies that are exhibiting their innovations at the pavilion include startups like Accupass, Asia's No. 1 social ticketing platform; AdvMeds, a leading provider of eHealth solutions; TenMax, one of Taiwan's top advertising technology companies; Hawooo.com, the biggest Taiwanese cross-border e-commerce platform in Malaysia; Viewider, a cross-border e-commerce integration, Artificial Intelligence and big data acceleration tool expert; and Wonderful Food, the largest B2C online retailer of agricultural products in Taiwan. Some of their highlights at the exhibition include:
A Facepass facial recognition system developed by Accupass
The Smart Health remote medical care service created by AdvMeds
Viewider's e-commerce acceleration tool to enhance online marketing campaigns and real-time bidding (RTB) technology to predict consumer demand and reach target customers with pinpoint accuracy
Meanwhile, e-commerce traders such as Taiwantrade.com, Wonderful Food and Hawooo.com will set up store at the pavilion featuring a huge selection of Taiwan products for visitors to browse through and purchase. Taiwantrade.com will also provide a special limited-time only free shipping for purchases made from its site during the expo period, whereby over 100 products from 35 of its supplier members featuring smart solutions will be on showcase including
CVILUX's Opro9 Smart Diaper, Tai-Yi's Smart DC Inverter Motor, RedFalcon's 3+1 USB Ports Smart Charger and more. Visitors will also see the various new health and beauty offers from Taiwanese makers including the Almighty Algae Firming Mask from KKORA, the Anti-aging Bio Cellulose Mask by Ozer, the Miracle Hair-Regain Treatment by H&H Group and more.
Malaysia's social media influencer Elecher Lee will also be doing a live segment at the Digital booth to introduce fans to the many excellent products and services offered by the pavilion's exhibitors.
The Taiwan Digital Commerce & Startups Pavilion will be opened to public at 11am, Thursday, 25 October 2018, Halls 4 and 5 at the Kuala Lumpur Convention Centre (KLCC). Admission to the pavilion is free.
The pavilion is one of the 12 major exhibition pavilions across eight industries at this year's TAIWAN EXPO showcasing Taiwanese high-quality products and services as well as cutting-edge technology in various areas, giving visitors a sneak peek into tomorrow's smart future.
For more information on the pavilion as well as TAIWAN EXPO 2018, please visit here.
Businesscommercedigitalexhibitionexpomarketpaviliontaiwantrade