Fujifilm Malaysia sets Record with Nation's Largest 'Shoot. Print. Share.' Photo Exhibition 2018
Fujifilm (Malaysia) Sdn. Bhd.'s record-breaking 'Shoot. Print. Share.' photo exhibition 2018, currently held at the Sunway Pyramid from October 30 to November 4, 2018, is giving Malaysians the opportunity to try their hands at photography particularly photo printing and win prizes worth more than RM100,000.
Themed "My Favourite Story", the exhibition has been recognised as Malaysia's largest photo exhibition by the Malaysia Book of Records, showcasing 8,000 pieces of artworks that depicted the wonders of Malaysia in various categories including building and scenery, food, games, dance, traditional art and lifestyle/culture.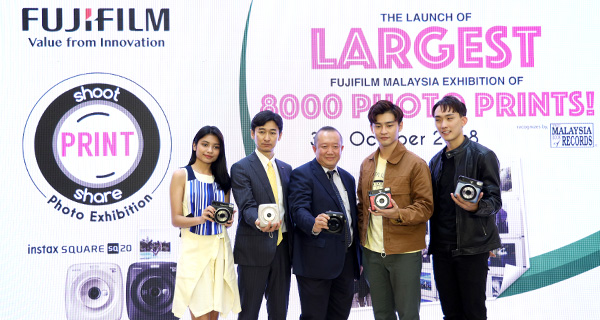 Aimed at inspiring Malaysians to bring back the joy of taking photos and printing them out to share the prints with loved ones, the second consecutive 'Shoot. Print. Share.' Photo Exhibition is taking the country by storm and is currently held at 12 zones of the Sunway Pyramid shopping mall, right from the Lower Ground 2 to the first floor, with the main activities, such as workshops, being held at the Sunway Blue Concourse and Orange Concourse areas.
Fumiaki Sato, Managing Director of Fujifilm Malaysia, said that the 'Shoot. Print. Share.' Photo Exhibition aims to celebrate and preserve the culture of print photography whilst breaking the communication walls and bringing people together.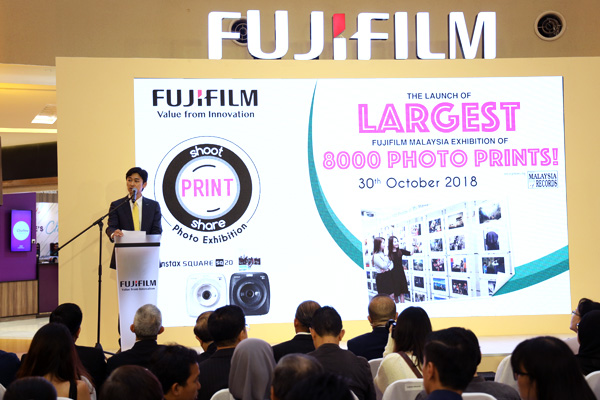 "We hope to achieve this goal by creating a space where photographers, experts and novices alike, as well as the mass public can meet and have a dialogue on photography whilst shining light on Malaysia's colourful charm.
"The exhibition is a good opportunity for every Malaysian to feel the innermost features of Malaysia through photos. A picture is worth a thousand words, with different photos taken by different individuals with diverse backgrounds, it can tell you wonderful stories.
"I believe this exhibition will provide a platform for everyone to share their stories from their point of view by showing their creativity and self-expression through their photos. Photographs can connect the past with the present, they also connect us with the future. Photography has the power to forge new bonds and friendships between people," he added.
During the exhibition, Fujifilm Malaysia chose '111 Best Photos' from the 8,000 submissions whereby each participant who took the pictures were presented with a limited edition collection book featuring the 111 photographs as a token of appreciation. The '111 Best Photos' were selected based on the quality and creativity of the picture, complemented by its message.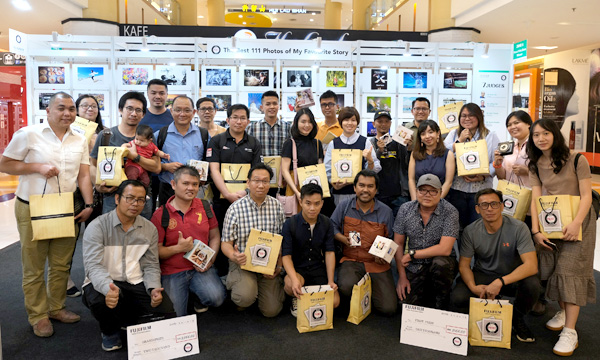 In 2017, the week-long exhibition showcased an astounding 5,000 photos by fellow Malaysians with over 700,000 visitors from all over the country banded together as one to share and cherish their memories with each other.
The idea of the photo exhibition was inspired from 'PHOTO IS 50,000' Photo Exhibition, organised by Fujifilm Corporation in Japan for the past 13 years. This exhibition began in 2006 as a 10,000-person photo exhibition. In 2013, it was expanded to a 30,000-person photo exhibition. In 2016, over 40,000 photos were exhibited at 32 venues around Japan and many of the visitors expressed their admiration of the exhibitions.
"I am confident that this year's exhibition has successfully brought Malaysians closer together as they share their own stories and memories through photography. Fujifilm Malaysia continues to preserve the culture of photography in enhancing the quality of life of people everywhere through the wonder, fun and emotions of photographs.
"People accumulate thoughts, feelings and memories every day. We believe that expressions of happiness, sadness and a range of other emotions should always be recorded for posterity in photographic form," said Sato.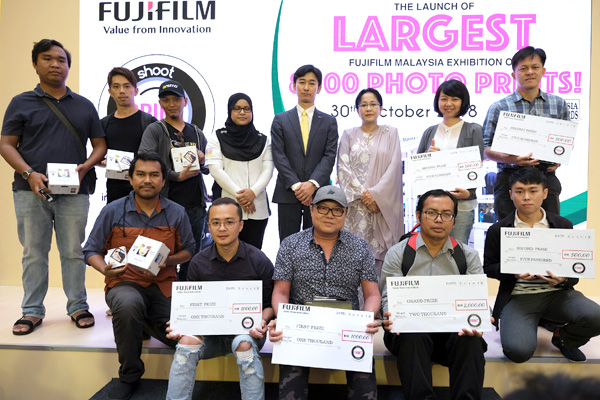 The grand prize winner will receive RM2,000 cash prize and a Fujifilm XT20 camera worth RM4,422.00. Two first prize winners will each receive RM1,000 cash prize and a Fujifilm XT100 camera worth RM3,288.00. Three second prize winners will each receive a cash prize of RM500 plus a Fujifilm Instax SQ10 with film worth RM1,297.00 while five third prize winners will each receive a Fujifilm SP3 with film worth RM892.00. The '111 Best Photos' winners will each get a Fujifilm Instax SQ6 worth RM598 plus a Best 111 Photo Book worth RM188.
The 'Shoot. Print. Share' Photo Exhibition was opened to all Malaysians regardless of age limit. Participants submitted their photos taken with Fujifilm or non-Fujifilm cameras as well as other devices. The photos shown at the exhibition reflected the theme of Malaysia where Fujifilm Malaysia wished to show the whole of Malaysia through the eyes of people from various backgrounds.
Among the activities lined up in conjunction with the event include X series workshop by Raja Kamal, Kim Boon and Joie Khoo, three renowned local photographers, INSTAX workshop by Pooi Chin and Jose Cheong, arts and creative workshop and sharing of medical tips by guest doctors.
Fujifilm Malaysia also took the opportunity to introduce its latest instax camera, 'instax SQUARE SQ20', a new high-end HYBRID INSTANT CAMERA during the launch of the exhibition.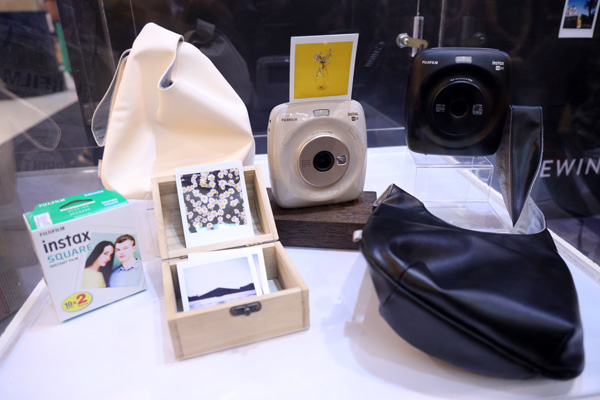 The SQ20 offers a wide variety of functions that allows users to enjoy both taking and printing photos. In addition to normal shooting for still images, a new function called "Motion Mode" enables them to take a video (max 15 seconds), use a dial on the backside of the camera, and easily print the best moment of moving subjects—something that has been difficult to achieve previously.
The 'Time Shift Collage' can shoot four images with a time difference—all at once—by pushing a single shutter button. It allows users to enjoy the new photo shooting experience that takes photos looking at four images having a time difference at one time.  The special filter 'Sequence' can take dynamic and dreamy photos adding sequence effects to the image.
The camera has the first zooming function before shooting within the instax series. There is also a self-shot mirror attached to the side of the lens allowing you to check the shooting range. As a hybrid instant camera, which is equipped with a digital image sensor and digital image processing technology, the camera allows users to select their favourite images before printing and to edit the images with various filters. With the benefits of a hybrid instant camera, a wide variety of photographic expression can be made even with the same image.
"The instax SQUARE is compatible with the square format film as a new addition to the instax series of instant camera line, which allows users to enjoy on-the-spot photo printing.
"The SQ20 has a variety of functions such as motion mode which can print the best moment of moving subjects easily and other new functions which can enjoy dynamic photos. The stylish and easy-to-hold design allows the camera to be taken anywhere, ensuring you never miss a precious moment," said Sato.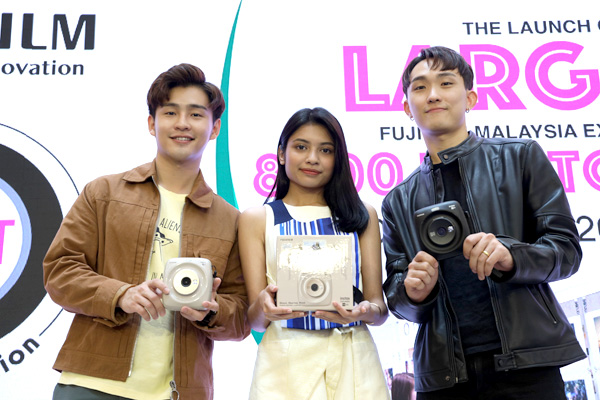 The camera is stylish and easy-to-hold. There are two colour variations with matte black to suit any scene and style, and beige for an elegant and fashionable feel. The design of the lens ring—and around the ring—is reminiscent of water ripples. It not only makes the camera easy to hold but is also a contemporary design feature.
"Since 1998, the instax series product line has been used all over the world and has been particularly embraced by a young demographic. Cumulative shipments have exceeded 30 million units across the globe. Fujifilm will continue to spread the instant photo system, instax which allows people across the planet to enjoy printing photos as they take them," Sato added.
The SQ20 is available at all Fujifilm and dealers' retail shops around the country with an early bird package of RM888 inclusive of one unit of instax camera bag (black or ivory) and one pack of instax Square twin films.
To gain more information about the new SQ20, please visit please visit www.fujifilm.com.my.
cameraexhibitionfujifilmInstaxphotographyprintshareshootspssq20sunway pyramid