Five startups from the Cyberview Living Lab Accelerator (CLLA) 2018 programme showcased innovative Smart City solutions by capitalizing on technologies such as Financial Technology (FinTech), Internet of Things (IoT) and Robotics & Artificial Intelligence (AI). The latest cohort of startups at the Demo Day comprises of EPC Blockchain, Touchless, MedKad, CheQQme and BeeBotic.
Siti Shafinaz Mohd Salim, Acting Head of Technology Hub Development Division at Cyberview said "Our Demo Day with the selected startups held on 15 October garnered interest for investment worth RM11.2M from prominent venture capital and Investors for our startups."
The Cyberview Living Lab Accelerator is one of Cyberview Living Lab initiatives with a focus into accelerating startups with minimum viable product by providing them assistance with a go-to-market strategy. Under the guidance of Cyberview and the programme manager, Finnext Capital, these startups took part in a vigorous five-month process of mentorship, consultancy and advisory before demonstrating their ideas and business models to a group of investors, corporates, community builders and media partners. After the Demo Day, the startups will continue to receive support from the programme to propel their company's growth.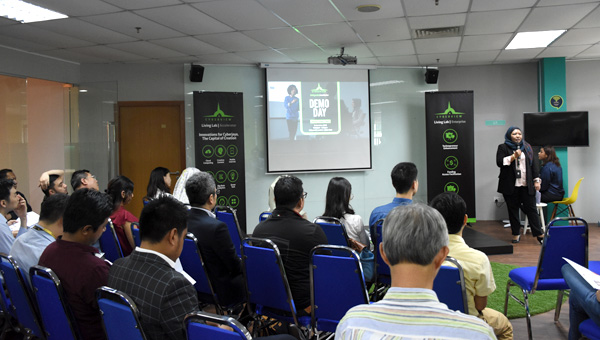 "As we accelerate towards the Industrial Revolution 4.0 in Malaysia, Cyberjaya stands as a launching pad for innovations within the areas of IoT, Fintech, and Robotics. Fintech, IoT and Robotics are the focus areas of the CLLA programme considering the vast potential they present for innovation leaders in Industry 4.0. Research shows that FinTech startup funding has increased at a compound annual growth rate of 41 per cent over the last four years, with over US$40 billion in cumulative investments," said Mohd Najib Ibrahim, Managing Director of Cyberview Sdn Bhd.
"Similarly, the National IoT Strategic Roadmap reveals that the initial economic potential for IoT in Malaysia will result in RM9.5 billion GNI creation by 2020 and expected to experience an exponential growth of RM42.5 billion by 2025. As for robotics, the global industrial robotics space is estimated at USD25.6 billion in 2013 and expected to reach a whopping USD40 billion by 2020," added Najib Ibrahim.
The CLLA programme aims to promote an open and innovative ecosystem with visions to elevate Malaysia's vibrant entrepreneurship environment and propel Cyberjaya to be the leading Global Tech Hub through premier smart city recognition in the region. To date, Cyberview has nurtured 60 startups under Living Lab Accelerator programme, with RM6 million investments raised, RM23 million revenue generated, and more than 300 jobs created.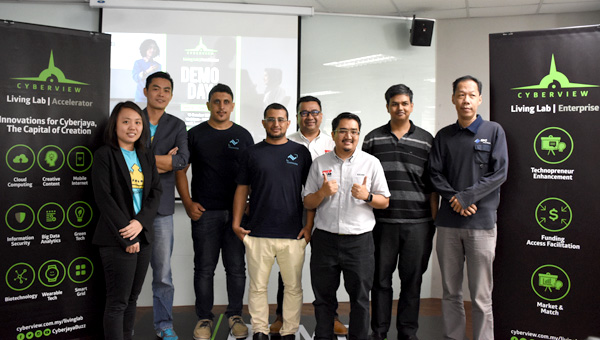 "Our latest installation of the CLLA programme saw a range of startups from various industries kicking up a notch with their Smart City ideas using disruptive technologies like Robotics, AI, IoT and FinTech.  For the first time, the cohort was required to approach their ideas and solutions by tackling demand-led problem-statements that further solidifies their offerings. These startups are presently working out of Cyberview's collaborative working space, CoInnov8 where they have access to a whole host of resources that they would need to innovate and commercialise their products effectively," said Najib Ibrahim.
Each startup was provided with resources and facilities valued more than RM100,000 to be pilot and investment ready. The programme consists of three main value propositions for the selected startups, including customer acquisition inroads in Cyberjaya, customised networking and funding opportunities and complimentary access to shared services such as Marketing, PR, Legal advisory, Finance advisory, Roadshow and Exhibitions.
Cyberview appointed Finnext Capital, ensure that participants are equipped with sufficient guidance and resources throughout the duration of the accelerator programme. "We have been working closely with the five startups under the Cyberview Living Lab Accelerator programme; assisting in every possible angle such as business development for projects, financing structure, legal and exposure. We are proud that the startups have grown tremendously since joining the programme," said Aizat Rahim, Partner of Finnext Capital.
About the Cyberview Living Lab Accelerator 2018 Programme Startups
MedKad
This startup provides the most cost-effective solutions for companies to manage their staff medical benefits. They also deliver the most user-friendly solutions for clinics and hospitals with the fastest payment disbursement.
Currently, Medkad has over 1,800 users from 53 different clients and 1,054 panels nationwide. In Cyberjaya, they have signed up 90 per cent of the clinics and achieved a steady growth financially. They have a 60 per cent month-to-month growth with a value of transaction of 146 per cent. Medkad is now registered under the Managed Care Organisation (MCOs) under the Ministry of Health. They have also emerged the winner of Malaysia's Asia Rice Bowl Startup Awards 2018 for Best Health/ Med Tech.
Touchless
This startup offers a parking management system that uses IoT, AI and Big Data technologies that helps drivers get easier and faster parking access. The system also helps parking authorities to manage their parking efficiently.
They are the first local company with the highest License Plate Recognition (LPR) accuracy in Malaysia. They also had secured a partnership with Dormakaba Group, a well-known access & security solutions company.
CheQQme 
This startup provides an action-based (call-to-action) mobile marketing platform for merchants that are looking to develop interesting campaigns for their customers and fans. The platform can target customers based on their favourite lifestyle needs as well as geographical location. It allows merchants to navigate on smartphones with greater visibility and develop promotions and exciting sales events.
CheQQme has over 2,000 active weekly users and has over 36,000 app downloads. They are also looking into potential partnerships with shopping malls in China and expanding their footprint to Indonesia, Laos and other ASEAN countries.
EPC Blockchain
This startup aims to empower the public to invest into Energy Efficiency as well as renewable energy projects. They have partnered with +Solar in implementing renewable energy solar farms in Cyberjaya. They have also completed integration of three projects with Hicom, Cyberview, and UEM Sunrise. Currently, EPC Blockchain is committing a project with Tenaga Nasional Berhad (TNB) and Sarawak Energy Berhad (SEB).
BeeBotic
This automation company provides customised robotic solutions that focuses on industrial Autonomous Guided Vehicle (AGV). They also developing a range of new products solve to logistic problems within manufacturing industries, healthcare institutions and restaurants.
Recently, BeeBotic also attracted an automation company from Holland with a contract deal worth RM4.3 million. To date, they have sold over 80 industrial AGVs to both local and international clients and secured a deal to supply 200 units to distributors over a year period.