Bringing Tomorrow's Innovation to Today's Workplace
Popularly coined as 'Industry 4.0' (IR 4.0), this buzzword is the future of the digital era. In line with Ricoh Malaysia's value proposition and entering IR 4.0, Ricoh hosted its 'Empowering Digital Workplaces' (EDW) 2018 event which demonstrated new and diverse approaches to work smarter through innovative technology tools. Among some of the verticals that illustrated these at the event's booths were Education, Manufacturing, Logistics, Construction/Developer, Retail, Workplace Services and Surveillance Applications.
Present at EDW 2018 were Alice Lee, Managing Director of Ricoh Malaysia and Datuk Yasmin Mahmood, Chief Executive Officer of Malaysia Digital Economy Corporation (MDEC). Both organisations are respectively working on parallel initiatives towards digital transformation and empowerment in Malaysia.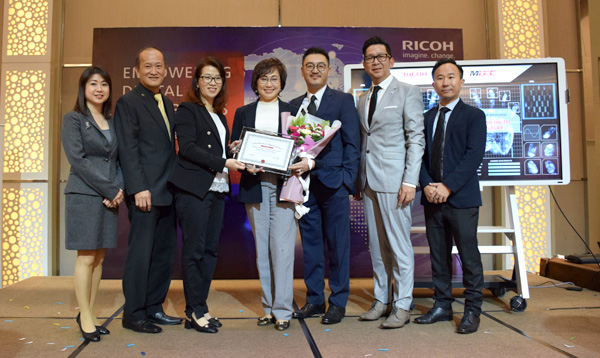 The event featured cutting-edge technology-sharing sessions with experts from various industries, and unveiled SMART concepts using Artificial Intelligence (AI), Internet of Things (IoT), Augmented Reality (AR) and more, towards enhancing productivity and improving workflow.
Ricoh is initiating EDW using innovative technologies and services to enable individuals to work smarter. Meanwhile, MDEC's Digital Transformation Acceleration Program (DTAP) objective is to ensure Malaysian companies' competitiveness in the coming years via a structured digital transformation journey.
This is in line with the national agenda towards a higher GDP and a growing digital economy. The common goal is for individuals and businesses to not only survive but thrive in the age of digital disruption. 
Alice Lee, Managing Director of Ricoh Malaysia remarked, "About one-third of all administrative work will be automated by 2025 – and this will undoubtedly mark one of the biggest shifts in digital revolution. At Ricoh, we believe in progressively evolving and empowering individuals and businesses alike to fulfil their potential in workplaces across Malaysia and beyond. Thus, our value proposition: Empowering Digital Workplaces."
"Making this our leading priority moving forward, the opportunities and possibilities are endless for businesses large and small. It is integral to begin steering into digitisation as we enter into Industry 4.0 (IR 4.0)," she added.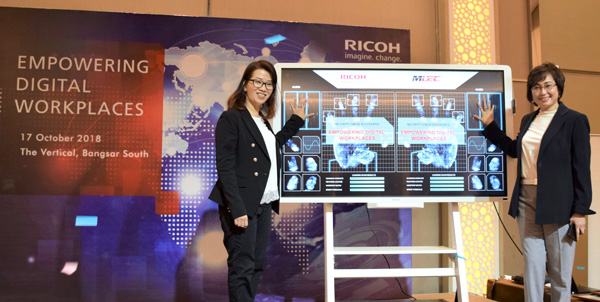 Welcoming the focus on emerging technologies, MDEC CEO Datuk Yasmin Mahmood said: "The Digital Economy is the next engine of growth for many countries, including Malaysia. In 2016, the digital economy accounted for 18.2% of Malaysia's GDP, and is expected to touch more than 20% in 2020.
"Disruptive innovation is indeed becoming a very real part of the workplace," said Datuk Yasmin, adding: "As technology costs decline and digital capabilities improve, new emerging technologies and digital transformation are now set to reconstruct and help future-proof the manufacturing industry."
On the educational front, Ricoh aims to encourage creative and interactive teaching through device collaboration. While for workplace services, the Huddle Room concept and SMART commands using the Interactive White Board will revolutionise the way meetings are held. Another technology recently introduced for the retail space is the Direct to Garment technology, which is easy, quick and convenient for SMEs.
In the logistics field, Ricoh's solutions will significantly reduce operational cost savings whilst achieving security, compliance and sustainability objectives. Additionally, the construction industry will also find peace of mind when printing planning documents, CAD files and blueprints in precise detail, making accurate measurements effortlessly, on top of an immersive 360° camera view of the jobsite's current status including blind spots.
'Paperless' is the keyword for digitisation and manufacturers will find that the Rapid Prototyping tool assist in the manufacturing process through 3D printing. As for the surveillance sector, security technologies for facial recognition and quick motion, as well as the adoption of Artificial Intelligence on People Counting technology for demographics reading have helped tremendously to understand customer behaviour or traffic and applying surveillance applications.
With Ricoh's illustrious history spanning over 80 years, there are no signs of slowing down as a total workplace technology provider to deliver efficient, effective and sustainable workplace solutions among its long list of other services. Photo Journalist
Gadgets, Photography, Automobile, Lifestyle