Reimagine Optical Excellence: Canon Takes Innovation to a New Level with the Revolutionary EOS R System
Canon Marketing (Malaysia) Sdn. Bhd builds on its well-known EOS range with the ground-breaking EOS R System, revolutionising the photography experience with new optical possibilities and greater levels of performance for enthusiasts. The new EOS R System comprises a newly created EOS R full-frame mirrorless camera, four dedicated RF lenses, three types of RF mount adapters and battery grip.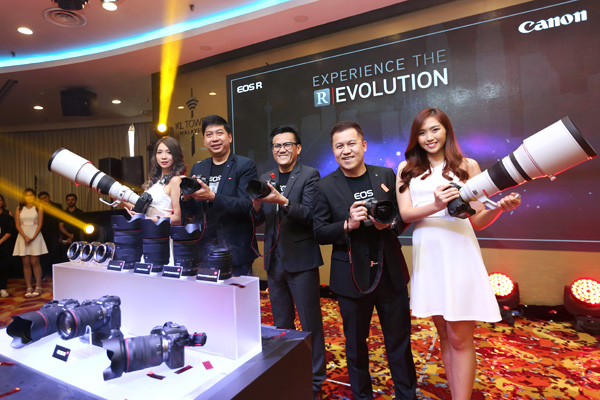 Ideal for enthusiasts and professionals, the EOS R offers the lightness of Canon's mirrorless range with functions of its high-end DSLRs. Providing users with enhanced flexibility and sophisticated imaging technology to explore creativity further, the EOS R has also been designed to be extremely user friendly.
The revolutionary RF mount technology system which is at the heart of the new EOS R camera features a 54mm diameter RF mount and flange focal distance of 20mm that enables greater capability in designing lenses. The EOS R is also the first camera to have 12-pin connection which enables high-speed communication system between lens and camera for improved focusing, zooming, aperture setting to achieve stunning image quality. These, together with its 30.3 megapixel full-frame CMOS sensor, enables the camera to deliver unparalleled and consistent high-quality imagery.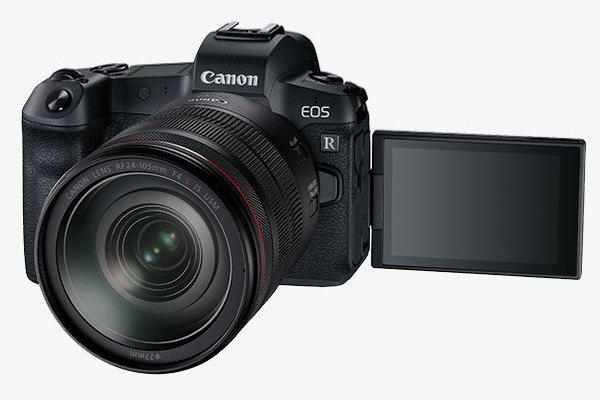 Ensuring EOS R users will be able to capture fleeting moments, the camera boasts the world's fastest auto focus speed of 0.05 seconds. As the world's first camera with an amazing auto focusing ability of as low as EV -6 , the EOS R is able to attain precise focus in low-light conditions, even in near complete darkness.
A step towards the future in optics, Canon also unveiled four new RF lenses that optimise quality and speed performance providing extremely high image quality never seen before. Besides the focus and zoom ring, the lenses feature an additional control ring which allow easy access for users to customise control settings. The RF lenses provide a variety of macro, zoom and low-light functions offering impressive versatility for different photography styles including still portrait, close-up and wide shots as well as videography.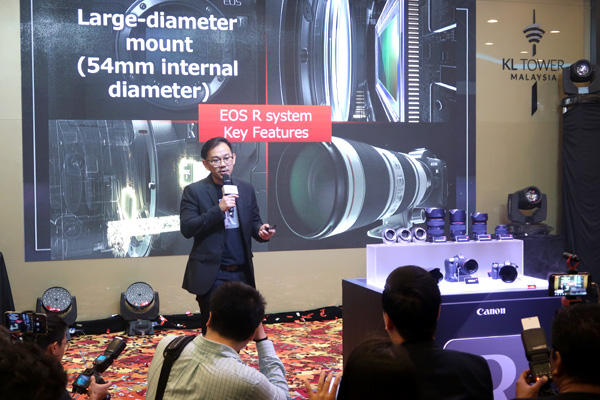 As part of the larger EOS eco-system, the EOS R system was designed to be compatible with existing range of EF and EF-S lenses. Users can continue to enjoy the flexibility of using their favourite EF and EF-S lenses with a series of three RF mount adapters that were introduced together to support the new system.
Speaking at the launch, Canon Marketing Malaysia's President and Chief Executive Officer Andrew Koh said, "Canon has always stood for the best in imaging technology and we continuously innovate our products to adapt to the dynamic technology landscape. The EOS R is a result of our commitment in bringing outstanding imaging tools that redefine photography limits and support our users, from enthusiasts to professionals, in developing their skills and passion for photography."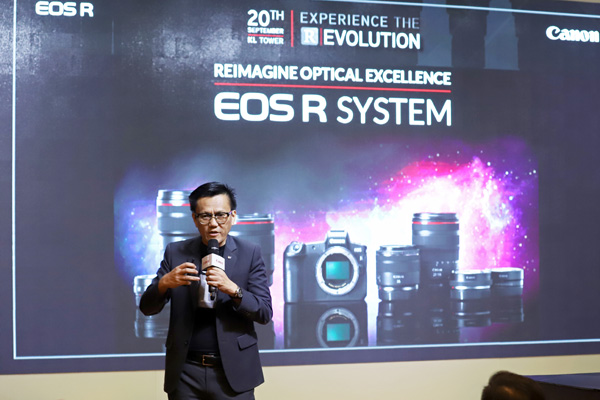 "A revolution happens when photography fans and Canon come together, and we are confident that the functionality and optical advancements in the EOS R will provide them a world of new possibilities in creative expression," said Koh.
A stand out feature of the EOS R is the Vari-angle LCD touchscreen that gives users flexibility in angling while the operational panel is user-friendly and allows customisation on information to display. A first for digital cameras, the EOS R offers an external battery grip that can be affixed to it which can hold up to two batteries with direct charging capability.
Featuring a lightweight ergonomic body with a sturdy grip makes the new camera perfect for photography on the go. Protecting the surface of the CMOS sensor from dust penetration, the EOS R features shutter screens that close when the camera's power is turned off.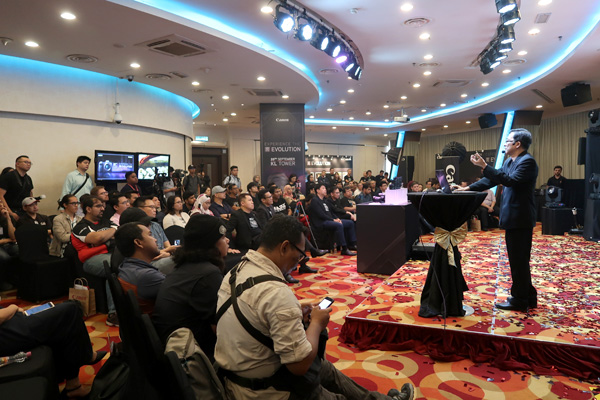 "The EOS R and its range of RF lenses that are all made in Japan, coupled with the Speedlite EL-100 offers new opportunities for enthusiasts in capturing high quality images across photography genres – studio, sports, travel and nature," said Jeffrey Kung, Head of Consumer Imaging and Information Group, Canon Marketing Malaysia.
"The revolutionary mount system, 30.3MP full-frame, 0.05 seconds focus speed and versatility of the new camera meets photographers' needs for a high-performance camera that is ideal to use in any surrounding. Our key focus is elevating user experience and ensuring that we surpass our consumer's expectations in providing devices that are simple to operate and allow them creative freedom," said Kung.
In addition to the EOS R suit, Canon launched a prime EF-M lens and two super telephoto EF lenses. The EF-M32mm f/1.4 STM weighing 235g, allow tighter image composition and performs well in low-light conditions. While the EF400mm f/2.8L IS III USM & EF600mm f/4L IS III USM Super Telephoto lenses feature improved image stabilization, new electronic focus ring, and significant weight reduction making them the world's lightest 400mm and 600mm lens.

A new compact and versatile Speedlite EL-100 was also introduced featuring bounce flash technology and the ability to turn the flash head up in any direction up to 180 degrees.
The Canon EOS System is synonymous with excellent imaging technology and has supported the creativity of photographers for more than 30 years with its superior optical performance. Trusted and relied upon by the best, the EOS System's range of lenses are a staple for countless photography kits. The introduction of the EOS R System is part of the brand's ambition to continue this legacy and strengthen the EOS System, expanding the boundaries in imaging and inspiring the the generations of photographers to come.
For more information on the new EOS R, visit my.canon.
cameracanonefeos rfull framelow lightmirrorlessphotographyrevolutionrf