Sony unveils its New Products at IFA 2018
At the IFA consumer electronics show in Berlin, Germany, scheduled to begin from Friday, August 31 (local time), Sony Corporation is set to showcase an array of its latest products featuring cutting-edge technology.
At the Sony press conference held on Thursday, August 30 (local time) in advance of IFA's official opening, Kenichiro Yoshida, President and CEO of Sony Corporation stressed that Sony will enhance both creator and user engagement as per its corporate direction to "getting closer to people." He added, "Our electronics products play the vital role of connecting creators that produce stunning audio and visual contents with users who enjoy them." He then stressed that "In addition to capturing 'Reality' through the pursuit of high-fidelity audio and high-definition video technologies, going forward, I believe it is equally important for Sony to also deliver 'Real-time' value. Real-time describes the concept of 'this-moment-in-time' or 'live-ness.'" Following this, Ichiro Takagi, Senior Executive Vice President in charge of Home Entertainment & Sound Business stated that "Through the best images and sound possible, we want to fully convey the creator's intent, and provide the ultimate audiovisual experience to users." He then introduced Sony's latest TV and audio products. Lastly, Mitsuya Kishida, President of Sony Mobile Communications Inc. took the stage to reveal the new Xperia™ smartphone. He also declared that "Sony Mobile is at the forefront of Sony's 5G initiatives with mobile network technologies bringing users and creators ever closer by delivering content exactly the way its creators envisioned."
A video of the press conference can be streamed at the following URL: www.sony.co.uk/electronics/ifa
Main Products Being Showcased
WH-1000XM3 wireless noise canceling headphones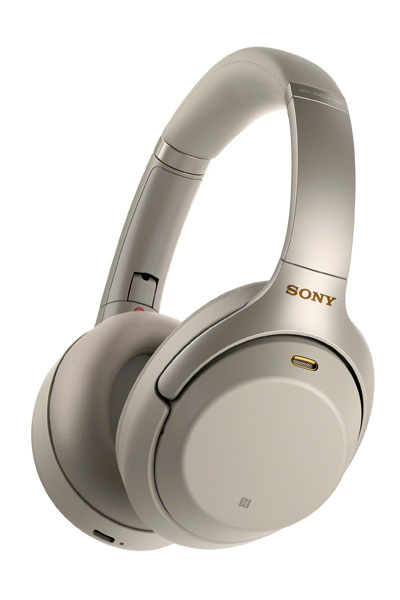 Home Entertainment & Sound
Sony unveiled WH-1000XM3, the newest addition to the 1000X series of wireless noise cancelling headphones. This new model boasts major improvements to its industry-leading Noise Cancellation technology with the newly-developed HD Noise Cancelling Processor QN1 to deliver approximately four times greater performance. The newly-developed component can not only negate low-range noises from airplanes, but also further cancels mid to high-range noise such as street noise and human voices. The inclusion of a high quality internal headphone amp for the HD Noise Cancelling Processor QN1 realises stunning high sound quality. Customers can comfortably immerse themselves in their music anytime, anywhere. Elsewhere in the wireless headphone category, Sony showed off the WF-SP900 truly wireless sports headphones. The water-proof and dust-proof WF-SP900 features an internal memory, letting customers play music from their smartphone with Bluetooth® connection or no device at all, even while swimming in the ocean.
Sony's Signature Series represents the culmination of Sony's most refined technologies in pursuit of sound excellence. Its array of audio products brings music to life just as the artist intended. In this category, Sony added the DMP-Z1 digital music player and the IER-Z1R in-ear stereo headphones. DMP-Z1 utilises a high-output analog amplifier and a unique independent power system to deliver the ultimate sound. IER-Z1R boasts a frequency response of up to 100 kHz playback for an unprecedented level of immersiveness.
Sony will also introduce the IER-M9 and IER-M7 in-ear stage monitor headphones initially in the US and Asia starting this autumn, which deliver the sound quality, sound isolation, and stable fit that artists seek during a live performance.
4K OLED BRAVIA® AF9 Series
In the TV category, Sony announced the launch of the BRAVIA® MASTER Series in Europe from September, which seeks to fully convey the creators' intent as originally envisioned. The A9F series of 4K OLED TVs and the Z9F series of 4K LCD TVs are equipped with the Picture Processor X1™ Ultimate that features approximately twice the real-time processing capabilities of the current high-end  models. It brings out the very best of OLED and LCD display features.
The A9F series comes equipped with the Pixel Contrast Booster, which faithfully reproduces pictures with deep blacks and high luminance. The unique and advanced audio technology, Acoustic Surface Audio+ realises new immersion through the addition of an actuator to the center of the screen, as well as a TV Center Speaker Mode that makes the sound audible right from the center of the screen.
At the venue, Sony will also conduct a demonstration using its suite of voice assistant-compatible AV devices, which can play music, provide news or other information, and control IoT devices such as room lights.
The demo will introduce WH-1000XM3 wireless noise cancelling headphones, BRAVIA with a built-in microphone that enables hands-free voice search, the EXTRA BASS™ series SRS-XB501G smart speaker with the Google Assistant built-in, the HT-ZF9 sound bar with Amazon Alexa control compatibility, and more. Sony's ever more convenient and diverse array of voice assistant-compatible devices will be shown off in a host of different indoor and outdoor scenarios.
AI x Robotics
At the venue, autonomous entertainment robot aibo is displayed in Europe for the first time. Since its Japan launch in January 2018, aibo has reached over 20,000 units produced and shipped, and is set to launch in the United States this September. In the AI and Robotics domain, several projects are showing steady progress, and Sony will continue delivering new ideas that expand what is possible in the field of electronics by combining its imaging and audio technologies, sensors, and mechatronics with AI, robotics, mobile communications, and more. Photo Journalist
Gadgets, Photography, Automobile, Lifestyle
audioentertainmentheadphoneifanoise-cancellingproductsonywireless