In the heart of Hong Kong recently, Sony has launched a series of its Hi-Res audio products, witnessed by media and journalist all over Asia. The highlight of the launched product list should be the one of its kind digital music player, the RM30k (estimated) DMP-Z1, pairing with it is the IER-Z1R signature series headphone. The highly acclaimed MDR-Z7 got its update as well, the new MDR-Z7M2 with new audio technology. To top it all, Sony enters the in-ear monitor market targeting stage performers with the introduction of the IER-M7 and IER-M9. Let's have a look at each of them, excerpt from Sony's press releases while we wait for the full review when receiving the commercial units
At the same time, in conjunction to the launch, Sony has also taken part to showcase it's High-Res audio prowess in Hong Kong High-End Audio Visual Show 2018 on the 10th Aug weekend. Pictorials of Sony booth are shown when you scroll to the end of this article.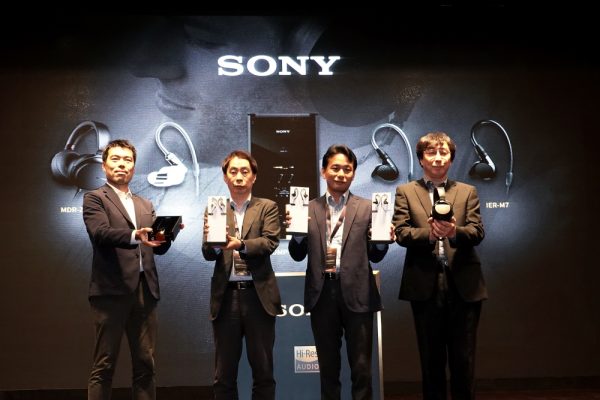 ---
Z1R Signature Series In-ear Headphones
Delivering an immersive music experience, the IER-Z1R headphones feature an HD hybrid driver system consisting of three newly developed Sony-designed drivers. As the driver unit's sound, quality and consistency of sound character are critical to a headphone's sound, an advantage of Sony-designed drivers is that it ensures a preservation of consistency in sound signature from driver design stage to the finished product.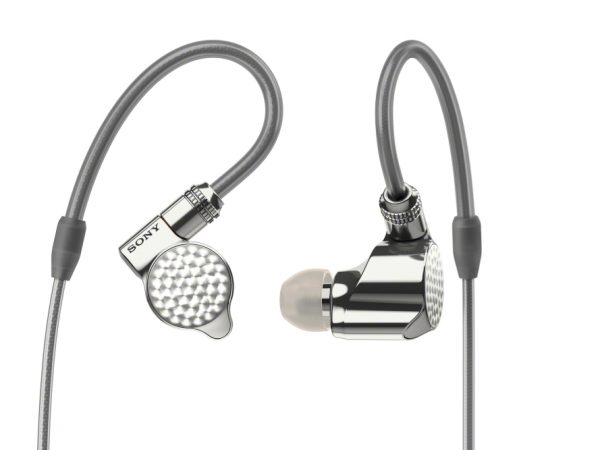 The 5mm dynamic driver is constructed with a newly developed aluminium coated LCP (Liquid Crystal Polymer) diaphragm and external magnetic circuit allowing it to reproduce the ideal frequency response of up to 100 kHz. Strategically placing the 5mm dynamic driver coaxially against the sound path accurately delivers the sound from the super tweeter directly into a listener's ear canal. A frequency response of up to 100 kHz provides the experience of a live concert hall atmosphere for users anytime, anywhere.
In addition, the diaphragm of the balanced armature unit for reproducing high range sound is made from magnesium alloy. Working together with a newly developed silver coated copper voice coil and gold-plated terminals, they increase the driving force of the balanced armature unit to faithfully reproduce sound without losing the tiniest of micro signals.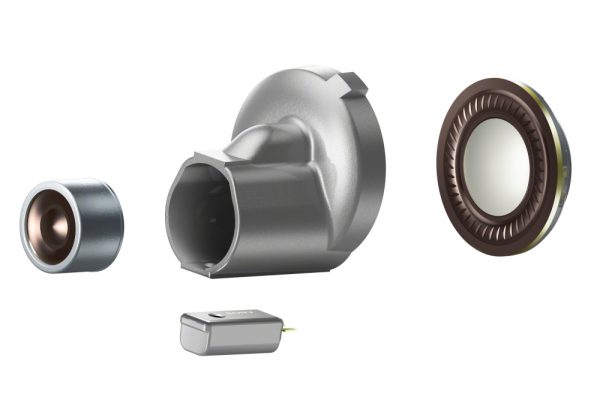 The perfectly controlled acoustics of the IER-Z1R is achieved by the Refined-phase structure which features a magnesium alloy inner housing that delivers to listeners a natural sound with a precise sense of image projection never experienced before. All three drivers; the 5mm dynamic driver, 12mm dynamic driver and balanced armature driver unit are built into the inner housing which works as an optimal sound path. The sound coming from each driver is optimally blended into the sound path which ensures ideal phase response and clear separation. Magnesium alloy also eliminates unnecessary vibration due to its high rigidity and internal loss.
Advanced sound space control technology was applied to finely control air flow at the rear of the drivers. Ventilation is accurately controlled by connecting the acoustic tube to the extended acoustic cavity behind the driver unit. This unique-to-Sony sound control method reproduces a wide soundstage with rich and accurate mid notes, a harmonious sound signature from low to high frequencies and an overall smooth sound reproduction.
Sony's dedicated audio grade film capacitor for crossover network circuits was used in the IER-Z1R delivering a refined sound with low distortion. The film capacitor was developed after numerous listening tests. In addition, a Sony-developed dedicated audio grade solder was also used to minimise the loss in the signal path and ensure purity of contact. The high sound quality balanced connection is achieved with the supplied 5 pole 4.4mm balanced standard cable or the use of optional cables. Silver coated OFC (Oxygen-Free Copper) is used in the supplied cable. Sony has evolved the plating structure of the plug and mmcx terminal to a gold plating with an undercoat instead of the commonly used magnetic material such as nickel which disrupts the signal flow.
With accumulated ear shape database collected over decades of research, the IER-Z1R is designed for comfortable yet stable wear via its optimised housing shape, 13 variations of earbuds (six variations of triple comfort earbuds and seven variations of hybrid earbuds) and pre-formed ear hangers. This exquisite pair of headphones also boasts a zirconium alloy outer housing for increased hardness, corrosion resistance and durability. The faceplate of the IER-Z1R features an elegant "Perlage" pattern distinguishing the headphones at a glance. The IER-Z1R is meticulously hand-crafted using only the finest top-grade materials by skilful artisans in Japan, allowing audiophiles to fully immerse themselves in their favourite songs as the artists and sound engineers intended for them to be heard.
---
DMP-Z1 Signature Series Digital Music Player
Combining super high-quality sound, premium design and enhanced usability, the DMP-Z1 is a super-charged music player bringing top-end stationary class headphone amplifier sound and power to wherever you desire that fits your personal space. Reaching new sound quality heights, the DMP-Z1 achieves an optimal High-Resolution Audio (up to Native DSD 11.2MHz/PCM 384 kHz/32bit) and approx. 1500mW (16Ω) headphone output power for a premium listening experience at your favourite hang-out.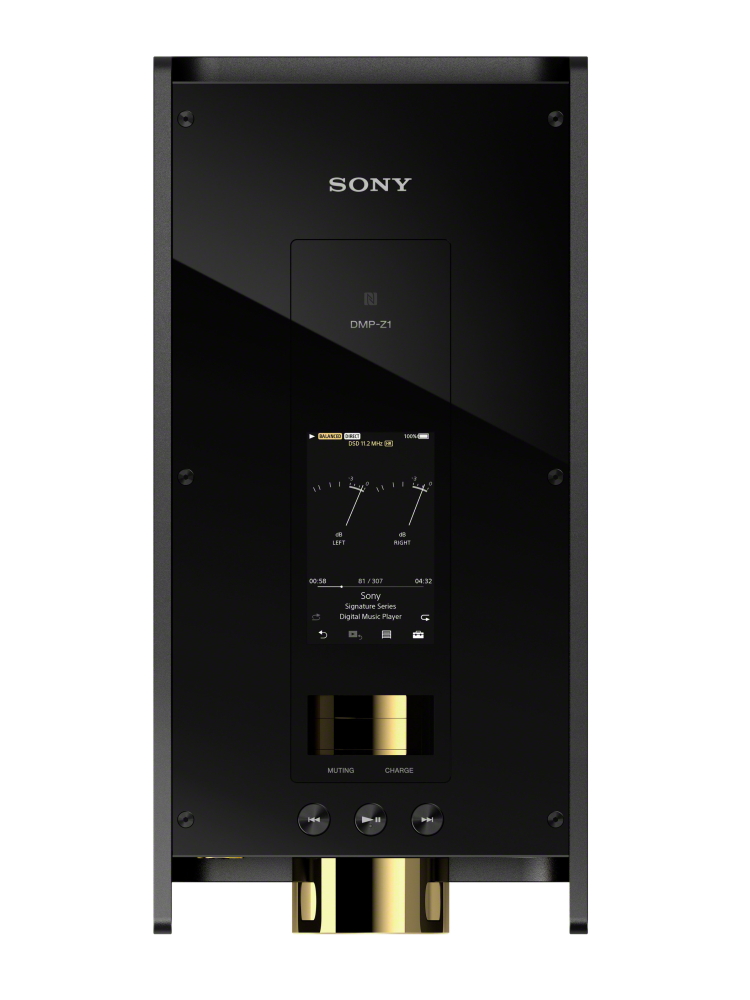 As the audio signal directly passes through the volume controller, this affects sound quality and is one of the most important aspects of audio design. The DMP-Z1 uses a Sony customised high-end analogue rotary volume controller which is copper plated followed by a gold plating and supports the volume for four separate signal paths (L+ / L- / R+ / R-). This ensures signal purity and ensures the DMP-Z1 reproduces transparent and clear vocals as it maximises the DAC chip performance by retaining all audio source information even at low volume levels.
It features a dual DAC and an analogue amplifier to ensure high headphone output power and high-quality sound. It uses the Asahi Kasei Microdevices AK4497EQ DAC Chip, a world-renowned DAC IC and the Texas Instruments TPA6120A2 amp chip, also a world-leading top end headphone amp IC.
The DMP-Z1 has an independent power system using a total of five battery cells providing independent and stable power to both the digital and analogue block. The separate digital and analogue power systems prevent noise propagation from the digital section to the analogue block. The independent analogue battery features a simple power circuit to supply clean power to the headphone amplifier. Thus the battery mode delivers noiseless, clean and powerful sound. Users can easily switch the music player's power mode from AC to the battery by simply tapping either the Battery button or AC button on the DMP-Z1's touch panel user interface.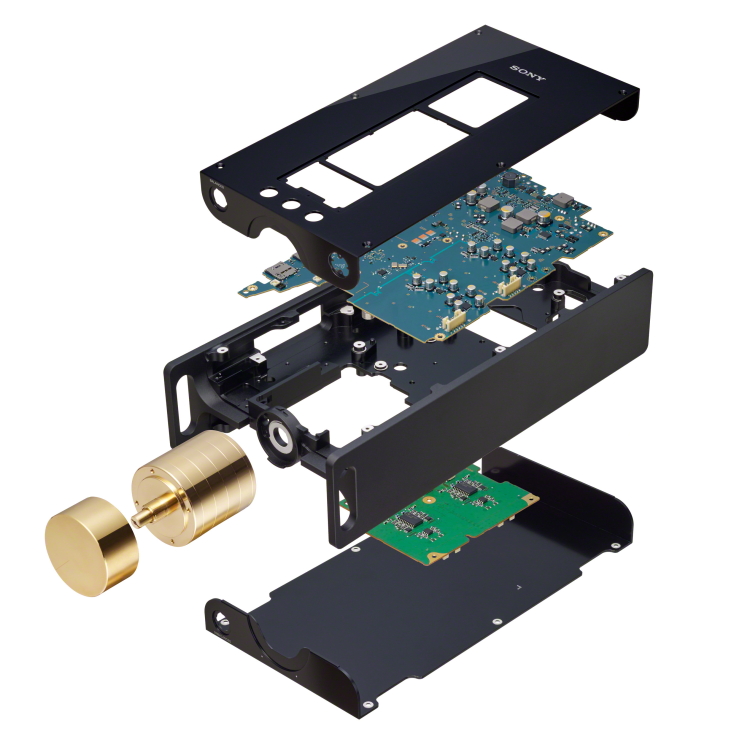 The H-shaped aluminium chassis presents a high rigidity frame structure that eliminates vibration and reduces resistance, thereby delivering clear and powerful low-frequency performance. In addition, isolation of the amplifier board by physically separating the amp board and main board using the H-shaped chassis further reduces noise which will affect sound quality. This isolation blocks noise and provides areas for connecting to ground on each board connecting to the chassis. This ensures the listener experiences transparent sound free from distortion.
A first for digital music players, listeners can personalise their preferred sound with the DSD Remastering Engine which lets users convert all PCM music sources into DSD 5.6MHz. The DSD Remastering Engine can be switched on or off easily in the user interface. The newly developed Vinyl Processor feature recreates via some clever processing, the acoustic phenomenon unique to vinyl playbacks such as the tone-arm resonance, tiny surface noise and the rich sound from the vibration by acoustic feedback from the speakers to the turntable.
With its mirror-finished aluminium top plate, spin finished aluminium physical playback control keys and gold-plated analogue rotary volume controller, the DMP-Z1 sports a sleek premium design which exudes high-class luxury in every component. With dual micro SD card slots, 256 GB internal storage, USB type C connections and a Bluetooth receiver, the DMP-Z1 provide enhanced usability making it a breeze to use daily.
---
MDR-Z7M2 Premium Headphones
Evolving the "Sony Sound", it inherits MDR-Z1R's technology from the Signature Series such as the Fibonacci-patterned grill and a Φ4.4mm balanced connection cable in the box. In yet another testament to Sony's commitment to audio excellence, the MDR-Z7M2 features a wide frequency response and dynamic range and a linear plane wave, offering listeners realistic reproduction of "air" around musical instruments and voices; a three dimensional and spatial sound experience existing in a live music space. With the usage of a 70 mm HD driver along with aluminium coated Liquid Crystal Polymer diaphragm, in which the dome is upsized and its profile is optimised, the MDR-Z7M2 headphones provide refined music reproduction for listeners.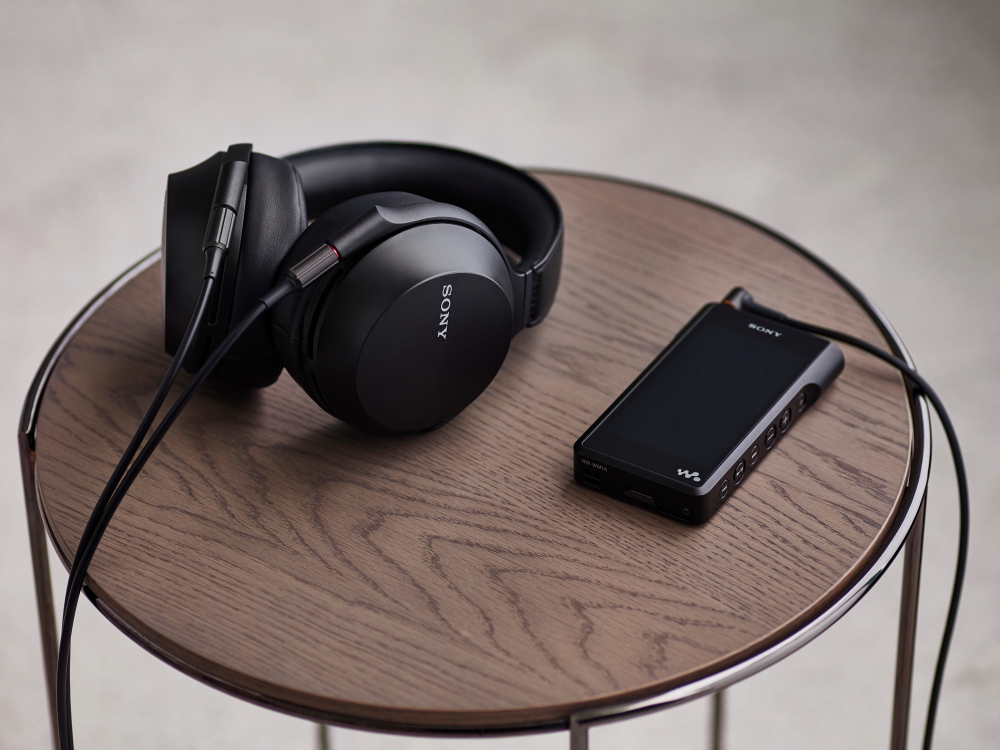 The MDR-Z7M2 features newly developed driver units adapted from the MDR-Z1R including newly improved aluminium-coated Liquid Crystal Polymer diaphragms for natural sound with low coloration at mid-high range. The dome of the diaphragm has been upsized and its profile optimised, which enables clear sound at mid-low range, and brilliant sound at mid-high range. The driver unit contains a larger magnet (double that the volume as compared to MDR-Z7), resulting in stronger driving power and hence, sharpened music clarity.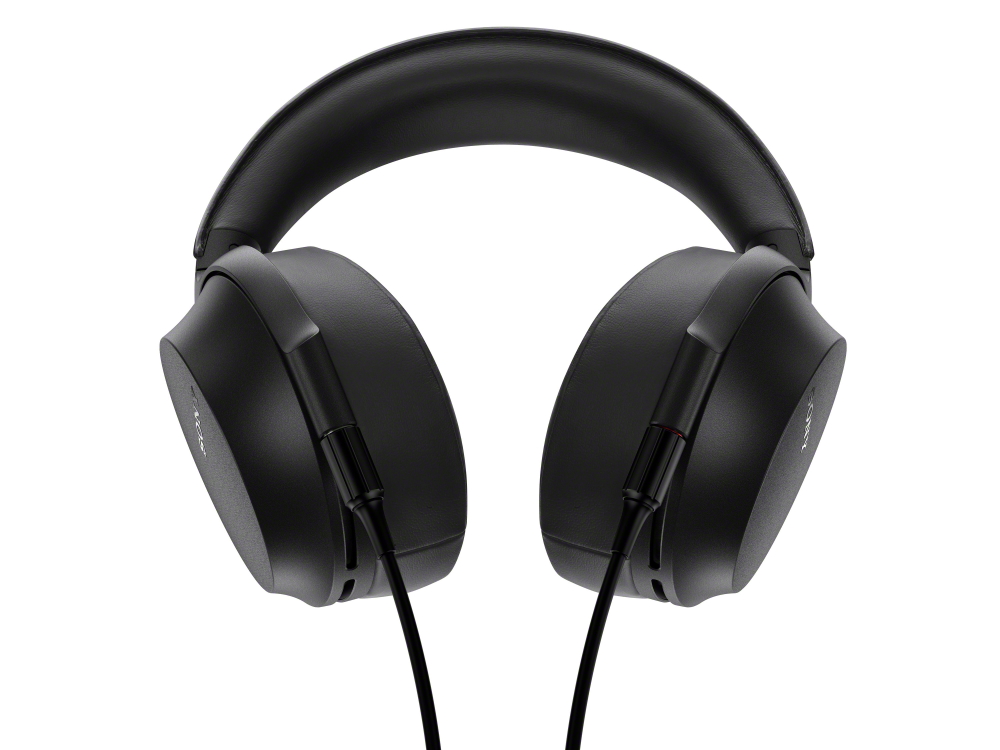 The introduction of a Fibonacci-patterned grill made of stiff resin to achieve both thinness and strength whilst minimising sound damping from the grill in the ultra-high frequencies resulting in smooth sound reproduction across all frequencies. In addition, Beat Response Control, a special acoustic port on the housing, controls air flow behind the driver and optimises diaphragm movement when reproducing low frequencies. At the same time, it improves the transient characteristics of bass sounds and delivers the rhythm in music accurately.
Other features in the MDR-Z7M2 include the use of non-lead solder and corson alloy contacts in the jack. Sony-developed dedicated audio grade solder was also used to minimise the loss in the signal path and ensure purity of contact. Corson alloy (a type of copper alloy) is an ideal material for electric contacts of jacks due to its low resistance value and high durability.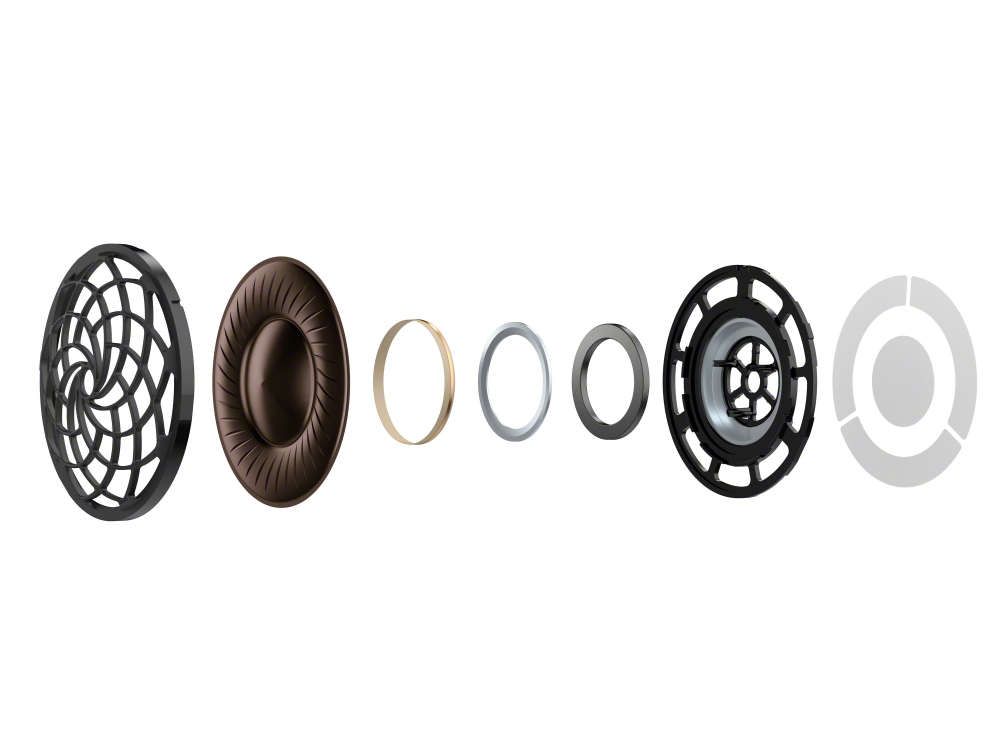 The MDR-Z7M2 comes with two different headphone cables; a standard unbalanced cable and a balanced connection cable. A screw lock-ring mechanism is used to secure the connection and enhance durability. In addition, the silver coating was used for the copper balanced cable to allow for finer details, smoother treble and less sound degradation.
To improve the wearing comfort of the MDR-Z7M2, it features three-dimensional sewing, ergonomically shaped ear pads, and aluminium alloy hanger and slider for lightweight. These changes ensure a higher level of comfort even during long periods of wear and less pressure on the head. Three-dimensional sewing on the ear pads ensures an ergonomic shape designed to fit the unevenness of the head and gives even pressure throughout the area. This reduces sound leakage by increasing air-tightness, delivering powerful heavy bass to the listener. Soft urethane foam cushion with moisture absorbing and releasing characteristics was chosen for the surface of the ear pads to reduce the feeling of stuffiness and provide a comfortable extended listening experience.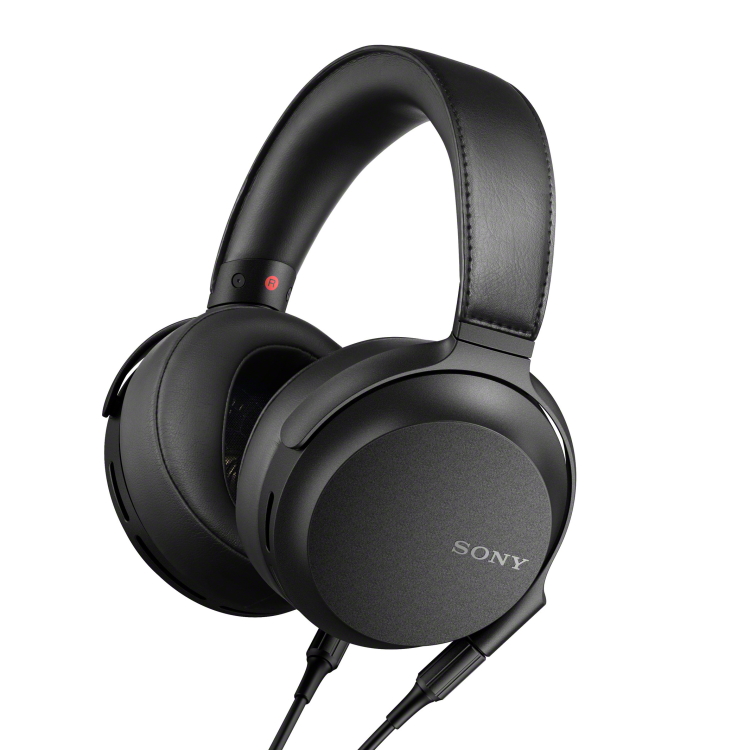 A synthetic leather headband with aluminium alloy hanger and slider ensures the MDR-Z7M2 is lightweight yet durable for years to come. A special anodising treatment process resulted in increased hardness of the hanger while minimising scratches caused by daily use. Special attention was paid to designing an enfolding structure for the MDR-Z7M2 where ear pads slant inwards due to side pressure during wear. This created a tighter air seal which enhanced deep bass production and minimised sound leakage, providing the listener with improved comfort and stability during wear. The MDR-Z7M2 also features a silent joint mechanism that minimises mechanical noise caused by the movement of joints ensuring a quiet listening experience for the most discerning listener.
---
Stage Monitor Headphones IER-M9 and IER-M7
Newly developed by Sony, the multi-BA system enables musicians to not only feel the rhythm and pitch but also detailed nuances of their live performance. With Sony's unique driver design, these headphones have the ability to reproduce tone that is true to the original sound, allowing musicians to monitor the sound balance of their own performance on stage. The IER-M9's Penta BA driver system (5 BA / 5 way) includes a super tweeter while the IER-M7 has a Quad BA driver system (4 BA / 4 way). Since the sound quality of a driver unit is critical and consistency of sound signatures between BA units is important to harmonise tonal balance, Sony developed each driver unit in-house based on years of expertise.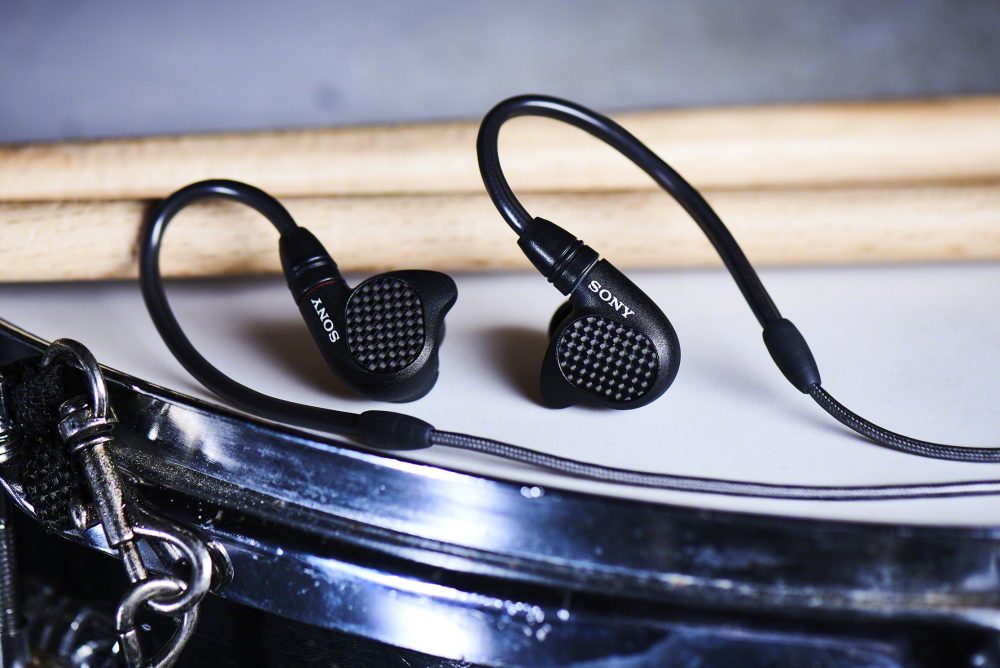 The Sony-developed BA unit has two major structures, a direct drive structure or a T-shaped armature. Sony has developed the direct drive structure which sees the armature efficiently drive the diaphragm directly thus delivering oscillation of the armature linearly. The T-shaped armature has a symmetrical vertical motion delivering linear response. These two structures bring high definition sound required for monitor use.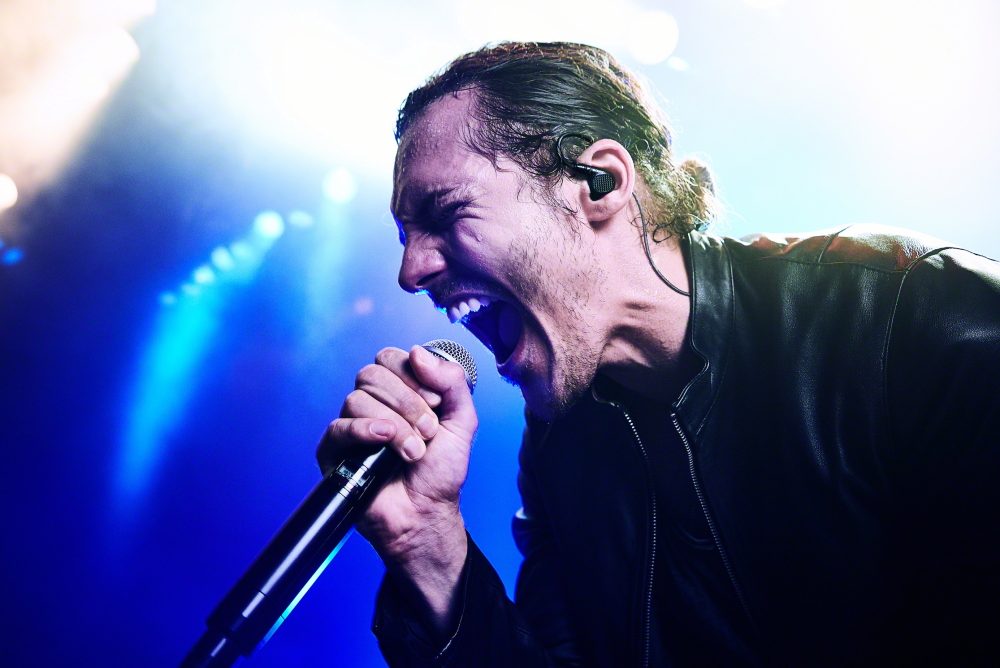 A magnesium alloy inner housing holds the BA units firmly in place and eliminates unnecessary vibration for low distortion and resonance to deliver crystal clear sound without sound compromise. IER-M9 and IER-M7 has an outer housing moulded sound path. The sound path realises ideal frequency response with its short and wide sound path that suppress peaky acoustic resonance.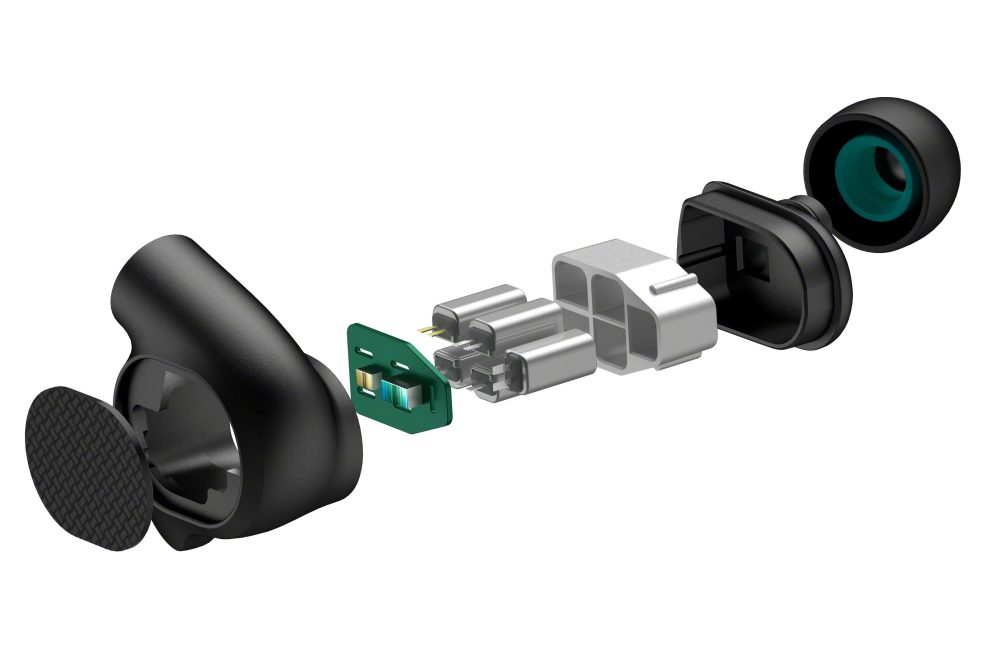 Sony's dedicated audio grade film capacitors for crossover network circuits are used in the IER-M9 and IER-M7 to deliver a refined sound with low distortion. Using accumulated ear shape database collected over decades of research, the outer housing shape is designed for isolating noise and stable fit. For optimal sound isolation, the housing has a firmly closed noise blocking structure that shuts out external sounds from the eardrum. 13 variations of earbuds (six variations of triple comfort earbuds and seven variations of hybrid earbuds) and pre-formed ear hangers hold the headphones firmly.
IER-M9 allows artists to discover a new realm of musical expression by faithfully reproducing even the most subtle musical nuances, bringing out sounds for more precise monitoring. The IER-M9 features a Super Tweeter with magnesium alloy diaphragm, Penta BA system in a magnesium alloy inner housing and a housing-integrated sound path made of a light and durable magnesium alloy outer housing.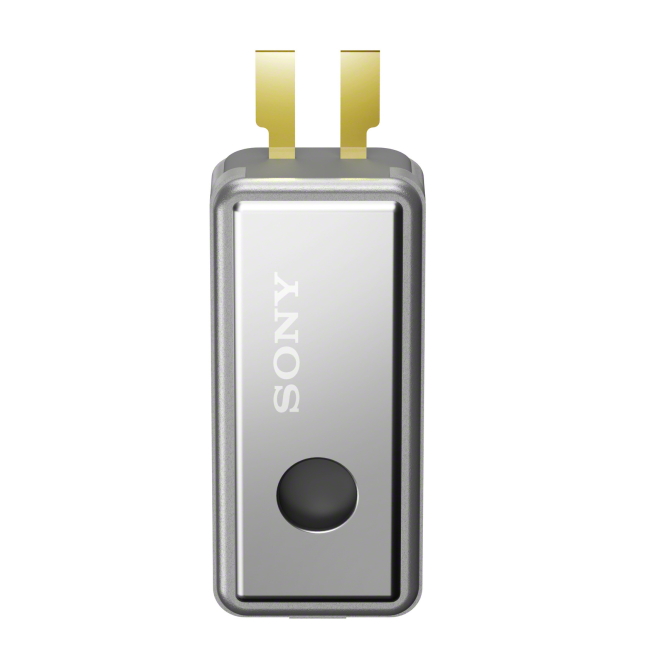 The newly-developed super tweeter in the IER-M9 features a magnesium alloy diaphragm for rigidity and high internal loss, gold-plated terminals and silver coated copper voice coil to raise the driving force of the super tweeter. These materials work in symphony to faithfully reproduce sound without losing a micro signal and ensure low distortion for rich yet clean sound. The IER-M9 offers a precise reproduction of higher order harmonics with an optimal sound design allowing the artists to discover a new realm of musical expression on their stage.
The supplied cable features natural silk thread as an insulator and damper against vibration and touch noise. Utilising a non-magnetic material as an undercoat for the gold plating of the plug and terminal ensures that the natural flow of music and clean sound. Silver coated OFC (Oxygen-Free Copper) conductor helps to reproduce detailed sound without loss. A 4.4mm balanced standard cable is also included.
Promising a sound that improves the performance of musicians, the IER-M7 features Quad BA system, a magnesium alloy inner housing, a brass sound path and high-quality network circuits. The high sound quality balanced connection is achieved with the supplied 4.4mm balanced standard cable or the use of similar optional cables. Silver-coated OFC (Oxygen-Free Copper) is used in both supplied cables.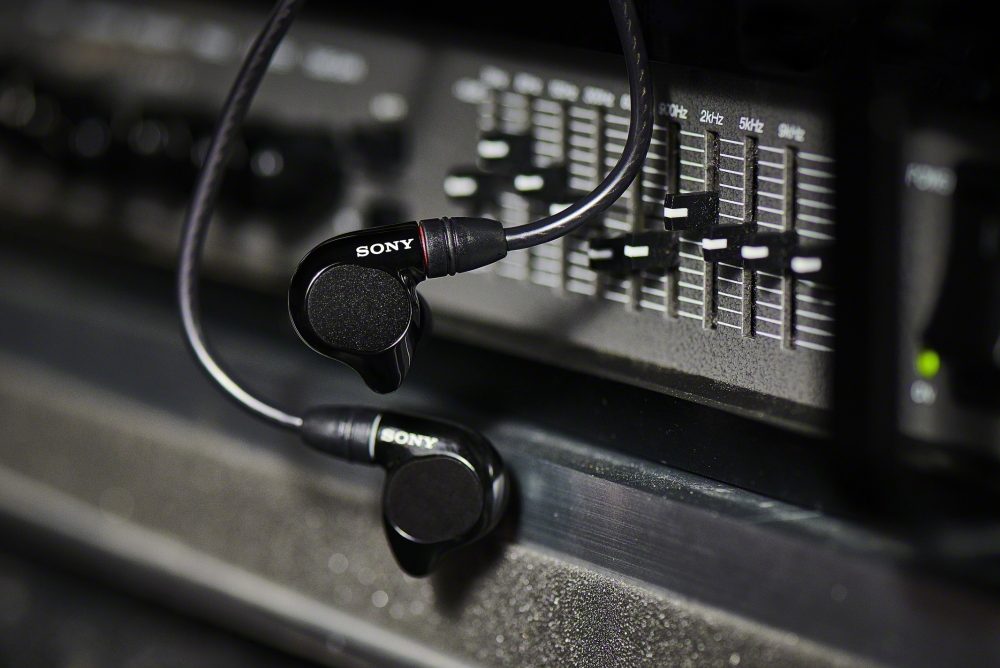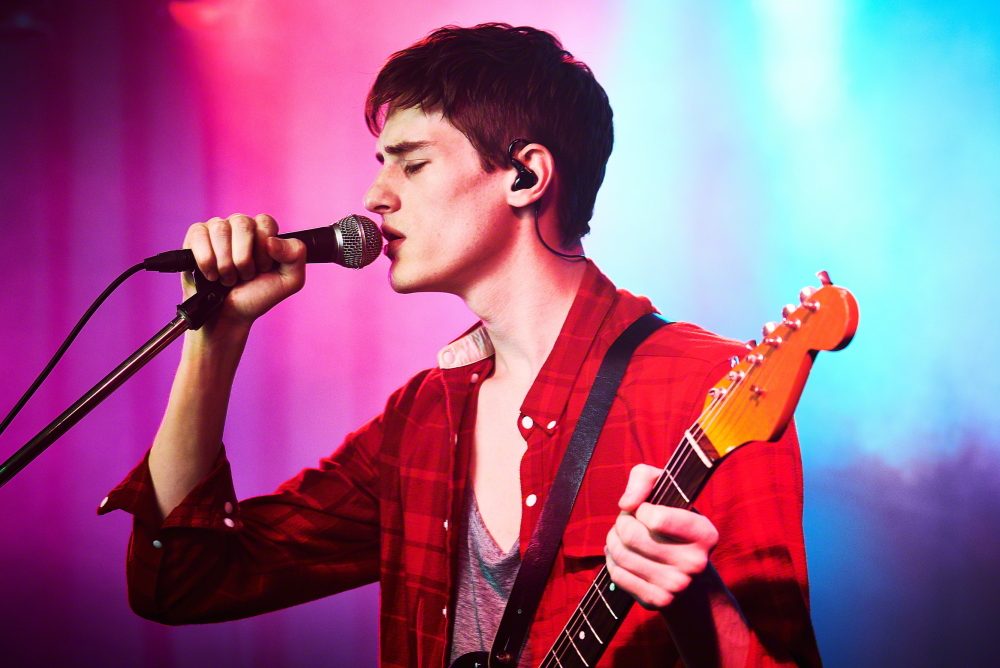 ---
Hong Kong High-End Audio Visual Show 2018 snippets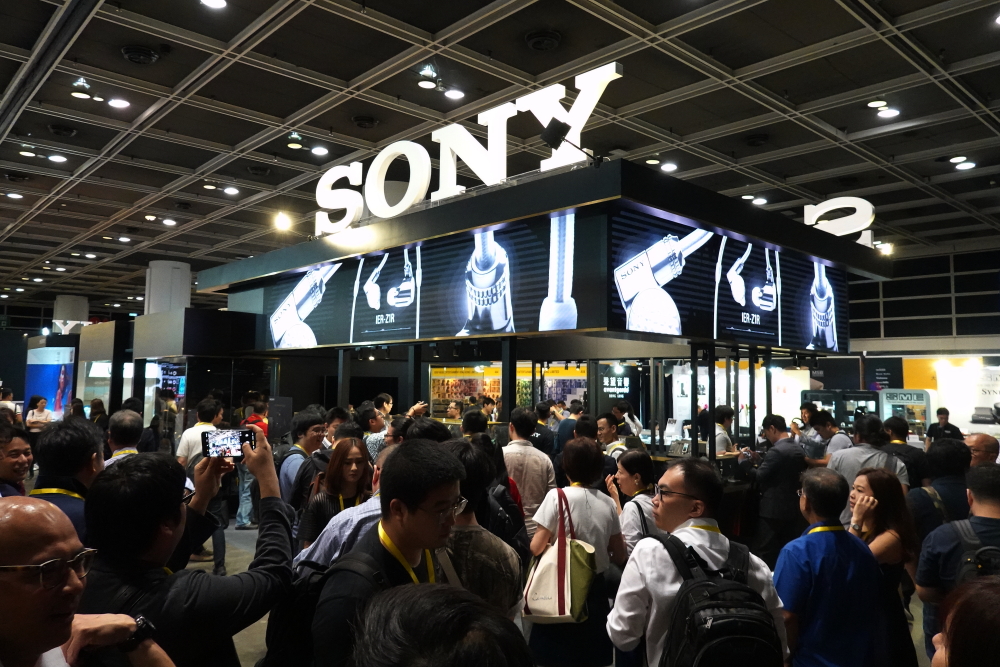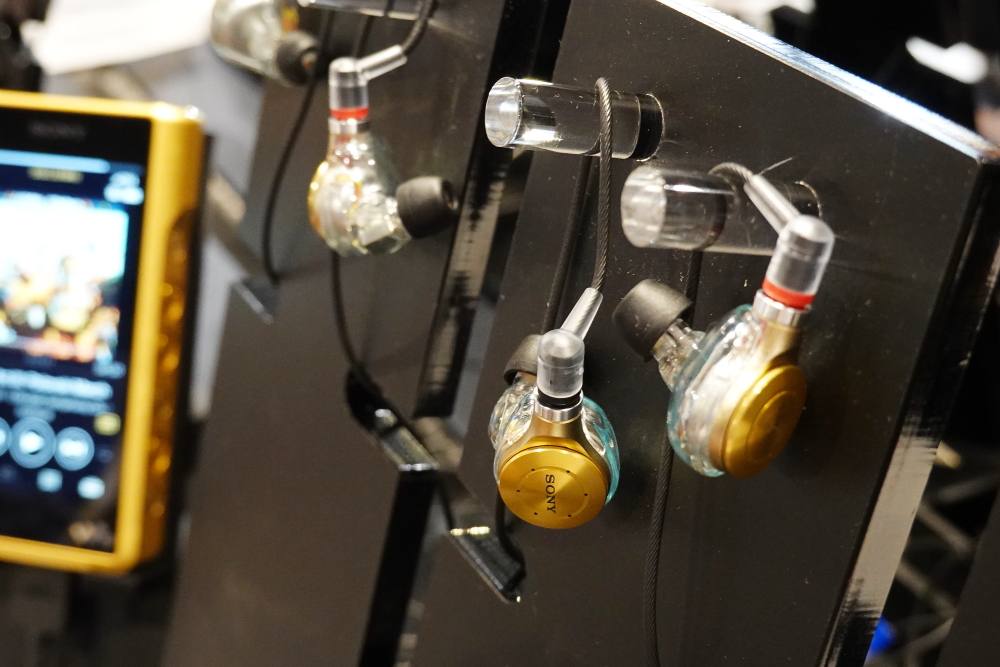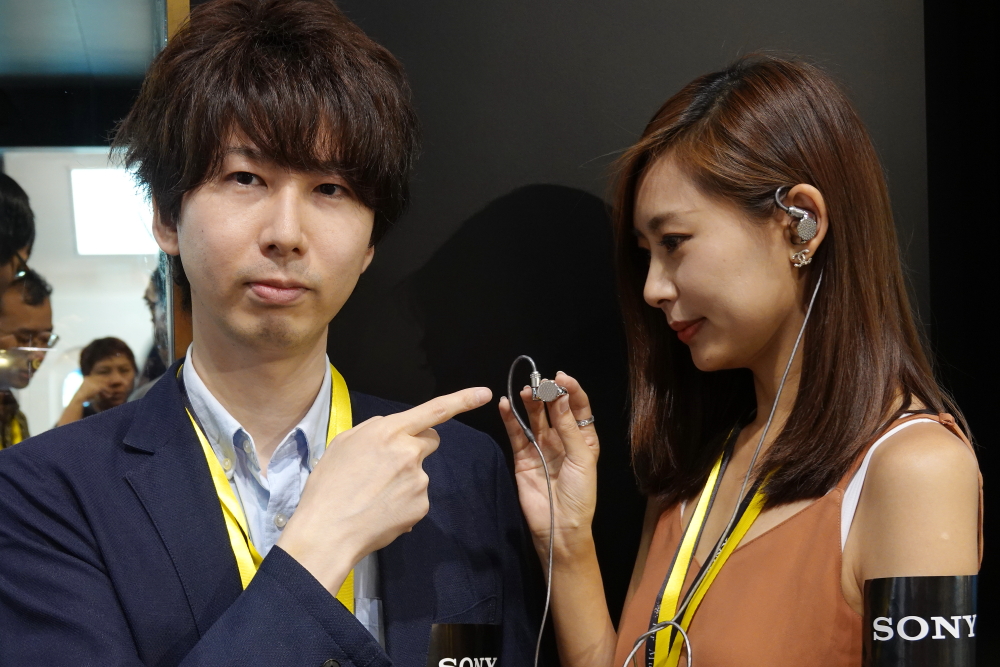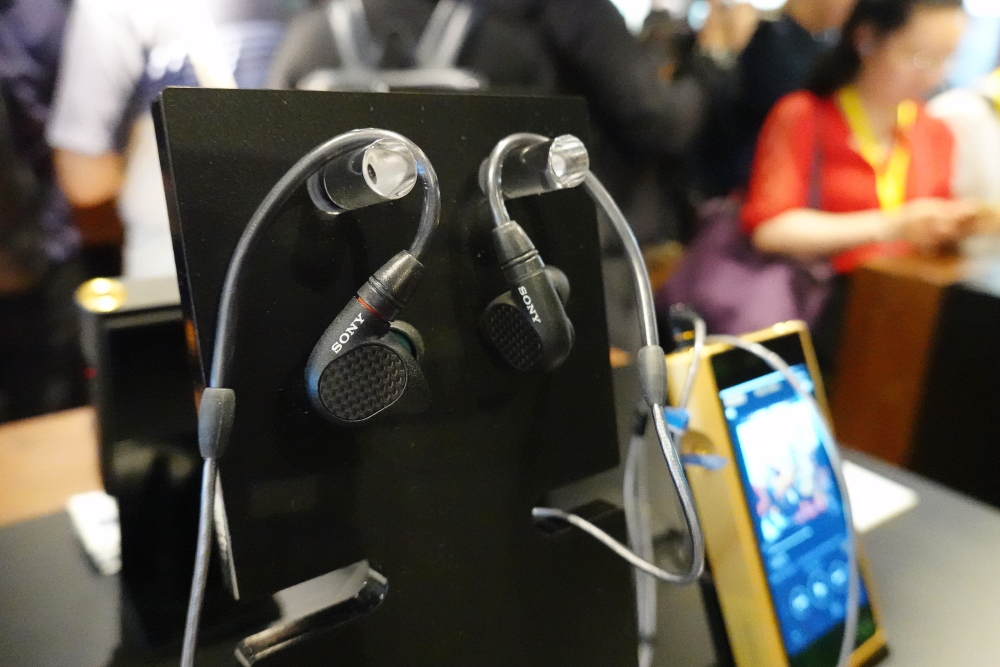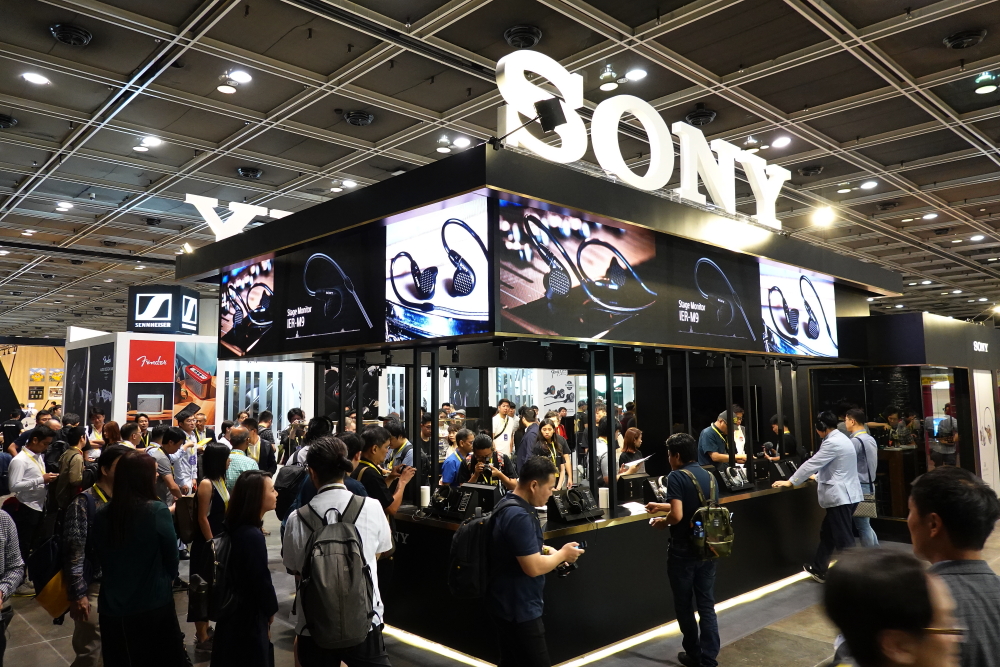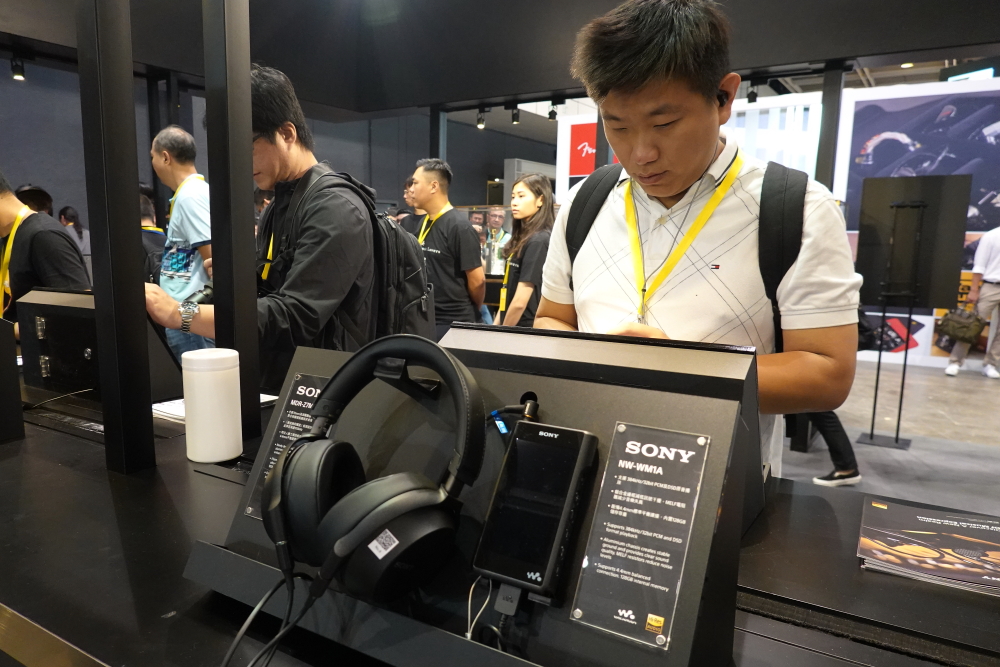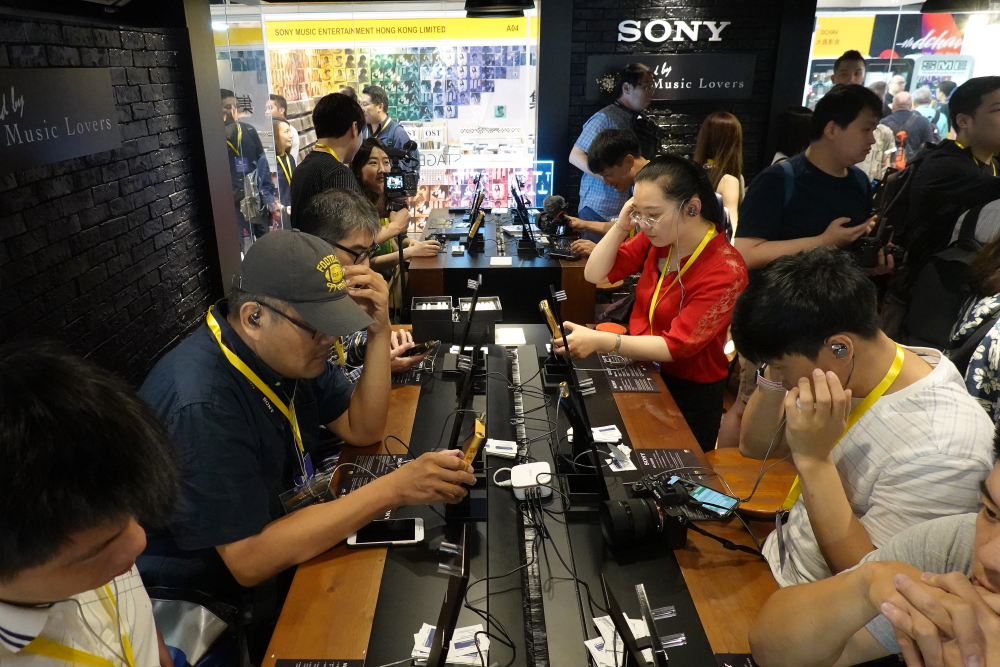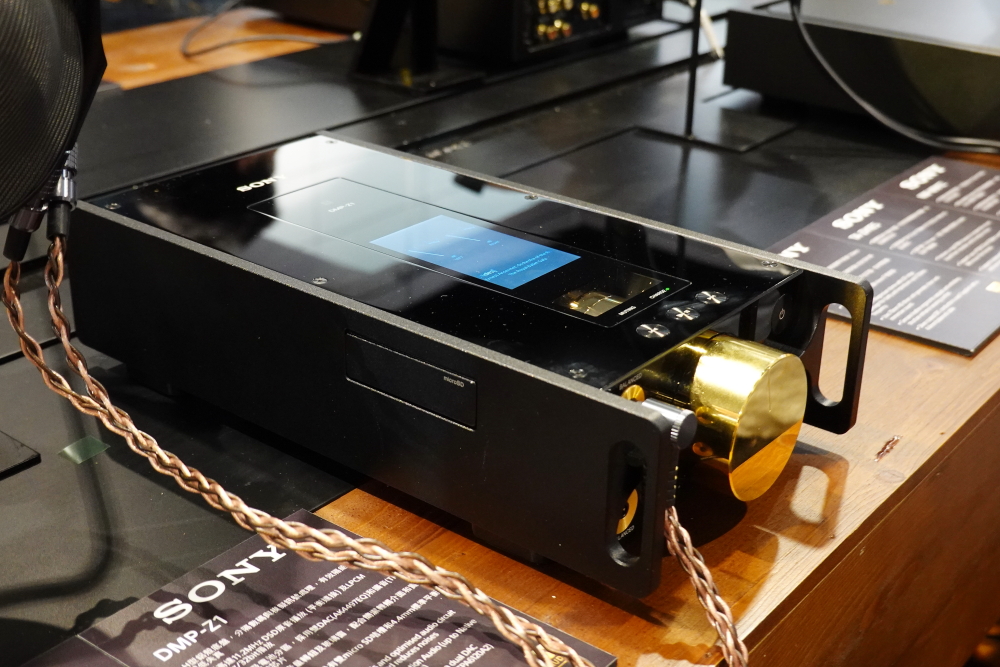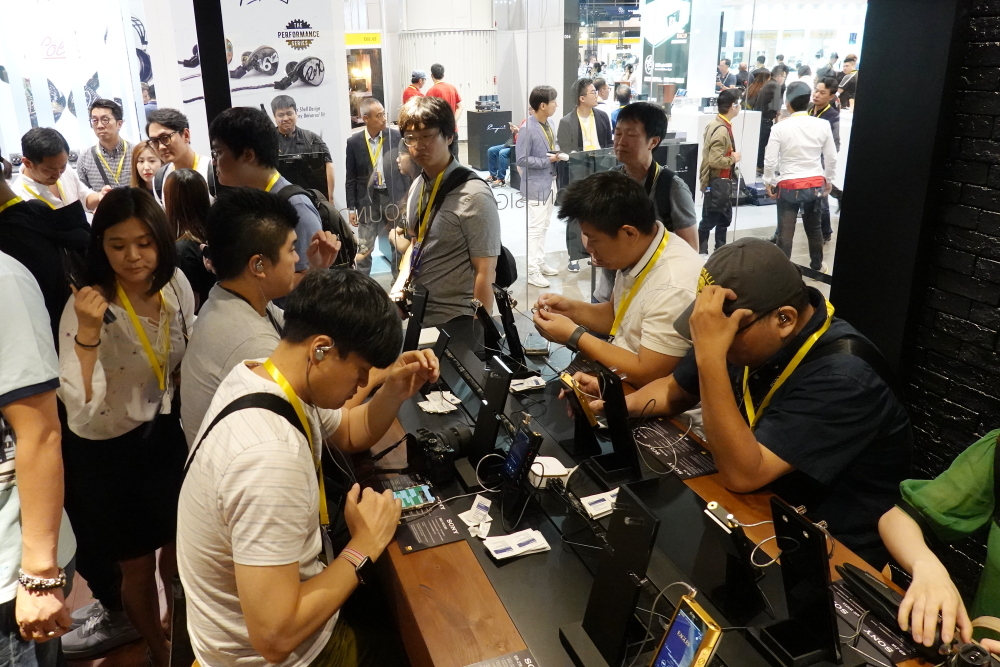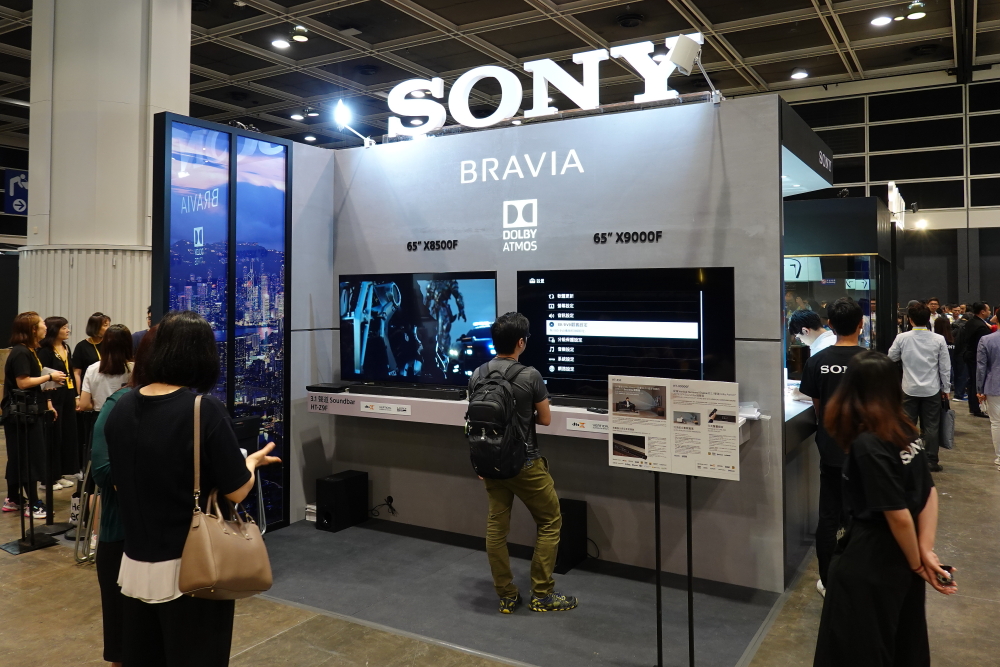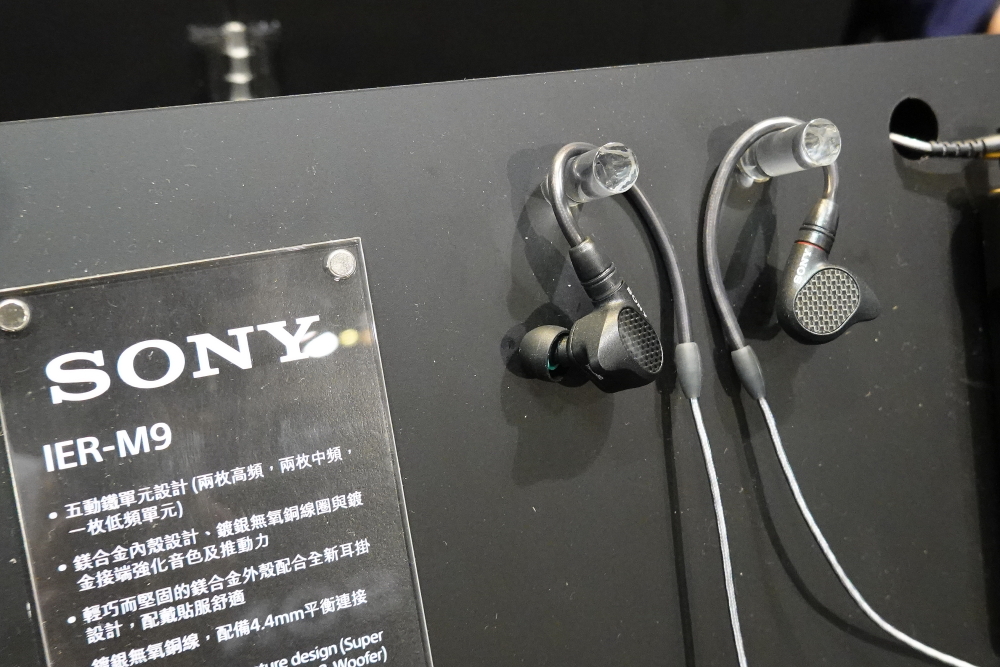 Most of the products above are available from Oct 2018. Please visit www.sony.com.my for more information.
Sony unveiled new Hi-Res Audio products