Shopee 9.9 Super Shopping Day is Back: the Biggest Annual Shopping Event in Southeast Asia and Taiwan
Shopee, the leading e-commerce platform in Southeast Asia and Taiwan, kicks off its biggest annual regional shopping event, Shopee 9.9 Super Shopping Day. After last year's successful 9.9 event which saw a three-fold uplift in orders and a five-time increase in site traffic, Shopee is upping the ante this year with a 14-day mega shopping event from 27 August to 9 September.
With over 10,000 sellers, 120 brands, and 40 corporate partners on board, users can enjoy a diverse range of unbeatable deals across all product categories on Shopee 9.9 Super Shopping Day. Leading up to 9 September, Shopee will be featuring a lineup of special themed days, each with exciting promotions including flash sales and up to 99% off various products in line with the focus of the day.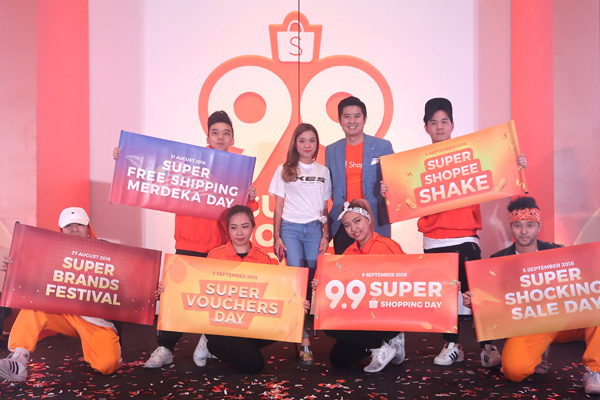 "Shopee has grown tremendously in the past year, and we are quickly becoming the online shopping destination of choice for both shoppers and sellers not just in Malaysia, but across the region. This is the third year that we are running the annual 9.9 shopping event in Malaysia, and it's set to be our biggest ever. Shopee 9.9 Super Shopping Day was launched to thank all our users; in line with this, we have continued to strengthen our ties with leading brands to provide more exclusive offers, and launched new initiatives to elevate the overall shopping experience," said Ian Ho, Shopee's Regional Managing Director during the launch ceremony.
Revel in super themed days, including the Super Shocking Sale
Starting 27 August, users can immerse themselves in a non-stop 14-day shopping marathon featuring back-to-back themed days every 24 hours. On each day, users can shop countless promotions in line with daily themes, starting with Super Brands Festival on 27 August. During Super Brands Festival, Malaysians can score amazing deals of up to 99% off on the hottest products from a wide variety of all-time favourite brands including Nestle, L'Oreal, Russell Taylors, honor, Mead Johnson, Elianware, Her Jewellery, Thunder Match, Watsons and PETPET. Additionally, Shopee has teamed up with corporate partners such as Citibank, VISA, Hong Leong Bank and BHP to provide further value to customers after they have gone offline.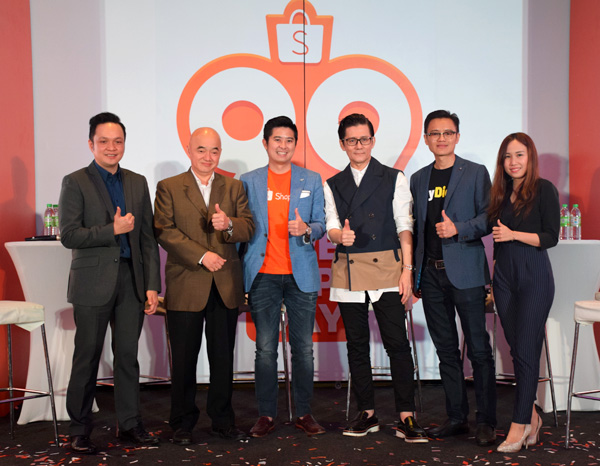 Users can also check out awesome deals on the hottest celebrity products at Shopee Celebrity Squad. Since its launch in May, Shopee Celebrity Squad has been well-received by ardent fans of iconic local stars including Dato' Sri Siti Nurhaliza, Nora Danish, Emma Maembong.
Be sure to mark the 9 September as Shopee will be featuring 9 thrilling rounds of Shocking Sale promising up to 99% off the most popular products. In addition, users can also earn exclusive vouchers offering huge discounts on various product categories including Fast-moving Consumer Goods (FMCG), Fashion, Electronics, and Lifestyle.
Shopee Shake with 99 million Shopee coins pool
Since its debut last year, Shopee Shake Shake has seen over 70 million plays by tens of thousands of users. To fuel the Shopee Shake craze on Shopee 9.9 Super Shopping Day, Shopee is supersizing the coins pool to a huge 99 million coins throughout the campaign. That's not all, Shopee will go 'kaw kaw' by opening 9 time slots on 9 September, with 2 plays per user per slot; so players can shake and win up to 18 times in 24 hours.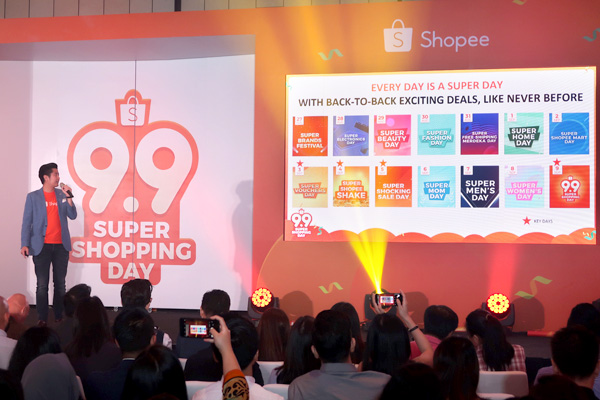 Not only are deals bigger and better, Shopee 9.9 Super Shopping Day will also see the convergence of some of the largest retailers and industry players in the country. As part of the 9.9 Super Shopping Day launch, Shopee hosted a panel discussion titled Building a Thriving E-commerce Ecosystem through Strategic Partnerships, where leaders from renowned brands such as PayNet, RHB, KLFW, Digi and XES shared their ideas on nurturing the e-commerce ecosystem in Malaysia.
"E-commerce in Malaysia is constantly evolving, and because of robust partnerships within the industry, consumers are enjoying improved payments and logistics, greater product variety, increased convenience and better deals on their favourite products. We have packed Shopee 9.9 Super Shopping Day with a comprehensive suite of deals and promotions tailored to our users and we are confident shoppers will enjoy an unmatched online shopping experience at our largest annual regional shopping event," Ho concluded.
Visit shopee.com.my/99 to find out more information. Download the Shopee App for FREE via the Apple App Store or Google Play Store. Photo Journalist
Gadgets, Photography, Automobile, Lifestyle
99annualappBusinessmartketplaceonlinepromotionserviceshopeeshopping