Samsung Galaxy Note9: The New Super Powerful Smartphone is here!
Calling all achievers and challengers! Samsung's latest flagship device, the Galaxy Note9, has finally arrived on Malaysian shores. Excitement was abuzz at Arena Axiata, Bukit Jalil, as 2,000 people witnessed the largest and most resplendent launch of any Samsung smartphone yet. With many prominent improvements over its predecessor, the Galaxy Note9 is the next 'superpower' among its peers in the smartphone arena.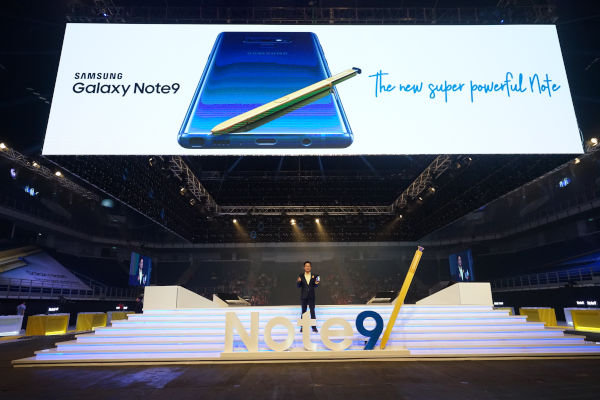 "The Galaxy Note9 combines power, productivity, sheer endurance, and entertainment into one single device. Coupled with a strong defense-grade security feature, this is the go-to device that fits every need. Consumers nowadays are consistently looking out for a smartphone that is capable of doing it all – from taking great photos, to smooth gaming experiences, to business presentations. I'm glad to announce that now, you have the perfect option in the Galaxy Note9," said Yoonsoo Kim, President of Samsung Malaysia Electronics.
As thousands of people witnessed the historic launch of the Samsung Galaxy Note9, it was the appearance of K-Tigers, the world's leading Taekwondo demo team that further electrified the crowd and atmosphere. Their strong performance of the globally-favoured martial art was the perfect representation of the new device's speed and power, therefore officiating its launch in a memorable way.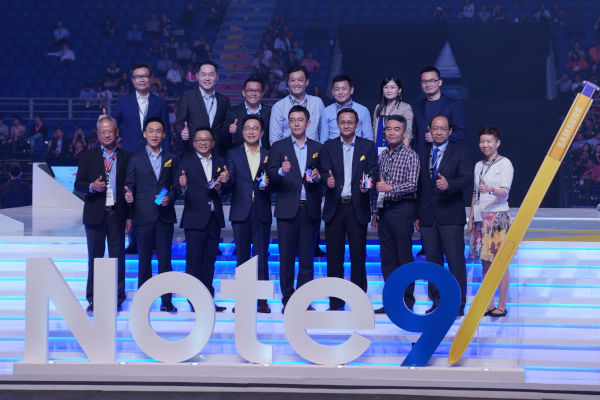 With the Galaxy Note9, Samsung continues to showcase the legacy of this series that consumers have grown to love. With its large and much-loved Infinity Display, the productivity of its S Pen, and its Galaxy ecosystem, the Note9 offers consumers the optimal mobile user experience that cannot be found elsewhere.
All Day Performance
People rely on their smartphones for almost everything they do – all-day, every day. They need a phone that can keep up without having to find the nearest outlet to recharge, delete pictures to free up storage for their next snap, anxiously wait for their video to download before boarding their flight, or deal with any lag time when gaming.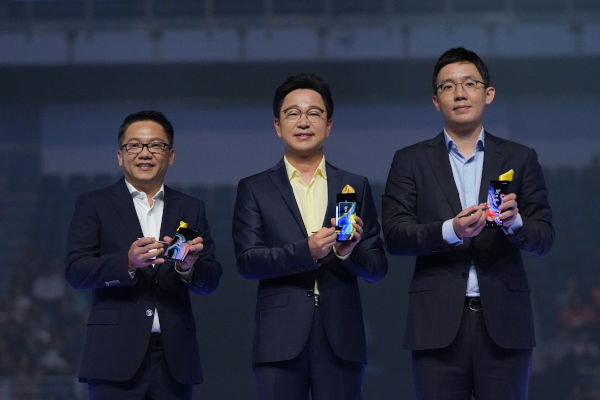 They need a phone that won't let them down and the Galaxy Note9 delivers.
All Day Battery: The Galaxy Note9's 4,000mAh battery, the largest ever on a flagship Galaxy phone for long-lasting power to use all-day to talk, text, play games and watch movies from morning to night.
Store More, Delete Less: The Galaxy Note9 is available with two internal storage options – choose from 128GB or 512GB. And with the ability to insert a microSD card, the device is 1TB-ready1, allowing users to have peace of mind, knowing there will always be enough room for favourite photos, videos, and apps.
Speed and Power: The Galaxy Note9 is a super powerful smartphone with a cutting-edge 10nm processor and support for the fastest network speeds available in the market (up to 1.2 gigabits per second) to stream and download without slowing down. The device also includes an industry-leading and Samsung developed Water Carbon Cooling system and an on-device AI-based performance adjusting algorithm to deliver powerful yet stable performances.
The Evolution of the S Pen
The S Pen is the signature feature of the Note series – it's how users have made their mark, and how Samsung has expanded the notion of what a smartphone can do. What began as a tool for writing and drawing is now putting more power and control in their hands.
Now with Bluetooth Low-Energy (BLE) support, the new S Pen delivers an entirely new way to use the Note. With just a click, it's now possible to take selfies and group pictures, present slides, pause and play videos, and more. In time, developers will even be able to integrate the S Pen's new and advanced BLE functionalities into their apps.
The Intelligent Camera That Makes Pictures Perfect
It can be hard to take a picture that looks just like the ones the pros take – but it shouldn't be. The Galaxy Note9 builds on Samsung's industry-leading camera technologies with new capabilities that take the work out of getting the perfect picture.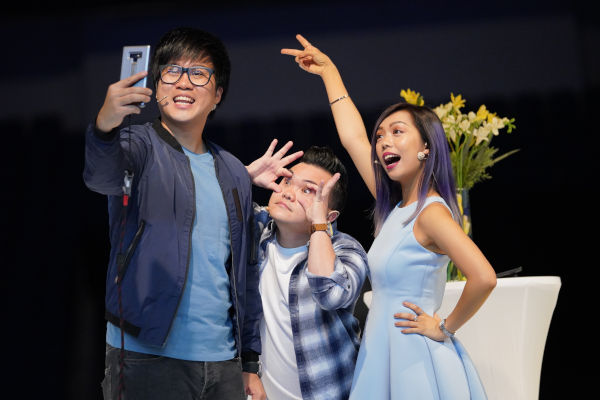 Scene Optimizer: The Galaxy Note9's camera is Samsung's smartest yet. It uses intelligence to identify elements of a photo, such as the scene and subject, to automatically classify it into one of 20 categories and be instantly optimized. The result is a stunning, lifelike image with bold colours and dynamic definition.
Flaw Detection: The first shot doesn't always come out right, but the Galaxy Note9 lets users know if there's something wrong so they can take another picture without losing the moment. An immediate notification will appear if the image is blurry, the subject blinked, there is a smudge on the lens, or there's backlight impacting the quality of the image.
Premium Camera: With the unique combination of advanced intelligence features and leading premium hardware, the Galaxy Note9's camera is the best on the market. It comes with advanced noise reduction technology and a Dual Aperture2 lens, which adjusts to light just like the human eye. No matter the lighting conditions, Galaxy Note9's top-tier camera delivers a crystal-clear shot.
Premium Experiences: From Work to Play
The Infinity Display is the cornerstone of Samsung's design heritage, and the Galaxy Note9 has the largest edge-to-edge display ever on a Note. The 6.4-inch Super AMOLED Infinity Display provides a truly immersive multimedia experience. Moreover, the Galaxy Note9's Infinity Display is complemented by stereo speakers tuned by AKG, and is therefore able to deliver a Dolby Atmos® immersive audio for a life-like experience. Mobile video has never looked or sounded better than it does on this device. YouTube named the Galaxy Note9 as a Signature Device, able to deliver a best-in-class YouTube experience.
The Galaxy Note9 also delivers a PC-like experience with Samsung DeX. Users can work on presentations, edit photos, and watch their favorite show on a big screen; all powered by their phone via Samsung DeX with easy-to-carry HDMI adapters3. When connected to a monitor, the Galaxy Note9 can power a virtualized desktop and even serve as a fully-functional second screen. Take notes with the S Pen while watching a video, or use the Galaxy Note9 as a trackpad to right-click, drag and drop, and use multiple windows on a monitor. It's never been easier to be more productive.
Galaxy and Beyond
The premium Galaxy technologies come standard with the Note9: fast wireless charging, IP68 water and dust resistance4 and Samsung services such as Samsung Health and Samsung Pay. Additionally, the Galaxy Note9 features Samsung's trusted, defense-grade Knox security platform and biometric security options including fingerprint scanning, iris scanning, and facial recognition capabilities to keep important information safe.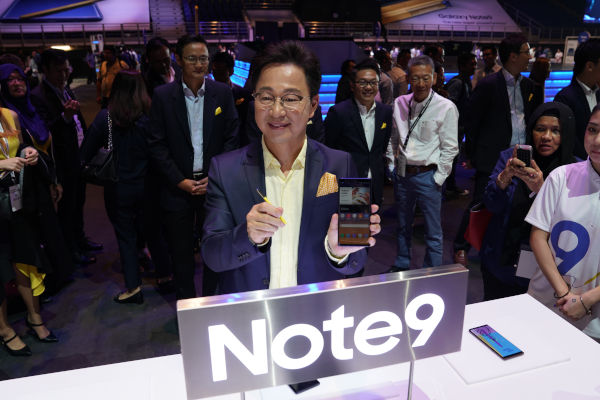 Samsung's latest flagship opens up a world of possibilities – it's a portal to the full Samsung ecosystem of devices and services. For instance, use the Galaxy Note9 and SmartThings to control connected devices, or get more done with Bixby5, a personalized intelligent assistant. And with the launch of the Galaxy Note9, Samsung is making it easier to enjoy music with Spotify6, a new long-term partner. This makes Spotify more easily accessible to seamlessly sync and transfer music, playlists, and podcasts across the Galaxy Note9, Galaxy Watch, and Smart TV products.
The Samsung Galaxy Note9 will be available starting August 24th 2018 in Malaysia, at a recommended retail price of RM3,699 and RM4,599 for the 128GB and 512GB models respectively. The device will be offered in Midnight Black and Metallic Copper with matching S Pen colours, and Ocean Blue with a Yellow S Pen.
For more information about the Galaxy Note9, visit here.