Neelofa and Eric Chou bring Glitz and Glamour to the OPPO F9 Press Conference
OPPO, the Selfie Expert and Leader, today launched its latest F series, the OPPO F9. To add more excitement, OPPO Malaysia also introduced to Malaysian the OPPO Celebrity Team! Not only that, two of the members who are the megastar Neelofa and Taiwanese heartthrob Eric Chou attend the OPPO F9 press conference event to show their charm.
These two dazzling stars embody the OPPO F9 perfectly as one is of high fashion and confidence, and the latter is young and daring – all qualities that are synonymous with the F9. Together with other OPPO celebrity team members which are Hebe Tien, Ayda Jebat, MinChen and Zahirah Macwilson, these well known and uprising celebrities undoubtedly glam and style, which makes them the perfect analogy to the relentless work that goes behind OPPO to bring the F9 to life.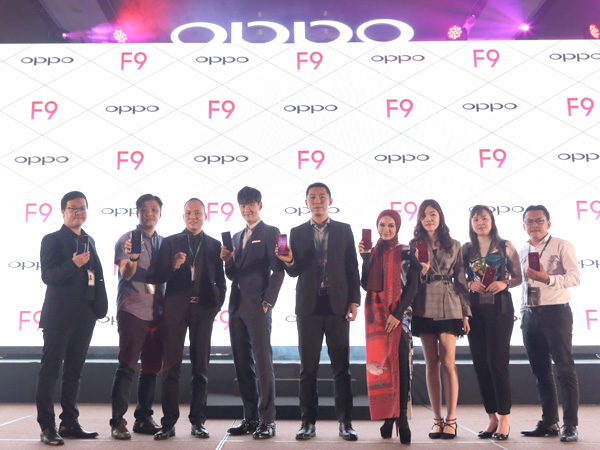 "I am honoured to be the Product Ambassador of the OPPO F9. I really love the VOOC Flash Charging technology as it saves a lot of time from phone charging. On the other hand, OPPO F9 is the first F-series which has gradient colour design with flower petal pattern for all range of colours which amazed me a lot. The outstanding Waterdrop screen design stands me out from the crowd always and I love it very much. Not only that, with the 16MP + 2MP dual-rear camera I can easily take beautiful scenery photographs. The 25MP front camera that coupled with Sensor HDR will make sure that I have a vivid and non-excessive light exposure selfie," said Neelofa.
"I am happy that OPPO F9 is finally released! The Gradient colours with Flower petal pattern design is truly a gem, the sunrise red is like dawn of the day and the twilight blue is like the serenity of night river. I fell in love to the OPPO F9 straightaway upon I seen it for the first time. I hope Malaysian will love it as much as I do."said Hebe Tien, Taiwanese singer who is also representing OPPO F9.
Another celebrity team member, Eric Chou, the Taiwanese singer who also attend the Press Conference event also shared his experience that he was thrilled to work alongside OPPO and to be selected as the product ambassador of the F9. He thinks that the VOOC Flash Charging Technology comes in handy as he doesn't always have the time to keep charging his phone. With VOOC Flash Charging, he can enjoy 2 hours of talk time just by charging it for 5 minutes. Another thing he loves most about the OPPO F9 is the gradient colour design with the flower petal pattern as he thinks it represents his fashion choices and also his unlimited possibilities.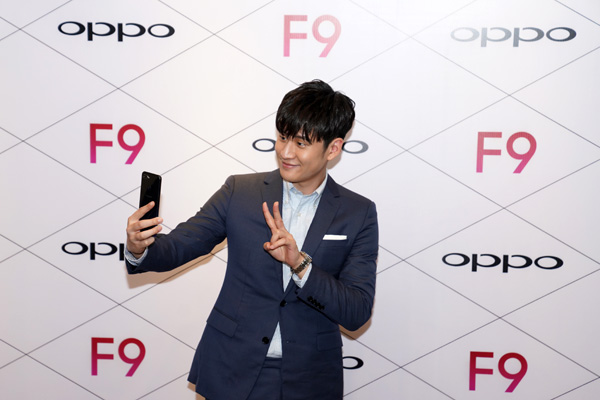 With a diverse range of fans between these two splendid stars, OPPO is set to share all the firsts in the F series of this OPPO F9 with them. In a time where selfies and mobile photography are imminent, ensuring that they are done in the finest circumstances is vital and the F9 allows just that – capturing users in the best light possible.
According to William Fang, CEO of OPPO Malaysia, "Engaging with Neelofa, Hebe Tien, Eric Chou and other top celebrities to be the product ambassadors felt perfect because all of them represent the brand analogy. Their charming personalities and cheerful sense brings positive vibes to attract our consumers. Our aim is to always put our users first and we do this by improving our existing technology to bring them something fresh and new every time, so with these ambassadors and the amped-up technology, we hope to attract more consumers through the OPPO F9 as we are certain to provide our users an extraordinary user experience."
Breakthrough in charging: Rapid Charge with VOOC
For the first time ever, OPPO F9 ships with VOOC Flash Charge. This technology,independently developed by OPPO, has a charging speed which is four times faster than general charging at 5V/1A. For those in a hurry, a quick 5-minute charge is enough to maintain 2 hours of talk time.
In addition to increasing the charging speed by four times, VOOC also boasts an intelligent five-layer protection system from the adaptor to the port and interior of the phone. VOOC has replaced the voltage reducing circuit with a MCU, effectively preventing the mobile phone from overheating while charging, making VOOC a coolfast charging tech. You can alsouse your phone while keeping the fast charging speed, which high voltage fast charge cannot do.
Breakthrough Design: Waterdrop Screen with Gradient colors
As an increasingly popular smartphone brand among young people, OPPO taps into their taste in fashion and style to design products with mass appeal. OPPO has three gradient color combinations- Sunrise Red, Twilight Blue and Starry Purple. The Gradient Spraying Technology and "Frame Gradient" tech used by OPPO provides a perfect combination of gradient design on the back and the user a more unified viewing experience. In the sunlight, the F9 shines like a crystal gem and flowing water in motion. The color design aesthetics of the OPPO F9 reflects both OPPO's design ideology and insights into what aesthetics appeals to young consumers around the globe.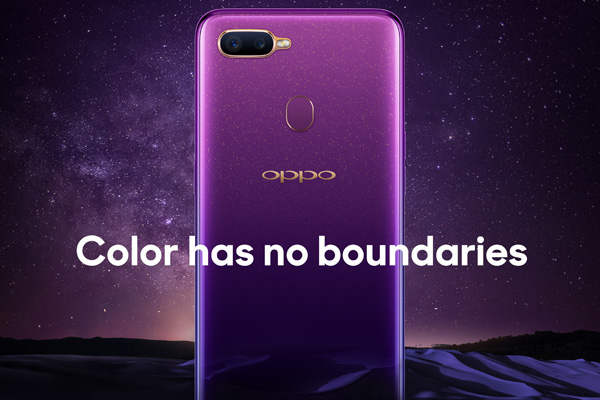 Another prominent design upgrade in this model is the Waterdrop Screen, which is inspired by a water drop that is about to fall.
The F9comes with an impressive 6.3-inch bezel-less screen that features a resolution of 2340×1080 FHD+ and an aspect ratio of 19.5:9, a super-high screen-to-body ratio of 90.8%.
Breakthrough in photography: From Selfie to Portrait Art
OPPO's legacy of strong photography which has seen them become the 'Selfie Expert' is even further enhanced with OPPO F9. Now, OPPO has begun to focus on capturing all round beauty. For the first time, OPPO F series is equipped with AI-enhanced dual rear cameras (16MP + 2MP). The cooperation of the two cameras helps the processor calculate the depth of field and achieve a great Bokeh effect. When it comes to shooting with the rear camera, F9 is equipped with dual cameras to catch every moment. 16 independent and 800 combined scenes can be recognized by AI Scene Recognition.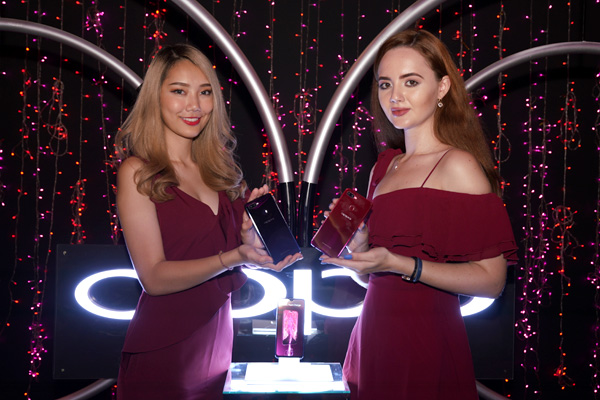 OPPO F9's 25MP front-facing camera also does not disappoint. The re-invented 'Sensor-HDR' technology dramatically improves backlight Selfies and allows users to check high dynamic exposure live effects in real-time. Meanwhile, OPPO F9 can now accurately collect 296 feature points for each subject, referencing them against its massive database of facial images, analyzing features before making enhancements, customized for each subject. The AI Beauty Technology can provide users with 8 million of different beautification effects in that personalized – selfies are more attractive while keeping the natural look of each human subject.
Additionally, F9 supports multiple interesting camera features such as AR Stickers, vivid mode and slow motion video.
Breakthrough in experience: ColorOS 5.2 AI Intuitive System
Based on Android 8.1, OPPO brings the ColorOS 5.2 Operating System to create a smarter interactive experience for users.  Intelligence is everywhere in ColorOS 5.2 system, which can continuously analyze the user's habits and preferences, aggregating the contents he or she is interested in and enables F9 always to be "One Step Ahead".The F9 is also equipped with the Google Lens that can identify the object and show relevant search results and information.
When it comes to hardware, the 6GB + 64GB memory combination improves the speed of operation. F9 also support 256GB memory expansion. To satisfy users with multiple sim cards, F9 applies a design that contains 3 card slots, two for sim cards and one for the storage card.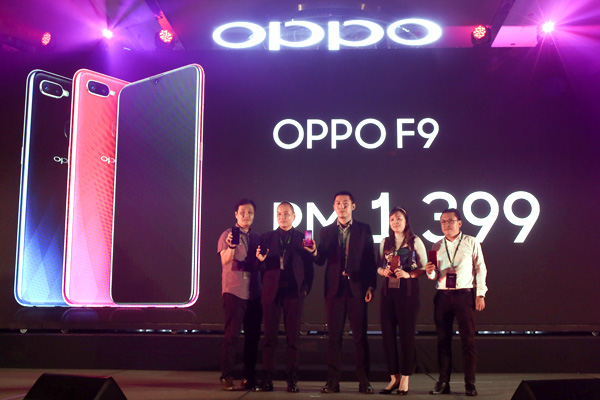 OPPO F9 will be available to pre-order from 16th August onwards either offline at OPPO official concept stores and autorised dealer stores or online at the OPPO Official website and OPPO's e-commerce partners' sites such as Lazada, 11Street and Shopee. Consumers may also head to Celcom Blue Cube, Senheng and senQ as alternatives.
Priced at RM1,399, OPPO F9 will be available to pre-order from 16th August 2018 until 29th August 2018. Customers may place their pre-order either offline at OPPO official concept stores and autorised dealer stores or online at the OPPO Official website and OPPO's e-commerce partners' sites such as Lazada, 11Street and Shopee. Consumers may also head to Celcom Blue Cube, Senheng and senQ as alternatives.Pre-order customers may collect their OPPO F9 during its first sales day on 30th August 2018.
For more information regarding OPPO F9, visit OPPO Official Website.
androideric chouf9flash chargegradientneelofaOpposmartphonevooc