The Track to Success: Hot Wheels kicks off 50th Anniversary Celebrations in Malaysia
Die-cast cars, orange tracks, the challenger's spirit – there's only one thing we could be talking about: Hot Wheels®. The iconic flame-shaped red and yellow logo is an appropriate symbol for the energy and excitement that the brand champions. This year, Hot Wheels is celebrating its 50th Anniversary – that's 50 years of inspiring kids to challenge boundaries, die-cast car in one hand and an orange track in the other.
The Hot Wheels® SEA 50th Tour, launched in conjunction with this milestone, is taking Dmitriy Shakhmatov, Global Hot Wheels® Product Design Manager,  across Southeast Asia. The tour kicked off in Malaysia at the annual Art of Speed event in MAEPS, Serdang. The event was attended by automobile enthusiasts from all over the country. All collectors know that this is the place to be to grab those rare collectibles to add to their collections.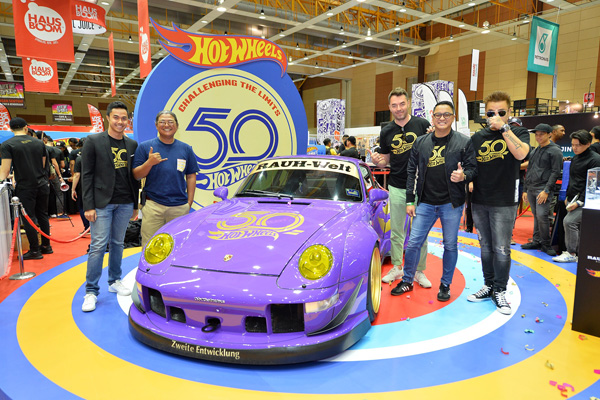 "We're glad that Hot Wheels® die-cast vehicles and tracksets have been present in the homes of our fans for 50 years," said Ivan Franco, Country Manager of Mattel Southeast Asia. "We believe in embracing challenges through imaginative, creative play – we don't take that responsibility lightly. We want to impart that virtue on the new generation in all the ways that we can."
The brand organised a design competition for students aged 9-12 across the Klang Valley – asking them to send in their best ideas for a Hot Wheels car. Hundreds heard and answered the call, going above and beyond with their designs. Individual entries were judged by Dmitriy Shakhmatov himself. Shakhmatov has been with the brand since 2015 and has already seen some of his dreams come true.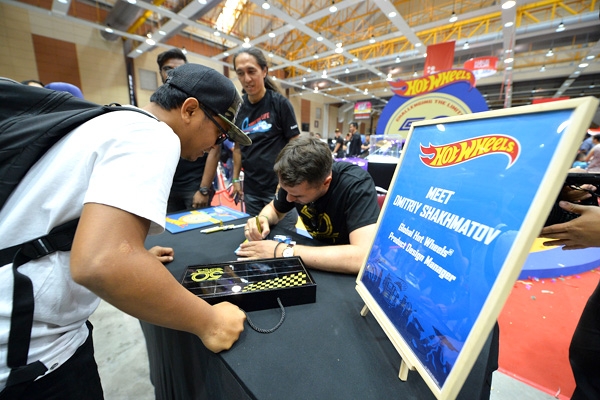 "I still find it hard to believe that I was able to see my personal design of the Aristorat come to fruition. But that's the promise of Hot Wheels, isn't it? That if you can dream it, you can make it happen. I would jumped at the chance to participate in a contest like this when I was younger – I'm so glad Hot Wheels® is being proactive and carving out a space for kids to be creative," he said.
Shakhmatov met with some of the kids, collectors, and fans during a short meet-and-greet session at Malaysia's Art of Speed 2018 event, during which he gave out autographs and bonded with them over a shared love of cars. His enthusiasm was contagious and most evident when he was presented with a surprise gift: a collage of the top 50 entries from the design competition.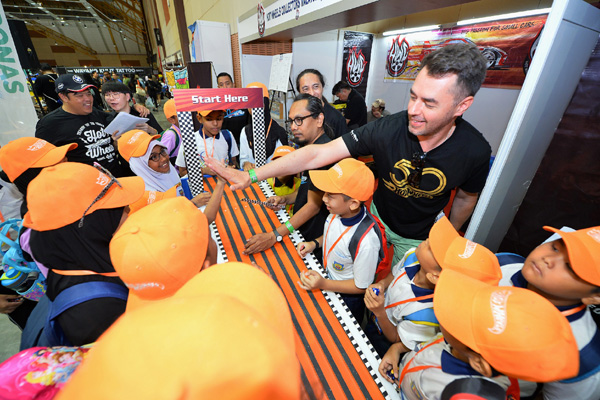 This event was also the unveiling of the never before seen and highly anticipated 2019 Car Culture designs. This was the first year the brand has collaborated with RAUH-Welt BEGRIFF, or RWB, a Porsche tuner based in Japan. The particular Car Culture car they collaborated on was an RWB Porsche 930, part of the Porsche 911 family. The actual design of the car will likely be released to the public in the first half of next year.
To celebrate the collaboration, Hot Wheels® unveiled the only RWB Porsche 933, a part of Porsche 911 family, in Malaysia, sporting a Hot Wheels® 50th Anniversary makeover. The car was unveiled by Ivan Franco; Dmitriy Shakhmatov; Christian Coujin, of RWB Porsche; and Asep Ahmad Iskandar, founder of Art of Speed. The unveiling was graced by the surprise appearance of Malaysian International Racer, Jazeman Jafaar, who – to the excitement of those in attendance – started the car's engine when the cloth was pulled off.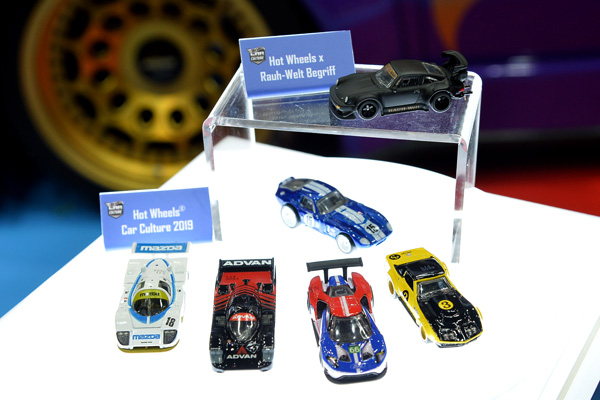 If you're upset you've missed out on all of this fun, fret not! You still have the chance to demonstrate your challenger spirit during the Hot Wheels® Southeast Asia Championship Tour 2018! Hot Wheels® is calling for teams comprised of one parent and one child (ages 4-12) to take on tests of accuracy, speed, and creativity. This tour will stop in 50 Southeast Asian cities. Only six teams will advance to the Grand Finals held in Jakarta, Indonesia where they will take each other on to win the Grand Prize in November 2018.
Besides that, Hot Wheels® is holding a "Made to Race" fun run on 12 August 2018 in Kuala Lumpur which those who embody the challenger's spirit can celebrate together.
Collectors should keep their eyes peeled for the 50th Anniversary Limited Edition Sets:
Hot Wheels® 50th Black and Gold Collection
Hot Wheels® 50th Originals Collection
Hot Wheels® 50th Track Stars 5-car Pack
Hot Wheels® 50th Anniversary Favourites
Hot Wheels® 50th Zamac Flames Collection
Hot Wheels® 50th Stars and Stripes Collection
Hot Wheels® 50th Camaro Collection
Hot Wheels® 50th Throwback Collection
Hot Wheels® 50th Anniversary 10-car Pack
For more information about Hot Wheels and to stay tuned for news about its 50th Anniversary celebration, check out Hot Wheels Facebook page and website [hotwheels.mattel.com].
#ChallengeAccepted #HotWheelsMY #HotWheels50thAnniversary
anniversaryart of speedcarcollectiondmitriy shakhmatovfansfigureshot wheelsmodeltoy