The Revolutionary HUAWEI MediaPad M5 is the Ultimate Gaming Tablet for Everyone
Within the past few years, the global mobile gaming industry has evolved into a vibrant market. According to Newzoo, a global market intelligence partner, it is evident that mobile gaming will continue to be the largest segment following 10 years of double-digit growth since 2007. Unlike in the past where professional gaming is exclusive to PC and console gamers, mobile gaming offers convenience as it is portable, and comparatively more sociable to other options. In fact, games such as Hearthstone, Mobile Legends, and recently, PUBG and Fortnite has positioned mobile gaming as not just a past-time activity, but a form of competitive E-sport in the international arena.
As the mobile gaming industry blossoms into a business with a lucrative potential, the demand for the perfect device to support these games has also increased. This has pre-empted global tech manufacturers such as HUAWEI, to work harder and deliver innovations that bring new possibilities which speaks to how we play mobile games in 2018 and beyond. Hence, it is equally important to discover what makes the device the perfect platform for gaming – the processor, the graphics, the sound system and the battery life.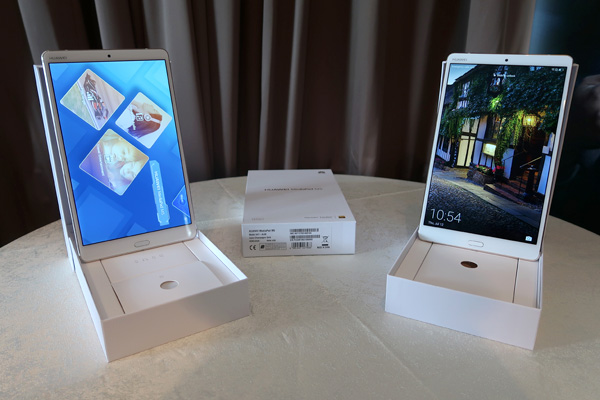 The Definition of Mobile Gaming Excellence
You can play some of the best and latest mobile games on a good mobile gaming device, but the must-have features should involve the best visuals and performance for a truly seamless experience. The HUAWEI MediaPad M5 is not just a gaming device, it is an engineering feat that has pushed the boundaries of mobile gaming technology. Huawei's unrivalled commitment to innovation for over 20 years in the industry has now culminated in the HUAWEI MediaPad M5 range, designed to be an excellent platform for casual and hardcore gamers alike, and for the younger generation that seeks out new experiences and has a hunger for both creating and consuming content.
A Breakthrough in Design
The HUAWEI MediaPad M5 is positioned as the best gaming tablet on the market to date, and there are very little reasons to argue against it. Larger than your typical smartphone but a little smaller than the average tablet at 8.4-inches, the MediaPad M5 has the perfect balance of hand-held comfortability and clear vision for every movement on the screen. Its industry-first 2.5D glass screen, which was previously tailored only for smartphones, makes a sleek and beautiful curved glass design that is ergonomic and eye-catching.
The graphics of the device is indeed a stunner – the latest ClariVu 5.0 display enhancement technology uses intelligent algorithms to adjust photos and video playback if images are unclear or the contrast ratio drops, keeping them crisp and clear in a 2560×1600 display.
As seen on previous HUAWEI models, they have partnered with Harman Kardon on audio hardware design, speaker tuning and audio testing, to deliver the best possible sound performance from the HUAWEI MediaPad M5. With two speakers, the device uses smart power amplifier chips, speaker boxes and a loudspeaker to produce sound you will never forget.
Revolutionary Performance within Your Fingertips
Users looking for a hardcore gaming marathon will be thrilled with the MediaPad M5's 5,100 mAh battery, allowing 11 hours of 1080p video playback. In the case of a low battery emergency, the MediaPad M5 supports HUAWEI's Quick Charge technology which can fully charge the 8.4-inch tablet in under 2 hours.
The MediaPad M5 also comes with HUAWEI's Kirin 960 Octa-core CPU system to ensure smooth gaming sessions with minimum lag issues. Running on the EMUI 8.0 system, users can also expect the MediaPad M5 to receive the GPU Turbo Update, a pioneering technology for mobile gaming from HUAWEI in the near future.
The MediaPad M5 is now available in Space Gray and Champagne Gold and retails at RM 1,499. To excite fans and customers, MediaPad M5 buyers will each receive a specially-tailored gamepad and a free six month premium subscription on Viu. Gifts are only available while stocks last, so customers are urged to act quickly before missing the opportunity!
For more information on the HUAWEI MediaPad M5, or other exciting innovations, please visit HUAWEI's official e-commerce platform at here, or stay tuned to HUAWEI's official Facebook page.