Review – Canon PIXMA G3010
Printers always play an essential role in modern home these days with the trend of self-printing documents for different aspect of living. We print our own boarding pass, income tax documents, family photo or that secret letter to someone special. It's convenient to have a printer on standby for any urgent printing need that happens anytime. Due to the concern of space and cost, an all-in-one multi-function printer is even more ideal for home and small business office operation.
Canon PIXMA Ink Efficient G3010, is your ideal printer for homes and small businesses. This multi-function printer can copy, print and scans easily to mobile phones, tablets and laptops over Wi-Fi. Featuring a 1.2 inch segment LCD display, the G3010 makes printing and scanning easy, and also enhances ease of use for a variety of printer configuration options without a PC, including Wi-Fi Setup. The printer supports direct wireless connection to mobile devices and tablets without a router. Just connect and print.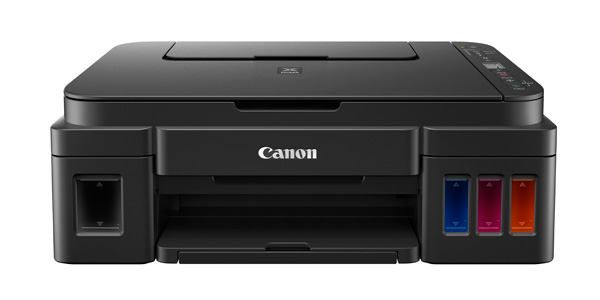 Design
The compact PIXMA G3010 definitely has the space saving in mind when it comes to design. The small form factor makes it easy to fit into any home or office without taking up much space. It also plays the role as a copier and scanner, thus saving extra space for placing another machine to serve the same purpose. Combine with the wireless function, the G3010 will save you the space in a small room yet still provide the multi-function of an all-in-one printer.
Instead of having ink tanks hanging beside the printer chassis, G3010 ink tanks are integrated into the printer body. Each tank is designed to allow visual indication of remaining ink levels for the users without the need of data processing on a computer. Besides, it adds some colours to the conventional printer.
The control panel on the side provides One-Touch Direct Wireless Connection that connects to your smartphone easily.
Performance
Designed for high volume printing, the PIXMA G3010 fuels the needs of businesses with high demands by delivering up to 6,000 black-and-white document pages and 7,000 colour document pages on the bundled set of four ink bottles. The printing speed is acceptable for such compact body.
Without the need to replace ink cartridges, businesses can reduce costs on ink supplies while spending less time on printer maintenance. The PIXMA G3010 is capable of printing beautiful and high quality 4R photos in just 60 seconds, and support full borderless photo output on glossy paper up to A4 sizes.
The PIXMA G3010 combines the advantages of wireless connectivity with printing from mobile devices such as smartphones and tablets. The Canon Print Inkjet / SELPHY app makes mobile printing, scanning easy for iOS and Android OS devices, while the Canon Print Service plugin offers driverless printing functionality for smartphones and tablets running on Android OS. With the ease of wireless connection setup, the G3010 can instantly produce the prints you need without the hassle of installing software to a computer.
Verdict
If you are looking for a printer that is compact in size, low cost to maintain, and offer multiple function, then look no further, the Canon PIXMA G3010 is definitely the printer you should consider. The all-in-one printer packs a lot impressive features in a compact body that won't burden you with high printing and maintenance cost. Highly recommended for those who are looking for high volume printing at affordable cost.