Hong Leong Bank celebrates Movie Lovers with the Ultimate Credit Card
If you love watching the latest blockbusters on the big screen complete with immersive surround sound experience, coupled with a warm bucket of popcorn and soda, then the updated Hong Leong Bank (HLB) GSC Credit Card and the newly launched HLB GSC Mastercard Credit Card, is a must-have for you. Movie-goers can enjoy more movies, more savings and other exciting rewards and benefits at Golden Screen Cinemas (GSC), the biggest cinema chain in Malaysia nationwide.
With the new updates to the card, customers will enjoy RM6 off tickets every day for all halls, including Signature Halls plus 30% off snacks and drinks when they book and pay via GSC website and GSC mobile app. In addition to more savings, cardholders can also enjoy:
20% discount for dine-in at all GSC food and beverage outlets.
Earn 3X Reward Points on overseas spend, e-commerce and for all spend at GSC.
Reward Points redemption for movie tickets for 3D movie, 4DX, Twin Seats, D-Box, MAXX, Premium Leather Seats and snacks and drinks at all GSC cinemas, including Signature halls.
New Platinum and Gold Principal Cardholders will be entitled to a Welcome Gift of 10 (Ten) and 5 (Five) movie tickets respectively.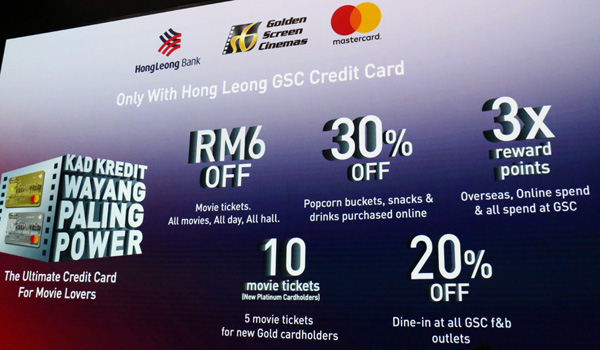 The new partnership with Mastercard along with the update on the features and benefits for HLB GSC cardholders is an important milestone for HLB and GSC, marking the ninth year since the introduction of this highly popular card. True to HLB's entrepreneurship spirit, the card was the first-ever co-branded credit card with a cinema chain in Malaysia when it was launched in 2009.
Domenic Fuda, Group Managing Director and Chief Executive Officer of HLB said, "We are pleased with our longstanding and strong partnership with GSC to reward our shared customers. Since the introduction of this card, it has remained one of the leading credit cards, offering value to movie-goers. We are excited to partner with both Mastercard and GSC to introduce a credit card that extends this lifestyle benefits for cardholders to enjoy when they purchase movie tickets, snacks and drinks on GSC's digital platforms, both online as well as on the App. We are confident that this card will live up to cardholders' expectation of being the Ultimate Credit Card for Movie Lovers."
In addition to studying the changes in movie-goers' purchase-decision journey which has become increasingly digital, the Bank also looked into ways to make the card features and benefits more intuitive to today's customers' experience and expectation. Charles Sik, Managing Director, Personal Financial Services of HLB said,"Watching a movie should be a hassle-free and enjoyable moment shared with family and friends, and so it is important for us to update our card value proposition to reward our loyal cardholders and to enable more movie-goers to enjoy movies without worrying about the terms and conditions. With the updated HLB GSC Credit Card, movie-goers can truly have real rewarding movie experiences, every day for all movies at GSC cinemas, with no strings attached."
For GSC, this new card complements the digital journey of customers purchasing their tickets online. While the traditional ticketing option is available, GSC's online platforms – namely the GSC Website and GSC Mobile App (for iOS and Android) – has been the enabler of greater convenience and gratifying rewards for cardholders.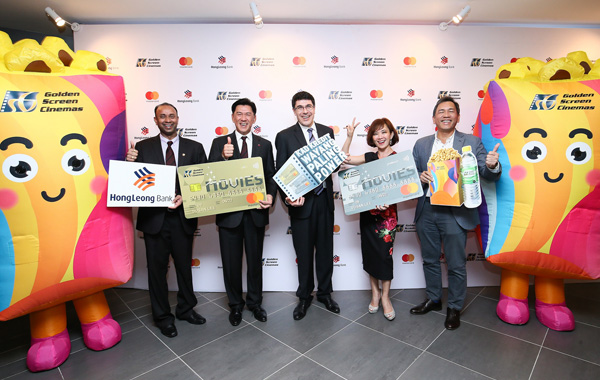 Ms. Koh Mei Lee, Chief Executive Officer of GSC said, "As the leading cinema exhibitor in the country, GSC is constantly innovating to provide customers enriching cinema experiences that they can enjoy at their convenience and at the best value. For nearly a decade, we have partnered with Hong Leong Bank to give movie-goers the Ultimate Movie Card, which offers fantastic benefits whenever they come to watch a movie with us. We are excited and proud to extend this collaboration with Mastercard that can give our customers even more privileges, rewards, and offers to look forward to at our cinemas."
Perry Ong, Country Manager, Malaysia and Brunei, Mastercard said, "The collaboration with industry leaders, Hong Leong Bank and GSC Cinemas, is timely as Malaysian consumers' demands have grown more sophisticated and the Hong Leong Bank GSC Mastercard card now comes with even more curated offers and incredible rewards that not only complement the lifestyle needs but also completes their movie-going experience. This collaboration marks an important milestone as it is Mastercard's first co-brand card with a cinema in Malaysia, reiterating Mastercard's keenness for innovation and continued commitment to customers. With Mastercard's technological expertise and insights, we will be adding simple, safe and smart ways to pay as critical components in contributing towards an overall seamless and satisfying customer experience in all GSC cinemas."
For more information, please visit www.hlb.com.my/GSC.
benefitscollaborationcredit carddiscountgschong leongmovieplatinumpointsreward