#GrabDurian is back again!
Malaysia's craze for the "King of Fruits," is back with a force, with throngs of durian lovers starting to flock their nearest and favourite durian stalls. But grabbing your favourite durian should be hassle free so you can focus more on enjoying the succulent fruit rather than worrying about price or fussing with cash.
And so, for the fourth year running, #GrabDurian, is back again to help you satisfy all your durian cravings in a #NotSoLeceh way when you pay with GrabPay Credits*. The all-new GrabPay – which previously only accepted debit or credit cards – is now enhanced with a mobile wallet that enables consumers to top-up and spend money or 'GrabPay Credits' to pay for a variety of services, including your annual dose of Durians!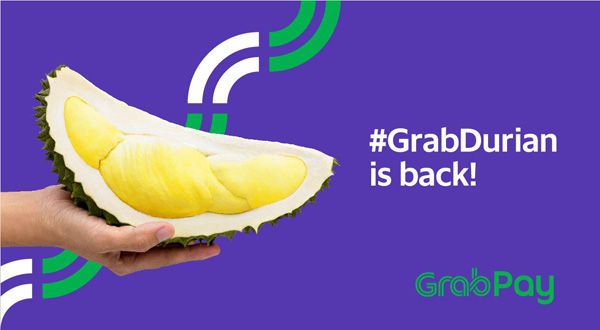 Exclusively for Grab customers, you can now enjoy RM15 off your durian bill on July 21 and 22, 2018 when you enjoy and pay for your durian with GrabPay Credits from 2pm – 10pm at all participating GrabDurian outlets** in Klang Valley, Perak, Penang, Johor, Melaka, Sabah and Pahang.
Specifically for Platinum and Gold Grab customers in Klang Valley, you can buy a Musang King at only RM8 per fruit via GrabPay Credits when you redeem the exclusive discount from the GrabRewards catalogue for only 500 points! The exclusive discount can be redeemed on GrabRewards on July 18, 2018 whilst purchase of fruit can be made on July 21 and 22, 2018. (Limited fruits available; based on first come first served)
For more information about the #GrabDurian campaign, click grabpay.my/deals.
Participating outlets
Penang
Bao Sheng Durian Farm (Balik Pulau)
Ang Hock Leng Durian, Jalan Anson (GeorgeTown)
Perak
Seong Wong (Ipoh)
Melaka
Eco Do Bem (Bemban)
Johor
Durian King (Taman Sutera)
Ah Tong Durian (Taman Century) Kuala Lumpur / Petaling Jaya
Chen Brothers Durian Stall (Kepong)
MK Durian Boys (Cheras)
Say Heng Durian USJ 14 (USJ)
Durian SS2 (SS2)
Pahang
Globalmax Trading (Kuantan)
Sabah
Durian Zai Enterprise Co (Kota Kinabalu)
Nizam Durian (Kota Kinabalu)