TGV Cinemas unveils First and Only We Bare Bears Pop-Up Store in Malaysia
The hilarious and endearing characters of the internationally-acclaimed animated sitcom, We Bare Bears, has landed in Malaysia through a first-of-its-kind revolutionary pop-up store conceptualised and brought to reality by TGV Cinemas, one of the country's leading cinema chains.
We Bare Bears pop-up store, which was unveiled at an exclusive media event recently, is located at TGV Cinemas Sunway Velocity Mall (Cheras) and will be opened for a limited period, from Saturday, 9 June 2018 until Sunday, 8 July 2018.
This first-of-its-kind pop-up store, spearheaded by TGV Cinemas in collaboration with Cartoon Network and Innocraft Sdn Bhd (the official Malaysia licensee of We Bare Bears), offers fans and movie-goers the opportunity to take home authentic We Bare Bears merchandise and collectibles. These include official plush toys, mugs, notebooks, notepads, t-shirts and coin bags, amongst many others. There are also a wide-range of F&B products as well as an entire themed area dedicated to the series for visitors to indulge in a complete We Bare Bears experience.
Raymond Letchmanan, Senior Manager, Concessions Department at TGV Cinemas Sdn Bhd, said, "As one of the leading cinema chains in Malaysia, we are continuously seeking creative ways to bring new experiences to moviegoers. This pop-up store is one such initiative, as it is not tied to any cinematic feature, and is purely introduced to connect to fans of the show. TGV Cinemas Sunway Velocity Mall is the only place in Malaysia where one can get their hands on official We Bare Bears merchandise, and we look forward to having fans of the series at the cinema."
We Bare Bears tells the story of three brothers doing their best to try and fit in with human society – no easy task when you are a bear! Set in the San Francisco Bay area, the cartoon follows Grizz, the oldest of the three and the most fun-loving, Panda, a social media enthusiast who is easily embarrassed, and Ice Bear, who is the youngest but of the strong, silent type.
TGV Cinemas will be kicking off with a Special We Bare Bears Cup Topper Combo, and it comes in two options: (i) We Bare Bears Cup and Topper with free drink + regular Hollywood popcorn at RM29.90; or (ii) a We Bare Bears Cup and Topper at RM19.90. Available at TGV Cinemas nationwide.
The fun does not end here! Fans of We Bare Bears will also get to 'Meet & Greet' with the three brothers at TGV Cinemas Sunway Velocity on 16 June 2018 at three sessions; 12:45 pm, 4:45 pm and 6:00 pm. *Terms and conditions apply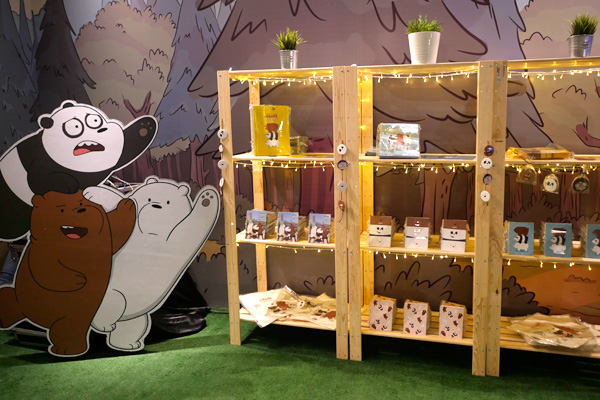 A special treat for shoppers of We Bare Bears Pop-up store who spend RM50 and above in a maximum of two receipts is in when they tap to pay with Visa payWave. They will get to redeem an ice-cream in We Bare Bears custom-designed cup.  This offer is valid while stocks last and is on a first-come-first-served basis.
The store is located in the main foyer of TGV Cinemas Sunway Velocity. It will be opened from 12:00 noon until 10:00 pm daily. Visit bit.ly/TGV-WBB-Event (Pop-up store) or here (TGV's special combo). Photo Journalist
Gadgets, Photography, Automobile, Lifestyle
characterscinemamascotmoviepop up storeshopstoresunway velocitytgvwe bare bears