LG Electronics Malaysia today showcased its line-up of products in the roadshow for consumers, themed "Creating a Better Life". The leading consumer electronics brand unveiled the curtains to its signature and award-winning OLED TVs, Super UHD TV, InstaView™ Refrigerators and TWINWash™ washing machine. Beginning today – till 27 May 2018, customers can enjoy a 6% discount on selected LG products and enjoy promotions for its Signature OLED TVs, TWINWash washing machines and more*, exclusively at Orange Concourse, Sunway Pyramid. At the same time, LG UK630 with AI function is retailed at RM2,798 (MSRP: RM3,999) and only 100 units will be available.
Unpacking the theme further, the essence of creating better life derives from products such as its signature OLED TVs that gives viewers greater entertainment value, while its home appliances enable homeowners to save energy, keep food in refrigerator fresher for healthier life and spend quality time with family and friends as their laundry time is reduced. Elevating the credo of creating a better life, the Smart ThinQ feature allows consumers to command a better control over their home appliances, managing the products seamlessly.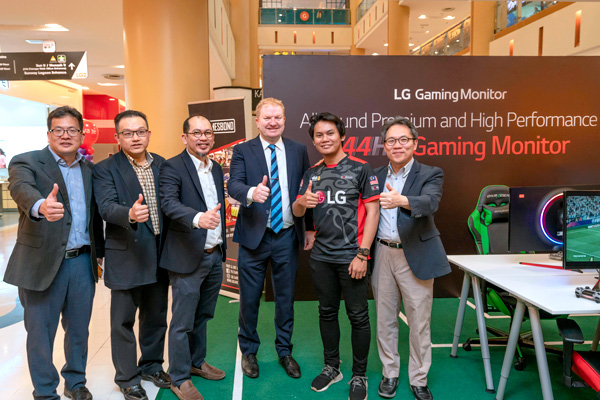 "When we strive for more than 'better', we start to innovate. By pushing past 'better', we became the recipients of 17 CES Innovation Awards for 2018 for Home Entertainment and Home Appliances. We can now serve our customers better with our advanced OLED and UHD TVs, soundbar and many other high quality technologies. Our theme of 'Creating a Better Life' compels us to bring human joys and memories that come with creating a better life," said Kim Kyutae, Managing Director, LG Electronics Malaysia.
Pitch 'Perfect' Black, the Picture Quality You Need
The next generation of LG OLED TVs feature the α9 Intelligent Processor that packs a punch, delivering improvements in noise reduction, sharpness, depth enhancement and color reproduction.
As homeowners and entertainment enthusiasts crave for better viewing experience, the processor caters to those needs through the following:
Noise reduction: The processor cleans away the grainy imaging and expresses much smoother contouring of colors, providing cleaner and smoother images.
Image enhancement: Better depth and image details by analyzing the image frequency, hence increasing and enhancing the image quality.
True color accuracy: It supports color space of 33x33x33, compared to the conventional 17x17x17. This means that the processor creates 7.3 times larger color space compared to conventional processor that gives off more accurate color in the color spectrum.
4K high-frame rate (HFR): HFR reduces eye fatigue with a cleaner picture quality and smoother motion. Higher frame rate also allows more life-like picture quality.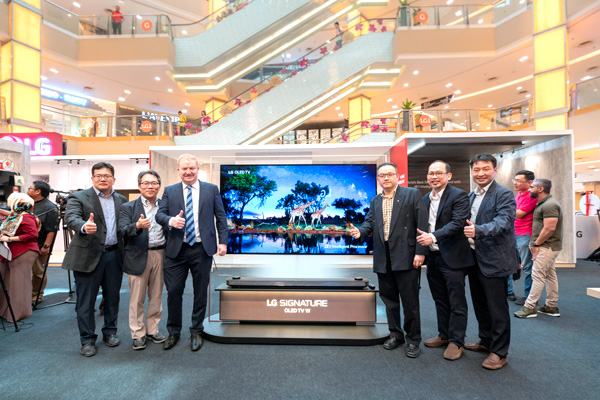 Furthermore, LG OLED TVs continue to redefine viewing experience as it creates unrivalled picture quality through perfect black, where color intensity is enhanced in greater depths. The user experience is elevated further as the LG AI ThinQ embedded in the OLED TVs enable users to command the television to perform a set of instructions, providing them with easier control when accessing the TV functionalities. It also claims the world's number 1 selling OLED TV. While the LG AI ThinQ in its line-up of TVs support only preset voice commands, the natural language processing (NLP) will be available in Q3 via TV Software update.
LG OLED and Super UHD TVs: Immerse Yourself in Ultimate Viewing Experience
The 2018 LG OLED and Super UHD TVs feature Cinema HDR that delivers the filmmaker's vision of what the true experience should encapsulate. This is projected through the Dolby Vision™ and Advanced HDR by Technicolor, as well as with HDR10 Pro and HLG Pro, giving homeowners and customers unequalled viewing pleasure. On top of that, the full array local dimming (FALD) feature gives birth to a new line-up of LED TV that improves the black level and contrast ratio to improve image quality and color enhancement.
Super UHD TVs allows people to watch from a wide angle of 60', sustaining color gamut to nearly 95% with its IPS Nano Dot. This is due to the Nano Cell Display that utilizes nano-sized light absorbing materials to absorb unnecessary light to improve picture quality. It allows customers and homeowners to enjoy the best picture quality from any angle.
Coupled with an impressive surround sound technology of Dolby Atmos®, the line-up of TVs produces a true home cinema experience with premium content display. The Dolby Atmos® realistically captures the movement of every object and performs 360º surround sound. Customers can enjoy a slice of better life with the new OLED and Super UHD TVs that enable families and friends to spend quality time together.
LG's InstaView Door-in-Door: From 'Open to See' to 'See to Open'
LG's InstaView Door-in-Door™ refrigerator provides improved accessibility and assists with decisiveness when visiting the refrigerator with the 'Knock-On' feature. With just two simple knocks on the screen, users can check on items inside without opening the door. The LG Door-in-Door reduces cold air loss of up to 41%.
Customers will find joy in a better life, knowing that this year, the feature will be made available in side-by-side refrigerators on top of the multi-door models. As with customer's expectations and needs of energy-efficient and durable home appliances, LG's Inverter Linear Compressor employs a linear piston drive instead of a conventional reciprocating drive, resulting in up to 32% energy saving, up to 25% less noise while providing greater reliability and durability.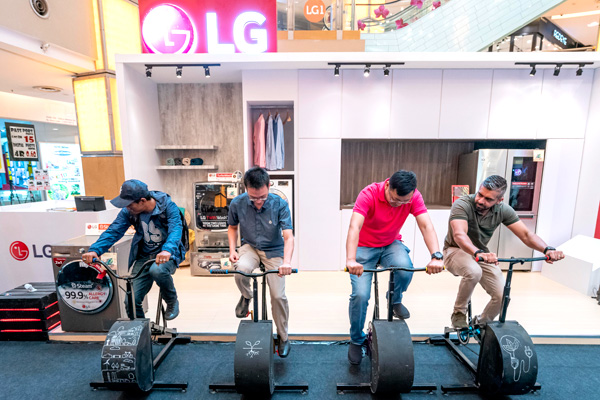 The Inverter Linear Compressor works wonders for customers with the following features:
LINEARCooling: Even cooling in any time, with a temperature regulation of ±0.5 degree Celsius keeps food to fresher for a longer period of time.
NatureFRESH: The solution is precise temperature control, keeping produce in the refrigerator fresh
DoorCooling™: Even and fast cooling in any part of the refrigerator
Food produce are kept fresher and last longer with LG refrigerators and customers can enjoy healthier consumption of food products for healthier lifestyle. Combined with its value-added investment and 10-year warranty of the inverter linear compressor, consumers and their families can now be at ease and allow the refrigerator to the job.
LG TWINWash Washing Machine: Faster, Cleaner and More Efficient Laundry Visit
The new LG TWINWash™ incorporates the TurboWash™ that trims the time of a regular wash program down to 59 minutes, reducing water and energy usage. It sprays water directly onto fabrics for approximately 120 seconds, making the already impressive rinse cycles even more efficient than ever before.
Acclaimed with a few world's 'first', the LG washers with the TurboWash™ and TWINWash™ enables customers to wash two loads of laundry of two different wash cycles at the same time. This added benefit allows users to separate their laundry to promote hygiene and extend the lifespan of your laundry. By washing two loads at the same time, customers can spend more time with friends and family, providing them with quality time together.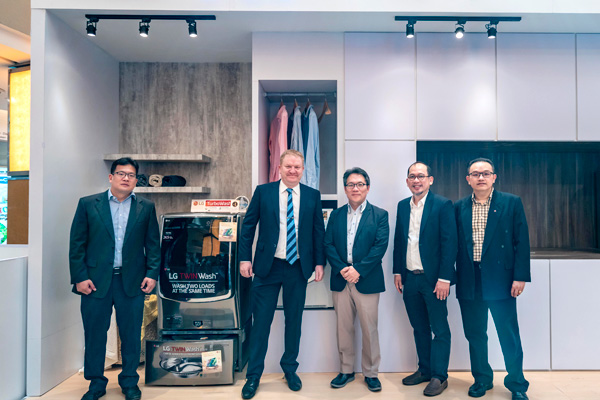 After washing your laundry, LG's Dryer has the TrueSteam™ feature that cares for your hygiene health. It has up to 99.9% allergy care, steam refresh and steam Softener™. This provides customers with fresher, cleaner clothes that will increase their comfort throughout the day. With cleaner and fresher clothes, customers can preserve the hygiene better, together with their family and loved ones.
"From our OLED TVs, video and audio equipment that boasts energy efficiency to the world's first wash-and-spin washer for our discerning modern user – LG understands to always keep our loyal customers in mind, because we are customers too. By interacting with our state-of-the-art products, you are creating a common connection that can be so easily lost in today's fast-paced world," said Kim.
He added: "As we adopt these cutting-edge technologies and innovate in our products, the specific features within our home entertainment and home appliances, underpinned by our AI ThinQ and Smart ThinQ feature, customers can enjoy a better life that saves energy, time, promotes convenience."
The roadshow "Creating a Better Life" also featured other notable products namely LG's home speaker, refrigerators, top-load and front-load washing machines, dishwashers, and many more. For more information about LG Electronics, visit www.lg.com/my.