Introducing the All-New Shopee Celebrity Squad
Shopee, the leading e-commerce platform in Southeast Asia and Taiwan, launches its brand new initiative, the Shopee Celebrity Squad, which allows users easy access to a curated collection of products by their favourite Malaysian celebrities. Today, with approximately 10 million users and around 400,000 sellers on the platform, Shopee Malaysia continues to rank as the number one shopping app on App Store and Google Play.
"Our users form the core of all our strategies, and we always strive to find new ways to connect with them on a deeper and more meaningful level. We know Malaysians adore their local celebrities, and with an increasing number of celebrities launching their own brands, we began to notice a rising demand for their products among users. Hence, we decided to launch the Shopee Celebrity Squad, a dedicated in-app space featuring a variety of celebrity brands, allowing shoppers to enjoy easy access to products sold by their favourite celebrities at the click of a button! In line with the launch, we also promise shoppers exclusive deals and special discounts across the celebrities' collections," said Ian Ho, Shopee's Regional Managing Director at the launch ceremony.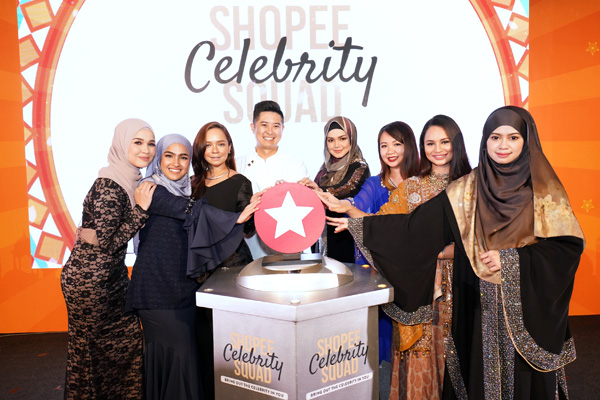 Ho added, "We are pleased to announce the participation of six top Malaysian celebrities as pioneers of the Shopee Celebrity Squad. As a zero-commission e-commerce platform that provides free shipping nationwide, our commercial friendly trade terms allow for celebrities to tap on Shopee's platform and features, dedicated support and extensive reach across Malaysia to further grow their online businesses. Moving forward, we aim to further expand the Shopee Celebrity Squad with the introduction of new celebrities every month."
Featured in the debut of the Shopee Celebrity Squad:
Malaysia's top singer, Dato' Sri Siti Nurhaliza Tarudin, with her skincare and cosmetics line, SimplySiti
Popular actress, Nora Danish with her brand Owl, which offers a modern twist to traditional Muslim fashion
The much-loved actress, Izara Aishah who will be introducing her lip wear brand, Madame Izara on Shopee
Star of hit drama Separuh Jiwaku, Elfira Loy, and Akademi Fantasia Season 5 finalist, Heliza Helmi, with their brand EL and Heliza Guzel Hive – selling traditional Muslim clothing
Multi-talented Emma Maembong who is not only an actress and model, but also an entrepreneur with her skincare line, EMBS
In addition to having more celebrities join the Shopee Celebrity Squad in the coming months, Shopee users can also look forward to the special weekly Celebrity Squad campaigns, featuring not-to-be-missed deals and activities. The weekly campaign will feature exclusive online product launches such as YBhg. Dato' Sri Siti Nurhaliza's SIMPLYSITI New Gold Edition range, with soft-focus technology and gold dust which will be available only on Shopee. Fans of the celebrities can also look forward to a series of upcoming community events and giveaways organised by Shopee, such as fan meet-and-greet sessions with the celebrities, as well as social media contests with cool prizes to be won.
The launch of the Shopee Celebrity Squad is part of Shopee's expansion plan for 2018, as Shopee continues to grow from strength to strength and further solidify its position in the e-commerce segment. This follows after a strong start to the year, where Shopee achieved a regional Gross merchandise value ("GMV") of US$1.9 billion in the first quarter – a year-on-year increase of 199.5% from US$648.3 million for the first quarter of 2017. Additionally, Shopee's Gross orders for the quarter increased year-on-year by 217.4%, from 35.1 million for the first quarter of 2017 to 111.4 million.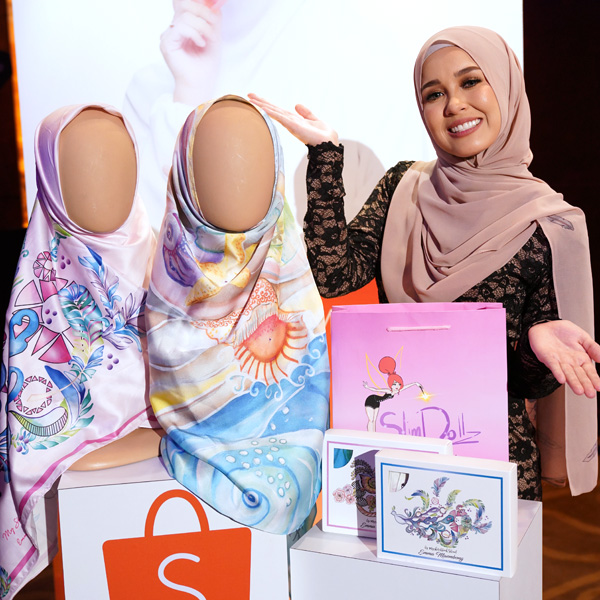 Currently ongoing is also the Shopee Cahaya Raya campaign. From May 3 to June 17, users can stand a chance to snag prizes worth more than RM1.5 million by participating in Shopee's exciting in-app games. In collaboration with Visa, Shopee's popular Ketupat Raya game promises to reward lucky shoppers with a host of prizes including a 'Rumah Impian' (dream house) worth RM350,000, a Honda HRV worth RM100,000, a Volkswagen Polo worth RM80,000 as well as Shopee coins, vouchers, televisions, portable irons, hair-dryers and more. Additionally, Shopee will be giving out up to 28 million worth of Shopee coins through the Duit Goncang game, which will happen at 5.00am and 7.00pm daily from 17 May to 8 June.
Visit Shopee between May 24 to 27 for the best offers this Raya where shoppers can catch the Upsized Shocking Sale happening five times a day and steal better deals by getting your hands on vouchers with Shopee's Beat the Clock campaign. Besides that, the all-new Campur-Campur Bundle allows shoppers to curate their own bundles of choice by mixing and matching from the menu of products available, and get them at a discounted price. Last but not least, look out for the Best of Cahaya Raya collection to score up to 90% discounts across a wide variety of preferred products.
For more information on the Shopee Celebrity Squad, visit shopee.com.my/m/Shopee-Celebrity-Squad.
For more information on the Cahaya Raya campaign, visit shopee.com.my/m/shopee-cahaya-raya.
Download the Shopee App for FREE via the Apple App Store or Google Play store.
Businesscelebritiescollaboratione-commercemarketplaceonlineshopeeshopping