ASUS announces the All-New ZenFone 5 & ZenFone Max Pro (M1)
ASUS Malaysia today officially announced the all-new ZenFone 5, an exciting next-generation 6.2-inch dual-camera smartphone that's the first ever ZenFone to harness the power of artificial intelligence (Al). ZenFone 5 revolutionizes mobile photography, giving users a simpler, smarter way to capture and share every magic moment.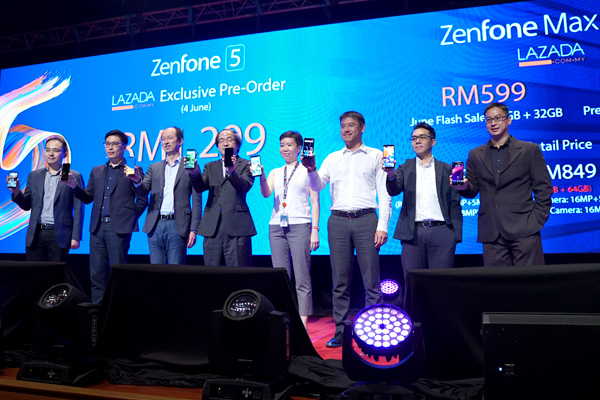 ZenFone 5 is powered by the latest Qualcomm® Snapdragon– 636 Mobile Platform with its smooth, responsive, power-efficient performance and Al capabilities. ZenFone 5 has an intelligent dual-camera system that adapts and learns, delivering perfect photos every time. With its flagship Sony® IMX363 sensor, 120° wide-angle secondary camera and AI-enhanced camera features — including Al Scene Detection, real-time portrait effects, Al Photo Learning and real-time beautification — ZenFone 5 encourages creativity and frees the user to concentrate on the subject rather than the camera.
Crafted to perfection with premium materials, ZenFone 5 has a strikingly beautiful ultra slim-bezel, all-screen design, featuring a stunning 6.2-inch display with a 90% screen-to-body ratio in a glass-covered body that's as small and compact as most standard 5.5-inch phones.
Intelligent cameras
The intelligent dual-camera system in ZenFone 5 uses the flagship Sony® IMX363 image sensor, with large 1.4µm pixels and a bright f/1.8 wide-aperture six-element lens that captures up to 5X-brighter and clearer photos in low-light conditions, as well as enabling dramatic Night HDR shots. The 120° wide-angle secondary camera has a field of view that's 2X wider than a standard smartphone camera, for capturing more expansive landscapes, more natural group shots, and easier photos in cramped spaces.
For truly intelligent photography, the camera system incorporates advanced Al algorithms and advanced big-data analytics, so ZenFone 5 is always evolving to constantly improve photos. The special AI-enhanced features in ZenFone 5 adapt and learn, delivering perfect photos every time and creating a truly personal experience for the user.
Al Scene Detection: Al Scene Detection takes the guesswork out of photography. ZenFone 5 uses the power of Al to rapidly analyze the subject and match it to one of its 16 scene types, optimizing the camera settings for almost any kind of shot from sunsets to pet pits. The result is effortlessly perfect photos, anytime and anywhere. ZenFone 5 uses advanced big-data analysis to constantly enhance the scene-detection Al algorithms, for ever-smarter photography.
Al Photo Learning: Al Photo Learning lets users teach ZenFone 5 how they like your photos to look. It then automatically adjusts the camera settings for future shots — so photos will always reflect the user's unique style preferences.
Real-time Portrait: ZenFone 5 lets users take professional-looking close-up shots of people or objects, without the hassle. Real-time Portrait with Al technology ensures that the main subject stays pin-sharp, while the background is given a sense of depth with a graduated bokeh effect — created using depth information intelligently analyzed from the subject — for a beautifully artistic photo. Real-time Portrait uses both cameras simultaneously to capture gorgeous portraits and close-ups that make the subject stand out with a real sense of depth, rivaling those taken with high-end DSLR cameras.
Real–time Beautification: ZenFone 5 gives users their own personal beauty consultant in their pocket. Al Beautification intelligently reads 365 facial points and applies personalized beautification based on an analysis of over two million possible enhancements. It works in real time with any face — regardless of age, shape, skin tone or gender — and produces amazing natural-looking results. It works perfectly in live-streaming video, too.
Pro mode: ZenFone 5 includes the powerful Pro mode that gives users full control of all the camera settings, including white balance, exposure, focus, ISO, and an impressive range of shutter speeds from 1/10000 to 32 seconds. With its support for unprocessed RAW files, ZenFone 5 is also the ideal choice for users who prefer to fine-tune their images using photo-editing software.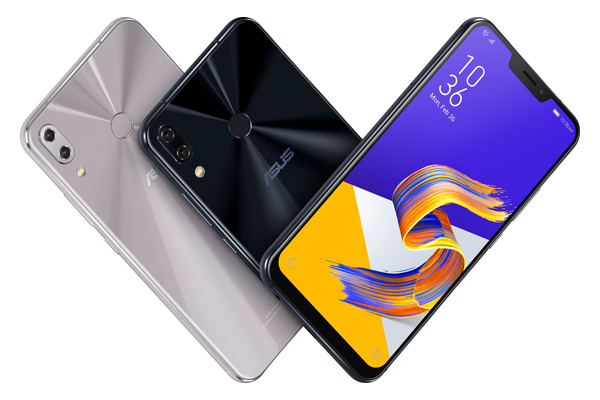 Intelligent performance
At the heart of ZenFone 5 is the latest powerful Qualcomm Snapdragon 636 Mobile Platform, an advanced 14µm 64-bit octa-core system-on-a-chip (SoC) with 4GB RAM that delivers over 40%-higher CPU performance and 10%-higher graphics performance than the Snapdragon 630 Mobile Platform, while maintaining excellent battery life.
ZenFone 5 includes a full suite of AI-enhanced features powered by the Al capabilities of the Snapdragon 636 Mobile Platform. For an instant blast of extra power, ZenFone 5 includes ASUS Al Boost to immediately optimize performance for games or demanding tasks. And for rock-solid reliability, ZenFone 5 has four 0.06mm-slim carbon cooling pads that efficiently dissipate heat and maintain top performance at all times.
To deliver maximum on-the-go stamina, ZenFone 5 has a high-capacity 3300mAh battery with ASUS BoostMaster fast-charge technology. ZenFone S also introduces Al Charging to maximize the battery lifespan and provide total protection. Al Charging dynamically adjusts the charging rate by monitoring the user's charging habits, slowing down the battery's ageing process.
For maximum flexibility and superb call quality, ZenFone 5 supports dual 4G LTE SIMs with Dual SIM, Dual VoLTE (DSDV) capabilities. This allows both SIMs to be on active standby, and also supports enhanced HD voice calls over 4G LTE on both SIMs.
All-screen display
By using an ultra slim-bezel, all-screen display, the 6.2-inch ZenFone 5 is as small as most standard 5.5-inch phones. It's the ultimate ergonomic design that not only lets users see more, but is much less bulky and more comfortable to hold. The 6.2-inch Full HD+ all-screen display, with its 90% screen-to-body ratio and gorgeous 2.5D-curved glass, delivers a totally immersive visual experience. ZenFone 5's all-screen display also supports the DCI-P3 color space, with a wide color gamut that enhances color saturation for amazingly vivid image reproduction. With ZenFone 5, photos, videos, movies and games look better than they've ever looked before.
For optimized visuals with natural-looking colors and good readability in any environment, ZenFone 5 features intelligent display technology. This uses smart sensors to automatically adjust the display's color temperature in real time according to the ambient lighting. It also features Smart Screen On, which prevents the screen from turning off when the user's face, is detected, avoiding the problem of the screen turning off when the user is reading content for extended periods without touching the screen.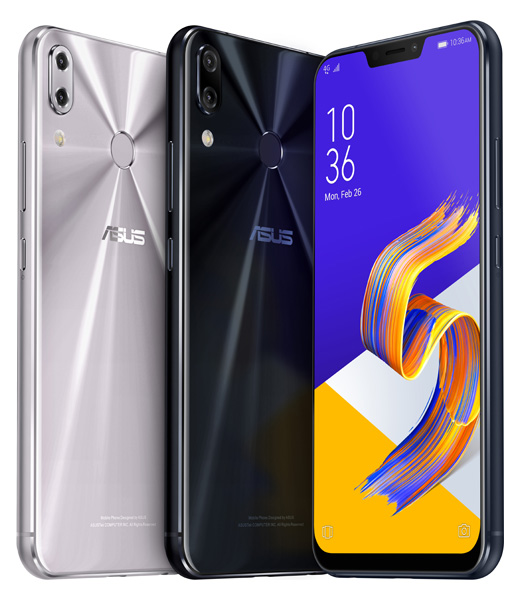 Immersive Audio
ZenFone 5 has two five-magnet stereo speakers that deliver deep, rich and expansive stereo sound. These are driven by dual smart amplifiers that ensure maximum volume while intelligently protecting them from damage. ZenFone 5 supports Hi-Res Audio files encoded at up to 24-bit/192KHz sample rates — 4X better than CD quality. For an enhanced listening experience right out of the box, ZenFone 5 is supplied with a set of premium Hi-Res Audio-capable earbuds. ZenFone 5 also supports DTS Headphone:X TM for 7.1-channel virtual surround-sound over headphones, for a truly immersive experience when watching movies or playing games.
All-round intelligence
The power of Al enhances the entire ZenFone 5 user experience, with smart features that make ZenFone 5 a truly intelligent companion. The phone can be unlocked using the rapid face unlock, or in 0.3 seconds using the rear fingerprint sensor, and the integrated NFC capability.
Al Ringtone intelligently adjusts the ringer volume according to the ambient noise level, so users won't miss calls even on a busy street or in a noisy restaurant, and calls received in the middle of the night won't disturb sleepers.
ZeniMoji is a fun new ZenFone 5 feature — exclusive to ASUS — that lets users animate cute avatars using their own voice, facial expressions and head movements. Uniquely, ZeniMoji avatars can be used in video chats or live-streaming, as well as in text chats, to make them more entertaining.
ZenFone Max Pro (M1)
ASUS Malaysia also announced ZenFone Max Pro (M1), a high-performance addition to the new ZenFone Max Series — the world's only range of high-battery-capacity smartphones.
ZenFone Max Pro packs a massive 5000mAh battery, a 6-inch FHD+ Full View display and a dual-camera system into an amazingly compact body that's no larger than many standard 5.5-inch smartphones. It's powered by the fast but energy-efficient Qualcomm Snapdragon 636 Mobile Platform, with Adreno TM 509 graphics for enhanced responsiveness and outstanding gaming performance.
The exquisite design features a stylish 180g-light metal body with diamond-cut edges and 2.5D-curved display glass, and is available in two stunning finishes: Deepsea Black and Meteor Silver.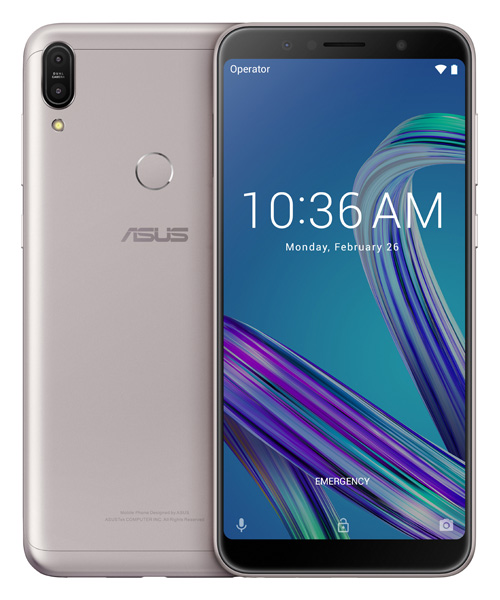 Advanced mobile performance
At the heart of ZenFone Max Pro is an advanced Qualcomm Snapdragon 636 Mobile Platform, which combines smooth, responsive performance with superb battery life, and a powerful Adreno 509 GPU that delivers enhanced mobile gaming and browsing performance. ZenFone Max Pro handles any task easily, with performance to spare.
The Qualcomm Snapdragon 636 Mobile Platform is an advanced 14nm 64-bit octa-core system-on-a-chip (SoC) with up to 6GB RAM, and which delivers over 40%-higher CPU performance and 10%-higher graphics performance than the Snapdragon 630 Mobile Platform, while maintaining excellent battery life. In addition to improved performance, the Adreno 509 GPU supports Qualcomm TruPallete TM and EcoPix TM technologies for superior color contrast, lifelike visuals and more efficient rendering of advanced 3D graphics.
ZenFone Max Pro ships with pure Android 8.1 Oreo TM, the latest version of the beautiful Android user interface that improves productivity, and simply lets users have more fun with their phone.
2-day stamina
The hallmark of the ZenFone Max Series is the huge battery capacity, designed for serious travelers and those who need maximum battery endurance. ZenFone Max Pro has a high-capacity, high-density 5000mAh battery supporting its powerful Snapdragon 636 processor — the most powerful combination in the ZenFone Max Series — with custom-crafted battery design that packs maximum performance into minimum space.
With so much power on tap, users can browse more, game more, stream more — and talk as much as they want without worrying about finding a power outlet. ZenFone Max Pro offers users up to 20 hours of YouTube video playback, up to 42 hours 3G talk time, and up to 28 hours of Wi-Fi web browsing. On a single charge, users can enjoy playing more: for example, up to 45 rounds3 of Mobile Legends, or up to 2 seasons of Games of Thrones.
All this power is backed up with lightning-fast charge times: ZenFone Max Pro can charge its 5000mAh battery from 0% to 100% in just 2 hours and 42 minutes, compared to some rival products with a 4000mAh battery that need well over 3 hours.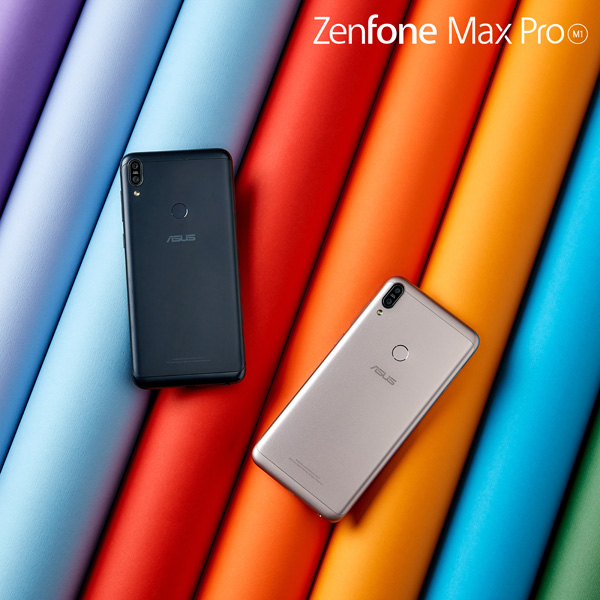 Magnificent entertainment
The 6-inch Full View FHD+ (1080 x 2160) display in ZenFone Max Pro features stunning 450cd/m2 brightness, 1500:1 contrast ratio and an 85% NTSC color gamut to give users a magnificent visual experience. The ultrawide 18:9 aspect ratio and slim bezels provide a greatly expanded viewing area that makes viewing photos and watching widescreen videos incredibly immersive, and when browsing the web there's less need for scrolling. Multitasking is also easier, as two apps fit comfortably side-by-side on the screen.
For powerful, immersive high-quality sound, ZenFone Max Pro features a five-magnet speaker driven by an NXP smart amplifier that delivers higher volume with lower distortion. Compared to single-magnet speaker performance, ZenFone Max Pro delivers 41% louder sound, 14% better low-frequency response and 12% less distortion.
Dual rear cameras
ZenFone Max Pro has an advanced dual-camera system that takes mobile photography to new heights. The rear camera focuses on the subject in less than the blink of an eye, and has a high- resolution up to 16MP sensor with a high-quality f/2.0 wide-aperture lens that captures clearer photos, every time.
The secondary camera is used to create an artistic bokeh effect for portraits and close-ups, putting the subject in sharp focus while progressively blurring the background for a gentle yet powerful effect that really makes the subject stand out.
ZenFone Max Pro shoots video at up to 4K UHD resolution, allowing users to just point, shoot and share their memories, all captured with incredible levels of detail.
The front camera enables the most indulgent selfies, with softlight LED flash and a live beautification feature that instantly retouches shots to remove blemishes, balance facial features, enhanced skin tone and more.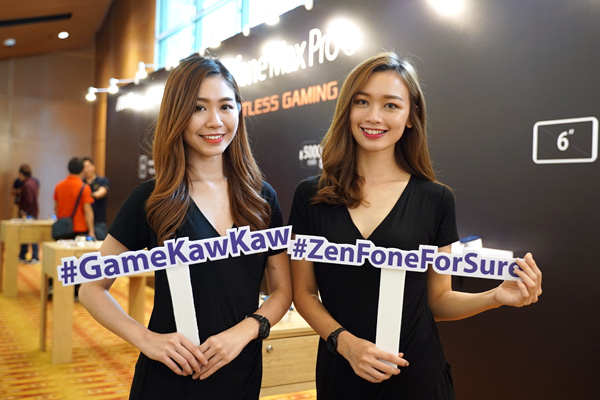 Premium metal design with dual SIM slots and expandable storage
ZenFone Max Pro is built to last using solid metal, with a slim and light 180g body that's precision-crafted to give it a luxurious feel without being bulky. The slim and elegant size and 2.5D-curved front edges make ZenFone Max Pro exceptionally comfortable to hold, with significantly less bulk than a standard 6-inch phone. ZenFone Max Pro is available in two stunning finishes to match the user's style: Deepsea Black and Meteor Silver.
ZenFone Max Pro comes with two SIM slots supporting 4G LTE speeds up to 400Mbps, and an additional microSD slot to expand storage by up to 2TB. Its convenient triple-slot tray lets users install two SIMs and a microSD card in one easy step.
ZenFone Max Pro is easier to use and more convenient than ever, with a new face unlock feature that lets users unlock the phone simply by looking at it — the perfect hands-free solution for messy or gloved fingers. There's also a rear fingerprint sensor that unlocks the phone in an instant.
For more information, visit ASUS Malaysia Facebook.
androidasusfull viewgamingmax prophotographysmartphonezenfoneZenFone 5zenimoji