Acer announces New Devices in New York Global Press Conference
15-inch Swift 5 Notebook Weighing Less Than 1 kg
Acer today announced its new Swift 5 notebook designed for users who want superb portability, solid performance, and a touch of style. With a 15-inch display, the elegant chassis weighs less than 1 kg (2.2 lbs), ideal for people always on the go. The Swift 5 is powered by Windows 10, the latest Intel® Core™ processors and features exceptional performance and battery life that lasts through the workday.
"There's been great feedback on Acer's amazingly light 14-inch Swift 5, and we are now pushing the limits with the 15.6-inch model," said Jerry Hou, General Manager, Consumer Notebooks, IT Products Business, Acer Inc. "We've kept the weight under the 1 kg mark by using ultra-narrow bezels and a marginally larger chassis."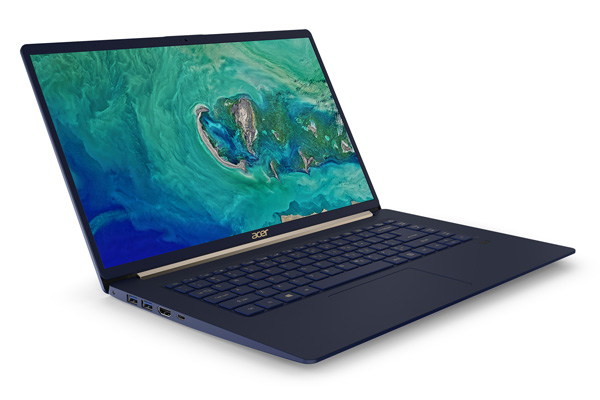 The Swift 5's Full HD IPS touchscreen features ultra-narrow bezels measuring just 5.87 mm (0.23 inches), giving it an incredible 87.6% screen-to-body ratio to maximize the viewing experience. The Swift 5 features Acer Color Intelligence™ technology, which dynamically adjusts gamma and saturation in real-time, optimizing screen color and brightness without clipping or over saturation, while Acer BluelightShield technology allows adjusting of the screen's blue-light emission over extended periods of use.
The Swift 5 is constructed with advanced materials including ultra-light magnesium-lithium alloys for the top and bottom cover, and magnesium-aluminum alloys for extra sturdiness on the palm rest area. Thanks to the LED backlit keyboard, users can work effectively on the go all day and even at night.
Powered by the latest Intel® processors, the Acer Swift 5 offers an exceptionally fast and responsive experience with battery life that lasts through the workday. The Swift 5 features Intel® Wireless-AC 9560 which offers 2×2 802.11ac wireless Gigabit performance that enhances streaming, sharing, conferencing, and gaming experiences.
Up to 1 TB of SSD storage and up to 16 GB of DDR4 memory keeps the system fast and responsive, while connectivity is provided through one USB 3.1 Type-C Gen 2 port (10 Gbit/s data transfer, supporting power delivery and display output), two USB 3.1 Type-A ports (one with power-off charging functionality), an HDMI port, and an SD card reader. The Swift 5 supports Windows Hello through a fingerprint reader, allowing users to log in to their accounts faster and more securely.
Two Premium 13-Inch Chromebooks Designed for Business Use
Acer introduced two new premium Chromebooks designed for business use – the Acer Chromebook Spin 13 and the Acer Chromebook 13. Both models feature a stylish and durable all-aluminum design and a full HD+ 13.5-inch display in a 3:2 aspect ratio. The new Acer Chromebooks are powered by 8th Gen Intel® Core™ processors providing exceptional performance and battery life for productivity on the go.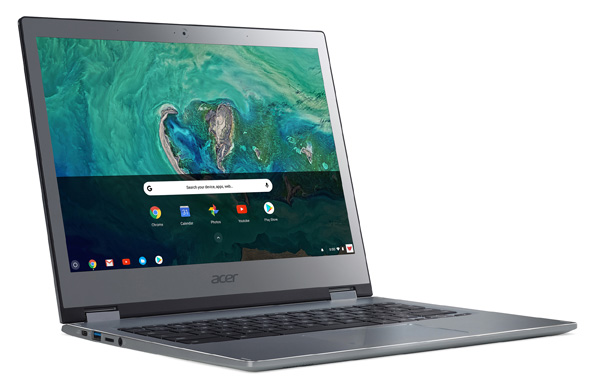 The convertible Chromebook Spin 13 (CP713-1WN) has 360-degree hinges for use as a tablet, notebook, display, or in tent-mode. It comes with a Wacom® stylus (for pen input) that can be conveniently stored in the device slot. The Acer Chromebook 13 (CB713-1W) opts for the traditional notebook design for keyboard-heavy tasks.
"The new premium profiles of the Acer Chromebooks are a reflection of the superior performance they provide, as well as of the vast capabilities of Chrome OS," said James Lin, General Manager, Commercial & Detachable Notebooks, IT Products Business at Acer. "As a leader in Chromebooks, Acer has helped accelerate their adoption in business, education, and at home. As Chrome OS has evolved to include more features, we've responded with designs and form factors that offer meaningful benefits to our customers."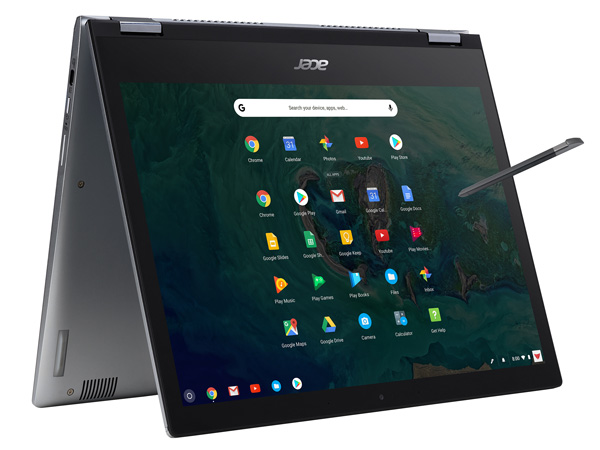 Big-Screen Flexibility with First 15-inch Convertible Chromebook
Acer also unveiled the Acer Chromebook Spin 15 (CP315-1H), the industry's first convertible Chromebook with a 15.6-inch display. The large touchscreen display pairs with the convertible 360-degree design to deliver a powerful and portable Chromebook with first-rate entertainment and productivity capabilities.
In addition, Acer is launching a new Chromebook 15 (CB315-1H/1HT) line that pairs a large 15-inch display and long 14-hour battery life at a budget-friendly price.
"Acer has led the Chromebook market with a wide range of form factors, sizes and designs to meet the needs of our customers, and we're expanding our line with new exciting 15-inch models today," said James Lin, General Manager, Commercial & Detachable Notebooks, IT Products Business at Acer. "Acer's new Chromebooks with large 15-inch Full HD displays are ideal for collaborating on projects for work and school, enjoying streaming media and running the latest apps. Plus, the Acer Chromebook Spin 15 is the company's first to combine a large 15.6-inch display with a convertible design, so customers can use the device in different modes."
Both the new Acer Chromebook Spin 15 (CP315-1H) and Chromebook 15 (CB315-1H/1HT) fully support Android apps via Google Play, joining the performance, security and simplicity of Chrome with the more than two million Android apps that consumers know and love.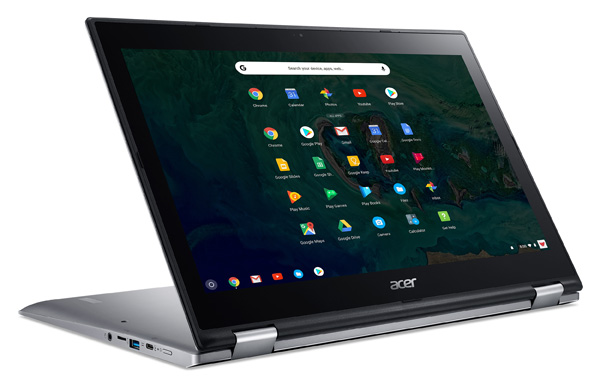 A Gaming Beast in the new Predator Helios 500 Notebook
Acer unveiled two new Predator Helios gaming notebooks today at the next@acer global press conference in New York. They include the exceptionally powerful Predator Helios 500, featuring up to 8th Gen Intel® Core™ i9+ processors, and the Predator Helios 300 Special Edition that includes upgraded specs from its predecessor and a distinctive white chassis. Both feature VR-Ready performance, advanced thermal technologies, and blazing-fast connectivity.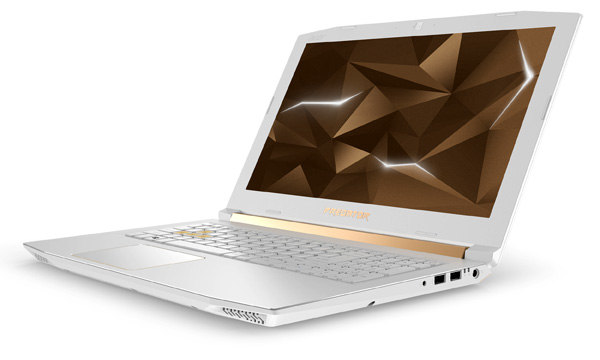 "We've expanded our Predator Helios gaming notebook line in response to popular demand from gamers seeking extreme performance on the go," said Jerry Kao, President of IT Products Business, Acer Inc. "The Predator Helios 500 and Helios 300 gaming notebooks feature Acer's proprietary thermal technologies and powerful components that, coupled with our award-winning software, deliver unparalleled gaming experiences."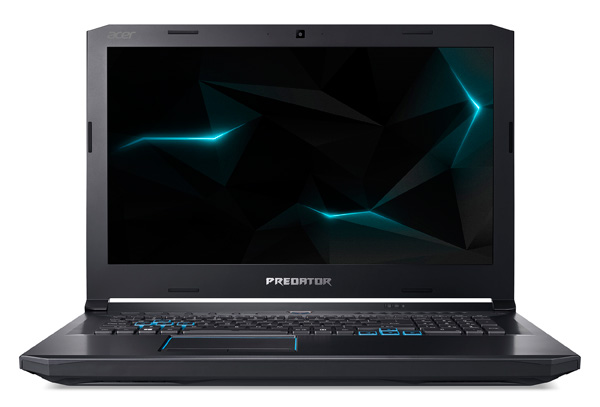 "The 8th Gen Intel Core i9+ processor for gaming and creation laptops is the highest performance Intel has ever delivered for this class of devices; purpose built for enthusiasts who demand premium gaming experiences whether at home or on the go," said Steve Long, Vice President and General Manager, Client Computing Group Sales and Marketing, Intel. "Intel and Acer's long relationship has produced amazing products over the years, and the new Acer Predator Helios gaming notebooks are powerful examples of what's possible with this unprecedented level of performance."
Powerful Predator Orion 5000 Gaming Desktops
Acer showcased its new Predator Orion 5000 series gaming desktops, designed for gamers who require superior performance and an adaptable chassis for future expansion. The company also released the mid-range Predator Orion 3000 series gaming desktops, as well as an expanded collection of Predator accessories designed to support gamers as they tackle their mission of choice.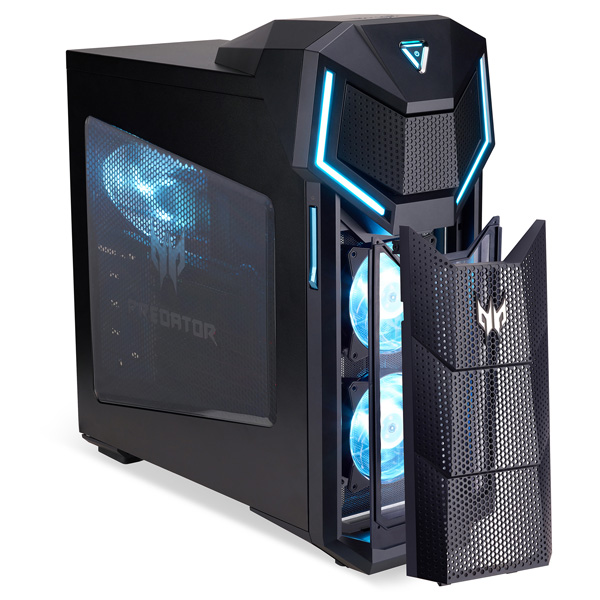 "Getting the specs right is just half the fight. Predator Orion desktops provide a well-rounded choice for gamers with a striking chassis, built-in airflow management, expandability, and award-winning software that brings everything together," said Jeff Lee, General Manager, Stationary Computing, IT Products Business, Acer. "We're excited to add the new 5000 and 3000 series to the Predator Orion family, and together with the top-of-the-line Predator Orion 9000, Acer is providing a full lineup of gaming desktops that cater to a wide range of needs."
Acer Nitro Series Desktops and Monitors Satisfy Gamers' Need for Speed
Acer today unveiled new Nitro Series gaming desktop PCs and monitors that expand its Nitro product family, designed for outstanding casual gameplay at affordable prices. The new Acer Nitro 50 Series desktops and Nitro VG0 and RG0 Series monitors easily handle demanding processing and graphics requirements for both content creation and consumption.
Acer Nitro 50 Desktops
Acer created the Nitro 50 Series for those seeking the processing power and capabilities only a desktop PC can offer. These performance PCs are powered by up to 8th Gen Intel® Core™ i7 processors, and equipped with up to NVIDIA® GeForce® GTX 1070 GPUs to deliver superior performance for graphic-intensive tasks including gaming.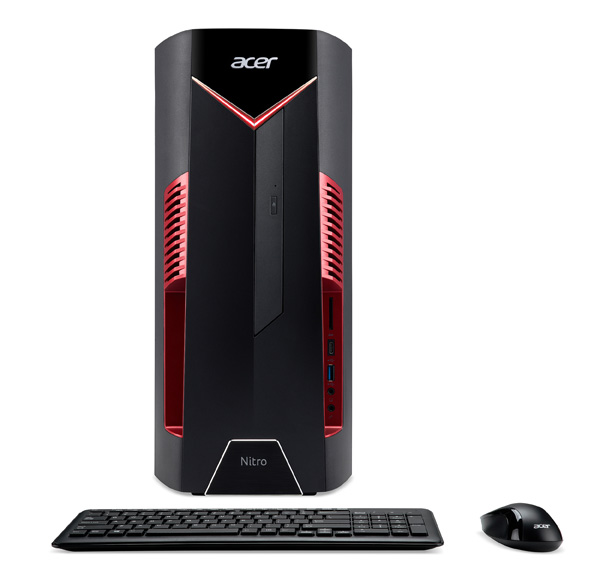 They deliver stunning 4K resolution visuals and can support up to four displays simultaneously for immersive gameplay. With up to a 3TB HDD and a 512GB SSD, there's no shortage of storage. They sport a handy wireless charging deck for keeping users' Qi-enabled wireless devices powered up and ready to go. To top it off, the Nitro 50 series features striking and edgy armour-inspired housing with front-facing LED lighting that emits a sinister red glow.
Lastly, the Nitro 50 desktops optimize network speed for gaming, browsing, and streaming through Realtek Dragon LAN. For totally immersive entertainment or to transform the gaming experience into an eye-popping stereoscopic experience, just match the Nitro 50 desktop with an Acer Nitro VG0 or RG0 monitor.
Nitro VG0 and RG0 Series Monitors
These new IPS monitors with AMD Radeon™ FreeSync1 satisfy gamers' need for speed with a blazing fast response time of up to 1ms Visual Response Boost (VRB) for smooth gameplay without breaking the bank. The Acer Nitro VG0 series is available with 27-, 23.8- and 21.5-inch panels delivering true-to-life color, and resolutions of 4K UHD, WQHD or Full HD. The ultra-thin Acer Nitro RG0 series boasts a sleek .27-inch thin profile and is offered in 27- and 23.8-inch models. Both models feature sophisticated but functional design that have earned them 2018 Red Dot Design Awards.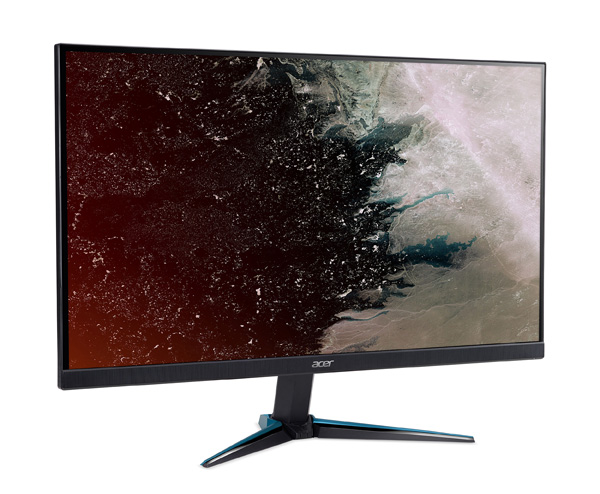 Boasting AMD Radeon™ FreeSync, the new Nitro monitor's frames sync with the graphics card's frames to eliminate screen tearing and minimize lag, allowing for smooth gaming. Integrated Visual Response Boost™ (VRB) decreases blur in fast moving images to achieve the effect of a 1ms MPRT, along with up to 144 Hz refresh rates. Integrated 6-axis color adjustment lets gamers fine-tune color, hue and saturation to best suit the game at hand, while built-in black boost enables gamers to select from 11 black level options to optimize visual advantage and clearly spot enemies, duck for cover, or navigate curves on a race track.
The new Nitro RG0 series' 1920×1080@75Hz resolution delivers excellent visual detail, and is perfect for 1080p Full HD gaming, multimedia, and productivity applications, including Blu-ray Disc console gaming and widescreen cinematic playback.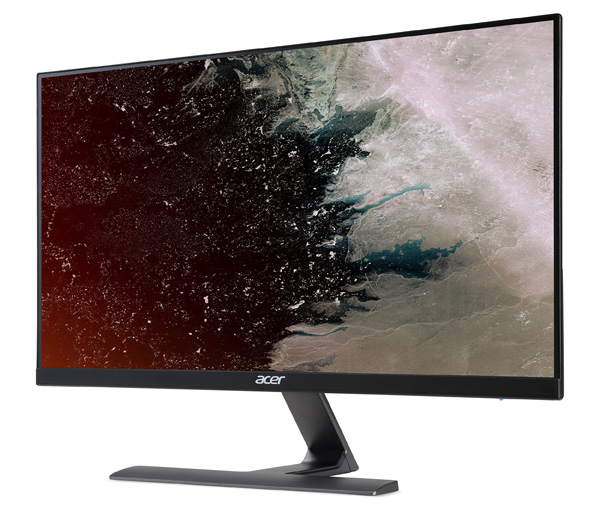 The IPS panels provide accurate views even at wide angles of up to 178 degrees horizontally and vertically. For optimum viewing angles, the monitors can tilt from –5 to 20 degrees [–5 to 15 degrees for RG0 series]. Meeting 72 percent of the NTSC standard and delivering a 250 cd/m2 brightness, Acer Nitro monitors produce vibrant colors and images. Two 2W stereo speakers4 deliver quality audio and HDMI, VGA and DisplayPort ports4 connect to a wide array of PCs to support powerful sound effects.
Integrated Acer Game Mode has eight pre-set display modes to optimize visuals depending on the type of content being displayed. Display modes include Action, Racing, Sport, User, Standard, ECO, Graphic and Movie. Settings are easily accessed through a hotkey or the On Screen Display (OSD) settings menu.
Acer VisionCare encompassing Flickerless, BlueLightShield, ComfyView and low-dimming technologies enhance viewing comfort during long gaming periods. Outfitted with a VESA mount, the monitors can be hung on a wall to free up desk space, leaving more room for game sticks, mice and more. In addition, a ZeroFrame design maximizes viewing area and supports near seamless multi-monitor setups.
For more information, visit www.acer.com/nextatacer.
Acerchromebookcomputerdesktopgaminghelioslaptopmonitornew yorknitronotebookorionpredatorswift