SMK Lutong, Miri crowned as the #MyGeekMovement National Champion
SMK Lutong, Miri emerged national champion with their dust detector prototype, beating out Sabah State Champion – SM St. Michael and Peninsular Malaysia State Champion – SMK Bandar Puncak Jalil during the #MyGeekMovement Grand Finals 2018.
The national finals organised by Shell Malaysia involved students presenting innovative inventions and prototypes under the theme 'Access to Energy' challenge. SMK Lutong's air-conditioner dust detector prototype won due to their invention's ability to conserve energy. On top of being crowned the #MyGeekMovement national champion, the team members earned a once-in-a-lifetime opportunity to be part of Shell's Make the Future (MTF) Live in London. There, they will have the opportunity to experience hands-on science experiments, test and contribute bright energy ideas around alternative energy.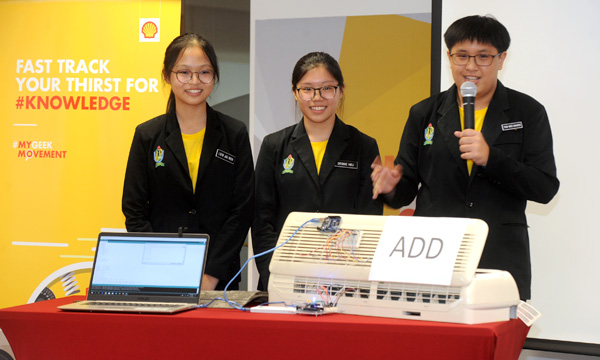 Under the #MyGeekMovement 15 schools nationwide were selected to be part of this STEM immersive programme by Shell. With the support of the Ministry of Education, #MyGeekMovement Shell STEM Malaysia selected 225 secondary-one students across fifteen schools in Sabah, Sarawak and Peninsular Malaysia. These students will experience the opportunity to gain hands-on STEM learning, with a focus on technology.  The programme is not limited to just the 225 students. A peer to peer coaching is also implemented to widen the knowledge to the student community in the participating schools.
Apart from the Ministry of Education, Shell Malaysia also collaborated with the Malaysia Digital Economy Corporation (MDEC) in pursuing the STEM Education programme, including monitoring and evaluation of its effectiveness as well as strategizing its sustainability planning.
Nimmi Kamal, Shell Malaysia Country External Relations Head said, "Shell Malaysia has aligned our #MyGeekMovement to ensure the programme contributes towards meeting targets and aspirations to increase the numbers of STEM graduates.  Our initiative focuses on providing an early exposure to STEM to spark an early interest in fields like engineering, information technology and automation."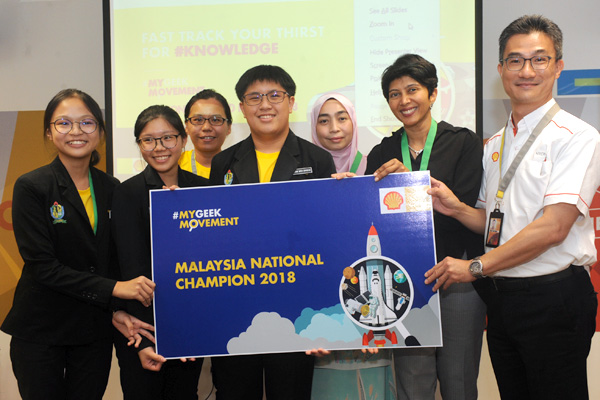 This initiative was forthcoming in support of the government Transformasi Negara 50 vision (TN50) priorities for a knowledge economy with greater focus on science and technology disciplines.
According to Nimmi, "STEM are subjects at the very heart of Shell. Our industry needs talented people with relevant knowledge and skills in these areas, and through our STEM-related programmes, we aim to contribute to future pipeline of talents and capabilities crucial for our industries as we actively shape and participate in the energy transition."
#MyGeekMovement provides learning content that complements the existing school co-curricular structure with a long-term goal to increase number of students opting for science stream in the selected schools, while boosting interests in science and technology amongst the young generation.
"The national goal is to achieve a 60:40 ratio in science and arts stream at high school level and this has resulted in a strong call at state and national level to grow students interest in STEM subjects to meet Malaysia's future human capital need," added Nimmi.
#MyGeekMovement trains students to gain insights into the world of technology and innovation while learning to create, as opposed to just being consumers of technology.  Through #MyGeekMovement, students will continue to grow their technological, critical, creative and innovative skill sets; be challenged to work in teams to design and innovate solutions to real-world problems, thus developing their skills holistically.
Shell Business Operations General Manager Nyon Kam Yew; MDEC Vice-President Sumitra Nair; and Assistant Director of Co-Curriculum and Arts Division in the Ministry of Education Nadhirah Azman; were the panel of judges in the Shell STEM Malaysia #MyGeekMovement Grand Finals.
championcompetitiondesigneducationinnovationmygeekmovementshellstudentwinner