Ricoh Theta V 360-degree Hybrid Camera
Since the RICOH THETA was first launched in 2013 as the world's first 360° single shot camera, this exceptional imaging tool has been used to capture exciting and unique fully-spherical images in a variety of situations. The 360° visual space has defied the conventions of traditional photography and allowed users to capture their entire surrounding in one image. These can even be shared with others using a VR headset, allowing them to be fully immersed in the scene, as though they were actually with there.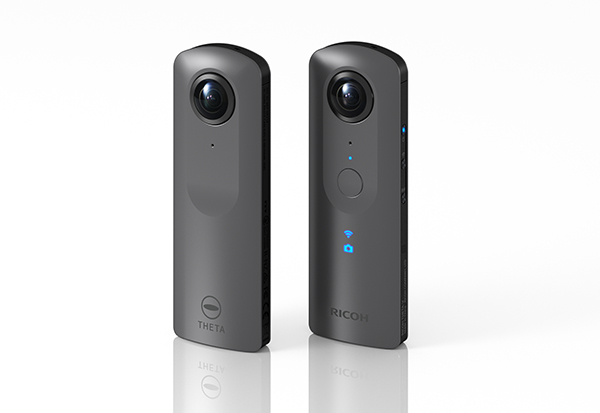 THETA V has a compact, lightweight body, so it's portable enough to take anywhere, anytime. Featuring the sleek design and handling THETA users have come to expect, it takes the 360° photo and video experience to a whole new level. It features two 12MP sensors and a twin-lens optical system that captures two wide-angle images and automatically stitches them into one complete spherical image. It allows you to capture comprehensive 360° 4K videos and 12MP photos, as well as live stream 360° footage in 4K. Additionally, a built-in 4-channel microphone captures high-quality audio from four directions and with seamless transitions between the channels. Moreover, an optional designated 3D microphone (TA-1) is supported that allows you to add 3D 360° spatial audio to your 360° video content.
It records to approximately 19GB of internal memory. Once you've recorded your video, simply pull up the included THETA iOS/Android app on your smartphone or tablet, and with the swipe of your finger rotate the 360° image in any direction to see it from different angles. The camera can also connect to a smartphone or tablet using either Bluetooth or Wi-Fi, for flexible operation.
That's not all, Ricoh also introduced a marine housing, the TW-1 to pair the Theta V and Theta S. This is an authentic waterproof housing with IPX8, JIS Class 8 equivalent protection class for shooting underwater to 30 m. The housing features AR anti-reflective coating and a hard coating.
Visit www.dscworld.com.my for details
Ricoh Theta V 360-degree Hybrid Camera