All-New Live Sports Streaming Player – beIN SPORTS CONNECT – is Now Available!
beIN SPORTS CONNECT, a LIVE sports streaming player, is offering free access this weekend from Saturday, 14 April 0000 hrs to Monday, 16 April 0800 hrs. Owned and operated by multi-platform media company beIN Asia Pacific, beIN SPORTS CONNECT promises local football fans unparalleled access to some of the best football action from around the world including LaLiga and Ligue 1.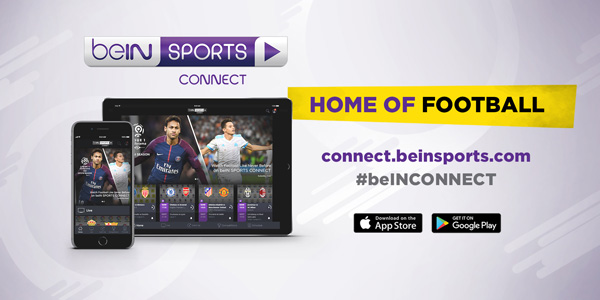 Apart from offering all 38 LaLiga games LIVE each season, fans can also catch the French top clubs in Ligue 1.  Other football coverage includes the fiery Istanbul derbies from the Turkish Süper Lig, and one of Asia's top leagues – Hyundai A-League, among others.
Barcelona fans may witness a historic milestone in LaLiga this weekend as the Catalans take on Valencia and overtake Real Sociedad's unbeaten record of 38 games in a row that has stood since 1980.  Paris Saint-Germain could well be the 2017/18 Ligue 1 champions if they score a win over Monaco.  It is a derby like no other as the leading Turkish clubs – Başakşehir and Galatasaray fight to top the table.  Do set an alert reminder on beIN SPORTS CONNECT for these games:
LaLiga
Barcelona vs Valencia, 14 April, 2210 hrs
Ligue 1
PSG vs Monaco, 16 April, 0255 hrs
Turkish Süper Lig
Galatasaray vs Başakşehir, 15 April 1155 hrs
Through beIN SPORTS CONNECT, users can choose from a wide array of LIVE matches through any connected mobile device, laptop and desktop computer.  They can also pause and rewind LIVE matches, enjoy the big screen experience using Chromecast or Apple TV, and watch games in HD.  With all these exciting features, users will have full control of their own viewing agenda.
beIN SPORTS CONNECT is offered at RM20 per month.  To subscribe, fans can visit connect-my.beinsports.com or download the app from Google Play Store or Apple App Store.
appbeinconnectfootballinternetlivenetworkplayerservicestreamingvideo