Sharp Malaysia launches 33rd Anniversary Campaign, announces Integration of Companies
Sharp Malaysia Sales & Service Company Sdn. Bhd. (SMSS) today launched the fantastic Sharp 33rd Anniversary campaign, a special consumer campaign to reward and celebrate with all Malaysians who have been Sharp's strong and loyal customers.
This campaign will run for 33 days from March 29 until April 30, 2018. During this period, Malaysian consumers will enjoy 33% discounts on selected items at all Sharp's authorized dealer outlets nationwide.
"This year is our 33rd year in this country since our sales operations started on 14th May 1985. In conjunction with this historic moment and as a reward to all Malaysians who have been our strong and loyal customers all these years, we will be rolling out a special consumer campaign – the 33rd Anniversary campaign, or in short, a Thank You campaign, to celebrate all Malaysians," announced Mr. Tadashi Ohyama, the Managing Director of Sharp Malaysia Sales & Service Company Sdn. Bhd.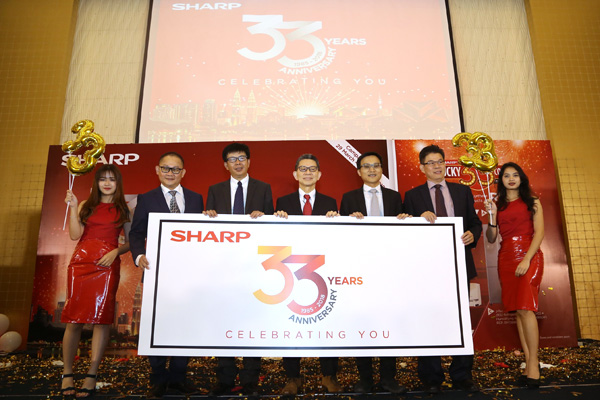 Adding icing on the cake, during this 33rd Anniversary campaign period, Sharp Malaysia will be running the Lucky 33 contest, in which consumers who buy Sharp products with value of RM1000 and above (including GST) will be eligible to participate in a lucky draw. A total of 33 lucky winners will be selected and these lucky winners will get to buy any one of Sharp 60-inch android 4K TV (LC60UA6800X), or Sharp 800-liter Hikaru fridge (SJF866MS) or a combo of our J-Tech inverter air-conditioner (AHXP18UXD) and a humidifying air purifier (FPH90LW) at only RM33!
More details on the Sharp 33rd Anniversary campaign and the Lucky 33 contest are available on the campaign microsite www.SHARP33YEARS.com.my.
In conjunction with the 33rd Anniversary campaign, Sharp Malaysia will also be organizing a roadshow series to further take the promotion direct to the consumers. The first roadshow will be at Modern Living in Setia City Convention Centre (Shah Alam) from March 30 to April 1.
From April 5 to 8, there will be two roadshows – one in Kuala Lumpur at the Perfect Livin at PWTC and the other one at the Home Décor Fair at the Melaka International Trade Centre. The roadshow series will continue at the Rex Expo in Mid Valley from April 13-15, I Furniture Fair at the Mines 2 from April 20-22 and Homedec at KLCC from April 26-29.
At the same event, Sharp Malaysia also announced the transfer of its business in whole to sister company, Sharp Electronics Malaysia Sdn. Bhd. (SEM), effective April 1, 2018. This internal restructuring process was started a few months ago and upon its conclusion on March 31, 2018, Sharp's sales and service operations in Malaysia will be solely conducted by SEM.
"The ASEAN market, due to its huge potential, has been identified as a growth driver for Sharp Corporation, and Malaysia, due to its strategic location in Southeast Asia, its growing economy, continuous development, high standard of living and affluent society, is a very important country for Sharp," explained Mr. Ohyama. "As the country is expected to take a leading role in our business expansion in ASEAN, our domestic business operation in Malaysia has been fine-tuned to be in line with this direction."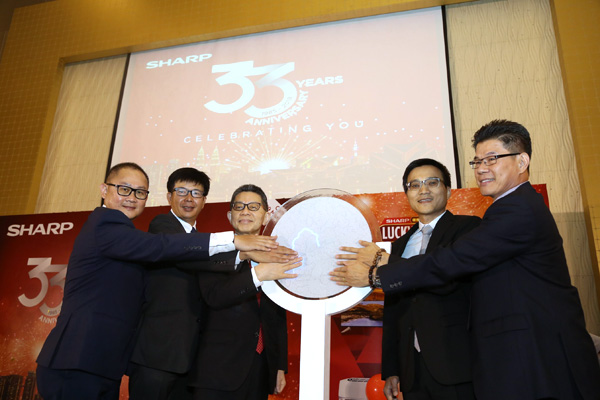 In line with Sharp Corporation's direction of structuring Sharp's sales system to one base per country or one country one sales compamy philosopy, this business integration exercise was undertaken to realize a more efficient business structure.
Mr. Ohyama further added that this business integration will enhance Sharp operations in Malaysia with Sharp Electronics Malaysia Sdn. Bhd. becoming a more efficient organization with a faster decision making process in most areas such as in product planning, improved logistics capabilities to reach the market faster and in a timely manner and with the combined capitals, boasts a stronger financial to expand its business in Malaysia.
Besides SMSS's Managing Director, Mr. Tadashi Ohyama, the event was also attended by Mr. Yoshihiro Hashimoto, Executive Managing Officer, Head of President's Office, Sharp Corporation, Mr. SM Tok, General Manager, CEP Sales, Sharp Malaysia Sales & Service Company Sdn Bhd and Mr. SG Lau, General Manager, CEP Marketing, Sharp Malaysia Sales & Service Company Sdn Bhd. Photo Journalist
Gadgets, Photography, Automobile, Lifestyle