Fujitsu Malaysia supports SMK Seafield's ICT Aspirations
As part of its Corporate Social Responsibility outreach in Malaysia, Fujitsu (Malaysia) Sdn. Bhd. today announced its desktop contribution to SMK Seafield during the launch of the school's Virtual Learning Environment (VLE) 2018 ceremony. The donation of 25 Fujitsu Esprimo desktops to the school will allow teachers and 1,350 students to realise 21st Century classroom learning through the power of ICT.
"As part of the Fujitsu Way, we aim to contribute to the creation of a networked society that is rewarding and secure, and with that bring about a prosperous future that fulfils the dreams of people throughout the world. And our contribution to the students of SMK Seafield is just that," said Chiharu Abe, CEO, Fujitsu Malaysia.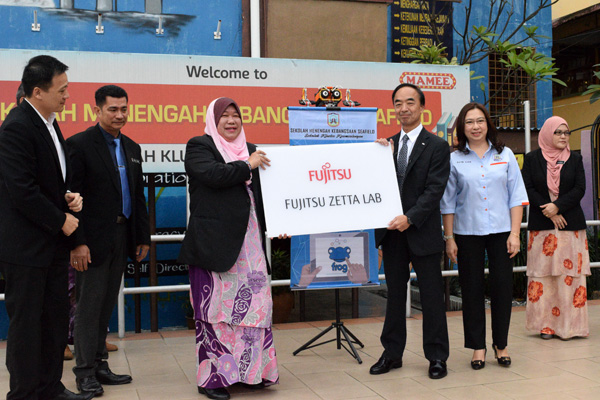 "We believe students would stand to benefit greatly from this initiative and appreciate the school's efforts in reaching out and collaborating with us to make the 21st Century classroom a reality for them. Malaysia introduced the FROG VLE in schools as a learning platform and gateway to a plethora of educational resources and apps from around the web that can enrich students and we are proud that our desktops will provide them that access," he added.
As part of the country's efforts to prepare young people for the future, Malaysia embarked on its Education Blueprint 2013-2025 with ambitious goals – among others, to revolutionise learning by leveraging ICT to scale up the quality of learning across Malaysia. This was followed with the implementation of the 1BestariNet project, which connected over 10,000 public schools across Malaysia to the internet, providing access to the FROG VLE platform.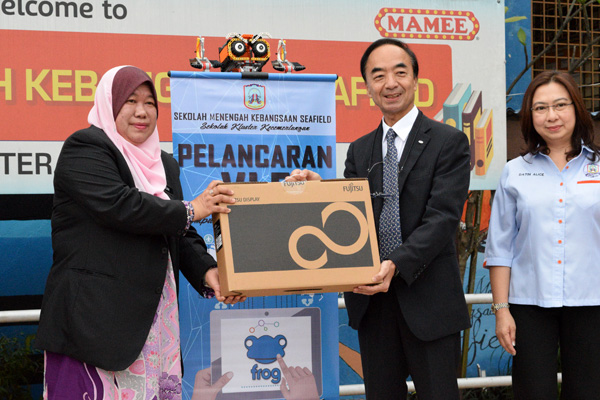 Datin Aisah Binti Jaman, Principal of SMK Seafield, Cluster School of Excellence, said: "As one of the top five schools using the FROG VLE, SMK Seafield really appreciates the kind efforts of Fujitsu Malaysia in equipping one of our computer labs with 25 units of desktops to enable students to embark into 21st Century learning and fulfil the country's TN50 aspirations. With this contribution, we are proud to name the said lab as "FUJITSU ZETTA LAB" – as an honour to Fujitsu Malaysia's commitment to student enrichment."
She added that this donation would greatly benefit our students, who will be undertaking ICT and Computer Science subjects for their public examination. It will also enable the school's ongoing efforts to nurture students in ICT learning which has contributed to many local and global achievements and accolades for SMK Seafield, including wins at international robotic competitions, as well as the chance to represent Malaysia at an international short film festival recently.
"We sincerely hope this patronage from Fujitsu will carry on and hope other such multinational companies will follow suit," she added.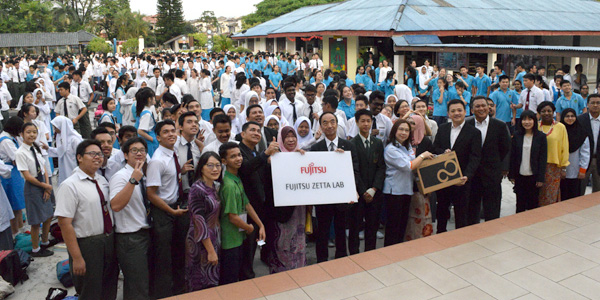 In conjunction with the launch of Frog VLE 2018 at the school level, the Robotic Club students organised a robotic demonstration to mark the launch. The event also saw Abe presenting certificates of ICT excellence to deserving students and teachers at the school. The event was also attended by Datin Alice Neow Ean Lee, President of the PTA of SMK Seafield, school administrators, other PTA Committee Members, representatives from Fujitsu Malaysia, academic staff, as well as teachers and students of SMK Seafield.
For more information, please see www.fujitsu.com.